Posted by Chad Finn, Globe Staff
April 27, 2009 06:25 PM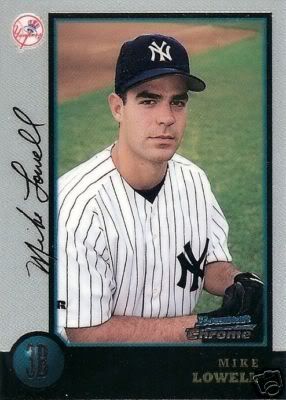 If you don't mind, I would like to use one of the numerous mea culpas I plan on issuing this season and apologize for suggesting before this weekend that there was little reason to be geeked up about regarding a Sox-Yankees matchup in April. After watching, in no particular order, a steal of home by Jacoby Ellsbury, a ninth-inning comeback against Mariano Rivera, the complete meltdown of a mediocre-at-best Yankees bullpen, impressive turns in key relief situations by neophytes Hunter Jones and Michael Bowden, a grand slam by Jason (Ain't Dead Yet) Varitek, a six-RBI game by the remarkably rejuvenated Mike Lowell, and countless other compelling plays, performances, twists and turns during an three-game sweep in which the Red Sox beat the Yankees with, in succession, a comeback, a 16-run outburst, and a terrific pitching performance . . . well, let's just say I'll never underestimate the entertainment value of a Sox-Yankees series again, no matter when it happens to appear on the calendar. That, as Chris Farley would say, was awesome.
A few other Sox notes leftover from a wildly fun weekend . . .

* * *
How fun was it to watch Yankees fans finally get the full spectrum of the A.J. Burnett experience Saturday? It begins with a couple of innings where he looks like the most unhittable pitcher in the game, a Cy Young candidate to be sure. Then he gets a big lead, his mind inevitably wanders, he begins looking at the pretty butterfly frolicking in the grass when he should be concentrating on retiring Jason Varitek with the bases loaded, and before you know it the lead is gone and Joe Girardi is suddenly looking like he just had a lunch of Pop Rocks and Pepsi. Of course, it would be even easier to snicker at Burnett's performance if his Boston counterpart, Josh Beckett, didn't put up a virtually identical pitching line Saturday.
* * *
Purely in terms of what he provides as a baseball player, I like J.D. Drew better than I ever liked Trot Nixon, and yes, I write that sentence knowing that ol' Dirty Helmet still has a large, vocal, irrational, and caps-lock-addicted following. But even a Drew fan has to admit, his reaction to Ellsbury's swipe of home as it was unfolding was somewhere between bizarre and comical -- there were something like 36,000 people in the ballpark last night, and 35,999 of them had a more animated reaction to the play than Drew, who looked like a guy following his wife's orders to sweep the porch. Upon watching Ellsbury stumble headfirst into home, even Don Orsillo reportedly cheered from the dock in the NESN basement where his batteries are recharged nightly. Yet Drew, who had the best view in the house, couldn't even muster a high-five, let alone a Jeterian fist pump. I'm not saying it's wrong that Drew is on such an even-keel -- it probably has something to do with his knack for delivering in big moments. But it certainly is sort of weird. The guy just does not get excited about baseball.
* * *
I suppose I should admit it, since everyone else seems to have beaten me to it anyway -- I'm officially worried about Papi. How can you not be? Even though he's done a nice job of hitting the ball to left field the last few games, the Wade Boggs routine isn't his thing. For someone who is one of the elite power hitters of the past half-decade or so, it has to be nothing less than alarming that it's difficult to recall him hitting the ball hard more than a handful of times this season; those patented Papi moonshots are really beginning to feel like a thing of the past. But what's even more distressing than his struggles at the plate is the strong sense that certain bloviators and jackals are reveling in the fact that they now have a chance dump on Ortiz. During his time here, he has been beloved not only for his prowess in the clutch and his monstrous power numbers, but for his endearing personality, and that has made him pretty much untouchable. Not so much anymore. I've always hoped that Papi's career in Boston will end without the animosity of so many stars who came before him -- if there's anyone who deserves a happy ending here, it's the man who delivered so many happy endings himself. Now I'm beginning to wonder if that's possible.
* * *
He's now played 78 games here (including 11 during his excellent 2008 postseason), and we've seen enough to know that he is the ideal fit for this team, now and in the immediate future.
Sign Jason Bay, Theo. The sooner, the better.
* * *
As for today's Completely Random Baseball Card: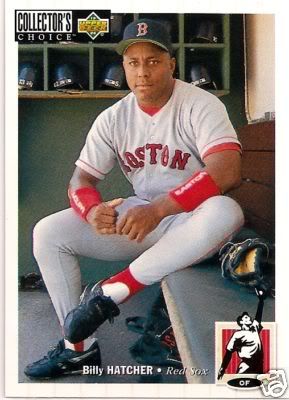 If I recall correctly, Hatcher's steal of home was pretty much it for highlights during the Butch Hobson managerial era.
About Touching All The Bases
| | |
| --- | --- |
| | Irreverence and insight from Chad Finn, a Globe/Boston.com sports writer and media columnist. A winner of several national and regional writing awards, he is the founder and sole contributor to the TATB blog, which launched in December 2004. Yes, he realizes how lucky he is. |
Tweets by @GlobeChadFinn
browse this blog
by category
The best of Touching All The Bases