Posted by Chad Finn, Globe Staff
April 23, 2009 06:11 PM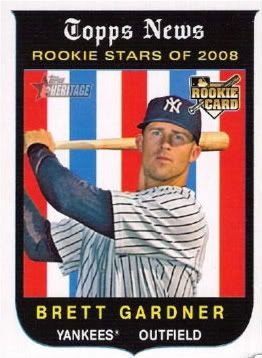 . . . on some certain pinstriped individuals who will be playing the villain's role at Fenway this weekend. You might know some of them by name:
Jorge Posada, C: His most similar player statistically in baseball history? Javy Lopez. Second-most similar: Mike Lowell. So he's like one of the most loathed Red Sox players of the past five years as well as one of the most admired. Aren't numbers fun?
Mark Teixeira, 1B/Designated Phony: I hope Boston's favorite duplicitous Yankee doesn't bring his wife/stage manager to Boston with him this weekend. It could get ugly. Not his wife, I mean. The scene. Just to be clear there. One more thing: BOOOO!! BOOOOOOOOOO!!!!
Robinson Cano, 2B: I'll Admit It, Part 1: Entering the 2008 season, if you had told me that either Cano or Dustin Pedroia would win the AL MVP, I'd have muttered something about "damned Yankees" and again cursed Cano for standing up the Sox when they were about to offer him a contract as an amateur in the Dominican Republic. Glad to have swung and missed on that one.
Derek Jeter, SS: See, this is the kind of respect he commands: The pigeons at Yankee Stadium refuse to use him for target practice even though he hasn't actually moved since he was planted at shortstop since the new place opened.
Cody Ransom, 3B: A poor man's Clay Bellinger. If someone happens to Gillooly a rapidly rehabbing A-Rod in the hip in the coming days, here's your chief suspect.
Johnny Damon, LF I'll Admit It, Part 2: He's still a sneaky-excellent offensive player, and I still like the guy a lot, even after he became a "traitor" and agreed to the requisite Yankee shave-'n'-neutering in exchange for a couple extra million. Hey, some of dudes in the Continental Army probably still admired Benedict Arnold too, you know? (Or something like that. The last history lesson I got came from Jack Edwards, okay?)
Brett Gardner, CF: The Yankees are still trying to pass him off as a viable option in center field, but I'm pretty sure his future will be embarrassingly similar to that of the Patron Saint of Fast White Outfielders Who Haven't Hit A Home Run Since Tee-Ball. Yeah, you, Tyner. Anyway, Melky Cabrera is about to steal his job.
Nick Swisher, RF: While he's swinging the bat well and was a savvy buy-low pickup by Brian Cashman, the Yankees might be better off if they made Damaso Marte their starting right fielder and Swisher the lefty relief specialist.
Hideki Matsui, DH: Still think he can hit. Not sure the Yankees do, though.
CC Sabathia: My instinct is to believe he'll be fine -- and by fine, I mean in the vicinity of 20 wins come October -- but man, that 14-to-12 walk-to-K ratio has to be at least a little alarming to the Steinbrenner Boys, doesn't it?
A.J. Burnett: Nothing you can do but tip your hat right now -- he's been terrific. But it's a long season, and business rarely wanes for Dr. James Andrews in the summer.
Chien-Ming Wang: Twenty-three runs in six innings? Just call him the Taiwanese Kevin Jarvis. Maybe the Indians would take him straight up for Carl Pavano.
Joba Chamberlain: If this hillbilly love-child of Roger Clemens and Mindy McCready zips one by Kevin Youkilis's head tomorrow night, it . . . is . . . on. And I've got to admit, I wouldn't mind a little scrap to up the intensity.
Andy Pettitte: He had the honor of making the final start at the old Yankee Stadium, and he's still regarded by the local jackals as a class act, a True Yankee. Roger Clemens got no acknowledgment whatsoever that night, and his reputation and life is in self-inflicted shambles. Honestly, I'm not sure if that is fair or not.
Mo Rivera: If they gave out a Most Respected Opponent award in baseball, he might win the thing every year. When he retires -- if he retires -- I'll miss him. Happily.
As for today's Completely Random Basketball Card:
I'm not sure if the Celtics win tonight. But I refuse to believe that they'll go quietly. (In a related note, fantastic, insightful piece by Jackie Mac on Rajon Rondo at ESPN.com today. Great read.)

About Touching All The Bases
| | |
| --- | --- |
| | Irreverence and insight from Chad Finn, a Globe/Boston.com sports writer and media columnist. A winner of several national and regional writing awards, he is the founder and sole contributor to the TATB blog, which launched in December 2004. Yes, he realizes how lucky he is. |
Tweets by @GlobeChadFinn
browse this blog
by category
The best of Touching All The Bases