Posted by Chad Finn, Globe Staff
April 14, 2009 12:17 PM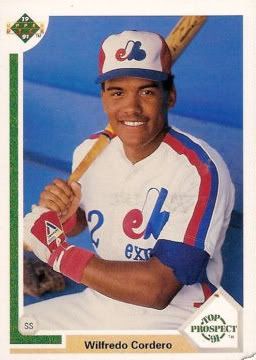 You might have heard that the Red Sox, 2-5 and looking strangely sluggish, are off to their worst start since 1996. That season, during which they were co-managed by Kevin Kennedy and Kevin Kennedy's mustache, the April lineup featured the Gold Glove-winning trio of Kevin Mitchell, Dwayne Hosey, and Wil Cordero and they rocketed to a 3-15 start en route to an 85-77 third-place finish in the American League East.
That was not a well-constructed baseball team. This year's edition certainly is. Yet based on their all-around anemic performance in Oakland last night, I shamefully admit I was about ready to lunge for the panic button at roughly 1 a.m. this morning, even with the knowledge that precisely 4.32098 percent of the schedule is complete.
Fortunately, my man Kilgore has talked me off the Zakim -- it was kind of dark up there anyway -- and I think I'm ready to ponder some of the Red Sox' apparent issues logically rather than emotionally. Let's take it player-by-struggling-player, all the while reminding ourselves that this slow start will be long since forgotten a few winning weeks into the spring.
Jon Lester: Early symptoms of the Verducci Effect? I suppose that's possible, given that Lester is apparently the No. 1 candidate in baseball to suffer regression (or worse, injury) based on his significantly increased workload a season ago. But for now, I'm writing it off as nothing more than a coincidence that the 25-year-old Lester happened to pitch two mediocre games in a row to open the season. After his first start last year, his ERA was the same as it is after two starts this season: 9.00. After six starts in '08, it was 5.40. So perhaps his early stumbles are an indication that he's a pitcher who takes a while to get warmed up for the long season, and nothing more. I'm not worried -- it's not like he's been as brutal as Chien-Ming Wang, and you know the Sox will monitor his innings and handle him cautiously. Frankly, I'm just disappointed that he now has double-figure losses in his career (he's 27-10). I was hoping he'd stay in single digits until, oh, May 2012.
Jed Lowrie: In a way, it was a relief to find out that he was trying to play through an injury, because the alternative was that he was attempting some sort of sick one-man tribute to Craig Grebeck. Lowrie was 1 for 18 when he finally admitted to Terry Francona that his wrist had been bothering him for some time. While it earns him several points on the Trot/Eckstein Gritty Gutty Scale for trying to play through pain, sometimes it is counterproductive -- like, say, when you're batting .056. He's not that crucial to the Sox' success, and they can afford to wait for him to get healthy. In the meantime, journeyman Nick Green takes over at shortstop, and he's an adequate stopgap. The abbreviated scouting report: He's a .242 career hitter, his most similar batter through age 28 is PawSox legend Lou Collier, and he looks a little like Wes Welker but isn't as good on third down.
Jonathan Papelbon: Again, it's too early to panic. And again, that see-no-evil statement comes with a caveat: If you can't admit that it was at least a little disconcerting to see Papelbon struggling so much with his command Saturday against the Angels, then you must be stocked with a never-ending supply of carmine-colored glasses. The reason Papelbon has had the most dazzling and successful three-season start to his career of virtually any closer in the history of baseball is not solely because he throws 95 miles per hour; it is because he throws 95 miles per hour with the precision and location of a crafty junkballer. In a way, the reason Papelbon is so effective is the same reason Curt Schilling dominated as a starter for so many years; he has the uncanny knack of throwing his blazing (if relatively straight) fastball precisely where the catcher wants it. If Papelbon's command and location continue to be issues -- and right now, we're doing our best to write Saturday off as an aberration -- then we'd be foolish not to be concerned.
Jacoby Ellsbury: The 2009 Bill James Handbook projects these numbers for Ellsbury this season: .302/.359/.424, with nine homers, 53 RBIs, 100 runs, and 52 stolen bases. Most other respected projections come up with reasonably similar numbers. While the wise guy in me is tempted to ask if those are actually Pawtucket projections, there's something to be said for the belief that Ellsbury will improve in his second full season. But it would be reassuring to have seen some signs of it right away. He has just five singles in 25 at-bats, and somewhat discouragingly, pitchers are still having little trouble getting him out on the inside half of the plate. The burden remains on Ellsbury to adjust, and given his talent and work ethic, you have to figure he will do so. Sooner rather than later, hopefully.
David Ortiz: A couple of readers sent me varying versions of the same sentiment this week: If Ortiz doesn't start hitting, pretty soon Kevin Youkilis is going to start whining about missing Manny and having no protection in the lineup. Ouch. Papi looks pretty bad right now -- he has exactly as many extra-base hits as Ellsbury (zero) -- but Papi he always looks terrible when he's out of sync. I'm going to give him the benefit of the doubt that those long F9s will become majestic blasts into the right field stands as the season progresses and both Papi and the weather warm up. Because to be honest, I really don't want to consider the alternative right now. I might panic.
* * *
As for today's Completely Random Baseball Card.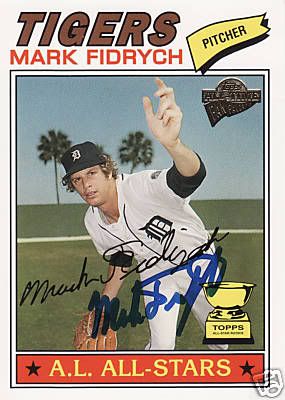 Fidrych was only a lefty in spirit. What a sad week for baseball.
About Touching All The Bases
| | |
| --- | --- |
| | Irreverence and insight from Chad Finn, a Globe/Boston.com sports writer and media columnist. A winner of several national and regional writing awards, he is the founder and sole contributor to the TATB blog, which launched in December 2004. Yes, he realizes how lucky he is. |
Tweets by @GlobeChadFinn
browse this blog
by category
The best of Touching All The Bases