Posted by Chad Finn, Globe Staff
May 27, 2009 12:48 PM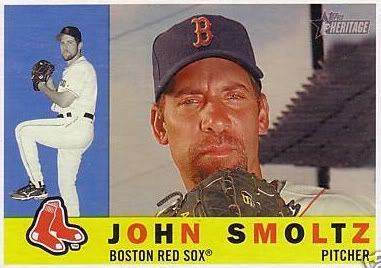 Playing nine innings while preparing to eat a heaping helping of crow should Jason Varitek's redemption tour continue . . .
1. Sixth? Seems about right for poor Papi, and his season debut (1 for 3, double, walk) in a spot in the batting order that has been unfamiliar to him since May 2004 was a small success. To be honest, though, I wouldn't be averse to Terry Francona dropping him to seventh or lower since he's still in a prime run-producing position. Tito clearly has more respect for Ortiz than that, and you can't fault the manager for giving one of his most beloved and historically dependable players every opportunity to come out of this tailspin. I just wish I could convince myself it's going to happen. While it was a warm moment, it soon became quite clear that Papi's lone home run this season came off an overwhelmed pitcher, Brett Cecil, who had no business being on that mound, and Ortiz's subsequent slide afterward was confirmation that all was not solved by the one home run. He's still struggling to hit a decent fastball, his mechanics at the plate are a tangled mess, and he looks -- justifiably -- as if he's carrying the weight of the world on his shoulders. It's like the Seattle respite never happened. For now, all we can do is cross our fingers and hope against hope that Papi finds his mojo again. Last night was a baby step. It would be nice if Kevin Slowey would play the role of Brett Cecil tonight.
2. If Ortiz doesn't come out of this, I'm still on board with the idea of acquiring Victor Martinez from Cleveland if the cost isn't too prohibitive -- and I do not consider Michael Bowden as too much to sacrifice for a legitimate middle-of-the-order hitter who can catch and play first base. I'm also curious -- as I mentioned on my Twitter feed the other day -- if the Sox might be able to put together a package to acquire Adrian Gonzalez from San Diego. While his contract is appealing to the Padres -- in March 2007 he signed a four-year, $9.5 million with a $5.5 million team option for 2011 -- Gonzalez is a player who has appealed to the Sox since he was buried behind Mark Teixeira and Hank Blalock in Texas, and he might be one they could be willing to overpay for in terms of prospects. Admittedly, this is all speculation, and it would probably only happen if (or when) the surprising Padres (23-22) stumble, but on the surface it makes a lot of sense.
3. At this point, I'm almost wondering whether the Sox should track down Pokey Reese and stick him at short. Sure, he'll be 36 in June, hasn't played in the majors since 2004, and would as usual struggle to hit his weight . . . but at least you know he'd catch the bleepin' ball, which makes him an immediate upgrade over Julio Lugo and Nick Green. Actually, all facetiousness aside, this isn't much different than suggesting the Sox should acquire ancient Omar Vizquel, who is somehow hitting .372 for Texas. And I'd also take him.
4. I'm not particularly concerned about Jonathan Papelbon giving up two-run homers on back to back outings on Saturday and Monday. One came on a poorly located pitch to a hitter, Omir Santos, who was obviously sitting on a fastball and got a fat one, and the other was hit by Joe Mauer, who is so hot right now that he could probably go 3 for 4 with a double and a homer against vintage Koufax. What does concern me is Papelbon's increased walk rate, which is apparently the result of altered mechanics. He has three more bases on balls this season than he had all of 2008 -- and that's in 48.1 fewer innings. His strikeout-to-walk ratio last year was a ridiculous 9.63-to-1. This year, it stands at 2.18. Given that his first three seasons as a closer stack up with any pitcher's in history, it seems to me there was no reason whatsoever to tweak his delivery or his approach unless the Sox have more concerns about the long-term condition of his shoulder than they are letting on. Is there any other reason to mess with such a good thing?
5. The Ramon Ramirez/Coco Crisp deal with the Royals is looking like one of those rare win-win swaps. Ramirez -- who remains something of a mystery to me; do we know anything about this guy? -- has been absolutely lights-out for the Sox, with a 0.74 ERA and a Pedro-like 0.74 WHIP in 24.1 innings over 22 appearances. Although Crisp is hitting just .236 for the Royals -- he has an interesting explanation for this on his Twitter feed (second item down) -- his .751 OPS is the same as it was last season with the Sox, and his sensational defense in center field prompted Zack Greinke to suggest that his approach on the mound is to get the batters to hit the ball in Coco's direction. Not a bad policy, as we learned so memorably around here in 2007.
6. Brad Penny, 3-1 with a 4.40 ERA in May, is doing pretty much what we hoped he would do: Pitch well enough that the Red Sox can trade him for something of value come June 15, the first day players signed as free agents during the previous offseason can be dealt. With Clay Buchholz shredding Triple A and John Smoltz on the mend after last night's workmanlike outing for Double A Portland, there's little value or appeal to keeping Penny (who has allowed 60 hits in 48.1 innings) around, especially if he can bring a useful part in return. Hey, it cannot be coincidence that Smoltz is on track to make his first Boston start June 16.
7. Don't tell my boss, but if Smoltz's start last night was in Portland rather than Manchester, I was going to try to find some way to weasel out of here early so I could go see him pitch at Hadlock. The only time I've seen the mortal-lock Hall of Famer pitch in person, it was 1988, he was a 21-year-old member of the Triple A Richmond Braves' rotation, and the game was also played in Maine, as he was facing my beloved Guides in Old Orchard Beach. Being the baseball dork that I am, I'd have liked the symmetry of seeing him pitch twice, 21 years and 210 major league victories apart, in my home state. Ah, well.
8. Proof that it's still early, even after 46 games: Entering last night's contest, Dustin Pedroia and Nick Green had the same number of home runs (1) and RBIs (15). As Uncle Joe Castiglione likes to remind us, Pedroia has been hitting a lot of line drives right into the opposing gloves during the past few weeks, and it's to his credit that he's hitting .341 despite his buzzard's luck. I have a hunch he is on the verge of one of those torrid streaks during which he goes something like 25 for 55 over the next dozen or so games.
9. As for today's Completely Random Baseball card: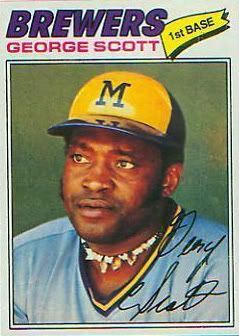 Sorry. I just can't think of Papi right now without thinking of Boomer circa 1978/79. The main difference as far as I can see is that Papi doesn't wear a necklace made out of the teeth of second basemen. Hmmm. Maybe he should.
About Touching All The Bases
| | |
| --- | --- |
| | Irreverence and insight from Chad Finn, a Globe/Boston.com sports writer and media columnist. A winner of several national and regional writing awards, he is the founder and sole contributor to the TATB blog, which launched in December 2004. Yes, he realizes how lucky he is. |
Tweets by @GlobeChadFinn
browse this blog
by category
The best of Touching All The Bases