Posted by Chad Finn, Globe Staff
June 12, 2009 05:53 PM
Just for fun as we head into the weekend, eight surprises of the Red Sox season through 60 of 162 . . .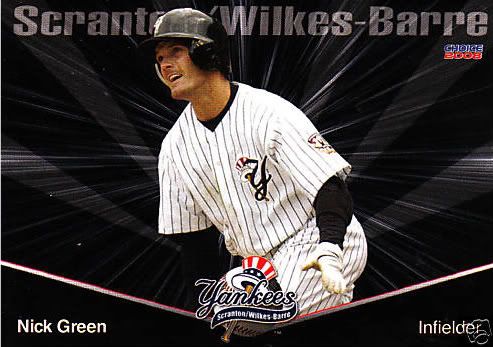 1. Nick Green's emergence as a viable stop-gap at shortstop. Don't you think It must have been fun for Green to play such a significant role in two of the Red Sox' three victories over the Yankees this week? He spent the entire 2008 season with the Yankees' Triple A club in Scranton and was released after the season, with Joe Girardi deciding that Cody Ransom was a better player. He's not, but you can understand why Girardi wasn't sold on Green -- mainly, that he's erratic defensively. But he's a pretty capable hitter -- as Eck noted last night, he can crush a fastball -- and he has an above-average arm, and those assets alone make him a useful utility infielder. And he gets bonus points for playing his best when the Sox needed him most, early in the season when they had no other options at short. He's clearly impressed Tito to the point that the manager has all but packed Julio Lugo's luggage for him, and his signing has proved to be one of more fortuitous acquisitions of the offseason. Hard not to root for a guy like that.
2. David Ortiz's disastrous start. It's been the subplot of the season so far, but you know what? I've already spent too many words this season writing about what was wrong with him. No one wants to rehash it again, especially with the corner about to be turned. He's looked like his old self lately, with three homers in the last five games and more hard hit balls this week than he had in the previous two months. So let's just enjoy what's going right. Big Papi isn't quite back, but it sure looks like he's on his way. And those, my friends, are words I enjoy writing.
3. Ramon Ramirez's dominance out of the 'pen. Well, except for Wednesday night, anyway, when he served up home runs to Johnny Damon and Mark Teixeira and proved that he actually is human and not some unhittable android spawn of Mariano Rivera. (Too bad. I was getting hopeful.) But with Wednesday's hiccup aside, the 27-year-old former Royal has been nothing short of phenomenal, posting a 0.90 WHIP, 1.86 ERA, and limiting opponents to 17 hits in 29 innings over 28 appearances. And the praise for Ramirez extends to virtually all of his partners in the bullpen, which is the deepest and most versatile in baseball -- and perhaps in recent Red Sox history. Yes, Theo Epstein has figured out how to pull together a bullpen. Now if he could just come up with a shortstop worth keeping.
4. Daisuke Matsuzaka's maddening . . . well, everything. There's probably something to the belief that the World Baseball Classic took an unnecessary toll on Dice-K's arm when he should have been in Ft. Myers gradually preparing for the season. But I don't know . . . it just seems like there's something more going on here. He's had a stint on the DL and a successful rehab in the minors, and still, he's an enigmatic mess when he's on the mound. He's struck out 29 batters in 27 innings, which suggests his stuff is quality . . . yet his ERA is a Kevin Jarvis-like 7.33, his WHIP is 2.11, and he's allowed 44 hits and five home runs. I'm not convinced that Dice-K's spot in the rotation should be ceded to John Smoltz or Clay Buchholz, but a solution to whatever ails him needs to be discovered pretty soon.
5. Jason Varitek's re-emergence as a useful offensive player. In the 45 games he has played this season, Varitek has 10 homers and 24 RBIs -- or three fewer homers and 19 fewer RBIs than he produced in nearly 300 more at-bats last season. While he has cooled off lately -- he's batting .179 without a homer over his last nine games -- his resurgence is practically unheard of for a 37-year-old catcher. While he's apparently intent on having the last word with his skeptics -- hi there -- my willing suspension of disbelief calls it quits at his ESPN projections of 33 homers and 78 RBIs.
6. Mike Lowell's good health. With the Sox losing the designated hitter because of interleague play, Lowell is out of the lineup tonight as Ortiz takes a spin at first base. Should Lowell sit out the entire game, it will be only the third he has missed this season, which is truly remarkable given the concerns about the condition of his surgically repaired hip in spring training. While Lowell moves nowhere near as well at third base as he did in his prime, he's been his usual productive self offensively (.292, 10 homers, 40 RBIs) and a steady presence in the lineup. The man is nothing if not dependable.
7. The dominance of the organization's top pitching prospects. Clay Buchholz is 4-0 with a 1.75 ERA at Pawtucket and would be among the top three starters on several major league staffs. Michael Bowden has a 2.47 ERA for the PawSox. Justin Masterson is already established as a valuable, versatile member of the big-league club. Closer-of-the-future Daniel Bard has a breathtaking repertoire. Junichi Tazawa is the anti-Dice-K, a strike-throwing machine at Portland. Casey Kelly is thriving . . . Nick Hagadone is coming back. . . yes, someone on the Red Sox development staff has a knack for finding and developing young pitching.
8. Winning the first eight matchups of the season with the Yankees. What, you think we picked eight by coincidence?
About Touching All The Bases
| | |
| --- | --- |
| | Irreverence and insight from Chad Finn, a Globe/Boston.com sports writer and media columnist. A winner of several national and regional writing awards, he is the founder and sole contributor to the TATB blog, which launched in December 2004. Yes, he realizes how lucky he is. |
Tweets by @GlobeChadFinn
browse this blog
by category
The best of Touching All The Bases