Catching up on the headlines I missed while lumbering around sunny Acadia . . .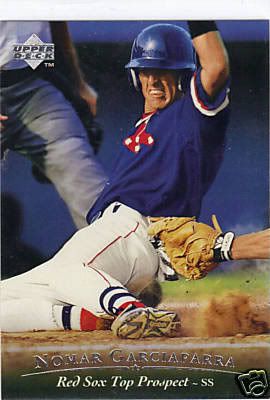 In a small sort of way, Nomar Garciaparra owes his huge, heartwarming ovation last night to the man who replaced him in Boston and started at shortstop for the Oakland A's last night.
If Orlando Cabrera had pulled a Lugo upon coming over to the Sox in the shocking three-way deal that sent Nomar to the Cubs at the 2004 trading deadline, Boston fans may be considerably more bitter -- and less forgiving -- than they are nowadays, after a pair of championships.
But Cabrera proved a perfect fit on the 2004 champs, a dependable shortstop with the knack for a clutch hit, and so Nomar's bitter transgressions during that season are more easily forgotten.
That's not to suggest he didn't deserve the "Welcome Back, Nomahhhh!" moment last night. While the five-year gap between his acrimonious departure -- and by the way, it seems to me neither side has yet been completely honest about what went wrong here -- probably helped restore some of the misty watercolors to our memories, the truth is rather simple: If you watched Nomar during his heyday with the Sox, you can't help but have warm memories about his time here.
During the late 1990s -- particularly '99, when the Red Sox reached the ALCS with a roster made up of Pedro, Nomar, and 23 role players and Dan Duquette reclamation projects -- he might have been the most versatile and dangerous hitter in the game. As rookie in '97, he hit 30 home runs, and his hustling style and quirky mannerisms spawned a generation of mimicking Little Leaguers. In 1998, he batted .323 with 35 homers. His entire '99 campaign -- when he batted .357 to win the first of his back-to-back batting titles -- felt like Dustin Pedroia's torrid streak last summer. It seemed as if Nomar concluded every single trip to the plate with a line drive. In 2000, he batted .372, and for a time we thought he might make a run at .400 -- he was batting .403 after the first game of a doubleheader on July 20 -- which only seemed appropriate given that Ted Williams was counted among his admirers.
There's no need to rehash the infamous SI cover, the wrist injury, or how it all went wrong -- plenty of ink and bandwidth has been spent on that the past five years. Nomar Garciaparra was a deserving New England icon for the better part of a decade. Last night, it was nice to see the player and the city acknowledge their mutual appreciation of the good times.
* * *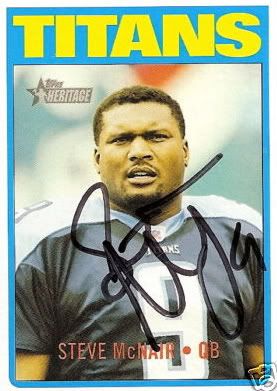 If there's one lesson we'll eventually take from the Steve McNair sad saga, I suspect it will be this: Never, ever inform your smitten 20-year-old girlfriend in person that you have no intention of divorcing your wife. Especially after she's started selling her furniture on Craigslist.
Maybe I'm just being a wise guy about something I shouldn't be a wise guy about, I don't know.
I guess I've become too jaded about this sort of tragedy -- ever since O.J. and A.C. slithered into the white Bronco to begin their slow-speed chase toward infamy, nothing surprises me anymore when it comes to professional athletes we foolishly believe we know.
While the salacious details about McNair's final days and hours trickle out, I'm doing my best to avoid the TMZization of this story. Pretty much everything you heard about McNair before his death were the same as the praise you heard after his passing: That he was a humble, friendly, and charitable man. I still believe those things. I'm also fairly certain that he enjoyed the perks of his fame.
But all we truly know about the man is that he was a hell of a football player, the kind of quarterback you trusted in charge of your huddle. He was by no means a Hall of Famer, despite what some in the national media would have you believe -- he's 28th all-time in passing yards, behind the likes of Kerry Collins, Jim Everett, and Steve DeBerg, and 46th in touchdown passes -- but he was a player who was very easy to admire. I thought one of my Twitter followers made a spot-on comparison -- he was very similar to another Steve, the revered (around here) Mr. Grogan.
Like Grogan, McNair had a strong if not always accurate throwing arm, he was extremely mobile before the injuries began taking a physical toll, and his toughness impressed not only us, the fans, but his peers as well.
That's how I'll remember Steve McNair: A better version of Steve Grogan. In retrospect, that's the only way I knew him.
* * *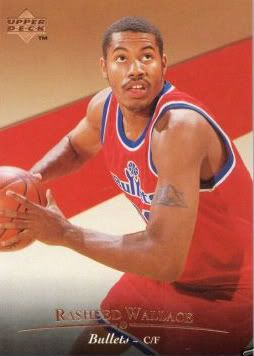 Rasheed Wallace, with his rangy offensive game, selflessness with the ball, and high basketball IQ, has always been easy to appreciate as a player -- even with his knack for flipping out and making one wonder if he had suffered multiple head trauma at some point.
So yeah, count me among those he's on the Celtics, particularly since he's arriving with the knowledge that he'll be playing a complementary role -- namely, his job will be to be everything Mikki Moore wasn't.
I'm pretty sure Wallace can handle that, even at age 35, and while there should be some concern that the Celtics are depending pretty much exclusively on older players, I trust Doc Rivers to divvy up the minutes so that everyone remains relatively fresh and healthy.
I suppose there's a small dose of hypocrisy in pledging allegiance to a player who has been one of the league's leading villains in recent seasons. Sheed was a first-team All-NBA jerk during his Jail Blazers days, and while he's mellowed a bit, you can be sure he'll be giving Kendrick Perkins a run for the team lead in technical fouls this season.
But as long as he can still play -- and because he is playing a supporting role -- the ancillary howling will serve as entertainment more than anything else. Sheed is our talented lunatic now, and it's going to be fun to watch.
* * *
As for today's Completely Random Baseball Card: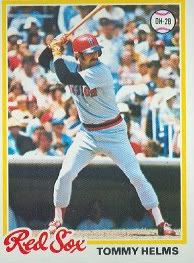 Showed up in my mailbox today, sent by a New York reader with no note or return address. It beats the heck out of a 1978 Bob Bailey, I suppose.
About Touching All The Bases
| | |
| --- | --- |
| | Irreverence and insight from Chad Finn, a Globe/Boston.com sports writer and media columnist. A winner of several national and regional writing awards, he is the founder and sole contributor to the TATB blog, which launched in December 2004. Yes, he realizes how lucky he is. |
Tweets by @GlobeChadFinn
browse this blog
by category
The best of Touching All The Bases