Posted by Chad Finn, Globe Staff
August 4, 2009 06:54 PM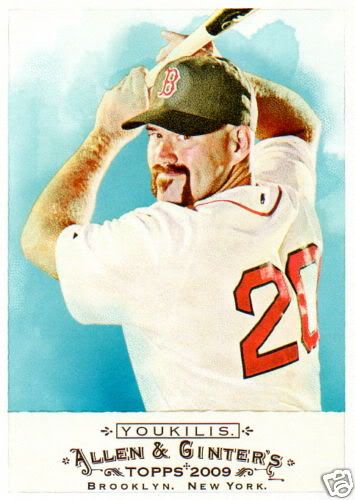 This much we know about the current state of the Red Sox lineup: Josh Reddick, Official Binky of TATB for 2009, has, without a doubt, Wally Pipped both Jason Bay and J.D. Drew. Yep, the kid is so good, the Red Sox need just two outfielders.
Don't just give him the rookie of the year trophy now . . . name the trophy after him, Selig. What are you waiting for? He has a 1.235 OPS!
(What? . . . No, I do not know what you mean by "minuscule sample size, you pea-brained fool.")
With that out of the way (hyperbole or delusion? You decide), we can move on to the Red Sox' more intriguing and relevant lineup question since switch-hitting catcher/first baseman Victor Martinez was acquired from the Indians at the trading deadline:
How is Terry Francona going to cram five accomplished and proud players (Martinez, Kevin Youkilis, David Ortiz, Mike Lowell and Jason Varitek) and one former hotshot prospect used to playing every day (Casey Kotchman) into four lineup spots (C, DH, 1B, 3B)?
It's going to be tricky, but not as tricky as you might think. While Francona is going to need every last charming trick in his collection of people skills to keep all of his players content, there is a logical breakdown regarding how all of the playing time should be divvied up over the final 57 games.
So far, the Sox have been following the most obvious and logical part of the plan -- Martinez and Youkilis, arguably the teams' two best hitters, should be in the middle of the lineup every day, save for a very occasional day off.
The rest is probably a little more complicated, and again, Father Tito is going to have some egos to assuage. Here is a quick look at the players involved, with some notes on what their roles should be, and how much playing time they should see at each position from now until Ballgame No. 162.
Youkilis: This one's easy. With his 1B/3B versatility and superstar-level production -- he's second in the AL in OPS to the Twins' Joe Mauer, the argument can be made that he is not only the Red Sox' most important offensive player, but one of the handful of most valuable players in the league. His name needs to be on the lineup card every day (again, save for the occasional mental health day), and Tito's no dummy: It will be. The rest of the way: 36 starts at 3B, 16 at 1B, five days off during which he'll gripe to Francona that he should be playing despite getting drilled by a pitch the night before.
Martinez: He's hitting third in the lineup again tonight, which is interesting in that Francona seems to favor working new acquisitions into the lineup with as little pressure as possible -- or at least that was the case last August when he hit Jason Bay sixth. . . . While hitting him third allows the Sox to go right-left-right with Pedroia-Martinez-Youkilis against a righthander, it also is a confirmation of just how much they are depending on him to boost their slumping offense (so far, so good . . . somewhere, Jason Berken gently weeps) . . . Defensively, he's not much different from Varitek: Good hands, pitchers like throwing to him, and he couldn't stop the entire Fielder family from stealing on him. Given the Red Sox' apparent indifference to the running game, we can live with that . . . Hey, we already have been. The rest of the way: 30 starts at 1B, 22 starts at catcher (but probably should have more), five days off during which I'll gripe that he should be in the lineup instead of Varitek.
Lowell: It's probably not fair to suggest the steady (when healthy) third baseman is the one who should lose the most playing time, but the deal for Martinez at least hinted that the Sox are skeptical that Lowell can make it through the rest of the season . . . I suspect they believe that his 2009 season will end much the way 2008 did -- with him desperately trying to play through an injury he shouldn't be trying to play through . . . He's subtly had a good offensive season (.300, 11 homers, 53 RBIs, despite missing 25 games), but according to most fielding metrics his range at third is "zombiesque" . . . At the least, Martinez's arrival means Lowell can get enough rest to try to prevent another physical breakdown. The rest of the way: 19 starts at third, 15 at DH, and one late-season stint on the DL.
Varitek: It's interesting that the Red Sox -- Francona specifically -- have suggested that Varitek is banged up and has been playing through injuries for the sake of the team . . . If that's the case, there shouldn't be too much drama when Martinez is behind the plate . . . Actually, it's probably for the best if Varitek has a legitimate nagging injury or two . . . It's one way to justify his reduction in playing time, and the veteran pitchers who rely on their rapport with him will have no choice but to get acclimated to Martinez . . . Maybe I'm alone on this, but I believe he's the one who should be catching Tim Wakefield, despite his strong reluctance. He's did it before many times pre-Mirabelli, while Martinez has never dealt with a knuckleballer . . . A sign that he's tired/aching/hurting -- his OPS numbers from April through July: .881, .824, .750, .736. . . . To be fair, as my man Kilgore points out, Varitek has been among the most productive catchers in the majors this season. He's third in homers (13), fourth in RBIs (44), and eighth in OPS (.797). Very impressive bounce-back season at age 37. The rest of the way: 35 starts at catcher, lots of ice packs on various limbs and joints, lots of stoic scowls to frighten opposing batters (but not would-be base-stealers).
Ortiz: One more odd development in a bizarre offensive season for Papi: He actually has a higher OPS against lefties (.751) than righties (.738) this season, though 11 of his 15 homers have come off righthanders in roughly twice as many plate appearances . . . So he'll get his share of at-bats against lefthanders along the way, preventing an official DH platoon with Lowell . . . While his power surge has been encouraging -- he has six homers in his last 78 at-bats -- he's still struggling on the road, and if you have any idea what to expect from now through October, please do share. The rest of the way: 42 starts at DH, perhaps more if Lowell's hip gets worse.
Kotchman: It wasn't that long ago that he was the Angels' No. 1 prospect -- Baseball America projected him to hit "20-25 homers" in the majors, but the 26-year-old just hasn't hit for acceptable power in the majors Doug Mientkiewicz with a better future. (Cue the "Don't steal the World Series ball!" jokes now.) What to expect the rest of the way: 11 starts at first base, duty as a defensive replacement for Lowell, and a promise of a legitimate shot next spring.
About Touching All The Bases
| | |
| --- | --- |
| | Irreverence and insight from Chad Finn, a Globe/Boston.com sports writer and media columnist. A winner of several national and regional writing awards, he is the founder and sole contributor to the TATB blog, which launched in December 2004. Yes, he realizes how lucky he is. |
Tweets by @GlobeChadFinn
browse this blog
by category
The best of Touching All The Bases