Posted by Chad Finn, Globe Staff
August 25, 2009 09:58 AM
Playing nine innings while wondering if Clay Buchholz's bizarre habit of throwing to first base at unnecessary times is some sort of tribute to Matt Young . . .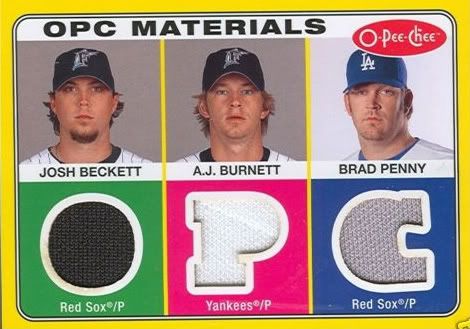 1. Despite losing two of three this weekend and six of their last seven matchups with the Yankees overall, I still feel oddly confident in the Sox' chances.
Why? Here's why: A.J. Burnett, No. 2 starter, all-time enigma. He's 33 years old, is as unhittable as any pitcher in the big leagues when he's on and interested, and yet he still carries himself like Nuke LaLoosh's petulant kid brother. In fact, I'm pretty sure this conversation actually occurred on the Fenway mound sometime around the second inning Saturday:
Burnett:[to himself]: Why's he calling for a curve ball? I want to bring heat. Shake him off. Throw what you want. [Posada gives Burnett the sign for the pitch, Burnett shakes his head again. Posada and his ears walk to the mound.]

Posada: Why are you shaking me off?

Burnett: I want to bring the heater. Announce my presence with authority.

Posada: To announce what?

Burnett: My presence with authority.

Posada: To announce your presence with authority?! This guy's a first ball fastball hitter, looking for the heat.

Burnett: So what? He ain't seen my heat.

Posada: All right, Meat. Give him your heat. [He walks back to his place behind the plate, muttering something about Carl Pavano.]

Burnett: Why's that big-eared guy always calling me Meat? I'm the guy driving a Porsche.

Posada: [to Kevin Youkilis, standing at the plate] Fastball.

[Burnett delivers. Youkilis crushes a home run, pausing to admire it.]

Posada: What are you doing standing here? I gave you a gift. You stand here showing up my pitcher? Run, dummy, or I'll have Chamberlain stick one in your ear.
Yes, that went on way too long, and yes, Burnett actually wanted to throw his curveball more. But other than that minor factual alteration, I am absolutely sticking to my story. With that indulgence out of the way, on to real baseball matters . . .
2. No, I don't think Josh Beckett is injured. I think he's had two lousy starts in a row, the first because he had to pitch to Victor Martinez, and the second because he hadn't recovered from the trauma of having to pitch to Victor Martinez. (Now that the Tek Army loyalists have nodded their heads and moved along to their dream-filled days of ice cream, unicorns, and squared-jawed catchers with brush-cut hairdos who can hit .250, let's try to come up with a sensible reason why Beckett has done the Wasdin thing over his last two starts after about two months of dominant pitching.) And look! Here's one, courtesy of Buster Olney, who suggests on ESPN Insider blog that the Yankees may have solved Beckett's pitching pattern entering Sunday's game.
The Yankees' home run data from Sunday night showed a definite trend in how to approach Beckett -- look for a first-pitch fastball, then curveball with two strikes. Derek Jeter and Hideki Matsui's leadoff homers in the first and second innings were both off fastballs. Robinson Cano and A-Rod later followed with homers off two-strike curveballs. This proved to be a great approach: Beckett threw 25 of 33 first-pitch fastballs (76 percent versus 59 percent overall). Beckett threw curveballs in eight of 18 of at-bats that reached.
This proved to be a great approach. Olney's not one for hyperbole, is he? Someone with the Yankees deserves kudos for cracking the code and allowing the Yankees to hammer a legitimate Cy Young candidate. Conversely, how come the Red Sox seemed to be so complacent in their pitch selection? I realize Beckett can be stubborn -- something tells me he'd like throwing to Posada about as much as Burnett does -- but if you don't mix it up, at some point, an advance scout is going to catch on. You'd think John Farrell and, yes, Varitek, would be aware of this, though I'd be curious to know if the pitching pattern was the same when Beckett threw to Martinez in his previous start at Toronto.
3. Mike Lowell since the All-Star break: .366 batting average, .591 slugging, 1.016 OPS, five homers and 21 RBIs in 93 at-bats. I believe the extra rest has helped him to a degree -- he does seem to be moving laterally better in the field -- but I bet he'd tell you that the numbers are the best evidence yet that he should be playing every day. At this point, I tend to see it his way, if only because the Sox lineup is so much deeper when Lowell and David Ortiz are a part of it.
4. By conventional statistical measures, Jacoby Ellsbury is having a pretty decent second full season in the big leagues. He's hovering around a .300 batting average (.294) at the moment, he plays a borderline Gold Glove center field, and with his next stolen base will break the club record that has been held since 1973, when Tommy Harper swiped 53. But a glance at his baseball-reference page leaves you with one fundamental conclusion: He's been almost the same exact mediocre player he was last season. His adjusted OPS is 87, the same as it was during his rookie season, and lower than Jason Varitek's and David Ortiz's this season. His on-base percentage is up .004 from a season ago, and his OPS is just .010 higher. Really, the only statistical changes are that he will probably score few runs, and he'll strike out less often. Not exactly the leap in production we were hoping from him in Year 2. He's going to be 26 in two weeks. It might be time to start wondering if what you see is what you are going to get with him.
5. I've been doing my best to not allow eight mostly brutal starts with the Red Sox alter my appreciation of John Smoltz's 20 mostly admirable seasons with the Atlanta Braves. So far, so good, though I have to admit it was intensely aggravating to watch him go out and dominate the Padres Saturday as if he'd suddenly discovered the fountain of youth beneath the Gateway Arch. Though the Padres have an offense that would probably finish in the middle of the pack in the Atlantic League, Smoltz, who whiffed nine in five scoreless innings, did look like the pitcher the Sox thought they were getting when they signed him back in January. He looked liked someone truly capable of contributing to a pitching staff through October, and only adding to a Sox fan's frustration was the implication during the game, when the Cardinals announcers were fawning over Yadier Molina and Dave Duncan's work with Smoltz, and afterward, when the Cardinals claimed that Chris Carpenter immediately noticed that Smoltz was tipping his pitches during a bullpen session. The Sox deny this, but if the Cardinals are right, shouldn't John Farrell and a certain catcher with all of those alleged intangibles have picked up on this at some point? Or have we blamed them for enough already today? It would go a long way toward explaining why opposing batters hit Smoltz like they knew what was coming, though I'm not sure I entirely buy it. The Cardinals like to be the smartest guys in the room, and Smoltz's batting-practice fastball didn't help his cause here Boston, either.
6. I do wish Billy Wagner would please come to Boston, because I think it's entirely possible he could be to this bullpen what Alan Embree was in 2003-04. (Then again, he could be a repeat of the Great Gagne Zeppelin Distaster of '07, but no matter.) But I do understand his reasoning why he's apparently choosing to use his no-trade clause -- he wants to close and surpass the 400-save threshold, he knows the Mets won't offer him arbitration because they literally cannot afford to, and he's going to be able to work his way back from Tommy John surgery with lower-stress innings with the lost-cause Mets than he would in the AL East playoff chase. I'm not saying it's the right thing to do, and it certainly is easy to paint him as someone who does not consider winning a priority. But for long-term's sake -- long-term being the last year or two of his career beyond this one -- it does make some sense to remain a Met.
7. Yep, Wagner's agent, Bean Stringfellow, is a real person and not a refugee from a Mark Twain novel. (Real first name: Thornton. Not much better than Bean.) In fact, he was a teammate of Smoltz in Triple A on those stacked 1987-88 Richmond Braves clubs.
8. I'm not saying I think the Red Sox are rushing to bring Tim Wakefield back Wednesday, but it is going to be a bit unusual for a baseball traditionalist to watch him riding a Segway when he has to cover first base. Weak jokes aside, I'd rather ol' knucksie go out there slathered in Icy Hot, wearing a back brace, and having the footwork of Captain Ahab than having to endure one more Brad Penny start. Speaking of which, here's Dodgers coach Larry Bowa, Feb. 18, 2009, a day after Penny criticized him shortly after joining the Red Sox:
"Is this the same Penny that never went to meetings, that came late, left early, was never in shape, always had an excuse when things didn't go right, didn't help the young kids at all? Coaches get on players when they're lazy and don't work. I think he should worry about getting hitters out in the American League East and not worry about me. . . . Brad Penny wants to work and dedicate himself, he could probably be as good as he wants to be. He didn't do it with us."
I've always thought Bowa was an angry little hypercompetitive jerk. Still do. But in this case, it appears he was an angry little hypercompetitive jerk who knew exactly what he was talking about. That said, I fully expect Penny to go to the Cardinals and win 23 games next year.
9.
About Touching All The Bases
| | |
| --- | --- |
| | Irreverence and insight from Chad Finn, a Globe/Boston.com sports writer and media columnist. A winner of several national and regional writing awards, he is the founder and sole contributor to the TATB blog, which launched in December 2004. Yes, he realizes how lucky he is. |
Tweets by @GlobeChadFinn
browse this blog
by category
The best of Touching All The Bases