Posted by Chad Finn, Globe Staff
September 14, 2009 04:47 PM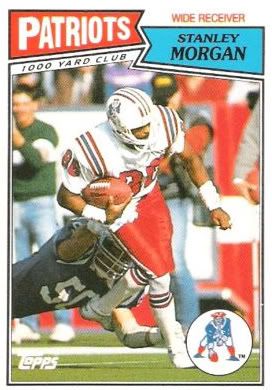 Are we ready for some football?
Are you kidding, Hank?
Did Jay Cutler cry himself to sleep listening to his favorite "30 Seconds to Mars" song last night?
Will three quality quarters from Mark Sanchez lead Jets fans to recalibrate their expectations to comically unachievable heights?
Is Jake Delhomme playing like the stiff who was once looking up at a pair of Billy Joes (Tolliver and Hobart) as well as Danny Wuerffel from the bottom of the Saints' depth chart?
Of course we're ready for some football, and while we got an early fix yesterday, the new season is not official around here until the Patriots have taken the field.
(That they're doing it in old-school style -- it's always a nice flashback when Pat Patriot is involved in the festivities -- only adds to the anticipatory fun.)
With a few hours to go until kickoff, let's further feed our football jones with some scattered thoughts on the Patriots . . .
The Patriots' best rookie will be . . . Well, until Richard Seymour was traded, my hunch was that it would be UConn product Darius Butler, who has speed to burn and already seems more polished than the two cornerbacks the Patriots drafted last year, Terrence Wheatley and Jonathan Wilhite. But Seymour's departure makes me wonder whether someone -- Ron Brace? Myron Pryor? -- has the ability to contribute immediately in a much greater capacity than fans and media have recognized. Sure, a huge reason Seymour was moved is because the chance to swap a 29-year-old defensive lineman who most likely was going to depart after the season for a first-round pick from the most dysfunctional franchise in professional sports was an offer Bill Belichick could not convince himself to pass up. But I think there's slightly more to it. Belichick always spots the truth long before we do. Either he thinks Seymour was slipping, or he has high hopes for a player on his roster that we are not yet sure about. My money -- and I think this is the smart money, too -- is on Brace, the Boston College product plucked in the second round in April.
We'll catch ourselves glancing at the right side of the Patriots defensive line from time to time: It's not like Seymour was the second coming of Jim Marshall in terms of durability -- he played 24 of 32 games over the past two seasons. And the Patriots somehow managed to go 16-0 in 2007, when he had just a 1.5 sacks in nine games. So it's not like he was always out there, always dominating, always making his presence known. But when he was at his best, that's exactly what he was: a presence. Stuffing the run and overwhelming his helpless opponent en route to the quarterback, tall No. 93 looming over the proceedings, the finest and most complete defensive lineman the franchise has ever known. Seymour was a player whose arrival with the Patriots as their No. 1 pick in 2001 coincided with the beginning of their improbable dynasty, and in that sense, it will be strange seeing someone else filling his old spot. I guess this is what it takes to get me to pay attention to a Raiders game.
C'mon, Laurence Maroney isn't so bad: Yeah, I'll admit it -- I like him, at least in comparison to the opinions of many Patriots fans, who seem to equate the fourth-year back to some combination of Reggie Dupard (in terms of running style) and Tony Eason (in terms of toughness, or lack thereof). I do understand the frustration with his running style. Too often he approaches the line like the ball carrier in those aggravating vibrating electric football games from the '70s -- he runs into the back of one of his offensive lineman and immediately gets stuck in neutral. But I'm also willing to give him the benefit of the doubt for a couple of reasons. It was a legitimate injury -- a broken shoulder, according to the player himself -- that cost him the 2008 season. Who could fault him for being frustrated that the team's refusal to divulge injuries contributed to the perception that he was something less than tough? Anyone with any pride would be furious. And enough with the suggestion that he's a bust on the level of Chad Jackson. You might expect more from a No. 1 pick, particularly one who was chosen ahead of Joseph Addai and DeAngelo Williams in the first round in 2006. But he's just 24, he ran for 835 yards at 4.5 per pop in 2007 and played great down the stretch that season, running for 122 yards in each of their AFC playoff games. Even his detractors recognize his talent. He might be an enigma so far, but he's not a bust, and I believe he will live up to his ability. Hopefully it will happen with the franchise that once so saw so much promise in him.
Good to see you again: We'd all love to see Mr. Brady announce his presence with authority with an 60-something yard bomb to Randy Moss on the game's first drive tonight. Hell, make it the first play, a flashback to Bledsoe-to-Glenn in the 1996 playoff game versus the Steelers. (Seems more like 30 years ago than 13, doesn't it?) But what I'm really looking forward to seeing from Brady is seeing all the small things that added up to make him one of the game's all-time elite quarterbacks. The uncanny, Marino-like instinct in the pocket, slipping one step to the side and one step up just as a rumbling, snorting pass rusher approaches to find nothing but frustration; the quick reads and confident decisions, as if he has a telepathic connection with his receivers; the uncanny poise and accuracy under pressure; and perhaps most notably given how his previous season ended, the willingness to step into his pass, letting it fly without a moment's hesitation. There are many obvious things that make Tom Brady an NFL and New England legend. Tonight, we'll be watching for all of the subtle ones as well.
A new age: Of course we'll cherish the memories and respect the legacies of Seymour, Mike Vrabel, Tedy Bruschi and Rodney Harrison, four core defenders on the dynasty Patriots and owners of 11 Super Bowl rings between them. (Sorry, Ellis: No rings, no love.) They were wonderful players here, passionate, smart, winning players, and you wish their collective prime could last forever. But the closest thing we know to the fountain of youth is on the league's banned substances list, and even the most ardent admirers of Bruschi and Harrison in particular must have recognized at some point that even though their minds told them where to be, their legs were increasingly less cooperative. There's a reason the Patriots defense looked slow last season -- it was. Perhaps Vrabel and especially Seymour still have more to contribute on Sundays, but I suspect that at least in Vrabel's case, the adage "it's better to get rid of a player a year early than a year late" applies. The Patriots' defense will have a new look, and many of our favorites through this historic run are no longer a part of it. It's OK for us to be sentimental, but just remember that it's to the Patriots' long-term benefit that their coach isn't.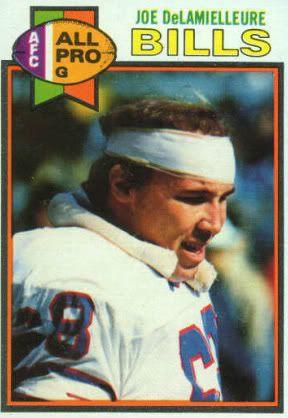 Where have you gone, Joe DeLamielleure? Before I go, a quick word about tonight's opponent: The Bills are probably the worst team in the AFC East, unless Miami's feeble performance yesterday foreshadowed a huge comedown for the Fighting Sparanos. And I think the Pats will win with relative ease and very little drama tonight. But some of the talk about Buffalo's supposed incompetence is starting to be a little much. Yes, they fired their offensive coordinator a few weeks ago, a sign of disarray even if not of us had heard Turk Schonert's name since he was backing up Boomer Esiason 20 years ago. Yes, they have five new starters on the line, which doesn't bode well for Trent Edwards's health. But if Edwards has a little bit of time before the swarm arrives, he could put up some decent numbers, especially with a pair of legitimate top-flight receivers in Lee Evans and Terrell Owens going up against the Patriots' new collection of cornerbacks. Edwards is not a bad quarterback at all -- I'd put him in the middle of the pack in the league this season. Fred Jackson isn't flashy but runs hard, the Aaron Schobel-leddefensive line is deep . . . this is not a terrible team. To suggest, as one New England writer did this morning, that the Bills are worse than last year's historically inept Lions is either to be incurably hyperbolic or painfully ignorant.
* * *
As for today's Completely Random Football Card: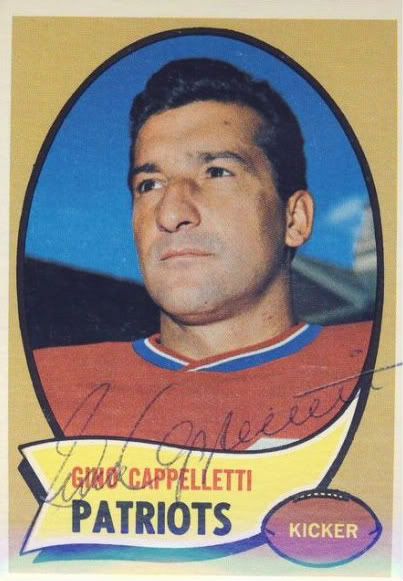 I'll be commuting home during the first hour or so of the game, so the first moments of the season for me will be delivered courtesy of Gil and Gino. While I suspect No. 86, Chris Baker, might be identified at Stanley Morgan a time or two, I can't think of better company.
About Touching All The Bases
| | |
| --- | --- |
| | Irreverence and insight from Chad Finn, a Globe/Boston.com sports writer and media columnist. A winner of several national and regional writing awards, he is the founder and sole contributor to the TATB blog, which launched in December 2004. Yes, he realizes how lucky he is. |
Tweets by @GlobeChadFinn
browse this blog
by category
The best of Touching All The Bases