Posted by Chad Finn, Globe Staff
September 21, 2009 04:53 PM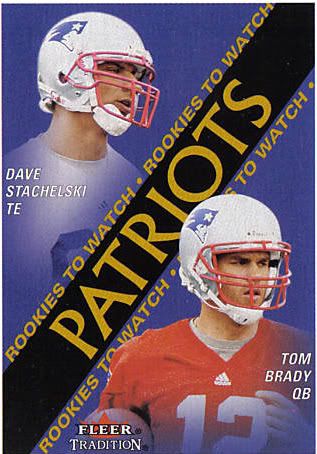 (Deep breath.)
(Exhale)
Repeat after me.
It's all going to be OK. Tom Brady will recalibrate his arm, spray on some Rust-Oleum instead of Stetson, and rediscover that trademark accuracy and poise in the pocket. Welkah! will return as the indispensable safety valve, Bill O'Brien will remember that Kevin Faulk is on the roster, and the running game will find its footing.
Again: It's all going to be OK. The Patriots are good enough, they're smart enough, and people like them.
All right, so maybe Stuart Smalley is a tired reference, and maybe that last part of that mantra isn't quite true when it comes to the Patriots. Rightfully or not, the Patriots are regarded as villains outside of this six-state region -- actually, make that 5 1/2 states, since Connecticut trends green and white as much as it does red, white, and blue.
There were plenty around the NFL yesterday who were nothing less than giddy to see arrogant Bill Belichick lose to that grinning, blustery media-charmer, Rex Ryan. I can't confirm this, but when the final seconds ticked off the clock, I'm pretty sure Charlie Casserly's toupee moved on its own out of sheer delight.
Let them have their fun now, because yesterday's mess at the Meadowlands does nothing to damage the greater point: Barring something unforeseen, the Patriots are and will be a very good football team this season. Due to circumstances mostly within their control and entirely correctable, they just didn't happen to play like one yesterday.
While I heard from more than my share of angry and irrational Patriots fans yesterday -- no, Matt Cassel is not a superior quarterback, no, Brady is not playing scared, no, Giselle is not a curse, and yes, you're tempting me to break out the phrase '"lowest common denominator" again -- I realize stomping to the nearest proverbial bridge and threatening to jump if Laurence Maroney isn't immediately banished to the Canadian Football League is how some deal with the frustration of defeat. It's a common reaction -- even if it makes them look like spoiled, entitled front-runners.
I'd like to think -- make that I do think -- that the vast majority of Patriots fans are clear-headed and reasonable about yesterday's loss. They understand that the defense played fairly well in its first week of the six to eight it must face without its centerpiece, Jerod Mayo. They realize Pete Carroll's surprisingly self-serving suggestion that Mark Sanchez should have stayed at Southern Cal suggests the cheery coach still can't be trusted to make NFL personnel evaluations. They understand that this game meant an immense amount to the Jets, who have a longstanding of habit of collecting their biggest wins in September.
Most importantly, they understand that Tom Brady's frustrating Bledsoe-at-his-worst performance -- throwing off his back foot, not feeling the blindside rush yet inexplicably hurrying when the coast was clear, missing open receivers by a margin just small enough to make you audibly and crudely lament the lost opportunity -- was exactly what should be expected of a quarterback who missed essentially a full year of vicious Sunday afternoon action.
In retrospect, what he accomplished last week in the final five minutes against the Bills was not confirmation that he had returned to full health. It was a well-timed display of will, poise, preparation, and ability. It was both a flashback and a promise of things to come -- but the catch is that there was no guaranteed time-frame on that promise.
Speaking of catches, yesterday served as a reminder of just how complex a task it is to run an effective, efficient passing offense when the receivers and the quarterback aren't in the same playbook, let alone on the same page.
If Brady was just slightly more accurate on a couple of passes -- the overthrow to Julian Edelman at the goal line, most obviously -- the Patriots might have had a 21-3 lead at the break, and you can be pretty sure Jets fans would have quietly abandoned their four-letter-word spelling bee and put away their air horns long before the game had ended.
But it can't and shouldn't all be placed on the quarterback. While Joey Galloway had his moments -- with better timing/knowledge/luck, he might have had two touchdown receptions -- he also is yet to shake his habit of looking over the wrong shoulder or being ever-so-slightly out of position. I never thought a player as statistically accomplished as Galloway would make us appreciate the subtle talents Jabar Gaffney, but there you go.
As for Edelman, it's already obvious that the Patriots found a gem in the seventh round of this year's draft. He is electric when he has room in the open field, he mirrors Welker by running low to the ground and making himself hard to see and hit, and his performance yesterday was remarkable given that he was in the early Saturdays of his senior year as Kent State's quarterback at this time last season.
But if not for assistant coach Randy Moss -- if we didn't understand before why teammates rave about his intelligence, we do now -- Edelman would probably still be standing on the Meadowlands turf, staring blankly at the puzzling football hieroglyphics documented on his wrist band. Yes, it was obvious that the Patriots were thrown for a loop when Welker couldn't go.
Edelman's a work in progress, and the same applies to the offense as a whole. While the starry-eyed suggestions that this offense could more prolific than the record-shattering crew in 2007 have already been punctured two games into the season, we are confident in this:
Brady will get better, more comfortable in the pocket and with his personnel, and when -- not if, when -- that happens, the offense will keep the scoreboard operators busy again.
The Patriots meet the Jets again Nov. 22.
Let Rex, Rhodes and the Jets enjoy their day of glory now. Because I suspect we'll like the team we see two months from now a heck of a lot more than the one we witnessed yesterday.
About Touching All The Bases
| | |
| --- | --- |
| | Irreverence and insight from Chad Finn, a Globe/Boston.com sports writer and media columnist. A winner of several national and regional writing awards, he is the founder and sole contributor to the TATB blog, which launched in December 2004. Yes, he realizes how lucky he is. |
Tweets by @GlobeChadFinn
browse this blog
by category
The best of Touching All The Bases