Posted by Chad Finn, Globe Staff
September 30, 2009 11:24 AM
Playing nine innings while looking forward to buying a "2009 AL wild card champions" t-shirt for $3.99 at Olympia a month from now . . .
1. Peter Gammons tweeted this bit of info this morning, and it caught me by such surprise that I had to turn to MLB.com for confirmation, but it is true: J.D. Drew is second among qualifying American League outfielders in OPS this season, behind only teammate Jason Bay. (Adam Lind, who would be first, doesn't count since he's primarily been a DH.) Further, Drew is 11th overall, trailing these 10 boppers: Joe Mauer, Youk, You're On The Mark Teixeira!, Miguel Cabrera, Lind, A-Rod, Ben Zobrist, Bay, Michael Young, and Kendry Morales. Damn good company. I don't know if this is an indictment of OPS as a measuring stick regarding a player's contributions and value, or a sign that we've been sleeping on a very useful season from the player who is in the top five on the Red Sox' all-time list of enigmas. But the conclusion is inescapable: Drew has had a sneaky-excellent season.
2. It's tempting to root for the Morneau-less Twins in this honest-to-goodness pennant race with the Tigers, if for no other reason than the slim chance that it will enhance Joe Mauer's MVP candidacy in the brussels sprout-sized minds of those who believe there is any other logical choice. But . . . but . . . I just can't do it, for two reasons: I can't stand the Twins' addiction to Punto-ing away outs with small-ball tactics, and, more important, I'm fairly sure they'd be roadkill against the Yankees. I've shared this dream before, and I will again, because I'm convinced it can become reality: Justin Verlander, who is 1-1 with a 1.29 ERA and 15 strikeouts in 14 innings against the Yankees this season, beats CC Sabathia in Game 1 . . . and suddenly, the Yankees are counting on maddening A.J. Burnett to win Game 2 . . . and the entitled and desperate jackals get bloodthirsty, and . . .
3. Obviously, the priority over the final four games is to get the pitching staff lined up and the lineup rested for the postseason. But I hope David Ortiz, who undoubtedly could benefit from a day off or two, gets the opportunity to wallop the two homers and drive in the four runs he needs for his sixth career 30 homer/100 RBI season. Considering that he didn't hit his second home run until June 6 -- the 56th game of the season -- it's remarkable that he even has a shot at the dual milestones at all. And for all that has happened to him this season -- and all he did for Sox fans in previous seasons -- it is very, very easy to root for a little bit of redemption for the man
4. The Tek Army, depleted, battered, and on the verge of acknowledging that their idol is barely able to throw to second base in under 2.5 seconds, has been reduced to suggesting that their captain should call pitches from the bench during the postseason. I know it's hard to believe, but I never wanted it to come to this; my problem was never with Varitek, an admirable and important player during the Red Sox' terrific recent run, but with those who exaggerated his secondary abilities when it was apparent that his truly valuable skills were eroding. I actually wouldn't mind if he's behind the plate for Josh Beckett's Game 2 start -- Varitek's presence is of apparent importance to the pitcher, and that's worth something. I just don't want to see him digging in to the batter's box for a meaningful late-inning at-bat. Heck, I'd rather see the suddenly available Eric Wedge get a few swings. Check out that HR rate in '92.
5. Yeah, I suppose it was in questionable taste for Angels players to toast (and douse) the image of Nick Adenhart on the outfield wall with champagne and beer during their playoff-clinching celebration Monday night, given that the promising young pitcher was killed by a drunk driver. But I don't have much of an issue with it, considering that their intent was heartfelt and genuine. What did bug me was Angels broadcaster Rex Hudler's relentless yapping as the Angels' players headed out to pay tribute to their fallen teammate. Even Chris Berman knows that moments such as that one don't need a running commentary.
6. We don't say his name much around here anymore, but is interesting to note that Manny Ramirez's basic numbers for the Dodgers this season (.295-19-62 in 419 plate appearances) look strikingly similar to his stats with the Sox a year ago (.299-20-68 in 425 PAs) before he was dealt to LA and turned into the reincarnation Babe Ruth for two months.
7. I figure this is as good a time and place as any for a long overdue tip of the cap to my friend Kevin Gray, the New Hampshire Union Leader's beat writer for the Toronto Blue Jays' Double A team in Manchester. While in deep preparation for my fantasy baseball draft back in March, I asked him for some wisdom on rookie Travis Snider, the Jays' touted 21-year-old left fielder. His response, in essence: "Forget Snider this year. Take Adam Lind. He's going to break through." Thirty-five homers and 114 RBIs later, I wish I'd listened.
8. Because I rarely, if ever, say it better than the fellas at Surviving Grady, I'll give you their words rather than mine (while fully approving of the sentiment):
In case tonight turns out to be Wake's last Red Sox start, he should be carried in on a sedan chair and showered in roses and BC chicks.
Actually, come to think of it, they might want to do the same for Varitek, just in case.
9. As for today's Completely Random Baseball card: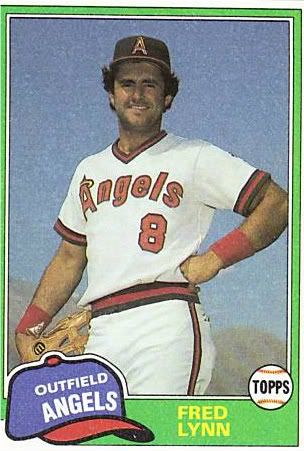 Twenty-nine years after he was traded, it still doesn't look quite right.

About Touching All The Bases
| | |
| --- | --- |
| | Irreverence and insight from Chad Finn, a Globe/Boston.com sports writer and media columnist. A winner of several national and regional writing awards, he is the founder and sole contributor to the TATB blog, which launched in December 2004. Yes, he realizes how lucky he is. |
Tweets by @GlobeChadFinn
browse this blog
by category
The best of Touching All The Bases