Posted by Chad Finn, Globe Staff
September 28, 2009 06:23 PM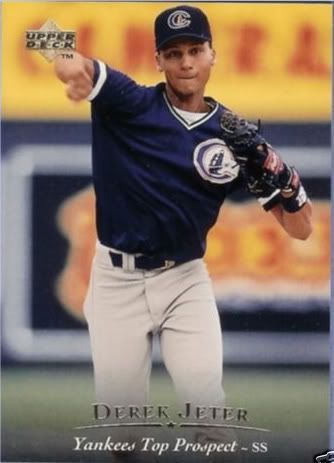 If we didn't acknowledge the truth here, I suppose we'd be just as ungracious as we accuse Yankees fans of being. So here comes the obvious, straight and down the middle like a Manny Delcarmen fastball on a 3-1 count:
The 2009 New York Yankees are one hell of a baseball team. And while the thought is hardly appealing, it's very easy to envision them enjoying a booze-spraying celebration in late October, just as they did yesterday.
Forget parochialism and all we've been raised to believe. You simply must tip your cap to a ball club that wins 100 games -- something the Sox franchise has not done since, believe it or not, 1946 -- and particularly one that accomplishes the milestone with six more dates on the schedule.
(Quick digression: Is it me, or was Joe Castiglione's call of Edgar Renteria's one-hopper to Keith Foulke in '04 more subdued than Jon Miller's extremely enthusiastic call yesterday of Jacoby Ellsbury's game-ending squibber to Mariano Rivera? I'm not exactly sure of which announcer I'm critiquing here. Both, I guess.)
Having watched them punch and counter-punch the Red Sox for 18 games this season (in the aftermath the final 9-9 draw, that 8-0 start for the good guys sure feels like a couple of summers ago), we require no lengthy rehash of their strengths and standouts, of Phil Hughes's crucial emergence, Derek Jeter's unusual age-35 resurgence, or Mark Teixeira's all-around importance. The Yankees and their plot twists are always familiar around here.
OK . . . now that I've filled my annual quota for sincere niceties regarding the Yankees -- we generally for three paragraphs per season, give or take a sentence -- here comes the caveat, the real reason I wanted to write about this today, and I could not mean this more:
I like this Red Sox team a lot -- Theo's midseason tweaks greatly enhanced the offense (V-Mart is exactly what they required) and defense (Gonzo brought stability along with his uncommon grace and flash) -- and I love their chances in October.
Yes, even against the team that just partied on in front of them.
I'm not foolish enough to suggest it's a forgone conclusion or predetermined by destiny (or Fox network executives) that the Sox and Yankees shall meet again. Clinching the wild card is a formality, one which will become a reality in the next day or two unless Terry Francona inexplicably begins channeling Gene Mauch. Getting past the tough and talented Angels in the first round is a different matter entirely, no matter what the teams' postseason history might suggest. The Angels are not to be overlooked.
Tonight, it would be nice if the Sox, who have a magic number of 2, could take care of business on their end and the Angels could do them a favor by beating the visiting Rangers, thus locking up their spot in the tournament.
While the Sox have been going about their business as if they are already in -- selectively resting the regulars, giving the jayvees some playing time against the Yankees, getting their ducks in a row for the postseason at the expense of a minuscule shot at the AL East title -- there are those among us who don't like to tempt the baseball gods by making assumptions. And it's never much fun to see the Sox punt away three in a row in the Bronx under any circumstances.
But save for the relatively meaningless results or the unnecessary worries of those who still possess an archaic fear of curses, ghosts and pinstripes, it really wasn't bad as far as lost weekends go. I saw what I needed to see -- Dice-K pitched well enough to give us a little bit more encouragement regarding what's to come, Jason Varitek struggled against the running game to the point that the Red Sox may have no choice but to do the right thing . . . and what could have been a disaster certainly looks like a bullet dodged.
Consider this, Sox pessimists: If we'd truly returned to that pre-2004 baseball universe where the Yankees reigned supreme over the Sox and fortune always smiled in the direction of the Bronx, Jon Lester's leg would be in a cast right now.
Lester looks like he's going to be good to go. Assuming "back spasms" aren't a euphemism for a recurrence of last season's oblique problem, I'm not sweating the late-breaking news that Josh Beckett has been scratched from his start tonight, either
Again: Do whatever you must do, Tito, to put your team in the best position and condition entering the postseason. We're with you, even if it means Beckett doesn't see the mound again until Game 2 in Anaheim.
In the meantime, we'll be waiting for the Sox' requisite woo-hoo-we're-in! celebration in the next day or two. Here's hoping it's appropriately understated. Because the hunch here is that it won't be their last this fall.
About Touching All The Bases
| | |
| --- | --- |
| | Irreverence and insight from Chad Finn, a Globe/Boston.com sports writer and media columnist. A winner of several national and regional writing awards, he is the founder and sole contributor to the TATB blog, which launched in December 2004. Yes, he realizes how lucky he is. |
Tweets by @GlobeChadFinn
browse this blog
by category
The best of Touching All The Bases