Posted by Chad Finn, Globe Staff
September 16, 2009 06:00 PM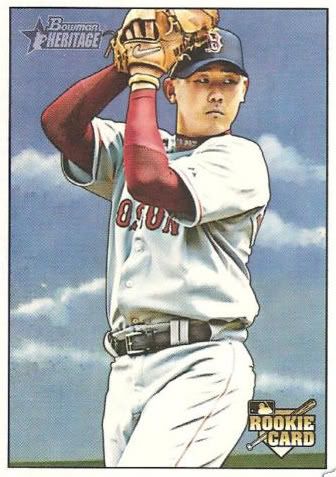 Who was that guy?
That certainly looked like Daisuke Matsuzaka on the mound for the Red Sox last night -- a slimmed-down version, anyway. The deliberate wind up, the stoic look, the wide variety of pitches . . . it's all become familiar during his three seasons in Boston. Yep, that was him.
But so much about the enigmatic righthander's six-plus-inning, three-hit, no-run gem was unfamiliar. He pounded the strike zone with all of his pitches. He was efficient and worked with purpose. His fastball hopped, his cutter sawed off bats, and his slider was as sharp as we can recall seeing it. And the game ended in less than four hours.
His performance was as mesmerizing as it was unexpected. I'm only being slightly snarky when I say he delivered last night like he thought it was the championship game of the World Baseball Classic.
Matsuzaka hadn't pitched for the Red Sox since July 19. He hadn't pitched well for the Red Sox since 2008, when he went a high-maintenance 18-3 with a 2.90 ERA.
Yet last night, so improbably, he faces the second-best hitting team in baseball and pitches as well as we have ever seen him, save for perhaps a masterful performance versus Detroit in 2007 and another last August against the White Sox.
Always the enigma, that Dice-K. Just when you're ready to write him off for the season, he returns after a three-month banishment to run wind sprints in not-so-scenic Fort Myers and reminds you why the Red Sox -- and just about everyone else -- coveted him so three years ago.
That clever, confident pitcher with the deep repertoire on the mound last night? That was the one Craig Shipley, Jon Deeble, and the Red Sox scouting staff fell for, the iconic Japanese baseball superstar for whom the Red Sox outbid all other suitors three years ago for the sole rights to negotiate with him. (I never word that right; you know what I mean.)
It's who the Sox thought they were getting all along, and while it's unfair -- check that, it's wrong -- to suggest Matsuzaka is a bust with the Sox, given his 33 victories and contribution to a World Championship during his first two seasons, the question now is whether this is the pitcher we will see going forward.
There are reasons for optimism beyond the promises of last night. During an interview this season with a Japanese reporter, Matsuzaka revealed his frustration with the Red Sox' training methods and approach to preparing pitchers. The Red Sox, who in the Epstein/Francona Era rarely criticize a player to the media, did not back down, expressed their disappointment with Matsuzaka's conditioning and priorities, and let him know exactly how they felt. The air between the player and the team was eventually cleared behind closed doors; it may end up being one of the most subtly crucial moments of this season.
Matsuzaka seemed genuinely contrite after the disruption, and given that he looks 15 pounds lighter and is throwing 5 mph faster than when he left, it's fair to assume he took personal responsibility for his struggles this year and went about doing his best to salvage what looked like a lost season. That's the sign of a true professional.
I don't want to count our victories before the first pitch is even delivered, but should last night's masterpiece be an accurate harbinger of more Matsuzaka highlights to come, there will be plenty of credit to go around. To Matsuzaka, for doing all he can to become that mid-rotation starter the Sox desperately need; to Epstein, Francona, and pitching coach John Farrell, for handling a complex situation intelligently and with the big picture always in focus; and to all the names in the small type in the media guide who worked with Matuzsaka during those three months when he was out of sight and out of mind to Sox fans.
Like many New England sports fans of a certain age last night, I had a highlight reel narrated by Fred Cusick on sweet repeat in my mind. But as Matsuzaka trudged off the mound in the seventh inning without having allowed an Angels batter to touch home plate, awash in the most sincere ovation he has received at Fenway, the words of another legendary broadcaster entered my mind:
I can't believe what I just saw.
Daisuke Matsuzaka will make his second start of his suddenly engrossing attempt at redemption on Sunday.
I can't believe I can't wait to see it.
* * *
As for today's Completely Random Football Card: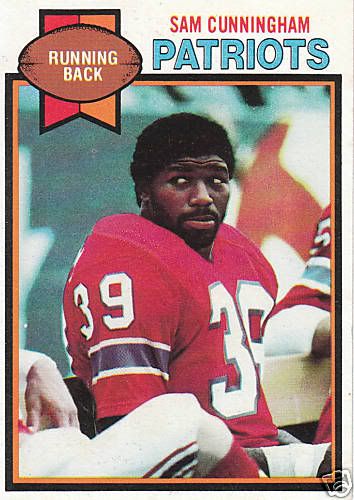 "Say what?! Happy-Feet Maroney wears my number!?"
(Just kidding. Like Maroney. Love Sam-Bam.)
About Touching All The Bases
| | |
| --- | --- |
| | Irreverence and insight from Chad Finn, a Globe/Boston.com sports writer and media columnist. A winner of several national and regional writing awards, he is the founder and sole contributor to the TATB blog, which launched in December 2004. Yes, he realizes how lucky he is. |
Tweets by @GlobeChadFinn
browse this blog
by category
The best of Touching All The Bases