all entries with the category
First and 10
This First-and-10 format was a staple of this blog in the early blogspot days, but I use it so seldom now that I might as well rename it the Ochocinco. The jokes, however, are as lame as ever. Because the best time to revive an old standby is 6:30 p.m. on a Friday, here are 10 thoughts on the Patriots ...
1. I understand the sentiment that the Patriots should do everything they can to bolster the roster while Tom Brady is still at the height of his powers. But the howling and entitlement among some fans after the first couple of days of free agency is ridiculous. They've arguably made the longest run of sustained excellence in NFL history, and they've done it in the salary cap era. In the last nine years, they've won at least 14 games four times, and never fewer than 10. Think about how difficult that is to achieve. I know, they haven't won a Super Bowl since 2004. You know why? Because it's really damned difficult to do. But they could have at least two more with a couple of bounces here and there, and that they are positioned to be a Super Bowl contender every single year should be confirmation enough that their approach works.
2. Besides, no official judgments should be made on how the Patriots have done in free agency until Brandon Lloyd picks an employer -- and I'm willing to wager he's coming here, because the receiver's sudden silence regarding whether the Patriots have shown interest tells you one thing: they are interested, and they've told him to keep it quiet.
3. Allow me just one more mini-rant on free-agent "splashes" and then I'll zip it. As Tom Curran noted recently, Adalius Thomas was a first-day signing before the 2007 season and the closest thing to a mega-move the Patriots have made in free agency. How'd that go? Well, as far as I know, he's still asleep in the back of a meeting room at Gillette Stadium as you read this. Meanwhile, what we perceive to be a splash -- the Rodney Harrison/Rosevelt Colvin double-whammy after the '02 season -- happened more than a week in. Patience, people. Let it play out.
4. It's not flashy, but you have to admire how they target under-the-radar players that they believe would fit here early in free agency, assuring that they collect a lot of players that they want while other teams are distracted by the shiny, sparkly so-called stars. Former Charger Steve Gregory is expected to bring versatility and good instincts to the defensive backfield, while ex-Bengal Jonathan Fanene's contract tells you all you need to know about how they regard him. I'm looking forward to watching both come September.
5. Leave it to Brandon Meriweather to mess up a great game-plan. I was hoping Meriweather would sign with the Jets, not just because he would be fun to play against twice per season, but because it would probably take them out of the running for LaRon Landry, whom I really hope ends up here despite his injury history and absurdly musclebound physique. Instead, Meriweather signed with Landry's former team, the Redskins, and now the Patriots and Jets are both trying to convince one of the few obviously appealing safeties on the market to come aboard.
FULL ENTRY
Taking a bit of a different approach to the long-running yet sporadic First and 10 feature around here today. Rather than chime in on scattered thoughts from the most recent Patriots game -- Thursday's 34-10 preseason loss to the Lions that you'll have long since forgotten about once to meaningful games begin -- let's instead take a look at 10 individual players, some of whom are cornerstones, some of whom will be nervous as tomorrow's 4 p.m. roster-shearing to 80 looms, and some of whom are already gone . . .
James Sanders: Actually, might as well start with the news of the day rather than the news of Saturday, since the decision to release the seventh-year safety came as a relative surprise based on the perceived lack of depth at the position. Sanders, who started 50 of his 84 regular-season games as a Patriot, was an adequate player here, lauded for his intelligence, communication skills, and football acumen, a player who long ago won his coach's appreciation. Unfortunately, Sanders may have been brilliant at diagnosing a play when the opposing offense lined up, but he wasn't quick enough to get himself into position to make the play. It's always disappointing to see someone who got the most out of his ability -- physically and mentally -- depart. But there comes a point when the mental acuity can't overcome the physical shortcomings, and Sanders has probably crossed that threshold. His professionalism will be missed, but his performance should be replaced.
Tom Brady: If the Giants' pass rush Thursday night is as effective and ferocious as Detroit's Saturday, the Patriots quarterback should be in his usual position on the sideline -- that is, standing next to Chad Ochocinco and gesturing toward the field while the ex-Bengal stares saucer-eyed, as if he's suddenly realized his former team's playbook was really a pamphlet. Brady was a bit scatter-armed by his standards Saturday, but whatever rust he may to shake off is of little relevance compared to the risk of him getting injured in a preseason game against a defense desperate for a couple of pelts to start the season right.
Brandon Tate: I hope he sticks. I don't know how he does, unless Wes Welker's injury is more serious than it appears, but I hope there's a spot on the roster for him. The Patriots have a relatively deep crew at receiver, but he's the only one of the crew who can consistently get deep. He seems to have been surpassed by second-year receiver Taylor Price, and his value as a kick returner has been diminished by the rule change, but I think it's often overlooked that last year was essentially his rookie season. He missed the last eight games of his senior season at North Carolina with a knee injury, then was limited to two games during his first season with the Patriots before playing all 16 games a season ago, with 24 catches for 432 yards (18 yards per catch). He may not have Brady's trust as a route-runner yet, but he has promise; give him time to learn. Let's not discard him in the Bethel Johnson/Chad Jackson discard pile just yet.
Ras-I Dowling: Pure conjecture here -- hey, now there's a surprise -- but is it possible that the rookie second-round pick has shown Belichick and Matt Patricia enough during his limited practice time that he might get a look at safety rather than cornerback to start the season? Given the Patriots' apparent lack of depth at safety before Sanders was let go, there has to be something happening at the position that remains a mystery today, whether that's the emergence of Josh Barrett or Sergio Brown or the impending signing of someone such as Darren Sharper. I refuse to believe it has anything to do with today's signing of the Obligatory Ventrone Brother.
Matt Light: A silly thought considering that first-round pick Nate Solder is a work-in-progress who appears to lack the strength and nuance required to protect Tom Brady's blind side at this point, but a silly thought I'm afraid I'll keep coming back to if Dan Connolly's injury is serious: Is there any chance Light could move to right guard? It's probably a lot to ask in his 11th NFL season, but I seem to remember a few people projecting him as a guard when the Patriots drafted him (some dismissively), and in his 2001 Pro Football Weekly Draft Guide, the late, great Joel Buchsbaum noted of the Purdue product: Might be better at guard or right tackle at the next level. There was no need for him to begin his career anywhere but left tackle, and he's been a damn good one. But he may be able to prolong that career by moving to guard at some point.
Brandon Meriweather: Considering he's blown coverages that led directly to big plays in each of the past two preseason games, I have my doubts that he's going to be any more dependable in his fifth professional season than he was in his first four. He's fast, he can hit, and yet neither is really a strength since he often overruns plays and goes for the kill at the expense of actually bringing down the ball carrier. If Belichick truly were an evil genius, he'd have long ago found a way to meld Sanders's smarts with Meriweather's raw skills and create the next Rodney Harrison.
Rob Gronkowski: Two things heard about Gronk during camp this year: He knows the playbook much better than he did a season ago. And: He's been absolutely unstoppable in practice. The Patriots' offense is so versatile that it's tough to project big numbers for anyone in the passing game, but I'll be betting on my fantasy football draft day that he's a top-five tight end this year. Possibly top-three.
Jonathan Wilhite: The fourth-year defensive back is among those let go by the Patriots today, and while I try not to say good riddance to someone who just lost their job, the truth is I can't remember Wilhite making any single positive play during his time here that stood out. Research revealed this -- an interception of Peyton Manning during the Patriots' 35-34 loss to the Colts in 2009. It's one of his three career picks, and undoubtedly the most notable considering the other two came against JaMarcus Russell and Ryan Fitzpatrick. (Come to think of it, the highlights of both Wilhite and Sanders's career here came with picks of Peyton Manning. Wouldn't have guessed that.)
BenJarvus Green-Ellis: He's easy to root for, a 2008 rookie free-agent afterthought who three years later became the Patriots' first 1,000-yard rusher since 2004. Other positives: He protects the ball, he gains every inch possible in traffic, and he's not named Laurence Maroney. Green-Ellis is reminiscent of another Patriots running back of relatively recent vintage, Antowain Smith, who earned two Super Bowl rings as a Patriot one tough yard at a time. But he also was just flawed enough that there was always the temptation to go for an upgrade at the position, and that's the same feeling I have about Ellis, whose lack of speed in the open field can be a source of frustration. If Stevan Ridley or -- and this is a longer shot given the preseason hamstring injury that set him back -- Shane Vereen can prove worthy of taking some carries from Green-Ellis on first and second down, the Patriots will be a better team for it.
Devin McCourty: It was a bit jarring to see him struggle against the Lions Saturday given that it was the scene of perhaps his best game of his superb rookie season last year. It's one thing to struggle covering Calvin Johnson -- even Mike Haynes in his prime might find the Lions star a difficult matchup -- but McCourty also got beat by Nate Burleson on a couple of occasions. If you're a frequent sports radio caller, feel free to worry that he's headed for a sophomore slump and possibly may even turn into the second coming of Chris Canty if that gets you a few more seconds of airtime. If you're a fan who maintains enough common sense and perspective to realize that drawing worrisome conclusions from this Week 3 thumping is akin to fretting last year about the preseason Week 3 loss to the Rams, you're probably not sweating McCourty's performance and realize that, yes, he will remember to turn his head around when the ball is in the air once the regular-season begins.

A few parting thoughts on an afternoon of exit interviews, postmortems, and aggravating day-old what-ifs . . .
1. When Bill Belichick addressed -- briefly and curtly last night -- the botched fake punt at the end of the first half that will torment Patriots fans through the offseason, the closest he came to an explanation for what happened was saying "We just made a bad mistake on the play." What isn't clear is whether the bad mistake he referenced was Patrick Chung's decision to call the fake -- and we suspect Zoltan Mesko may have his tongue removed by Ernie Adams for revealing that bit of information, further confirmed by Chung today -- or that he made a physical error that led to the failure of a foolish, desperate play that never should have been run in the first place. The hunch is that Belichick's reference was to the former. A minute and 14 seconds left in the half with the ball on the Jets 38, down 4 points and facing a fourth and 4? Unless all 11 Jets defenders are 10 yards down field and looking up at the pretty sky, you punt, stop 'em, head into the locker room and regroup for the second half. There's no second option. Chung's going to be heck of a player -- in some ways, he already is -- but that was one cruel lesson for a young player to learn yesterday.
2. I understand why Belichick benched Wes Welker for the first drive -- there was apparently a directive not to engage the Jets in trash talk, Welker ignored his coach's orders (albeit in an absolutely hilarious way), and it ended up agitating them even more, though I doubt it had any effect on their performance. That said, I wish Belichick hadn't disciplined Welker. It just felt like an ominous way to begin the game, and Welker is not only essential, but he's one of the few players who should be allowed a bit of leeway.
3. I still haven't heard an adequate explanation for the offense's lack of urgency on that already infamous second-half drive during which they ate up eight minutes of the clock while trailing by 10 points . . . and gave the ball up on downs with little more than five minutes remaining. I know Tom Brady said the Jets had six defensive backs on the field at the time, but that doesn't explain the . . . I don't know, casualness? -- of their approach. The Donovan McNabb/Andy Reid jokes are well beyond cliched at this point, but the Eagles' final, lolly-gagging drive at the end of Super Bowl XXXIX is exactly what it felt like, except from the opposite, gruesome point of view. The crowd at Gillette was too often stunned into silence yesterday, but if you listened closely, you could almost hear cries of "What are they doing? Hurry up!" as one Danny Woodhead run followed another.
4. Another frustration with the passing game/offensive in general: In all of his blabber in the buildup to the game, Bart Scott basically revealed the Jets' defensive game-plan -- funnel the Patriots receivers toward a zone defense in the middle of the field while letting cornerbacks Darrelle Revis and Antonio Cromartie take care of business on the outside. I don't know if the Patriots thought he was running his mouth for the sake of running his mouth, but in retrospect, giving credence to Scott's tip-off on the Jets' altered scheme might have helped them solve it a little bit sooner.
5. Rob Gronkowski, with four catches on six targets, should have been more of a factor -- he's the one receiver on the Patriots who is matchup hell for an opponent, the one who has proven that the advantage is always his on a jump ball or in tight coverage because of his enormous catching radius. The Patriots got too cute by utilizing Alge Crumpler time and again as a receiver, and unless his hip injury was worse than we were led to believe, I can't believe there wasn't some way to get Aaron Hernandez more involvement than one catch for four yards on a single target. So many questions, so few answers.
FULL ENTRY
Ten final pregame thoughts while thinking it's bad karma to bench Wes Welker for his remarks, no matter how long he sits . . .
1. Can't help but wonder whether Rex Ryan has reached the point of no return with his bluster, presuming the Jets lose today. He's put it all on his shoulders with his "it's about me and Belichick" nonsene, took the blame for the 45-3 disaster (during which he was among the chief mopers on the Jets' sideline), let his team say even more stupid things than usual about an opponent (and a quarterback) with a remarkable knack for converting slights into touchdowns, and essentially set his team up for its greatest victory since The Namath Guarantee or a disappointment so painful that a bunch of players who can't keep their mouths shut might start wondering if maybe it's their coach who should zip it.
2. Jets personnel have been raving about a inspirational speech by former defensive lineman Dennis Byrd, who suffered a career-ending neck injury that temporarily left him unable to walk. No word if the Patriots countered with a Dennis Byrd of their own. But we doubt it.
3. In two games against the Jets as a rookie, Rob Gronkowski has totaled two catches for 26 yards and no touchdowns. Bet he triples the first two numbers at the least today and finds the end zone at least once.
4. Watching Antonio Cromartie practice kick returns in warmups is enough to make you wonder if losing usual return man Brad Smith to injury might be a break for the Jets. It's only a slight exaggeration to say Cromartie covers five yards in about 2 1/2 effortless strides.
5. Provided his knee is OK, Deion Branch will torch Cromartie at least once. You know it's on Brady's to-do list, particularly if they build a big lead.
5. All Bart Scott did by vaguely threatening Wes Welker is assure that the refs will keep an eye on him today. Which is probably shrewd of him, given that with one sack and 81 tackles this season (tied for 89th in the NFL, a spot behind Devin McCourty), chances are no one was going to notice him otherwise.
6. Brief Seahawks-Bears interlude: Pete Carroll kicking a field goal down 28 points. Yep, that's the Pete Carroll I remember. Someone really needs to talk to the always-candid Lawyer Milloy about what it's like to be back with Khaki Pete again. I bet he's still mad about Willie Clay getting cut back in '98.
7. One key for the Jets today who hasn't been talked about too much during Hype Week: Braylon Edwards. He was beyond brutal in the 45-3 loss -- he caught two passes of the seven thrown his way -- but he's had his moments against the Patriots, and came through with a huge catch last week against the Colts.
8. If you're looking for a reason to be concerned, I suppose it's easy to fret about the depth -- or lack thereof -- on the Patriots' defensive line. Vince Wilfork needs to continue his dominant season, no easy task against Nick (I Pick Things Up, I Put Them Down) Mangold. Gerard Warren's steady play has been one of the subtle stories of the Patriots' season, but they're going to have to get contributions from the likes of Eric Moore, Kyle Love, and Landon Cohen. Not saying they won't -- hell, they probably will. But Myron Pryor will be missed, and that's something I never thought I'd write at the beginning of the season.
9. Wonder where Randy Moss is watching the game today. OK, cheap shot, 15-yard-penalty on me . . . but having been here at Gillette for his bizarre press conference after the win over the Bengals, it still remains unfathomable how it all changed, how he screwed up a perfect situation in a free-agent year. Probably goes without saying, but thank goodness he did, right?
10. Patriots 38, Jets 20. The only way the Jets win is if Brady suddenly becomes turnover-prone, LaDainian Tomlinson finds his 2003 form (and doesn't spend the day pouting behind a visor on the bench), and Mark Sanchez stops airmailing his receivers by five feet. I don't think any of those things will happen, let alone all three of them. By the start of the fourth, you'll be saying, "Bring on the Steelers."
Ten brief, possibly coherent, and overwhelmingly positive thoughts on the 14-2 Patriots before I pack up the gear here at rainy Gillette and paddle my rowboat back to Maine . . .
1. I know he had 50 touchdown passes three years ago. But you're not talking me out of it. Given the reliance on rookies and the personnel tweaks during the season, this was the most impressive regular season of Tom Brady's career. Thirty-six touchdowns. Four interceptions. It's as close to flawless as a quarterback can be.
2. Like many of you, I suspect, I've been down on Julian Edelman this season, mostly because he'd entered today's game with nearly as many drops (3) as receptions (4). But today's performance in place of Wes Welker (can't blame him for missing the rest of the regular-season finales of his career if he so chooses) was a reminder of why we were so optimistic about his future just last season, when he had 37 catches in his first year playing receiver after starring at quarterback at Kent State. He has lateral quickness that can't be taught, only enhanced with hard work, and by all accounts he puts in the time. Today's lesson: Don't quit on him yet.
3. I don't think I've even been more pleased to see a running back achieve the 1,000-yard milestone than I was for BenJarvus Green-Ellis today. The man earned his way into the league the hard way, and he's earned every hard yard he's gained since.
4. And by the way, that's one of the half-dozen reasons I hate the idea of the 18-game schedule. It makes the relevance of a 1,000-yard season obsolete.
5. Green-Ellis had 80 yards today on 20 carries. Laurence Maroney had 74 yards this season on 36 carries. I'm not sure what my point is, because I almost feel bad for Maroney, who seems to have the UFL in his near future, but it's worth pointing out nonetheless I guess.
6. Loved hearing Mike Haynes's name come up twice today in the Gillette press box: When McCourty pulled down his seventh interception of the season on Miami's first drive, pulling him within one of the Hall of Fame cornerback's rookie record of eight set during his legendary '76 season, and again when Julian Edelman took a punt back 94 yards for a score, eclipsing Haynes's record 89-yard return during the '76 season. It's not that we like seeing Haynes's records challenged or fall, but the reminder of a genuine and perhaps somewhat underappreciated legend in Patriots history is always worthwhile.
7. So Rob Gronkowski finishes his rookie season with 42 catches for 550 yards and 10 touchdowns (and a tip of the cap to my old friend Mike Reiss, who predicted early in the season that Gronkowski would reach double figures in TDs). It should be noted that Mark Bavaro had 37 catches for 511 yards and four touchdowns during his rookie season with the '85 Giants. I think you know what we're getting at.
8. As wonderful and entertaining and, to many alleged prognosticators, surprising this season has been, it is not the best coaching job of Bill Belichick's career. In fact, I'd put it third. There has never been a more improbable champion than the 2001 squad. While some players were better than we realized entering that season (Tom Brady, Troy Brown, Mike Vrabel, Roman Phifer to a degree), there was also a staggering lack of depth. J.R. Redmond was the third-down back (and a playoff hero). Jermaine Wiggins was the best tight end (and a playoff hero). Fred Coleman was the third receiver for a time (and a beatin'-the-Jets hero). To say that this season is better is to forget so much of what happened the year this all began.
9. As for his second-best coaching job? Doesn't it have to be 2008, when Brady was lost less than a quarter into the first game of the season? Matt Cassel has turned out to be a terrific quarterback, and it was fun to watch him continue to improve in '08. But if I recall, there was an outcry that the Pats should sign Chris Simms . . . or Daunte Culpepper . . . or Tim Rattay . . . because they couldn't possibly win with this kid who couldn't even get on the field in college. Instead, they won 11 games, an one of the greatest regrets of that season -- right behind Sammy Morris not pulverizing Bernard Pollard into the turf when he had the chance -- was not getting an opportunity to see what Cassel could do in the playoffs.
10. I'm a little surprised that the Patriots are playing at 4:30 p.m on Sunday the 16th. I figured that it would be the Saturday night game, which has usually been their preference. But I'll take a 4:30 start over an 8:30 start anytime. Now, with the time and place set . . . who do you hope they play in that game? I rank 'em this way, most worrisome to least worrisome: Colts, Ravens, Steelers, Chiefs, Jets. So in a way, I'm glad the Colts got the No. 3 seed, since they can't face the Patriots until the AFC title game. But all things considered? The team I've seen these last eight weeks -- the one that has put up at least 30 points in each successive win while the defense continues to grow -- is the one that I believe has the best chance at hoisting the Lombardi Trophy that February night in Dallas. Based on what you've seen and what you know about this team, do you believe it too?
Ten lingering thoughts on the Patriots' escape from Qualcomm . . .
1. In the aftermath of the Patriots' win, which I think we can probably agree was due in large part to the Norvball Chargers' own ineptitude, I was resigned to the notion that the recurring theme among most media and the most skeptical of fans would be yeah, but.
Yeah, they won, but . . . the Chargers tried to give it to them . . . and tried again . . . and tried again . . . and still they had a chance to tie . . . and Brady struggled (for him, anyway) . . . and they couldn't run the ball . . . and we haven't even mentioned 4th and 1 yet . . . and . . . yeah, they won but . . .
Which is fine. They're all valid points to some degree. But ultimately, you know what? They won. On the road. Against a talented and desperate opponent in the Chargers, led by an outstanding quarterback in Philip Rivers.
I'll take the win, and I'll take 5-1, particularly with a rebuilt and improving defense and an adjusting offense in its second week post-Moss. I'll worry about the consequences of inefficient or erratic play later. They won, over a skilled foe in a tough environment, and while it might have been ugly and had some unnecessary suspense at the end, was a tremendous win. And in this year's version of the NFL, where parity rules and the best teams seem to vary week to week, every single victory matters a heck of a lot more than style points do. No buts about it.
2. OK, so this is what I wrote in this spot in response to the Patriots' selection of Devin McCourty in the first round of the NFL Draft in April:
I'm still not sure about the Patriots selection of McCourty -- it's disconcerting when the first thing you hear about a player is in regard to his special teams skills. But I'm smart enough to give Bill Belichick the benefit of the doubt, and the rest of their draft was pretty reassuring and encouraging.
OK, so that wasn't exactly an endorsement of the kid, but given the general "who the . . . Belichick, you've gone mad!" reaction to the pick among the more reactionary of the Twitterati, I'm feeling pretty good on where I came down on the pick competitively. It's evident six games into his NFL career that McCourty, who had a textbook interception Sunday, not only is a tremendous athlete, particularly for his size, but a fast learner. I can't wait to see him go stride-for-stride with Mr. Moss next Sunday. And in the future, when Belichick puzzles Mel Kiper Jr. by spending a first rounder on some massive defensive end from Southeast Texas State Agricultural and Tractor who Gary Wichard has never heard of, I'm going to put away my skepticism for fear of eating a heaping helping of crow once we actually see the kid play.
3. If there's an underutilized weapon in the Patriots' passing game, it has to be Rob Gronkowski, doesn't it? He presents a matchup problem at 6-foot-6, he's fast enough to get open in the middle of the field, has demonstrated to have stick-'em hands (Brady made a bad throw on his TD grab Sunday), and while he's already proven a Vrabelesque red zone threat (three TDs), he has just nine receptions for 96 yards. If defenses continue to focus on Wes Welker as the Chargers did, Gronkowski should end up as one of the beneficiaries. And you could argue that's already overdue.
4. One of the little reasons I generally prefer baseball (and to a lesser degree, NBA basketball) to the NFL is the seemingly smaller chance of significant injury to a player crucial you enjoy watching. That may sound ridiculous coming after a Red Sox season in which a talented and intriguing team was decimated by injuries, but it's my theory and I'm sticking to it. That considered, if the reports that Patrick Chung will miss no more than a week or two with an apparent knee injury suffered in the first quarter Sunday, I will absolutely take it, breathe a huge sigh of relief, and thank the football gods for sparing us from another season of the Meriweather-Sanders Step-Too-Late tandem at safety.
5. Bill Belichick will never admit it, but I'm convinced one of the reasons he decided to go for it on fourth-and-1, if not the main reason, was the erratic performance of long snapper Jake Ingram Sunday. Zoltan Mesko fielded more grounders and one-hoppers than Derek Jeter did in the entire ALCS, and the fear that Ingram had the yips for the afternoon and might be on the verge of launching one over Mesko's head to the Patriots' 25-yard line or so had to play some role in Belichick's thinking.
6. The last five Chargers head coaches, in chronological order: Kevin Gilbride, June Jones, Mike Riley, Marty Schottenheimer (with Wade Phillips as his defensive coordinator), and Norv Turner. If San Diego ever lands a truly capable head coach such as Bill Cowher or that guy Jon Gruden, its going to feel to Chargers fans like they just got Lombardi in his prime. Or Belichick. Figured you'd say it if I didn't.
7. Tully Banta-Cain had 10 sacks last year, as many as he had in the previous four seasons combined. Five of those sacks game in the two games against the Bills, who played a season ago like they were unaware were required to field five offensive linemen. Banta-Cain has 1.5 sacks (none since Week 2) and 14 tackles this year -- a half-sack more and a tackle fewer than rookie Jermaine Cunningham, who has nine of his tackles over the past two weeks.The point is two-fold: Cunningham is yet another newbie on this rebuilt and blossoming defense who is hinting that he may be an impact player for years to come . . . and that three-year, $13.5 million contract Banta-Cain signed in the offseason is not looking like money well spent.
8. That was just a -- I don't know, weird? -- performance Sunday for Brady, who seemed to lack his customary sixth sense for feeling the rush in the pocket. He was sacked a season-high four times and tied his season-low with 19 completions, in eight more attempts (32) than his previous 19-completion game against Miami. Aesthetically, it reminded me considerably of his performance against the Chargers during the 2006 playoffs . . . .but upon checking out the recaps and box scores, it was actually sort of the opposite. Brady wasn't his usual close-to-flawless self in either game, but his rating Sunday (82.7) was higher than his 59.5 from the Marlon McCree Bowl . . . and that's despite throwing for a meager 159 yards versus 280 in the '06 game, a 24-21 win. The difference? Brady threw three picks in the playoff game, while he managed to avoid any aerial miscues Sunday despite being under siege by the unsung Kevin Burnett, Shaun Phillips, and the Chargers' very impressive post-Merriman defense.
9. Brett Favre may shrewdly position himself as a just-a-good-ol'-boy, never-meanin'-no-harm -- albeit one who apparently does a little ol' textin' from the John Deere -- but he's certainly done his share of harm to the Patriots through the years. You probably don't need to be reminded that Favre has directly or indirectly foiled some of the Patriots' best-laid plans -- beating them in Super Bowl XXXI, going through the motions in '02 against the Jets to keep the Patriots out of the playoffs, blowing it with one of his patented brain-lock interceptions against the Giants in the NFC title game in '07, and so on. So if there's any justice, he'll give it a go on his broken ankle Sunday, if only to keep his consecutive starts streak alive (and perhaps to spite his coach), and the Patriots will get to be the beneficiary of his poor decisions, his desire to force the ball to Randy Moss, and his declining skills. That 35-0 win over Favre and the Packers in 2006? Not nearly enough revenge for my liking, particularly since he made his escape near halftime and nearly ran over Ellis Hobbs while getting carted off the field with an elbow injury. Play, Brett, play.
10. As for today's Completely Random Football Card:
Now there's a welcome flashback. Ramsey was one of my favorite Patriots of the Raymond Berry/"Squish The Fish" era. ( I also had an appreciation of the Weathers brothers and Greg Hawthorne that wasn't necessarily supported by their production.) While Ramsey's time with the Pats was relatively brief -- he played 34 games over two-plus seasons -- the 6-foot-4-inch, 230-pounder had a terrific receiving season in '85, catching 66 passes for 792 yards and seven touchdowns. Now that I think of it, I wonder if Aaron Hernandez will surpass those reception/yardage numbers from Ramsey's fine season this year.
Ten Patriots thoughts still lingering the day after another perfect fall Sunday at Gillette . . .

1. Go ahead, put me in with the glass-half-filled crowd, because I'm in full agreement with Tom Brady's postgame theme after the Patriots' entertaining 38-30 victory over the Bills:
A win is a win.
Sure, the concern with having scatter-armed genius Ryan Fitzpatrick drop 374 yards of total offense on the Patriots defense in his first start of the season is a legitimate one, particularly since the Bills offense was ranked last in the league in a number of categories entering the game.
A lousy offense looked pretty capable against the Patriots defense, and that's alarming in part because of the suspicion that it could be a harbinger of things to come against teams far superior to the Bills, starting with Miami Monday night.
The victory did little to change the premise that the Patriots' best defense will be their own offense. I don't believe that is necessarily true in the long-term.
As I've said before and will probably say again a few sentences from now, there is a huddle's worth of legitimate bright young talent on this defense, and as the individuals blossom, the defense will improve.
But, hypothetically, what if it is? What if the Patriots are going to depend on Tom Brady's right arm, the receiving skills of Randy Moss and Wes Welker and Aaron Hernandez and Rob Gronkowski and Brandon Tate and Julian Edelman (and Danny Woodhead!), and a passing game that offers more versatility than even the record-setting 2007 unit could boast about?
Is that the worst problem to have three games into the season?
The if-you-can't-stop-'em-outscore-'em approached worked for the Saints last year, right up until their defense, ranked 25th in the league in the 2009 regular season, peaked in the playoffs. It worked for the Colts (21st in total D) in 2006, the year they won the Lombardi Trophy.
I'm not saying Patriots fans should book those hotels for North Texas in February. Given the strength of two of their division opponents, it's going to be a brawl to make the playoffs. But the defense is going to get better, and the offense is loaded.
Seems to me that's a recipe for plenty of fun and rewarding autumn Sundays.
* * *
2. While the inevitable improvement of the Patriots' young defense depends wholly upon the learning curve of undeniably talented players such as Ron Brace, Devin McCourty, Brandon Spikes, Jermaine Cunningham, and so on, I can't help but wonder just how much better this defense would look right now if Leigh Bodden hadn't been lost for the season with a shoulder injury.
We knew the blow was significant, but with Darius Butler's regression, losing the steady veteran corner stings with each passing week -- and each impressive passing performance by an opposing quarterback.
Kyle Arrington was adequate yesterday -- he made a nice play to bust up a pass intended for Lee Evans in the first quarter -- but the Patriots' best hope at that position is that Butler, a smart, talented kid whose confidence is close to mutilated right now, finds a way to play up to his considerable ability.
* * *
3. It seemed appropriate to see John Hannah walking around and shaking hands with fans on the Gillette Stadium turf yesterday in the moments after a game in which the Patriots plowed for 200 rushing yards. The versatile running attack -- Danny Woodhead outside, but mostly BenJarvus Green-Ellis inside -- was a pleasant flashback to the late '70s Hog heyday.
Perhaps it's largely a sign of the porous Buffalo defense than anything else, but after the Patriots early abandonment of the running game last week against the Jets, it was encouraging that the Patriots ran the ball 38 times, averaging more than five yards per pop, with the aforementioned runners breaking runs over 20 yards.
I'm still not cool with giving away Laurence Maroney (despite his brutal performance yesterday for Denver), but the Patriots' ground game should remain effective, if for no other reason than it has to be a relative afterthought for opposing defenses whose first priority is to stop Brady and the diverse passing game.
* * *
4. Brandon Tate is fast -- he always seems like he's one grasping-at-the-cleat tackle away from going the distance. Bethel Johnson was faster. But I think C.J. Spiller may be the single fastest player I've ever seen return a kick (and I suspect Tebucky Meriweather would agree). If Chan Gailey doesn't find a way to get the rookie first-round pick 15-20 touches a game, he's not doing his job.
* * *
5. Two thoughts after watching Jets tight end Dustin Keller torment the Dolphins with six catches for 98 yards and a pair of TDs last night:
1) Nice to see him light up the middle of the field against a team other than the Patriots for once.
2) It's imperative that the Patriots expose the Dolphins in the same with with Hernandez and Gronkowski Monday night.
It cannot be exaggerated how much these two distinctly skilled tight ends bring to the Patriots offense, and yesterday's game was encouraging .
* * *
6. Randy Moss has five receiving touchdowns in three games. So far, this contract year thing is working out pretty well for the Patriots. I've said it before, and I will continue to say it until it happens. They must re-sign him.
* * *
7. How many Patriots fans with recently outdated No. 39 Maroney jerseys are desperately trying to figure out a way to change the name tag to Woodhead today?
OK, you got me. So I used that on Twitter yesterday; you know I have to milk the rare occasion when I have a decent line.
Recycled Tweets aside, it should be noted that Woodhead's a tremendously intriguing player. He's the height of your average rookie ball boy and jittery-quick, and in certain circumstances he could prove a real nuisance to opposing defenses, which will have a hard time spotting him behind the line, let alone catching him in space.
It's apparent from the postgame comments from Brady, Wes Welker, and Moss (who called him a "stub" in as admiring a way as you can call someone a stub) that his teammates have taken to him already. Better, they all seemed genuine in the belief that he is much more than just a double-agent from the Jets, but someone who is going to help this team.
* * *
8. Ryan Fitzpatrick has an NFL arm and better-than-average mobility, and we all know about his Hahvid Smahts. (He's legendary for scoring a 48 on the Wonderlic test. For what it's worth, Brady scored a 33, well above average for a quarterback. Brett Favre scored a minus-6, answering "Jon Deeer green trakter" on all 50 questions.)
But he has one fatal flaw that is going to continue to prevent him from being a quality starting quarterback -- he throws a wild pitch just a little too often.
Fitzpatrick confirmed the notion that both Patriots interceptions were on him, and the former in particular (Official TATB binky Patrick Chung's pivotal goal-line pick) would have been downright inexcusable had he not been hit as he threw.
* * *
9. I wonder if at some point late in the Fresno night, Logan Mankins pulled himself away from tending to his beloved cattle, looked at the Patriots' stat sheet, saw that they racked up 200 yards on the ground and Tom Brady was sacked only once and compiled a 142.6 rating, and immediately muttered to himself, "Drat, it would have worked, too, if not for that meddling Dan Connolly."
* * *
10. As for today's Completely Random Football Card:
The more I see of Green-Ellis, and the more I hear his teammates praise him, the more I think he's capable of giving the Patriots very similar things to what Antowain Smith delivered to a pair of Super Bowl winning teams. Don't know about you, but I consider such a comparison pretty high praise.
1. If only the game could have ended right there, with Randy Moss's daring one-handed escape from Revis Island. I suppose in one sense, it did.
Moss's grab was the last meaningful highlight for the Patriots, who instead aired what looked like their Worst of 2009 reel in the second half. There was that old familiar inability to get off the field on third down, the inability to run the ball, the inability to make an inexperienced quarterback commit a turnover, the inability to involve other receivers besides Moss, the sad Bill O'Brien Ballad of Third-And-8. Throw in some first-half lowlights -- a wasted first drive, a shanked field goal, and some mindless penalties, and the only way it could have been worse for Pats fans is . . . well, I guess if Revis had entirely shut down Moss, and we had to listen to that jabber too all week.
In the days after the loss, there's been a bit of overreaction to the outcome. Losing to the cocky, yappy "Hard Knocks" Jets -- and having them look like the fierce, efficient team the Patriots were in their heyday -- was annoying after the optimism brought about by the Week 1. And it was worse to see those old flaws carry over into a new season.
But this is not the same old team, despite Sunday's ugly outcome might suggest. The offense will be more potent and diverse than it was a year ago.
The defense has been remodeled in a very short window of time, and the relatively easy victory over the Bengals disguised the reality that the defense is going to be a work in progress.
The Patriots were lousy on Sunday. But it's just one loss, one to a rival you'd love to silence (never have I rooted for Ray Lewis to shut someone else up until last week) but also one to a team that isn't a particularly good matchup for them right now.
I remain certain that the 2010 Patriots are a fine team that will get better, perhaps significantly so if Patrick Chung, Brandon Spikes, and Devin McCourty continue to blossom the way we believe they will.
The Jets? They have their second straight Week 2 Super Bowl title. I suppose congratulations are in order.
* * *

2. It's tough to argue the tight ends were underutilized when Aaron Hernandez had six catches for over 100 yards in the first half. Hernandez is two games into his Patriots career and he's already had as many 100-yard games as Ben Watson did in five-plus seasons, one. But . . . well, for whatever reason, they were underutilized, maybe not so much the breathtakingly quick Hernandez, a wide receiver in a tight end's clothing, but certainly Rob Gronkowski, who had just one catch for 14 yards.
There was one play, a little more than four minutes into the third quarter, when Brady rushed a throw a bit and underthrew Gronkowski down the right seam. Wilson broke up the pass, but had Brady been on target, there was no doubt Gronkowski would have made the catch. Wilson looked like a kid trying to climb a tree while busting up the pass.
That was one of the Patriots' clear matchup advantages on the Jets, and they should have taken advantage of it.
The days of Sam Aiken running a fly pattern with his eyes closed as a third option are gone. Brady has more weaponry this season. He needs to trust it.
* * *
3. I'll have to credit my buddy Gary Dzen for the line of the week regarding Darius Butler's abysmal Sunday:
"I thought the Patriots traded Ellis Hobbs."
Actually, that's probably unfair; I can't recall Hobbs ever playing that poorly for an entire game. (Don't give me Super Bowl XLIV. Hobbs played a very good game right up until the scheme left him out to dry.)
I was thinking more along the lines of Antonio Langham circa 2000, or, on an retro NFL scale, Elvis "Toast" Patterson. When a cornerback has a bad day at the office, we all know about it.
Butler's performance did leave me a bit puzzled about a couple of things. He's small, but he's a good tackler, a tough kid, both quick and fast, and it seems like it would be playing to his strengths to let him be aggressive in coverage.
Yet there he is, wasting away in Cantyville, lined up seven yards off the receiver on third and 6. I'm as clueless as, oh, let's say Michael Bishop when it comes to identifying defensive schemes, but it seems like the Patriots corners aren't always put in the best position to succeed.
As far as a broader puzzlement goes: How the hell did the Patriots ever win with Earthland Moreland, Hank Poteat, and Troy Brown sharing time in their defensive backfield? And what has changed since then that has caused more talented defensive backs to struggle? I know, different players, different coaches, different time.
I'll take down the Super Bowl photos in the hallway now.
4. Even before the news that he's likely to miss a game or two, I wasn't among those who thought the Jets' in-game injury report should have said this:
Darrelle Revis -- out for the rest of the game (bruised pride)
He's a terrific player who is currently paying the price for missing training camp. (Funny how that price always seems to be a hamstring.)
But he's also a bit overrated, at least when it's suggested that three-plus seasons into his career he's already one of the all-time greats at his position.
Is he reminiscent of a certain other cornerback from Alquippa, Pa., Ty Law? I can see that. But anyone who speaks of him in the same breath as Mike Haynes had better learn to do something Revis has already mastered: backpedal.
* * *

5. Despite Brady's annoying dependence on him -- annoying, of course, being the word choice only when the connection is unsuccessful -- I genuinely hope the Patriots sign Randy Moss for two or three more seasons.
There are reasons for concerns -- the mysterious back injury that has bugged him for a couple of seasons now, the fact that he's pretty one-dimensional considering he is as freakishly talented as any receiver ever to play the game, and I'm sure his detractors could come up with more.
Still, it's a risk worth taking. Great receivers age better than conventional wisdom suggests -- look at the names ahead of Moss on the all-time receiving yards list, and don't tell me you knew Isaac Bruce is second? And unless you happen to think Brandon Tate or Julian Edelman can be a No. 1 (we foresee bright futures for both, but unlikely), the Patriots will use a first-rounder on a receiver (unlikely), or you miss the days of Doug Gabriel and Reche Caldwell (unlikely, unless you are completely insane).
Besides, Moss is fun, and that matters in some relevant way. If there was anything to take from his already legendary 2,776-word speech/Q&A/mission statement after the Bengals game, it's that he wants to be here. I was surprisingly pleased that most of the media picked up on that message, that it wasn't lost among the "me's" and "I's" after a meaningful victory.
Moss recognizes that he's in the best situation of his career, and he doesn't want that to change. I appreciate that about him. And beyond his desire to be a Patriot or the highlights he provides on the field, he's just a wholly unique personality. He's weird. That's not the first time that's been said about a genius in his or her particular field.
* * *
6. One other thing I like about Moss? Well, I'm no Tim Gunn, as you can probably tell every time I bust out one of my periwinkle Kohl's specials on "Globe 10.0," so take it for what it's worth when I say I completely approve of Moss's postgame press conference sartorial style. He looks like he snapped up everything Big Papi was planning on dropping off at Goodwill.)
* * *

7. One of my favorite Patriots photos. One of my favorite players, despite that much of what Lawyer Milloy accomplished here was obscured by the feats of his superior replacement, Rodney Harrison.
So I took notice when Tedy Bruschi compared Patrick Chung to Milloy after the second-year safety's 16-tackle performance against the Bengals.
(While Chung was one of many Patriots who struggled to contain Dustin Keller Sunday, he had five solo tackles and announced his presence with authority on a number of occasions. Hopefully, he can teach Brandon Meriweather a trick or two.)
If anyone is qualified to make such a statement, it is Bruschi. He was drafted the same year as Milloy, 1996. They shared the same huddle for six years, played in a pair of Super Bowls together, saw the peaks (Bill Parcells), valleys (the franchise erosion under Pete Carroll), and the peaks again (the second Belichick season) together.
Chung, fast, relentless, and far more clued in than Tebucky Meriweather, is possibly my favorite player to watch on this defense already.
Hearing Bruschi compare him to Milloy only enhances my expectations of what a devastating force he could be.
* * *
8. Wes Welker said earlier this week that it will take him at full year to feel like his old self again following his knee surgery in February. Even when it became apparent that Welker was going to return much sooner than anticipated, I was concerned he might struggle upon his comeback because his game was so dependent upon his uncanny cutting ability.
I have seen nothing to suggest that Welker is anything less than his usual virtually unstoppable self in the slot -- he's on pace for 112 catches, and he already has three TDs, one fewer than he had last year and as many as he had in 2008.
The only bit of evidence that might suggest he's not quite Vintage Wes yet is his Marv Cook-like 7.3 yards-per-catch average, but we are more than willing to chalk that up to a small sample-size and the fact that three of his 14 receptions have ended in the end zone.
* * *
9. I guess I've put it off long enough. I mean, what do you say about today's Kevin Faulk news that any Patriots fan with a reasonable recollection of the last dozen years doesn't already know?
The Patriots' most versatile offensive player has a torn ACL. It's fair to assume -- though not absolutely certain until he goes on IR -- that his final play of the season came Sunday against the Jets. He's the Patriots' best change-of-pace runner, best pass-blocking back, best receiver out of the backfield . . . he's essentially irreplaceable in three different roles, and losing a smart, disciplined veteran on the heels of a particularly frustrating Sunday only adds to the gloomy mood.
It's not quite devastating -- we reserve that for future Hall of Fame quarterbacks who see their seasons wiped out before the first quarter of the first game of the season is complete -- but it's pretty damn close.
How many players will it take to replace the Swiss Army knife of their offense? The backfield is already depleted. Even with the admission that we don't know what we don't know, I still can't believe they gave Laurence Maroney away with three over-30 backs on the roster. Does the Danny Woodhead era begin? Do they give Julian Edelman an expanded role? Hell, does anyone know what J.R. Redmond is up to these days?
* * *
10. As for today's Completely Random Football Card:
After what happened to Faulk, it's tempting to howl that the Patriots need to bring in another running back. And maybe they do, though I remain a believer in a healthy Fred Taylor. But that running back should not be helmet-heaving Brandon Jacobs, a dented truck with no tread left on his tires who averaged 3.7 yards per carry last year and is at 3.3 in a shriveling role this year. They've already had Marion Butts once.
In the end, the disappointing truth is this: It was the New England Patriots' own fault and no one else's that they didn't get an invitation to the postseason party. As Richard Seymour said during this afternoon's player postmortems at Gillette Stadium, the Patriots lost to the Colts, Steelers, and Chargers, so what do they really have to complain about?
To put it another way: When you have to count on Brett Favre rescuing your season, the cause is already lost. (Somewhere, Eric Mangini nods solemnly while engulfing his third $5 Footlong of this day and wondering if he can get away with sneaking Bill Belichick onto his list of references.)
The Patriots simply let too many opportunities slip through their hands along the way -- literally, in Jabar Gaffney's case during the ultimately costly loss to the Colts -- and those calling for a change in the playoff system today are simply doing so out of frustration and parochialism. The Patriots are the first 11-win team to miss the postseason since current 12-team playoff format was implemented in 1990, which tells you that in the vast majority of seasons, the system works flawlessly.
But even as we sit here wishing that the season could have lasted a few weekends longer -- and I know I'm not the only one who thought the battered but peaking Patriots had a chance to make some noise in the playoffs, particularly had the Jets won and Ravens lost yesterday -- I think this is a team that leaves us with warm memories to get through the winter. Given how it all began -- with the franchise quarterback crumpled on the turf and our hopes apparently snuffed out barely seven minutes into the season -- that is a truly remarkable thing.
In many ways, I enjoyed this season more than last, when the Patriots ran roughshod over the rest of the NFL while being cast as villains (and worse) from coast to coast, only to be left stunned as their detractors gloated and celebrated that "1" in the loss column at the end.
We've been trained during the franchise's unprecedented success to believe that a season was only successful if it ended with a Super Bowl victory, and that mind-set makes sense to some extent; it sounds smug, but you hate to see that window of opportunity close without all of your championship hopes being fulfilled.
But given what the Patriots endured in terms of injuries this season -- and that's not an excuse, it's the reality -- only the most demanding among us would consider this season anything less than a success.
The 2008 Patriots weren't champions, but they sure were admirable. I'm going to miss watching them.
* * *
I'll remain forever convinced that no other coach in the NFL could have coaxed 11 victories out of this team after the devastating developments of Week 1, and what Belichick accomplished with this season's tattered roster should restore all of the luster to his reputation that he supposedly lost during last season's ESPN-endorsed soap opera.
But anyone who suggests that he pulled off his greatest coaching job this season has an extremely short memory. I've probably written this a half-dozen times this season, but I'll say it again: Beating the Rams and winning the Super Bowl XXXVI with a patchwork roster ranks among the single greatest coaching feats in NFL history -- and it may be at the very top of the list.
FULL ENTRY
Maybe it's just a matter of perspective, or maybe it's because the pregame suspicion was that defeat in this one might be inevitable, but I wasn't as ticked off or frustrated or bummed out after the Patriots' suspense-free 33-10 loss to the Steelers last night as I would have been, say, three seasons ago. Ultimately, I suppose that's because I feel like the better team won, and that's how it should be.
That maniacal defense makes Pittsburgh a legitimate Super Bowl contender, more so if Ben Roethlisberger can continue to limit his mistakes they way he did last night. (Tell me again why the Pats rarely blitz? Because they prefer to prolong the agony rather than get it over quickly?)
The only real aggravation I felt came from the repeated and uncharacteristic physical and mental errors by the Pats, who looked like they had never played in lousy weather before and couldn't wait to get back to the locker room to grab some hot chocolate and a cozy blanket.
In way, it reminded me of the '05 playoff loss to the Broncos, when miscues repeatedly put Denver in great field position. The Patriots couldn't overcome their blunders then, and they couldn't last night, either. Hate to say it, but that's justice.
* * *
I still think the Patriots' second priority this offseason -- after, obviously, getting at least one defensive back who is better than mediocre -- is finding a capable and consistent pass rusher, either at linebacker or defensive end. But I will admit that I now appreciate Ty Warren's contributions a lot more after watching Mike Wright look like a kid chasing a school bus for most of the night. He may not be the second coming of Tony McGee as a pass rusher, but there's something to be said for a lineman who knows how to hold his ground and allows others to get the glory. I won't take him for granted again.
* * *
Anyone who ever had as much a fleeting thought that Matt Cassel should be the Patriots quarterback in 2009 and beyond is either someone who found "Football For Dummies" too complex and layered, a member of the Sharpe family, or both. Two terrific games did not make him the second coming of Tom Brady, and we got a harsh reminder last night that he's still got a lot of growing to do. I'm convinced that Cassel will be a very good NFL quarterback for whichever team he joins as a free agent, provided the system is the right fit for his skills.
* * *
All right, I'll say it: Randy Moss has let down Cassel a heck of a lot more than he has picked him up this season.
* * *
Two who did show up: The admirable Kevin Faulk had his typical Mr. Dependable game, and Richard Seymour was often beastly -- you had to laugh when he clobbered Roethlisberger a split-second after Ellis Hobbs bounced off the Steelers' behemoth quarterback like a bug on a windshield.

* * *
Ben Watson might be the NFL's most specialized specialist -- there is no one better in the history of the NFL then running the length of a football field to tackle a defensive player at or near the 1-yard line after a turnover. Yup, it's quite a gift, though I think we'd all prefer he had more skills suitable for playing tight end -- like catching the football when it hits his bleepin' hands, for instance. Hmmm . . . maybe the Patriots should move Watson to linebacker and Mike Vrabel to tight end.
FULL ENTRY
1. I wasn't among those who came into last night's game believing a Patriots-Colts matchup had lost some luster. Too much has happened between the rivals in recent seasons for it to be relegated to Just Another Game status simply because Tom Brady is two more infections away from having a peg leg and the Colts are supposedly mediocre. So count me among the apparent minority who is more frustrated than encouraged by the Patriots' hard-fought 18-15 loss at Indy last night. While there certainly are several plot developments to be optimistic about as the season hits the midway point -- primarily, Matt Cassel's steady and continued improvement at quarterback, and hey, who's blaming the Pats for not having a serviceable backup like Brad Johnson now? -- I guess it's just hard to consider a three-point loss to the teetering-on-the-brink-of-disaster Colts as a moral victory. Real victories are much more fun -- especially when you have a chance to hammer a few nails in your chief rival's coffin in the process. Yes, the Patriots played well, and there is reason to be hopeful. But in the end, I can't help but think of it as one that got away.
2. Jabar Gaffney sure picked a terrible time to borrow Ben Watson's hands. While I imagine my reaction to the drop was the same as yours -- a guttural groan followed by the punching of an inanimate object (like, say, a cat) and a string of creatively used curse words -- I also felt bad for Gaffney. He has been a very dependable receiver since arriving as a street free agent during the '06 season -- remember how quickly he won Tom Brady's confidence? -- and he's been something of a forgotten man this season as he's rarely the first option and Cassel still falls into the habit of locking on to his first or second receiver.
3. I realize the Patriots' ball-control game plan was effective, and I realize a big reason it was effective is because the Colts were so concerned with Randy Moss that they basically kept their safeties deep the entire game. Still, I can't help but wish Cassel and Josh McDaniels could find a way to get the ball in his hands more often. He's the lone game-changing weapon on the Patriots offense, and maybe some of those field goals would turn into touchdowns if Moss got more touches.
4. Bob Sanders wasn't the Human Tornado he usually is against the Patriots' running game -- mostly because he was on don't-get-beat-by-Moss duty all night -- but the safety did play a significant role in the Colts' win, and I'm starting to get annoyed that his annual litany of injuries always seem to heal just in time for him to return to play the Patriots. In a related note, the Colts took Sanders with the 44th pick in the 2004 draft -- 12 picks after the Patriots took Watson. I would like to petition for a do-over on that one.
5. I've long had high hopes for David Thomas. He's a more trustworthy receiver than fellow tight end Watson, and should he remain healthy this season, I expect he'll become an increasingly useful weapon in the passing game for Cassel. That said, I hope he's still walking home from Indianapolis as you're reading this. That penalty was so ridiculously inexcusable, even Bill Romanowski is wondering what he was thinking.
FULL ENTRY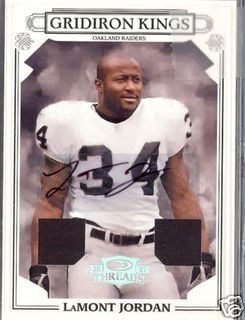 1. I saw enough down the stretch yesterday to convince me that LaMont Jordan should be this team's starting tailback, and I am completely serious about this. He ran the way the delicate Laurence Maroney should run, if he'd just stop doing the Reggie Dupard Shuffle in the backfield before hitting the hole. I realize Jordan had additional motivation yesterday because he was playing against the team that drafted him, but his performance was no fluke: this is a player who has had significant success in the NFL, he's known as a tough runner, and his style suits the Patriots' needs in this Brady-less season. He can - and should - be exactly what Antowain Smith was to another certain unproven quarterback in 2001. As for Maroney, if he wants to retain his job, he knows what he has to do.
2. By now, you've heard all the usual terms and phrases regarding Matt Cassel's steady debut as a starter yesterday. He managed the game well . . . he limited his mistakes . . . he was poised and efficient . . . in other words, pretty much all of the things they used to say about Tom Brady back when he was labeled a "system quarterback." While Cassel did some things that made you appreciate just how consistently great Brady is - he airmailed a couple of basic throws, was a split-second late in spotting open receivers on occasion, and seemed a little too eager to run - he played the way we hoped he would (it's eerie how close his final numbers were to Brady's in his first career start), and made a lot of skeptics around the country gulp down some words in the process. The Patriots can win with this kid. After what happened a week ago, that's enough for me.
3. Adalius Thomas was positively fearsome yesterday (somewhere, Leon Washington quivers in agreement), and I probably don't need to tell you that an effective Thomas makes the Patriots a much more imposing defensive team, particularly when it comes to rushing the passer. Add in the fact that Richard Seymour looks healthy and rejuvenated and Jerod Mayo is flying around in the middle like he has his heart set on being the Defensive Rookie of the Year, and you have to be giddy about the potential of the Patriots' defense, particularly the front seven.
4. Another thing that makes me feel better about the Patriots' chances than I did at 7:37 of the first quarter a week ago: The other supposedly elite teams in the AFC all appear to have significant flaws. The Colts, with a makeshift offensive line and a moping and immobile Peyton Manning, looked like a team headed for a down season yesterday against the Vikings, while the Chargers simply looked like a team coached by Norv Turner. Trendy picks Jacksonville, Cleveland, and the J-E-T-S are a combined 1-5, and only Pittsburgh, Buffalo, and Denver qualify somewhere between intriguing and impressive. I might not have said this a week ago, but I'll say it now: I like the Patriots' chances against this field.
5. Cassel seemed to target tight end Dave Thomas often yesterday, and considering that starter Ben Watson might as well move his locker into the trainer's room, it's probably a good thing for them to develop a rapport. I've always thought Thomas, a Rose Bowl hero at Texas, was a talent, though he's hardly been durable himself. And speaking of Patriots tight ends (or former Patriots) tight ends, how did Daniel Graham ever land a national commercial?
FULL ENTRY
About Touching All The Bases
| | |
| --- | --- |
| | Irreverence and insight from Chad Finn, a Globe/Boston.com sports writer and media columnist. A winner of several national and regional writing awards, he is the founder and sole contributor to the TATB blog, which launched in December 2004. Yes, he realizes how lucky he is. |
Tweets by @GlobeChadFinn
browse this blog
by category
The best of Touching All The Bases