Boston.com
After state report, Mayor Wu drafts plan for 'immediate' changes for BPS through DESE partnership
Mayor Michelle Wu is seeking "immediate" changes to improve Boston Public Schools, along with $10 million and technical assistance from the state to follow through on them, according to a draft of a memorandum the city is proposing to the Department of Elementary and Secondary Education.
The "Systemic Improvement Plan" would tackle major concerns outlined in a troubling DESE review of the district released this week. The report raised significant concerns about BPS' ability to perform basic functions around student safety and transportation and provide adequate support for special education and English language students.
The draft plan and partnership agreement, obtained by Boston.com on Friday, proposes completing "a deep redesign" of the district's special education services; commissioning an audit of student and staff safety; ushering in reforms to the district's transportation system; and finalizing a strategic plan for multilingual learners, among other initiatives.
The plan, outlining what is referred to in the document as "a targeted, strengthened partnership" between the city and state agencies, would take hold "immediately," with DESE Commissioner Jeffrey Riley's approval.
"Our proposal will empower Boston to drive a reform agenda while establishing a genuine partnership with the state," Wu said in a statement. "We're proposing specific action steps and timelines for immediate improvement and a foundation for systemic change in areas like special education and transportation. We look forward to the collaboration."
The agreement comes as the majority of city leaders seek to thwart a possible state takeover of Boston schools. The report — the second in two years to give BPS a sub-par evaluation — has raised questions over whether DESE will pursue state receivership to address the district's outstanding issues.
Riley and Wu began talks about what could be done before the report was made public.
Notably, Riley has not issued a recommendation to DESE officials over receivership. He said earlier this week he wants to see assurances from Wu about what steps the district will take to fix its most urgent matters.
In the draft memorandum, the city seeks a partnership with DESE for the plan and $10 million in state funding to support the proposed actions.
The initiatives will "begin immediately" and continue after the district hires its next superintendent, following Cassellius' pending departure in June.
For student safety, BPS would commission "an independent student and staff safety audit" to assess safety protocols at schools by Aug. 15. The plan also says the district commits to responding to complaints, including bullying allegations, "in a timely manner."
Also by mid-August, the district would hire a consultant or a "highly effective special education leadership team…who will work with a sense of urgency on improving special education services," the plan says.
By February, that group would release a districtwide inclusion policy that sets models for "high-quality, inclusive education and includes short-term objectives and a timeline for implementation," according to the plan. Staff will be trained later in the year.
BPS, under the agreement, would also begin operational reforms negotiated with the school bus drivers' union recently to improve on-time arrivals and address uncovered bus routes.
Additionally, the plan spells out commitments for a BPS Strategic Plan for Multilingual Learners and a districtwide plan for necessary facilities renovations, among other initiatives.
The memorandum outlines commitments expected from DESE as well, including measures to hold BPS accountable. Under the proposal, the city and BPS vow to make regular reports on the plan to the School Committee, as DESE makes reports to the Board of Elementary and Secondary Education (BESE).
The superintendent and Riley — or their respective staffs — would meet monthly to discuss progress.
"The parties will engage in a multi-stakeholder process to set student achievement and other outcome metrics after the employment of the new Superintendent," the memorandum says.
In a statement, Cassellius said the plan "acknowledges the urgency of this work and the shared interest between the Wu administration, Boston Public Schools, and DESE in rapid improvement."
"It is good for students and families and builds upon the momentum BPS has created and that was highlighted in the DESE review. We look forward to working collaboratively with DESE to ensure all BPS students have access to a high-quality education that helps them reach their full potential," Cassellius said. "The report finds longstanding challenges in the areas of special education and transportation, and we are confident the plan we put in place, along with the benchmarks that will help us to monitor progress over time, will result in substantial improvement in these areas."
If and when the memorandum will be finalized was unclear on Friday.
Riley, on Tuesday, told BESE members he wanted time to work with Wu, possibly a week or two.
"We have to talk to all stakeholders and do it in a way that's impactful," he said at the time.
Read the full draft plan:
Boston-BPS Proposed MOU to DESE – May 25 2022 by Christopher Gavin on Scribd
Newsletter Signup
Stay up to date on all the latest news from Boston.com
Here's how families of fallen service members can get a 'Medal of Liberty' license plate
The Registry of Motor Vehicles is now offering a new Medal of Liberty license plate, which family members of Massachusetts service men and women who were killed in action, died in service while in a designated combat area in the line of duty, or died as a result of wounds received in action, can apply to receive for free.
"The Registry of Motor Vehicles is pleased to offer the new Medal of Liberty license plate to honor service men and women who lost their lives while working to protect and serve our country," Registrar of Motor Vehicles Colleen Ogilvie said in a statement. "The specialty plates, which are available at no cost to eligible customers through an application process, will help family members continue to pay tribute and memorialize the service of their fallen loved ones."
Applicants must first be approved for the Massachusetts Medal of Liberty by the Office of the Adjutant General before submitting an application for the special plate. 
Once approved for the medal, applicants can apply for the plates either online or by mail.
The following documents will be need to be submitted as part of the application:
A completed Application for Medal of Liberty Plates.
A Recommendation for the Massachusetts Medal of Liberty form (TAGMA form 3367) approved by the Office of the Adjutant General.
The service member's DD-214, DD Form 1300, Deployment Orders, or NGB 22.
A completed Registration and Title Application stamped by an insurance company.
Eligible applicants can expect to receive their plates approximately 20 days after getting approved.
The passenger plates must be renewed every two years and are not available for motorcycles, according to the RMV. Each qualifying applicant can register one private passenger motor vehicle.
Family members can also request a KIA decal if the service member's DD Form 1300 indicates "Killed in Action" in category box 4C. The decal must be affixed to the shaded area of the plate below the Medal of Liberty on the left of the plate, the RMV said.
The state already offers a variety of plates that are specifically designed for veterans and military personnel. Some of the passenger and motorcycle plate options include Veteran, Silver Star, Purple Heart, Congressional Medal of Honor, Legion of Valor, Pearl Harbor Survivor, Distinguished Flying Cross, and Ex-POW.
The National Guard, Disabled Veteran, and Gold Star Family passenger plates are also available.
Newsletter Signup
Stay up to date on all the latest news from Boston.com
John Skipper thinks Tom Brady is a 'very expensive trophy' for Fox with $375 million contract
The recent report that Tom Brady will join Fox Sports on a 10-year deal worth $375 million to be a broadcaster whenever his playing career ends is still reverberating around the sports media landscape.
In one prominent case, a former ESPN president sees it as a waste.
John Skipper, who led ESPN from 2012 through 2017 (and is currently the CEO of Meadowlark Media), was struck by a realization after seeing Fox's announcement.
"Well, my first thought was amusement that he's worth 12.5 million more dollars calling than he is quarterbacking a game," Skipper said in a recent interview on "The Dan Le Batard Show with Stugotz."
"There's very little economic value," Skipper said. "He's a very, very, very expensive trophy."
After it was noted that other top-paid former players-turned-broadcasters — such as Troy Aikman ($18 million per year) or Tony Romo (also $18 million per year) — will make less than half of what Brady is set to make, Skipper wondered what happened in the negotiations.
"It's peculiar," he said. "[Fox] does seem to have been bidding against themselves because it is the only spot open, again, they're buying a trophy. I think he'll probably be okay on the game. It doesn't really matter that much other than for pride and I guess he'll shake advertisers' hands."
Asked if he would've signed the deal with Brady had he been in charge, Skipper had a direct response.
"I would have said no," he replied.
"I don't think that's necessary, or a good use of $37.5 million," added Skipper. "At about $100,000 a pop, we could have hired 370 employees for that."
David Samson, a former baseball executive (and a co-host of the show), reminded Skipper that despite his skepticism about paying Brady such a significant sum, "that's the market."
In response, Skipper noted that the entirety of Brady's contract could've been used for more strategic purposes.
"Seriously, for $375 million, you could have bought some live event rights," Skipper noted, "which would actually make a significant difference. [Brady] does not make significant difference other than pride and ambassadorship to put somebody in the booth for $37.5 million dollars."
Get the latest Boston sports news
Receive updates on your favorite Boston teams, straight from our newsroom to your inbox.
Singer Don McLean leads wave of dropouts from NRA convention after Texas shooting
Singer-songwriter Don McLean has announced that he's dropping out from performing at the National Rifle Association's annual meeting this weekend in Houston, saying it would be "disrespectful and hurtful" to perform days after 19 children and two adults were killed in a mass shooting in the state.
Following McLean's announcement, representatives for Republican Texas Gov. Greg Abbott, who was scheduled to speak in person at the convention, said he was skipping the event and will instead record video remarks for NRA members. The governor is scheduled to make a return trip to Uvalde, Texas, on Friday, according to the Dallas Morning News.
McLean, who is best known for his legendary 1971 folk rock anthem "American Pie," was scheduled to perform Saturday night during the NRA's Grand Ole Night of Freedom concert. But that was before a gunman, identified by police as Salvador Rolando Ramos, 18, entered Robb Elementary School and started firing on children in the worst mass shooting at an American school in nearly a decade.
"In light of the recent events in Texas, I have decided it would be disrespectful and hurtful for me to perform for the NRA at their convention in Houston this week," McLean, 76, said in a statement. "I'm sure all the folks planning to attend this event are shocked and sickened by these events as well. After all, we are all Americans."
The news was first reported by the Portland Press Herald in Maine.
McLean is among a few performers who have announced they will no longer perform at this weekend's convention. Country singers Lee Greenwood and Larry Gatlin and Larry Stewart of the country band Restless Heart also said Thursday they were dropping out in response to the shooting at Robb Elementary.
McLean's exit comes as gunmaker Daniel Defense, which manufactured the rifle used by Ramos in Tuesday's massacre, appears to have also pulled out of the NRA convention. The NRA's exhibitor list no longer includes Daniel Defense among the hundreds of gunmakers, firearm parts manufacturers and taxidermists appearing at the convention hall. The booth once claimed by Daniel Defense is now listed only as "the NRA."
The NRA's annual meeting this weekend in Houston, about 275 miles from Uvalde, is the largest gun-lobby gathering this year and comes after cancellations because of the coronavirus pandemic. It will feature talks from a group that includes former President Donald Trump and Sen. Ted Cruz, R-Texas.
The NRA, which boasts more than 5 million members, is fighting a lawsuit by the New York attorney general accusing its executives of misspending millions of dollars.
Critics have blasted the NRA and Republicans who have accepted millions of dollars in campaign contributions from the organization during their political careers. Nineteen current or recent Republican senators, including Senate Minority Leader Mitch McConnell of Kentucky and Sens. Rob Portman of Ohio and Joni Ernst of Iowa, have taken at least $1 million each in campaign contributions from the NRA during their careers, according to data compiled by the Brady Campaign to Prevent Gun Violence in 2019.
The NRA tweeted Wednesday that the organization and its members sent their "deepest sympathies" to the families of the victims of "this horrific and evil crime." The gun-rights organization also noted that the convention would continue and that the NRA would "reflect on these events."
"Although an investigation is underway and facts are still emerging, we recognize this was the act of a lone, deranged criminal," the organization tweeted. "As we gather in Houston, we will reflect on these events, pray for the victims, recognize our patriotic members, and pledge to redouble our commitment to making our schools secure."
On Thursday, Greenwood, whose "God Bless the U.S.A." became a staple at Trump rallies, said he was "absolutely heartbroken" by the events in Uvalde and could not perform at the NRA's weekend event.
"After thoughtful consideration, we have decided to cancel the appearance out of respect for those mourning the loss of those innocent children and teachers in Uvalde," Greenwood, 79, said in a statement.
Gatlin said he also was dropping out from performing because of what he cited as the NRA's "outdated and ill-thought-out positions regarding firearms" in the United States.
"I cannot, in good conscience, perform at the NRA convention in Houston this weekend," Gatlin, 74, said in a statement. "While I agree with most of the positions held by the NRA, I have come to believe that, while background checks would not stop every madman with a gun, it is at the very least a step in the right direction toward trying to prevent the kind of tragedy we saw this week in Uvalde – in my beloved, weeping TEXAS."
Gatlin added that while he believes arming teachers would have helped prevent the mass shooting, the NRA needed to do more in light of the shooting in Uvalde.
"My prayers and thoughts go to all who are suffering, and I pray that the NRA will rethink some of its outdated and ill-thought-out positions regarding firearms in AMERICA," he said. "I'm a 2nd Amendment guy, but the 2nd amendment should not apply to everyone. It's that simple."
Stewart echoed Gatlin in his support of the Second Amendment but said the events in Uvalde were too much for him to perform.
"So I have made the decision to pull out as a performer for the NRA convention this weekend, especially given the event is just down the road," Stewart, 63, said in a statement. "I'm a strong believer in the 2nd Amendment and I know the NRA is a great organization who teaches strict gun safety with a membership of law-abiding citizens who love our country. I just believe this is best for me at this time."
Among those still scheduled to appear at the NRA convention is Trump, who confirmed on his social network, Truth Social, that he's looking forward to speaking at the weekend convention.
"America needs real solutions and real leadership in this moment, not politicians and partisanship," Trump wrote. "That's why I will keep my longtime commitment to speak in Texas at the NRA Convention and deliver an important address to America. In the meantime, we all continue to pray for the victims, their families, and for our entire nation — we are all in this together!"
The Washington Post's Isaac Arnsdorf contributed to this report.
Red Line riders terrified when youths take over PA system
Passengers on a recent Red Line trip were startled when they heard shouting coming over the public address system, leading to fears that someone might have taken over the train.
But yelling into the intercom was all the offenders could do, according to the MBTA, which says it isn't possible for outsiders to access the train's controls.
"There have been some incidents in which youths have behaved imprudently by breaking into the cab in the middle of the train set (that's where they gain access to the microphone for the P.A. system)," Joe Pesaturo, a spokesperson for the MBTA said in an email.
"There is nothing the youths can do in the center cab except use the microphone," Pesaturo said. "All of the functional elements and controls for train operation are limited to the front cab in the train's first car."
Still, it was enough to make someone aboard call police, Kate Darling, an attorney and robot ethicist for MIT, told The Boston Globe.
"Anything that was being said to the intercom was just like shouting … It's so scary being in a train and not knowing who has control of the train," she told the newspaper.
But the train operator is the only one who has control of it, regardless of who is using the P.A. system, according to Pesaturo.
"The MBTA Subway Operations team will work with Transit Police to help find way[s] to reduce these incidents of youths breaking into the cabs in the middle of the trains," he said.
On the same train, a teenager also used a smoke extinguisher in one of the cabins.
Instead of riding the train to her usual stop, Darling said she got off at Charles Street station and took the 26-minute walk to MIT. Most of the other passengers also got off there, according to the Globe.
"It's not unusual for the train to, like, stop and start a bunch, but in combination we just weren't sure what was going on,'' she said, according to the Globe. "We were alarmed so we were glad to be able to get off the train."
Newsletter Signup
Stay up to date on all the latest news from Boston.com
Book World: 13 feel-good books to brighten your summer
No disrespect meant to the downers of the literary world, but sometimes you just want a book that makes you smile. Here's a collection of the best feel-good reads of the year so far. They'll make you laugh, and they might make you cry – but only tears of happiness.
"The Hawk's Way," by Sy Montgomery
If you're a bird-lover – or otherwise revel in nature – you'll appreciate Montgomery's latest, which clocks in at just under 100 pages. In "The Hawk's Way," she recalls getting to know a 4-year-old raptor named Jazz, which led her on a journey to understand the animals. It's an informative read that will make you want to go outside and look up into the sky.
"Remarkably Bright Creatures," by Shelby Van Pelt
If a misanthropic octopus sounds like fun, you'll appreciate Van Pelt's debut novel. It's about Tova, a widow who works the night shift at a Washington state aquarium, which keeps her busy after her son's disappearance three decades ago. The giant octopus, named Marcellus, just might hold the keys to unearthing what happened to Tova's son. "Remarkably Bright Creatures" is a charming novel with a stunning setting and the perfect amount of wit and wisdom.
"From Hollywood with Love," by Scott Meslow
We can't all live in a rom-com, but we can at least appreciate the masters of the genre. Meslow offers a worthy homage to them in this deep-dive that spans 30 years of hits, from "When Harry Met Sally" to "Crazy Rich Asians." The book is sprinkled with fun trivia, photos and interviews with directors and stars. You'll be "Waiting to Exhale" until you finish it.
"Book Lovers," by Emily Henry
Nora is a workaholic literary agent with a reputation as a shark. Charlie is the brooding book editor who works just as much as she does. After a combative first meeting, the two New Yorkers bump into each other in a small North Carolina town years later, when they'd both rather be anywhere else. Despite their sizzling chemistry, Nora and Charlie do their best to resist the happily ever after that readers will root for from Page 1. Henry's signature witty banter sets "Book Lovers" apart in the current crop of rom-coms.
"Chef's Kiss," by TJ Alexander
Pick up Alexander's debut novel for the autumnal galette or cookie-crumb-crust cheesecake. Stay for the romance that develops between pastry chef Simone and her nonbinary colleague Ray. "Chef's Kiss," which takes place in a Bon Appétit-style test kitchen, is like a dish of comfort food you'll want to devour.
"Flying Solo," by Linda Holmes
Holmes's debut novel, "Evvie Drake Starts Over," was required summer reading when it published in 2019. Now she's back with "Flying Solo," about a single woman on the cusp of her 40th birthday who returns to Maine to clean out her great aunt's home. While there, she finds a mysterious wooden duck that leads her on – well, a wild-goose chase, which detours to an old love. The novel is a refreshing reminder that there's no one-size-fits-all mold for a relationship, and that fulfillment can be achieved many ways.
"One Italian Summer," by Rebecca Serle
Katy is unmoored when her mom, Carol, dies – so she heads to Italy on the vacation they had been planning to take together. Once there, she encounters a 30-year-old incarnation of her mother, and the two embark on a magical romp that helps Katy understand who Carol was as a young woman, before her identity became "mom." Serle's novel is a touching mother-daughter story that speaks to the transcendence of parental love. Try the audio version, which is narrated by actor Lauren Graham.
"Let's Not Do That Again," by Grant Ginder
If you long for the days of "Veep," look for the same dysfunctional family dynamics and political misadventures in Ginder's latest novel. It's about Senate hopeful Nancy Harrison, whose adult children are problematically adrift – especially Greta, who's making headlines for her involvement in a Parisian riot. That's not good for the ol' campaign, so Nancy and her son head to France to bring Greta home. Ginder – whose previous novels include "The People We Hate at the Wedding" – delivers a delicious satire that's excellent escapism.
"This Time Tomorrow," by Emma Straub
Straub puts her own spin on "13 Going on 30" in this stirring time-travel novel. It centers on Alice, who's stuck in many aspects of life as she watches her beloved father slowly die. She wakes up on the eve of her 40th birthday and discovers she's 16 again – and that her dad is young and vibrant. This time around, she asks him questions, soaks in his stories and gets a second chance to fix old mistakes. Like all of Straub's books, "This Time Tomorrow" shines with humor and warmth.
"Unlikely Animals," by Annie Hartnett
In Hartnett's new novel, protagonist Emma returns home to New Hampshire to care for her dad, who has a degenerative brain disease. He's hallucinating animals and also reports seeing the ghost of Ernest, a naturalist who has been dead for many years. There's a lot happening in "Unlikely Animals," including Emma and her dad's efforts to find an old friend struggling with addiction. It's a quirky, poignant novel about family, community and love for our animal friends.
"The Wise Women," by Gina Sorell
Wendy was a longtime successful advice columnist – though you wouldn't know it based off her two daughters' disorganized lives. They're riddled with problems, some of which might be her fault, so she flees her Florida retirement village and shows up in New York to save the day. As the women aim to solve their dilemmas, it becomes apparent that Wendy has plenty of her own. "The Wise Women" is cheerful and full of heart.
"Kings of B'more," by R. Eric Thomas
The YA debut of humor writer Thomas introduces readers to Harrison and Linus – Black, queer best friends about to be separated by a move. They plan a "Ferris Bueller's Day Off"-worthy goodbye that involves a mini road trip, their first Pride celebration and a rooftop dance party, all of which they enjoy while trying to dodge their parents. "Kings of B'more" is a fun, sweet ode to Black joy.
"The Maid," by Nita Prose
Here's a cozy mystery to take along on vacation: It's about Molly, a socially challenged housekeeper at a fancy hotel who finds a wealthy guest dead in the penthouse. Once the police decide she's suspect No. 1 – an easy case to make, based on her slightly odd mannerisms – her organized life is thrown into chaos. Fortunately, an unexpected and quirky cast of friends turns up to help prove her innocence. "The Maid" is a lighthearted mystery that shines as Molly evolves and learns to connect. It's being adapted into a movie starring Florence Pugh.
Police waited 48 minutes in school before pursuing shooter
UVALDE, Texas (AP) — Students trapped inside a classroom with a gunman repeatedly called 911 during this week's attack on a Texas elementary school, including one who pleaded, "Please send the police now," as nearly 20 officers waited in the hallway for more than 45 minutes, authorities said Friday.
The commander at the scene in Uvalde — the school district's police chief — believed that 18-year-old gunman Salvador Ramos was barricaded inside adjoining classrooms at Robb Elementary School and that children were no longer at risk, Steven McCraw, the head of the Texas Department of Public Safety, said at a contentious news conference.
"It was the wrong decision," he said.
Friday's briefing came after authorities spent three days providing often conflicting and incomplete information about the 90 minutes that elapsed between the time Ramos entered the school and when U.S. Border Patrol agents unlocked the classroom door and killed him.
Ramos killed 19 children and two teachers, but his motive remains unclear, authorities said.
There was a barrage of gunfire shortly after Ramos entered the classroom where officers eventually killed him, but those shots were "sporadic" for much of the 48 minutes when officers waited in the hallway, McCraw said. He said investigators do not know if or how many children died during that time.
Throughout the attack, teachers and children repeatedly called 911 asking for help, including a girl who pleaded: "Please send the police now," McCraw said.
Questions have mounted over the amount of time it took officers to enter the school to confront the gunman.
It was 11:28 a.m. Tuesday when Ramos' Ford pickup slammed into a ditch behind the low-slung Texas school and the driver jumped out carrying an AR-15-style rifle.
Twelve minutes after that, authorities say, Ramos entered the school and found his way to the fourth-grade classroom where he killed the 21 victims.
But it wasn't until 12:58 p.m. that law enforcement radio chatter said Ramos had been killed and the siege was over.
What happened in those 90 minutes, in a working-class neighborhood near the edge of the town of Uvalde, has fueled mounting public anger and scrutiny over law enforcement's response to Tuesday's rampage.
"They say they rushed in," said Javier Cazares, whose fourth-grade daughter, Jacklyn Cazares, was killed in the attack, and who raced to the school as the massacre unfolded. "We didn't see that."
According to the new timeline provided by McCraw, After crashing his truck, Ramos fired on two people coming out of a nearby funeral home, officials said.
Contrary to earlier statements by officials, a school district police officer was not inside the school when Ramos arrived. When that officer did respond, he unknowingly drove past Ramos, who was crouched behind a car parked outside and firing at the building, McCraw said.
At 11:33 p.m., Ramos entered the school through a rear door that had been propped open and fired more than 100 rounds into a pair of classrooms, McCraw said.
DPS spokesman Travis Considine said investigators haven't determined why the door was propped open.
Two minutes later, three local police officers arrived and entered the building through the same door, followed soon after by four others, McCraw said. Within 15 minutes, as many as 19 officers from different agencies had assembled in the hallway, taking sporadic fire from Ramos, who was holed up in a classroom.
Ramos was still inside at 12:10 p.m. when the first U.S. Marshals Service deputies arrived. They had raced to the school from nearly 70 miles (113 kilometers) away in the border town of Del Rio, the agency said in a tweet Friday.
But the police commander inside the building decided the group should wait to confront the gunman, on the belief that the scene was no longer an active attack, McCraw said.
The crisis came to an end after a group of Border Patrol tactical officers entered the school at 12:45 p.m., said Texas Department of Public Safety spokesperson Travis Considine. They engaged in a shootout with the gunman, who was holed up in the fourth-grade classroom. Moments before 1 p.m., he was dead.
Ken Trump, president of the consulting firm National School Safety and Security Services, said the length of the timeline raised questions.
"Based on best practices, it's very difficult to understand why there were any types of delays, particularly when you get into reports of 40 minutes and up of going in to neutralize that shooter," he said.
The motive for the massacre — the nation's deadliest school shooting since Newtown, Connecticut, almost a decade ago — remained under investigation, with authorities saying Ramos had no known criminal or mental health history.
During the siege, frustrated onlookers urged police officers to charge into the school, according to witnesses.
"Go in there! Go in there!" women shouted at the officers soon after the attack began, said Juan Carranza, 24, who watched the scene from outside a house across the street.
Carranza said the officers should have entered the school sooner: "There were more of them. There was just one of him."
Cazares said that when he arrived, he saw two officers outside the school and about five others escorting students out of the building. But 15 or 20 minutes passed before the arrival of officers with shields, equipped to confront the gunman, he said.
As more parents flocked to the school, he and others pressed police to act, Cazares said. He heard about four gunshots before he and the others were ordered back to a parking lot.
"A lot of us were arguing with the police, 'You all need to go in there. You all need to do your jobs.' Their response was, 'We can't do our jobs because you guys are interfering,'" Cazares said.
Michael Dorn, executive director of Safe Havens International, which works to make schools safer, cautioned that it's hard to get a clear understanding of the facts soon after a shooting.
"The information we have a couple of weeks after an event is usually quite different than what we get in the first day or two. And even that is usually quite inaccurate," Dorn said. For catastrophic events, "you're usually eight to 12 months out before you really have a decent picture."
___
Bleiberg reported from Dallas.
Shuttle buses to replace Orange Line trains in August
Shuttle buses will replace Orange Line trains between Oak Grove and Wellington "to accommodate critical work at the Wellington Yard and Maintenance Facility" in late summer, the MBTA announced Thursday.
Train service will shut down Friday, July 29 at approximately 8:45 p.m. and remain closed off through Sunday, Aug. 28, according to the agency. The move will allow workers to complete rail yard work a year ahead of schedule.
Though the switch to shuttle buses can be "frustrating" for commuters, the work is aimed to bring "more reliable service and less disruptions on the Orange Line," MBTA General Manager Steve Poftak said in a statement.
"The completion of the yard and maintenance facility will also further support the delivery of our new Orange Line vehicles," he said. "We know these kinds of diversions can be frustrating, and I want to thank our Orange Line riders for their patience as we accomplish this important work on a much faster timeline."
According to the MBTA, during the 30-day period of accelerated work, crews will replace more than 7,000 feet of track, four units of special track work, and more than 2,000 feet of third rail. The agency is also looking to identify other improvements that can be made during this time.
Once this work is completed, Wellington will have a modernized facility to clean, inspect, and maintain Orange Line trains and new tracks.
"The Capital Transformation team is committed to finding ways to accelerate construction efforts for our riders," MBTA Chief of Capital Transformation Angel Peña said in a statement. "With Wellington's 30-day acceleration scheduled, the new projected completion date of both the yard and maintenance facility is summer 2023 – a full year ahead of schedule. We are excited to continue working with communities along this area in order to deliver these improvements as quickly as possible."
The MBTA's Capital Transformation team will hold a virtual public meeting June 30 at 6 p.m. to discuss this plan further.
Newsletter Signup
Stay up to date on all the latest news from Boston.com
The Red Sox are hot. Mookie Betts has been hotter.
COMMENTARY
How good has the Red Sox offense been the last two and a half weeks? So good, you probably missed what Mookie Betts is doing.
Hey! I heard that eye roll!
First, the hometown team. In 15 games since the White Sox finished their sweep at Fenway Park on May 8, Boston hitting all of .216 in losing three winnable games, the Red Sox have scored 112 runs. They've been held under four runs just three times in the 15, and no other American League team is within 20 of the total output.
J.D. Martinez (an MLB-best .443 average in May), Rafael Devers (16 extra-base hits in 15 games from the MLB leader in hard-hit balls), and Trevor Story (nine home runs, 27 RBIs in this run) are three of the game's hottest hitters at the moment, the Red Sox going 11-4 and climbing from a game off the bottom of the AL to squarely in its middle.
It's been nothing short of a complete flip. Before the run, the Red Sox had baseball's second-worst walk rate. During it, they've had the sixth-best, drawing seven even as they lost on Wednesday. Before, they chased more pitches out of the strike zone than any team. During, they're league average.
"That was impressive. Relentless," manager Alex Cora told reporters after Tuesday's blowout. "Obviously, we had a lot of work to do to get to the point we're at right now."
It is all unmatched by anyone but the Dodgers, who've also won eight of 10, who have 116 runs since May 8, and who have the game's hottest hitter of the moment, Markus Lynn . . .
You know who I mean.
"Out of this world," LA manager Dave Roberts told reporters Thursday night, after Betts's fifth three-hit game this month.
Betts was hitting .232 with a .710 OPS three weeks ago Wednesday, arguably the fifth-best hitter in the bonkers Dodgers lineup. Since, he's 31 for 85 with nine homers, nine doubles, 24 RBIs, and a .365/.439/.788 line.
His season OPS is now eighth in the majors (.973, just ahead of Devers's .966), with Betts's batting average nosing over .300 during Thursday's win and his 12 home runs tied for tops in the National League.
It seems pretty clear there was a hangover from the lockout and its shortened spring training, with the sport in May looking a lot more like the sport we've come to expect. That's been good news for the Red Sox and for Betts, the outcome most of us would like from their unholy separation.
But we can never stop relitigating this. Even if he was destined to leave. Even if the Red Sox, as ownership through Chaim Bloom hope, thread the needle and win with the generic brand of wax beans and you hardly notice the difference.
Look no further than Story at the danger of passing judgment on deals before their time, so consider this just a temperature check.
Alex Verdugo's four hits on Thursday were a welcome surge for a player hitting the ball far harder than a .232 batting average would suggest. He remains ground-ball heavy, though, and even his expected .290 average across 2021-22 wouldn't make him the player that ascendant 2020 suggested.
How much that matters depends, I suppose, on how close to equal value the Red Sox need to get for an MVP-caliber player they had clearly decided they wouldn't re-sign. (A calculus that has to include $48 million saved on David Price, who has done essentially zero in LA.)
Verdugo is a solid cog on a good team, well liked in the clubhouse and producing offensively at about five percent better than league average the last two-plus years. He's not outproducing the retooled Andrew Benintendi in Kansas City this year, though the advanced numbers suggest that gap should close.
(Speaking of Benintendi, the presumed Saturday debut of Josh Winckowski at Fenway will give us more data on assessing that move. He'll be starting as part of the doubleheader with Baltimore, but with Matt Barnes's awful four straight walks Thursday, it's not hard to imagine Winckowski getting a look as bullpen help soon.)
Why bring this up now? Because Betts is going nuclear, mostly, and it's striking how little of a ripple it's made here. Because I was in the car Thursday morning to hear the perfunctory call-and-response of Bloom's weekly call-in to WEEI.
Any updates on Xander Bogaerts?
Nothing to report publicly. We want him here. He wants to be here.
It's hard to imagine a Red Sox team anywhere near contention would cut its heart out at this deadline, but while it's been striking the degree to which Bloom has acquired valuable assets — Nick Pivetta leaps to mind — on small deals, the big ones carry more weight.
Did he get enough value for Betts? For Benintendi?
It's the perfect sports question: Debatable and ultimately unanswerable. And provided both Betts and the Red Sox keep cooking, one that actually won't cause mental anguish to debate.
You can't win trading away a generational talent, but you can win enough to make most people get over it. Which, if the Red Sox continue to conduct business as they have so far in the Bloom years, which is not how the sign-our-own-free-agents way his old boss Andrew Friedman has in LA, is a gymnastics we all better get used to attempting.
Sign up for Red Sox updates⚾
Get breaking news and analysis delivered to your inbox during baseball season.
Draymond Green made his Celtics-Heat prediction after the Warriors advanced to the NBA Finals
The Red Sox beat the White Sox 16-7 on Thursday. Trevor Story connected on his seventh home run in seven games. Boston will face the Orioles this evening at Fenway Park at 7:10 p.m.
Tonight at 8:30 p.m., the Celtics take on the Heat in Game 6 of the Eastern Conference finals. Boston leads the series 3-2.
On Saturday at 7:30 p.m., the Revolution host the Union at Gillette Stadium.
And also on Saturday, Liverpool play Real Madrid at 3 p.m. in the UEFA Champions League Final.
Draymond Green's prediction: The Warriors advanced to the NBA Finals on Thursday after defeating the Mavericks 120-110 in Game 5 to win the Western Conference finals, 4-1.
Afterward, both Stephen Curry and Draymond Green joined the NBA on TNT postgame show. Green was asked by Shaquille O'Neal about the finals.
"Who would you like to play?" Asked O'Neal. "Be honest."
"I think both teams are tough," Green initially responded. "Boston causes problems, especially offensively. Their defense is incredible."
O'Neal pressed Green for a more definitive answer.
"If you're asking me who I want to play, I'll tell you who I think we're going to play," Green replied. "We're gonna play Boston. That's who we're gonna play."
The Celtics face the Heat in the Eastern Conference finals on Friday night with a chance to close out the series holding a 3-2 lead.
More from Boston.com:
The Warriors advanced to the finals and joined some elite company:
On this day: In 2011, the Bruins defeated the Lightning 1-0 in Game 7 to advance to the Stanley Cup finals. Nathan Horton scored the game's only goal as Boston moved one step closer to what would eventually be its first title in decades.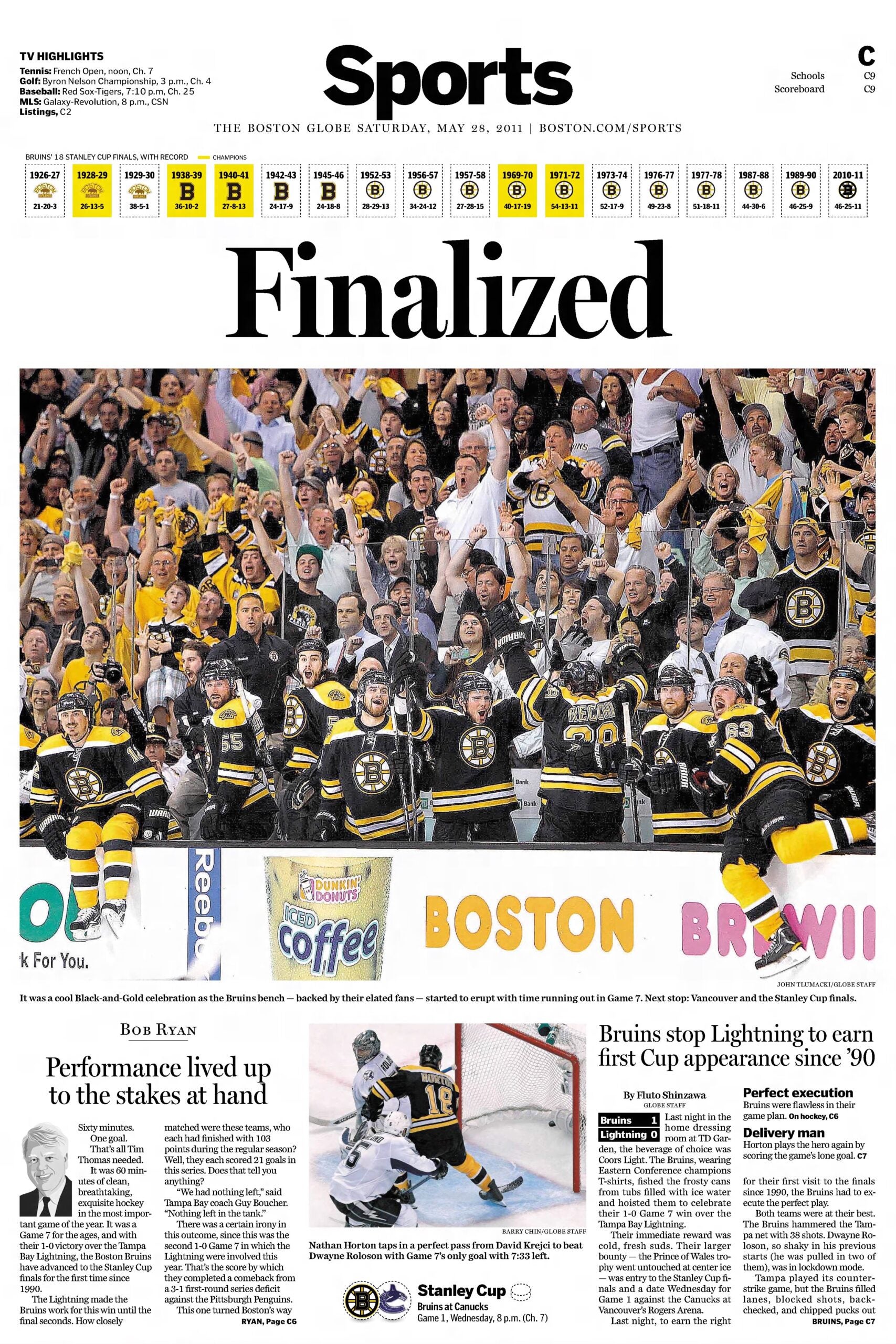 Daily highlight: Though it might not be the most impressive goal of his career, Connor McDavid's overtime (and series) winner vs. the Flames on Thursday night might be the most important of his career to this point.
Thanks to McDavid's score, the Oilers advanced to the Western Conference finals.
Get the latest Boston sports news
Receive updates on your favorite Boston teams, straight from our newsroom to your inbox.