Boston.com
'Gangnam Style' brought K-pop to the world, but haunted its creator
SEOUL, South Korea — He may not look it, in a spiffy double-breasted suit and a coiffure secured with enough hair gel to reflect the ceiling lights, but the 45-year-old music executive confides a secret as he rubs his temples: He's hung over.
But he doesn't mind nursing this headache, at well past 2 p.m. on a Thursday in Seoul. Some of his best songwriting ideas come to him, he said, in the malaise that follows a night of hard drinking.
The man doing the creative suffering is Psy, a onetime global internet sensation whose 2012 viral music video and earworm of a song, "Gangnam Style," became the first YouTube offering to surpass 1 billion views and had the world galloping along with him.
The outlandish but irresistibly catchy song and accompanying video — which has Psy doing the tune's signature horseback dance move in and around Gangnam, an upscale Seoul neighborhood — achieved the breakthrough, worldwide success that had mostly eluded Korean pop acts, or K-pop, before then.
The video, which now has some 4.6 billion views, was so culturally pervasive in 2012 that Barack Obama was asked about it on Election Day. NASA astronauts recorded a parody, and a North Korean state propaganda site evoked the dance move to mock a South Korean politician.
But for several years in the aftermath of all his viral fame, Psy said, the song's success haunted him. Even as he was thrust overnight into a Hollywood existence, getting chased around New York City by paparazzi, signing with Justin Bieber's manager and releasing a single with Snoop Dogg, internally he felt the pressure mounting for another hit.
"Let's make just one more," he said he kept telling himself.
He moved to Los Angeles in an effort to get a global career going in earnest, an ocean away from his native South Korea, where he was both a fixture of the music charts and a source of comic relief on silly television variety shows. But none of the attempts came close to replicating the formula that made "Gangnam Style" a global success.
Psy wasn't alone in trying to figure out how to reproduce the phenomenon. In South Korea, not only the music industry but government officials and economists, too, were studying just what it was about the tune, the lyrics, the video, the dancing or the man that had vaulted the song to such singular levels of ubiquity.
And in the decade since the song and video first put South Korea's pop music on the map for many around the world, K-pop has become a cultural juggernaut, expanding out from markets in East and Southeast Asia to permeate all corners of the world.
Artists such as BTS and Blackpink command devoted fans numbering in the tens of millions, and the bands wield an economic impact that rivals a small nation's gross domestic product. The fervor has spilled over beyond music into politics, education and even Broadway.
Some say Psy deserves much of the credit.
"Psy single-handedly placed K-pop on a different level," said Kim Young-dae, a music critic who has written extensively about the industry. The song was a "game changer" for the Korean music scene and paved the way for the groundswell of interest and commercial success that the South Korean stars who came after him experienced, Kim said.
Now, 10 years on from his lightning-in-a-bottle moment, Psy, whose real name is Park Jae-sang, is back home in South Korea, where he has started his own music label and management company and is trying to re-create the magic with the next generation of K-pop talent as one of the industry's tastemakers.

"One of the things I love most about this job is that it's unpredictable. We say among ourselves we're in the 'lid business' — because you don't know what you've got until you open it," Psy said in an interview at the offices of his music label headquartered in — where else? — the Gangnam neighborhood of Seoul. "You don't know which cloud will bring the rain."
With 10 artists under his wing, including a newly minted six-member boy band, TNX, Psy said he feels immensely more pressure shaping and stewarding other people's careers compared with when he was responsible for his alone.
And while he can give his budding stars advice based on decades of industry experience, what he can't do is offer them surefire instructions on making a hit record.
For all the years he has spent thinking and talking about "Gangnam Style," he remains just as mystified as anyone by its success.
"The songs are written by the same person, the dance moves are by the same person and they're performed by the same person. Everything's the same, but what was so special about that one song?" Psy said. "I still don't know, to this day."
In global terms, Psy and his "Gangnam Style" are the epitome of a one-hit wonder. But in South Korea, he had been well-known as a rapper and musician for a decade before, carving out a path that differed from many of his fellow performers, in that he didn't count on a boost from his physical appearance or shy away from courting controversy.
He never had the chiseled look sought after in South Korea's pop music industry, and from the release of his first album in 2001, he became notorious for his blunt, profane and at times ribald lyrics. "I Love Sex" was one of the tracks on his debut album, "Psy from the Psycho World!" which was slapped with a ban on sale to minors at the urging of the country's Christian Ethics Movement.
Despite — or perhaps because of — his unapologetic, iconoclastic ways, over the past two decades at home in South Korea, the college dropout has consistently logged chart toppers, bestselling albums and sold-out concerts.
"It's kinda sorta ironic he became so iconic — he went from being occasionally censored to widely celebrated," said Bernie Cho, president of DFSB Kollective, a Seoul-based creative services agency that offers marketing and distribution solutions to Korean music artists and their labels. "He irreverently winked his way from being the bad boy of K-pop to the golden boy of K-pop."
For a pop song, "Gangnam Style" also unleashed an avalanche of deep think pieces and analyses on the various aspects of South Korea and Seoul it was said to be lampooning: the hypocrisy of the nouveau riche, the superficiality of its social standards and the inequality exemplified by the opulent Gangnam neighborhood.
Psy insists the song never intended to deliver any profound social commentary — he was just looking to give people a few minutes of mindless hilarity and a reprieve from reality.
If anything, he said, he was poking fun at himself, because he doesn't aesthetically fit the bill of a posh Gangnam local.
"It's funny because someone who doesn't look like he's 'Gangnam style' says he is," he said.
Initially targeted for development in the 1970s to expand Seoul south of the Han River, Gangnam has became a coveted address where many of the capital's wealthy congregate and the best schools are concentrated, an educational disparity likely to ensure that the inequalities symbolized by the neighborhood continue into the next generation.

In the years since Psy made Gangnam a globally recognized name, the neighborhood has gotten ever more unattainable for the average South Korean. Nowhere have runaway real estate prices risen as steeply as in the Gangnam area.
"If you say you live in Gangnam, people look at you differently," said Jin Hee-seon, a former vice mayor of Seoul and professor of urban planning at Yonsei University. "It's an object of desire and envy."
Psy, raised in the greater Gangnam area in a family running a semiconductor business, now lives north of the river with his wife and twin daughters and said he spends little time thinking about the place.

What he has recently returned to is his signature live performances.
His concerts are legendary in South Korea for raucous good fun. His music — loud and energetic — is often accompanied by dance moves just as outrageous, requiring him to jump, kick and wave his arms wildly in the air. During his six-city tour this year, his first since the pandemic, he said he was surprised to find his joints and limbs as nimble as ever in middle age.
In his latest album released in April, his ninth, he collaborated with rapper Suga of BTS on a single titled "That That." In the music video, Suga comically duels — and kills — the blue tuxedo-wearing Psy of the 2012 video. (That video has accrued 369 million views.)
As for the chase of global fame that once drove him nearly mad, he said he's made his peace with its absence.
"If another good song comes along and if that thing happens again, great. If not, so be it," he said. "For now, I'll do what I do in my rightful place."
This article originally appeared in The New York Times.
Think your thermostat is lying? Science explains why.
You've probably experienced moments when the number on your thermostat simply doesn't gel with how you're feeling. If it's 74 degrees, why do you need the fuzziest socks and a Snuggie to avoid a chill? Or maybe you brace for battle with your mother-in-law whenever she comes over because she somehow always insists that your home feels like a sweat lodge.
As it turns out, it's not necessarily that your thermostat is lying, or — sorry — that your MIL is wrong. It's that the thermostat tells only one small part of a rather complex story.
When most of us talk about feeling hot or cold, we think we're referring to the temperature. But the number on a thermometer is just one element of what the experts call "thermal comfort." That term describes more holistically how satisfied an individual body feels within the climate of a given environment — and why. In addition to temperature, it takes into account factors such as humidity and air flow. There's even research that suggests the colors of a room can affect how warm or cool it feels to various people.
In short, unlike a reading on a thermostat, thermal comfort is subjective, explains Shichao Liu, an assistant engineering professor at Worcester Polytechnic Institute who studies the interaction between buildings and their occupants: "It's the interpretation and perception of our environment."
So stop casting that accusatory side eye at your thermostat, and take a deeper look at the reasons we experience temperature differently.
Humidity and air flow
Think about the weather report. In addition to the temperature, it also tells you the heat index or wind chill, which gives you a better idea of how the weather will actually feel when you step outside. On an August day in D.C., 90 degrees might feel more like 103, thanks to the humidity. On a blustery December day, 40 degrees could bite like 32. These same dynamics also play out inside your home, just on a smaller scale.
Humidity measures the amount of water vapor in the air, which matters because sweating — your body's best bet for cooling down — isn't just about releasing perspiration, explains Matthew D. White, an associate professor of physiology at Simon Fraser University. For you to feel any relief, your sweat needs to be able to evaporate. If the air is already filled with water, there's nowhere for your sweat to go. While some fancy thermostats measure humidity, many don't, meaning yours probably is not filling you in on a key factor in your perception of the indoor environment.
While we don't typically think of indoor air flow as a breeze — as we would if it was occurring outside — it affects our thermal comfort in much the same way that wind does.
Inside, of course, the airflow comes from fans or HVAC systems. The ways in which those circulate the air affect how you experience the temperature. "We want the air to go up when we want it to be warm in the house and it's winter" because it makes the temperature across a building more uniform, says Jennifer Lather, an assistant professor of engineering at the University of Nebraska at Lincoln. This is because an upward flow keeps the air in a room circulating, and prevents the hottest air from simply rising to the ceiling and remaining there. On the other hand, when it's hot it'll probably feel better if air is pushing downward, so you can feel the relief of a breeze. (Both Lather and Liu are part of the American Society of Heating, Refrigerating and Air-Conditioning Engineers, which generates research and standards for how the built environment can promote well-being.)
How your home is built
If your windows or doors aren't well-insulated, cold air will seep into your home on frigid days and meet with the warmer air inside. This collision, explains Lather, "creates air movement," leading to a changing climate in your home, just as the meeting of large masses of hot and cold air in the great outdoors causes extreme weather patterns. In your house, the clash creates a draft that can make you feel colder, even though your thermostat won't necessarily reflect all this drama. (Windows also come into play on hot days, because they're where the sun's radiation enters your home, making you feel warmer.)
The materials used to build your home can also influence how warm or cold you feel because different materials hold heat differently. Wood, for instance, heats up faster than cement but retains heat for less time. Whether your thermostat can keep up with those changes depends on how fast the temperature fluctuates throughout the day, and how much sunlight hits your home.
The impact of colors
It might sound a little out there, but it's true: An evolving area of research in the world of thermal comfort shows that the color of a room or object may influence how we experience its temperature.
The concept, called the "hue-heat hypothesis," asserts that cool colors, such as blue, can cause people to perceive cooler temperatures, and warmer tones like yellow or red can lead to a warmer perception. There is evidence to back this up, including a study that found different colored lights had an impact on how hot or cold airline passengers felt, and a 2016 study that found people held a hot object longer if it was blue and a cold object longer if it was red.
Whether a room is done up in a cool or warm color isn't the only consideration. Another element rife for exploration is the relative light or darkness of the hue, says Lather. In a darker room, for instance, "you have this sense of coziness because you feel like you're in a smaller space."
Some us really do just 'run' hot or cold
You've probably heard people say they "run hot" or "run cold" — often leading to spats over the correct temperature to set the thermostat. "There are different perceptions of the same conditions," says White, the physiologist, which is why some people start sweating or shivering before others.
One major factor in how you "run" is whether you're used to hot or cold. If you're accustomed to a freezing climate, you'll be less tolerant of heat and likely to feel it more intensely than someone who grew up in Miami (and vice versa), though this can change over time.
Physiological components such as your metabolism (how much heat your organs generate) and your body's fat content, which can affect the transfer of heat from inside your body to your skin, also come into play. And, of course, how much you're moving and what you're wearing will also affect your perception of thermal comfort — so don't underestimate the value of keeping a throw blanket or two around.
6 takeaways from Celtics vs. Kings, as Payton Pritchard provides spark (again)
The Celtics needed three quarters and a big boost from an energetic bench duo to take down the Kings on Friday, but they pulled away late for a big 122-104 victory.
Here's what happened.
1. The Celtics started strong, putting together a 36-22 first quarter before the Kings chipped their way back into the game and the lead. After the Kings surged ahead 84-78 late in the third quarter, Jayson Tatum clapped his hands together and barked at someone — either teammates to inspire a little more energy, or in frustration at the Kings after they committed a shooting foul that sent him to the free-throw line.
As Tatum stood at the free-throw line, Joe Mazzulla made what proved to be the most consequential decision of the game: He subbed in Luke Kornet and Payton Pritchard.
The result was one of the most dominant stretches of the Celtics' season. Over the final 3:12 of the third quarter, the Celtics put together a 16-0 run and took a 10-point lead. In the first five minutes of the fourth quarter, they built that run to a staggering 35-4, taking a 113-88 advantage. When the final buzzer sounded, Pritchard was +21 in 15 minutes, while Kornet was +19 in 12 minutes.
"We talked about it from day one: We have a lot of different ways we can go," Joe Mazzulla said after the game. "Credit to both Payton and Luke for what they do on a daily basis to stay ready, and credit to the rest of our team for accepting that. And I think it says a lot about where we can go with our team."
TD Garden swelled with anticipation when Kornet and Pritchard went to the scorer's table, as if everyone in attendance could instantly tell what two spot-rotation players would mean to the game. The fans were quickly rewarded for their faith: Pritchard scored five of the Celtics' next seven points after checking in, including an enormous 3-pointer.
"I love it," Pritchard told reporters. "I know they love me here, and I love that about Boston. I definitely appreciate it."
Pritchard has consistently provided the Celtics with a spark this season when called upon by Mazzulla. He might be a little too good for his role as a microwave off the bench, but it does seem to suit him perfectly.
2. Of course, as is often the case when the Celtics succeed, the real impetus behind the run was Jayson Tatum. After the little flurry by Pritchard, Tatum floated a lob to Kornet for a dunk when the defense collapsed on him — one of his four assists. Tatum then dropped in a floater of his own and banked in a 3-pointer on the final possession of the half, pushing the advantage to double digits. Defensively, he took on the De'Aaron Fox assignment in the third quarter and helped limit the Kings star to just six points on 1-for-7 shooting in the second half after Fox went 5-for-9 from the floor for 14 first-half points.
3. The high-scoring Kings get out in transition more than nearly any other team in the league, but the Celtics limited them well. Per Synergy Sports, the Kings managed just 20 transition opportunities and scored 0.89 points per possession, while the Celtics got out in transition 28 times and scored 1.15 points per possession.
"They only shot three 3s in transition, which, they were second in the league in transition 3s," Mazzulla said. "Some 23 percent of their threes come in transition, and then another 12 percent come from Sabonis in [dribble hand-offs]. And so we took away about 34 — I liked math, I'm not that good — like 34, 35 percent of their threes and so I thought that was huge for us."
4. Luke Kornet made both of his field goals on Friday, including an impressive turnaround hook when an offensive possession in the fourth quarter broke down. That extended his streak of made field goals to 15.
Like Pritchard, Kornet has shown impressive resilience this season — whenever he's called upon to contribute, he does so even though his minutes have been spotty.
Kornet, however, is not ready to claim credit for staying ready.
"I probably have a little bit of an advantage because I'm like, no matter what, I'm still 7-2," Kornet said. "So it's like other guys are sprinting around like crazy, so I feel like it's really incredible for them a little more."
Fair enough. Still, Kornet's presence allowed the Celtics to shift their defense in a way that gave them an enormous boost in the final two quarters.
"When you have Luke in the game, you have a little bit more rim protection, less switching, so we switched a lot of the game," Mazzulla said. "When you switch for the majority of the game, you maintain that same rhythm. I have to do a better job as a coach of changing up the rhythm of our defense if we want to switch as much as we do. And so when we went with Luke, we were able to kind of go to more of our traditional defense and our guys were able to be more physical and get into the ball and have rim protection. So I thought that helped."
5. Both Grant Williams and Jaylen Brown picked up technical fouls. Williams is now up to four this season after coaxing one out of an official in the second half.
Mazzulla said he wasn't worried about the mounting technicals, noting that the most important thing for the Celtics is to remain focused when they feel calls go against them.
"There's like six yellow cards a game in the World Cup," Mazzulla added.
Brown — who scored 25 tidy points and dished out five assists to go with two steals — said his mindset was crucial.
"A younger Jaylen might have looked at that opportunity to be pissed or to be mad because officiating was being called the way it was, whatever," Brown said. "But that's basketball. You come out and do your job. Period."
6. The Celtics started Derrick White in place of Grant Williams for the second consecutive game after giving White the nod against the Mavericks. White scored 16 points on 6-for-11 shooting (3-for-7 from 3-point range) and recorded three steals.
Williams shot 1-for-8 and scored just four points off the bench in 44 minutes over the last two games, which cuts against his usual splits — Williams has shot 62.5 percent from the floor and 53.8 percent from behind the arc off the bench this season.
Mazzulla will have a lot of options when Robert Williams comes back. How he handles the starting lineup will be a fascinating one, because with White and Grant Williams — as well as Al Horford (13 points, 5-for-8 shooting) and even Pritchard and Luke Kornet — the Celtics' rotation is crowded with a whole heap of talent.
The Celtics face the Wizards next on Sunday at 6 p.m.
Sign up for Celtics updates🏀
Get breaking news and analysis delivered to your inbox during basketball season.
Lake seeks election records in suit against Arizona county
PHOENIX (AP) — Kari Lake, the defeated Republican candidate for Arizona governor, has filed a public records lawsuit demanding Maricopa County hand over a variety of documents related to the election.
Lake has refused to acknowledge that she lost to Democrat Katie Hobbs and has for weeks drawn attention to voters who said they experienced long lines and other difficulties while voting on Election Day in Arizona's largest county.
Her lawyer, Tim LaSota, says in the suit filed Wednesday that the county has not fulfilled public records requests filed on Nov. 15 and 16. The requests seek to identify voters who may have had trouble casting a ballot, such as people who checked in at more than one vote center or those who returned a mail ballot and also checked in at a polling place.
Lake is also asking for information about counted and uncounted ballots that were accidentally mixed. County officials have acknowledged the problem occurred at a handful of vote centers but say it happens in most elections and can be reconciled.
Lake and her allies have bombarded Maricopa County with complaints about Election Day problems, which stem largely from a problem with printers at some vote centers that led them to print ballots with markings that were too light to be read by the on-site tabulators. All ballots were counted, but Lake says some of her supporters may have been unable to cast a ballot amid the chaos.
Lake wants the county to produce the records before certifying the election. The Board of Supervisors, controlled 4-1 by Republicans, votes to certify the election on Monday, the deadline under state law. Certification votes are also scheduled for Monday in five other counties, including two where Republican supervisors voted earlier to delay certifying the election.
The statewide canvass is scheduled for Dec. 5.
County officials did not immediately respond to a request for comment Friday. Board of Supervisors Chairman Bill Gates, a Republican, has said the county takes responsibility for the printer issue but blamed prominent Republicans including state GOP Chair Kelli Ward for exacerbating the problem by telling voters not to allow their ballots to be counted at the elections headquarters in downtown Phoenix.
Authorities: Man killed in home died of head injuries
LYNDEBOROUGH, N.H. (AP) — Authorities say a Lyndeborough man killed in his home died of a blunt force head injury and not from being shot as police originally believed.
The attorney general's office said an autopsy conducted Friday showed that the cause of death for 83-year-old Robert Prest was blunt impact head injuries and the manner of death was homicide.
No charges have been brought, but authorities said they are investigating the connection between Prest's death and the shooting of a man in Brookline the same day. A Manchester man was arraigned Friday on a charge of attempted murder in the shooting of 44-year-old Carlos Quintong.
The attorney general's office originally reported Prest's death as a shooting death.
Biden, family attend Christmas tree lighting on Nantucket
NANTUCKET, Mass. (AP) — The Biden family's tradition of eating lunch, shopping, and watching a Christmas tree lighting in downtown Nantucket on Friday became mostly about keeping the president's 2-year-old grandson from having a meltdown.
There was President Joe Biden's daughter, Ashley, dancing and clapping with nephew Beau to "Jingle Bell Rock" to keep him entertained as they waited with the crowd that had gathered for the 48th annual tree lighting ceremony on Main St.
There was Beau perched on the shoulders of his dad, Hunter Biden.
There was Beau being carried by his father, then not being carried by his father, then appearing to say things that suggested he wanted to get out of the cold and intermittent heavy rain.
Beau's grandfather walked with him at various points.
Every member of the family seemed to be doing whatever they could to keep blond-haired Beau, who is named after his late uncle, happy for a few hours until the tree was lit.
The Bidens have a more than 40-year tradition of spending Thanksgiving on Nantucket.
The day after, they go out to lunch — this year, they dined at the Brotherhood of Thieves restaurant. Afterward, they hit Nantucket Bookworks, a nearby bookstore. The president emerged carrying his purchases in a reusable tote bag.
They meandered along downtown Nantucket's cobblestone streets, going into some stores and window shopping at others. The first lady and Ashley had gotten some of their shopping done earlier Friday, so the spree after lunch was mostly for the president.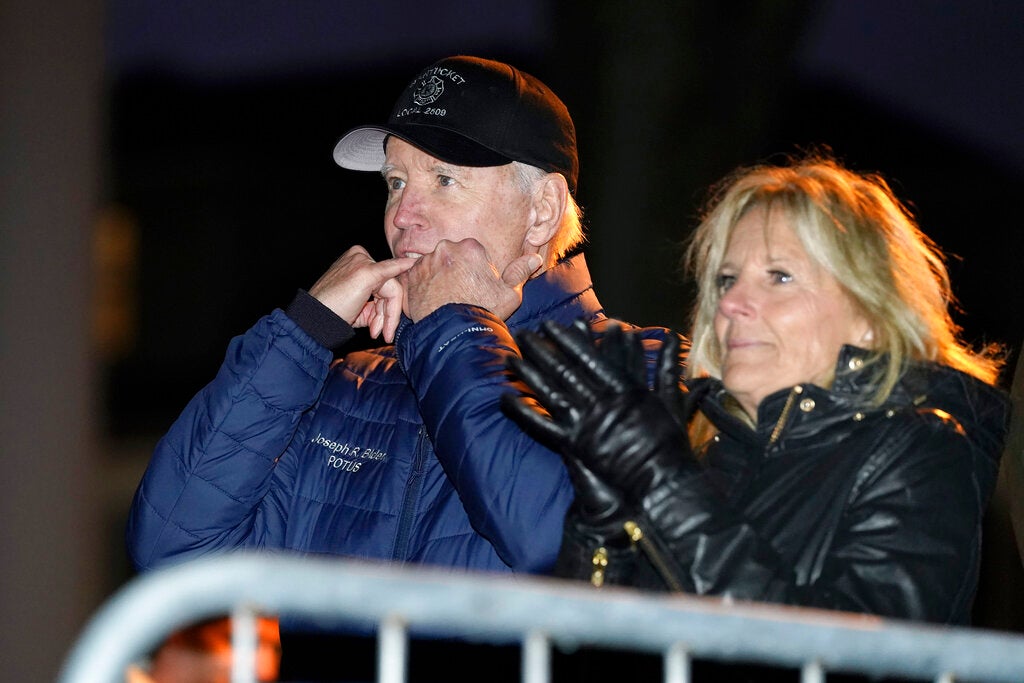 Biden spent time inside a leather goods store and a pet store, among other businesses. At one point, he looked through the window of a lingerie store but did not go inside.
"We're thankful for you," someone yelled to the president.
The tree lighting ceremony went off with a bit of a hitch. The red, green, and blue lights on the tree failed to come on following a countdown from 10.
The high school's a capella chorus came out to sing until the problem was solved and the tree was illuminated, ushering in the Christmas season in Nantucket.
3 takeaways from the Bruins' 3-2 triumph over the Hurricanes
The Boston Bruins' historic early-season run continues.
Their recent record-breaker at TD Garden didn't come easy, however.
Jim Montgomery's squad allowed an opposing power-play goal for the sixth straight game. Their recent penalty kill woes carried over into Friday, where the Hurricanes snapped an 0-for-20 skid on the power play en route to a 2-0 first-period lead following greasy net-front goals from Stefan Noesen and Jesper Kotkaniemi.
Slowly but surely, they started shaking off the tryptophan.
Charlie McAvoy and Boston's crop of bottom-six forwards woke up the Causeway Street faithful after mixing in some timely hits in the second frame.
Linus Ullmark also showcased some aggressive tendencies, delivering a timely poke check at Boston's defensive blue-line to stave off Jaccob Slavin's potential breakaway following a Brad Marchand turnover.
An aggressive backcheck from fellow Czech countryman Pavel Zacha in the attacking zone led to David Pastrnak feeding David Krejci for his first of two tallies to pull the Bruins within one with a little over 30 ticks remaining in the middle stanza.
The Bruins also had to overcome upper-body injuries to Craig Smith and Ullmark in the final frame. Jeremy Swayman filled in admirably in relief of Ullmark, stopping all six shots he faced.
Krejci got the Bruins to OT after the officials overturned their initial call for goalie interference as Brett Pesce shoved Nick Foligno into Pytor Kochetov's crease.
The Hurricanes self-inflicted in the closing moments of regulation and OT, committing a pair of delay-of-game minors. In the end, the Bruins capitalized as David Pastrnak's blast secured Boston's record-breaking 12th straight home win to start the 2022-23 season.
"We just kept going at them. We got to bring some good energy," Krejci said following Friday's playoff-like thriller against Carolina. "I think the fourth line started it for us. They had a couple of good hits, good shifts, and then we all just followed up."
Here's what we learned from the B's 3-2 triumph on Black Friday.
The Bruins take a moment to reflect on their run.
After Saturday's win over the Blackhawks, the Bruins became well aware of the next hurdle to history once they returned from their two-game swing in Florida.
As professionals, they hardly feel overwhelmed by the brevity of these moments. But make no mistake, this proud Original Six franchise is always well aware of the stakes.
"There's been a lot of great teams in this league, and you're able to set a precedent and break a record," Montgomery said. "It doesn't happen if those guys don't believe in themselves like they do."
The bond inside Boston's locker room provides that feeling of belief. No matter the circumstance, they always feel they can overcome adversity.
Their third-period prowess through this early season run put the team in a prime position to take over. In overtime, Pastrnak and crew smelled blood and etched another win for the NHL record books.
"It's Original Six, right? So any time you break a record it's special because it's such a long history," Pastrnak said. "We were obviously aware of it. This group is great. We took over in the third period because I feel we were playing the right way 5-on-5 in the first two periods. I feel we tired them up a little bit, and that's a hell of a team we beat today."
Yet, they couldn't escape a role reversal of sorts during their latest come-from-behind effort.
Swayman returned the favor for injured Ullmark.
Even with their dominance, the Bruins aren't immune from finding themselves on the wrong end of the scoreboard.
Nor are they exempt from encountering an in-game goalie injury.
Nearly a month removed from exiting during a relief appearance in Boston's third-period comeback win over the Penguins, Swayman once again found himself on mop-up duty against the Hurricanes. Unlike that night in Pittsburgh, Ullmark's exit against Carolina wasn't performance-based. Instead, the Swede watched the rest of the game in the locker room after sustaining an upper-body injury in the third period.
"It's crazy," Swayman said. "You hardly see that once a year, and then it happens twice. But I think he'll be okay. That was all I cared about…the first thing I asked him. He's a big Swedish Viking, so he'll be alright."
Swayman didn't alter his preparation one bit after entering the game with the Bruins still trailing 2-1. His teammates kept his crease clean for the most part. But when needed, Swayman delivered with timely saves, including one late in regulation on Sebastian Aho.
"I just want to make sure I'm preparing the same way every day so it's like another day in the office. If you have that repetition, then nothing really surprises you," Swayman said. "So I gave myself a chance to jump into that situation, and it was a pretty cool win."
Nick Foligno again filled in for an injured goalie with a trademark goalie hug. Before that, the veteran nearly found himself on the wrong end of the goaltender interference debate.
Montgomery hardly hesitated to challenge the tying goal
In the NFL's response to what defines a catch, the NHL counters with a conundrum of what constitutes goaltender interference.
A day removed from the men in stripes overturning a Hunter Henry touchdown reception, the Bruins took their turn, hoping to benefit from replay review.
With replay at their disposal, Montgomery challenged the original call after receiving advice from goalie coach Bob Esenssa and his video staff. The referees overturned their initial call after reviewing the Foligno-Pesce exchange, thus awarding the tying goal to the Bruins.
"The only hesitation … I thought we should challenge it, but I always wait for Goalie Bob and also the input from our video coaches," Montgomery said. "Our video coaches do a great job. They study a lot of that in the off-season of what is goalie interference and what isn't. We felt very confident that would be overturned because Foligno started outside of the blue paint and then got pushed into the goalie."
The Bruins pushed their way to a 2-1 mark through their first three tilts of a tough seven-game stretch. They'll look to extend their historic early-season home record on Tuesday when they welcome the Tampa Bay Lightning.
Newsletter Signup
Stay up to date on all the latest news from Boston.com
New Bedford man killed in Thanksgiving motorcycle crash
State police are investigating a fatal motorcycle crash in New Bedford on Thanksgiving night.
Investigators say Juan Ruiz, 49, of New Bedford, was killed around 7:30 p.m. Thursday when he was thrown from his motorcycle. Ruiz was operating a Suzuki GSXR10 motorcycle while traveling on Route 18 North near Interstate-195 in New Bedford. 
Police say Ruiz's motorcycle failed to negotiate a right-bearing curve as it approached the I-195 overpass and then hit a guardrail as it exited the road to the left.
The impact threw Ruiz off the motorcycle, though the bike continued traveling north without a rider and crossed the intersection of Acushnet Avenue and Coggeshall Street, according to officials.
After crossing the intersection, police said the motorcycle sideswiped a wall on Acushnet Avenue and hit the rear of a parked Toyota 4Runner before coming to a final stop.
Investigators say Ruiz suffered fatal injuries and was transported from the scene by the Office of the Chief Medical Examiner.
The crash remains under investigation by Troop D of the Massachusetts State Police with assistance from the Collision Analysis and Reconstruction Section, the Crime Scene Services Section, and the Detective Unit for Bristol County. 
Newsletter Signup
Stay up to date on all the latest news from Boston.com
Patriots' loss to the Vikings was a statistical anomaly
If the Patriots' Thanksgiving loss to the Vikings was unusual to you, well that's because it was.
New England's 33-26 loss was a statistical anomaly as the Patriots were the first team during the Super Bowl era to score at least 25 points, have at least 400 yards of total offense while outgaining their opponent, complete at least 70 percent of their passes, commit fewer than 60 penalty yards, have no turnovers, and not miss a field goal in a game and lose, according to OptaStats. Teams that had committed all those things in a game were previously 170-0.
There are several oddities that might explain why the Patriots still ended up losing despite history saying they should've won. They allowed a 97-yard kickoff return touchdown after scoring a touchdown themselves in the third quarter.
The Patriots also went 0-for-3 in red zone chances against the team that had the worst red zone defense in the league entering Week 12. However, in one of those chances, the Patriots looked like they scored a touchdown when it was originally ruled that Hunter Henry made a reception at the goal line in the third quarter. But a replay review wiped off the reception, and thus the touchdown, because it was determined Henry didn't have full control of the ball through the process of making the catch.
Another one of those missed red zone chances came in part because the Patriots ran out of time in the first half. They might not have run out of time though if Henry got out of bounds on a 22-yard reception and if Mac Jones threw the ball away instead of eating a sack, which caused the Patriots to burn their final two timeouts of the half.
While the Patriots didn't have what might be viewed as a significant amount of penalty yardage, they also seemed to commit penalties at inopportune times. Matthew Judon had an offside penalty on a third-down play for the Vikings that made it easier for them to get the first down on what ended up being a touchdown drive for Minnesota in the first half.
Obviously, no penalty was more costly than the one rookie running back Pierre Strong Jr. committed. Strong ran into the punter on fourth-and-3, giving the Vikings a first down and new life on the drive that they scored the game-winning touchdown on.
Beyond the missed opportunities and self-inflected mistakes, there were a couple of other unusual things for the Patriots in Thursday's game. They ran the ball just 13 times, by far the fewest amount of rushing attempts they've had in a game this season. They lost the time of possession battle to Minnesota 36:17 to 23:43. Judon, who leads the league in sacks this season with 13, didn't record a sack in a game for just the third time this season.
On the flip side, it was Jones's best game of the season — at least statistically. The struggling second-year quarterback threw for a career-high 382 yards and had two touchdown passes with no interceptions, giving him a season-best 119.8 passer rating.
When you put all of those things together, it makes it understandable as to why Judon felt the way that he did following the loss.
"I think that a couple calls, a couple plays and it's going the other way," Judon said. "But it wasn't our night tonight. I don't think we're far off. I don't think that team handled us.
"I just think it was just a couple calls, a couple plays, a couple this, and a couple that and it could've been a different game. But we didn't make those plays. So, we've got to go on film and watch them and correct ourselves."
Judson also said he was feeling more frustrated than disappointed with the loss.
"We've got to play better on defense, come up with some of those stops," Judon said. "Going down the stretch, we can't let them score on back-to-back drives, especially in a game like that. We're not disappointed. We're going to bind together. We're going to keep coming. But we're just a little frustrated."
No matter how you slice it up though, Thursday's game will still count as a loss to the Patriots' record — which is now 6-5. New England's mostly got tough tests from here on out too, with its Week 13 matchup against the Buffalo Bills just one of the four remaining games it has against teams in playoff contention with six games total left.
Sign up for Patriots updates🏈
Get breaking news and analysis delivered to your inbox during football season.
Bruins set NHL record with 12 straight home wins to start season following victory over Hurricanes
BOSTON (AP) — The Boston Bruins set the NHL record for most home victories to start a season with their 12th straight, topping the Carolina Hurricanes 3-2 in overtime on Friday with a power-play goal from David Pastrnak.
The Bruins broke the mark of 11 that was set by the 1963-64 Chicago Blackhawks and equaled by the Florida Panthers last season.
Boston, which trailed 2-0 late in the second period, tied it with 9:33 left in regulation when David Krejci scored his second of the game on a shot from the right point.
In overtime, Carolina was playing shorthanded after being called for too many men on the ice when Pastrnak one-timed a pass from Brad Marchand inside the far post from above the left circle.
PASTA IN OT

David Pastrnak (@pastrnak96) completes the comeback for the @NHLBruins with the @Energizer overtime winner! 🐻 pic.twitter.com/OX85Wuuusq

— NHL (@NHL) November 25, 2022
Jesperi Kotkaniemi and Stefan Noesen each scored a power-play goal for Carolina, and Pyotr Kochetkov made 38 saves. The Hurricanes lost their fifth straight.
Boston's tying goal was originally disallowed because of goaltender interference on Nick Foligno but overturned on a coach's challenge after it was ruled that he was nudged into the crease by Carolina defenseman Brett Pesce.
Boston starting goaltender Linus Ullmark made 28 saves but had to leave with 13:03 left in the third period with an undisclosed upper-body injury. Teammate Connor Clifton had jumped on him to block a shot during a scramble. Jeremy Swayman made six stops in relief.
In a rematch of last spring's opening-round playoff series that the Hurricanes won in seven games, Carolina shutout the NHL's highest-scoring team for nearly two periods and jumped ahead a pair of power-play goals in the opening period.
Noesen scored at 6:34 in to make it 1-0. And with five minutes left in the period, Kotkaniemi collected the puck near the side of the net after Seth Jarvis' shot bounced off the back glass and slipped it inside the post at 15:05.
Krejci scored for Boston with 31 seconds left in the second.
Boston came in with a league-high 82 goals in 20 games (4.10 per), but it was held to relatively few chances despite getting a 5-on-3 power-play advantage early in the game.
TAKE NOTE
The Bruins honored captain Patrice Bergeron, who recorded his 1,000th career point when the team was on the road Monday against Tampa Bay, with a message on the Jumbotron. The crowd gave him a standing ovation.
Bergeron became just the fourth Bruin to reach the mark, joining Hall of Famers Ray Bourque (1,506), Johnny Bucyk (1,339) and Phil Esposito (1,012).
UP NEXT
Hurricanes: Host the Calgary Flames on Saturday.
Bruins: Host the Tampa Bay Lightning on Tuesday.
Sign up for Bruins updates🏒
Get breaking news and analysis delivered to your inbox during hockey season.