Boston.com
'This is a treat': 7 takeaways as Celtics demolish Hornets, including Blake Griffin's throwback night
The Celtics continued their monstrous start to the season on Monday, demolishing the Hornets 140-105 to improve to 17-4.
Here's what happened.
1. Both the Celtics and Hornets were short-handed. The Celtics gave both Al Horford and Jaylen Brown the night off after their win over the Wizards on Monday, while the Hornets were missing LaMelo Ball, Gordon Hayward and Terry Rozier.
The Hornets were significantly worse for the wear. Jalen McDaniels scored 24 hyper-efficient points, and Kelly Oubre added 22, but those two weren't even close to matching the firepower the Celtics produce on a nightly basis.
All the Celtics needed to do was treat their opponent with a modicum of sincerity. Behind an absurd shooting night across the board (59.1/46.2/85.7 percent shooting as a team), they claimed perhaps their easiest win of the season so far.
"The biggest challenge is not focusing on being a disciplined team, playing harder than everybody else, and executing. That's a huge challenge for us. And no matter how good you are, you gotta do that. And so, great thing about tonight's game is there's plenty of possessions that we didn't execute, and so we have plenty of room to get better."
2. Blake Griffin had a throw-back night, starting in place of Horford. He finished with nine points on 4-for-5 shooting, but this was the biggest of the bunch — a one-handed alley-oop from Derrick White that sent TD Garden into hysterics.
"I just always think it's really funny," Griffin said, when asked about the reaction to his dunk. "I've said this before, but at the beginning of my career, it was all 'Do something else besides dunk!' and now everybody just wants me to dunk. So it's just a good lesson in that you can never please everybody, but it's just good to be out there, be healthy and be able to contribute and help out."
The Celtics appreciate Griffin's good-natured presence on the bench, as well as the veteran perspective he brings to a team that has had a lot of continuity and a number of young players who haven't played for another organization before.
"[He's] constantly in our young guys' ears, just giving guys his experience, how his career has gone and where he was successful," Mazzulla said. "And just a sense of humor and kind of just an overall great guy. And so guys flock to him and he's thankful for that."
3. Here's your nightly takeaway about Jayson Tatum, who scored 35 points in 29 minutes. Tatum attempted just one free throw and was just 4-for-14 from 3-point range, but he finished with an efficient line because the Hornets simply had nothing for him at the rim.
The Hornets, of course, were singularly bad on Monday, but they did have Oubre — a solid defender with some size. Tatum, however, is far too adept in the pick-and-roll, and far too strong at this stage to be slowed by anything the Hornets were able to throw at him.
Tatum now owns the Celtics' record for the most points scored in November.
4. Luke Kornet is genuinely funny, not just funny in a press conference. On Monday, he showed off a new celebration — twisting his hands together to create a flying bird.
According to Kornet, the celebration is an homage to Stromile Swift — a freak athlete from the early 2000s.
"There were a couple times last year when Grant was just elevating on guys," Kornet said postgame in full deadpan tone. "We drew the comp to Stromile Swift and there's some alternate nicknames. And so then, I didn't want him to have it. It's a great celebration. And then I realized it was more — Grant, for one, has some similarities. But I, myself, it was like looking in the mirror. Today, I deemed it appropriate."
What … exactly does Kornet share with Swift?
"Explosive athleticism, next question," Kornet said.
Grant Williams piped up.
"Luke, you're my favorite player," he called out.
"Thanks, Grant, you're … one of my favorite teammates," Kornet answered.
Kornet scored nine points and grabbed eight rebounds in 18 minutes.
5. Malcolm Brogdon had one of his best games of the season — 21 points on 8-for-9 shooting, and +26 in just 21 minutes on the floor.
Has he ever been part of an offensive show like this?
"No, nothing close. This is a treat," Brogdon said. "I think for any NBA player, whether you ask Marcus Smart, Tatum, Brown, anybody. It's a treat playing on a team like this."
Coming from Brogdon — who has played with Giannis Antetokounmpo, as well as a mediocre Pacers team — that perspective is as important as Griffin's.
"Marcus, Jayson, Jaylen, Grant, these guys haven't seen other teams," Brogdon said. "So they don't know how other organizations, other teams, how everything works in other places. So there's a lot of good here from the top down. From leadership down to the PTs to the players, there's a lot of good here.
"I remind the guys of that when times get tough because there's always going to be times during the season where there are lulls, guys getting a little unhappy, it's just the nature of the business. But for me and Blake, we've been in situations where a team is not winning, where the team is really struggling and there's chaos. So definitely I try to encourage the guys to be appreciative of what they have here."
6. The Celtics recorded 40 assists as a team, the most they've managed in a single game since 2008. Marcus Smart finished with a team-high — and a career-high — 15 in 31 minutes.
How is he getting everyone involved?
"With X-ray vision," Smart said with a chuckle. "Trying to at least, trying to get everybody the ball at the right time when they need it, where they like it and just to get us some easy baskets by doing that. It gets everyone's confidence up and when people's confidence is up, they tend to play a little harder on both ends of the floor. We got a lot of great players and for me to be able to just find them and that's what I'm trying to do."
7. Two-way center Mfiondu Kabengele got his first minutes during the regular season for the Celtics and delivered a two-hand slam off an alley-oop from Sam Hauser.
The Celtics face the Heat on Wednesday at 7:30 p.m. in Boston.
Sign up for Celtics updates🏀
Get breaking news and analysis delivered to your inbox during basketball season.
5 New Haven officers charged in paralysis of Black man they transported
Five Connecticut police officers were charged Monday with misdemeanors in a case in which a Black man who was being transported in the back of a police van became paralyzed when the driver hit the brakes hard, shattering the man's spine.
The man, Richard Cox, 36, known as Randy, was being taken to a police station in New Haven on June 19 on a weapons-related charge in a van that was not equipped with seat belts. He smashed headfirst into the van's inside wall, and the incident was captured on video.
The officers appeared to treat him callously following his injuries, mocking his inability to sit up, police video and audio released by lawyers for his family show.
The case is strikingly similar to that of Freddie Gray, a 25-year-old Baltimore man who died in 2015 after police officers drove him unrestrained in the back of a similar transport vehicle. In Cox's case, police officers who attended the injured man admonished him to get up and said he was drunk, according to police records.
In a conversation captured on a recording, he told the officers he could not feel anything or move. "If you've got to drag me, do what you've got to do," Cox said. The officers dragged him from the van by his feet.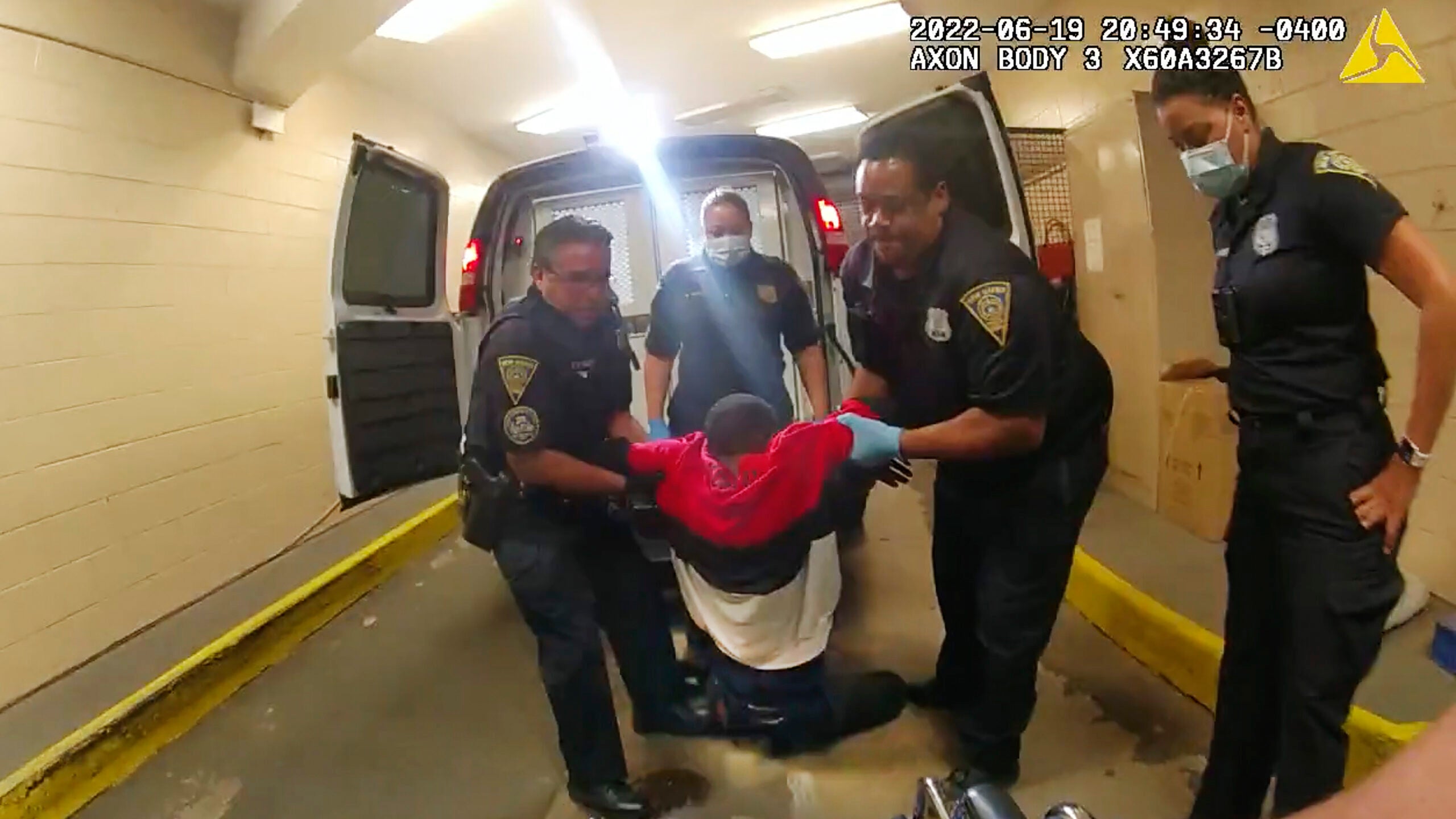 On Monday the five New Haven officers involved — Oscar Diaz, Ronald Pressley, Jocelyn Lavandier, Luis Rivera and Sgt. Betsy Segui, who face reckless endangerment and cruelty charges — turned themselves in at the Connecticut State Police barracks, according to state police. They were each released on $25,000 bond, with a court date set for Dec. 8.
"The City of New Haven is committed to accountability for all individuals involved in this tragic incident," New Haven Mayor Justin Elicker said in a statement.
At a news conference at City Hall on Monday, Karl Jacobson, New Haven police chief, addressed the charges. "It's hard to see officers charged," Jacobson said, according to published reports. "You can make mistakes, but you can't treat people the way Randy Cox was treated."
Jack O'Donnell, Cox's lawyer, said that while his client's family is pleased that arrests were made, they believe that police officers should have faced more stringent charges. That said, they were heartened by the fact that New Haven state's attorney, John P. Doyle Jr., brought a cruelty charge that entails criminal negligence. "Even though it is a misdemeanor, it is a fitting charge," O'Donnell said. "Because it was abundantly clear that it was cruel and inhumane."
This fall, Cox's legal team filed a lawsuit in federal court in New Haven against the city and the officers, seeking $100 million in damages for his injuries and suffering. In separate legal responses, several of the officers claimed protection under qualified immunity — a legal doctrine that protects officials and law enforcement officers from being individually liable unless a constitutional right was clearly violated. The Elicker administration also filed a similar claim.
Cox's injuries, both the officers' and the city's filings claimed, might have resulted in part from his own negligence. O'Donnell said his client, who underwent several surgeries to repair his spine and is paralyzed from the chest down, was appalled by their response.
Cox is currently in a rehabilitation center. "His surgeon said it is doubtful that he will ever walk again, that hit him kind of hard," O'Donnell said. "We try to boost his spirits by saying that 'doubtful' isn't a final conclusion."
This article originally appeared in The New York Times.
Newsletter Signup
Stay up to date on all the latest news from Boston.com
Smart dishes 15, scores 22, Celtics crush Hornets 140-105
BOSTON (AP) — The reigning NBA Defensive Player of the Year showed he can do it on offense, too.
Celtics point guard Marcus Smart had a career-high 15 assists on Monday night, adding 22 points to help Boston beat the Charlotte Hornets 140-105 and give the defending Eastern Conference champions their 13th win in 14 games.
"He's always brought it defensively," Celtics interim coach Joe Mazzulla said. "I have full trust in him diagnosing where the matchup is, where the advantage is, and what can we do to exploit that. And he's doing a great job anticipating that once he gets the ball."
Smart said he was seeing the court so well, it was like he had X-ray vision.
"You kind of zone out, and it's just you out there throwing practice passes. Finding guys in the right spot at the right time," he said. "Once you're locked into that, guys … start making plays to get them the ball, and make it even easier for you."
Jayson Tatum scored 35 to help the Celtics jump to a 27-point, first-quarter lead. Malcolm Brogdon had 21 points, Derrick White scored 15 and Blake Griffin scored a season-high nine points for Boston.
Tatum, Smart and Brogdon all sat out the fourth quarter. It was the ninth straight win at home for the Celtics, who have the best record in the NBA.
"This is a treat. For any NBA player, it's a treat playing on an NBA team like this," said Brogdon, who won two playoff series in his first six years in the league. "For me and Blake, we've been in situations where a team is not winning, where the team is really struggling and there's chaos. So definitely I try to encourage the guys to be appreciative of what they have here."
Jalen McDaniels scored 24 points and Kelly Oubre Jr. had 22 for the Hornets, who lost for the 12th time in 15 games.
GOOD START
The Celtics put this one away in the first quarter.
It was 19-12 when Boston scored 24 of the next 28 points, hitting six straight 3-pointers to pull ahead. Tatum had 16 points in the quarter, Smart had 10 points and eight assists and Brogdon scored 10. Boston shot 73% from the field, making 10 of 15 from 3-point range.
Charlotte missed all six 3-point attempts in the quarter.
BROWN DOWN
Jaylen Brown missed the game with neck stiffness. He scored 36 points in Sunday's game against the Wizards, which Tatum missed with a sprained left ankle.
Al Horford (lower back stiffness) also missed the game, the second of a back-to-back.
TIP-INS
Hornets: Charlotte was without ex-Celtics Gordon Hayward and Terry Rozier.
Celtics: Led by as many as 27 less than 10 minutes into the game. It tied for their second-biggest lead of the season. … Griffin made his third start of the season.
UP NEXT
Hornets: Host Washington on Friday.
Celtics: Host the Heat on Wednesday night in the first of two games against Miami in Boston in three days.
___
AP NBA: https://apnews.com/hub/nba and https://twitter.com/AP_Sports
Get the latest Boston sports news
Receive updates on your favorite Boston teams, straight from our newsroom to your inbox.
Biden heading to Boston, will overlap with British royals
Later this week, Boston will host a collection of some of the most famous people in the world. Prince William and Princess Kate of the British royal family are scheduled to touch down in Massachusetts on Wednesday ahead of the Earthshot Prize Awards Ceremony on Friday. Actors Rami Malek, Shailene Woodley, Daniel Dae Kim, and Catherine O'Hara will join them at MGM Music Hall for the event. Singer-songwriter Billie Eilish will also be in attendance.
Now, it seems that President Joe Biden is coming to Boston as well. 
He is scheduled to make an appearance at a political fundraiser on Friday, according to an invitation to the event obtained by The Boston Globe. Senators Elizabeth Warren and Ed Markey are also slated to join Biden. The event is being organized to raise money for Democrats in Georgia's Senate run-off election. Voters there will choose between Herschel Walker and Raphael Warnock on Dec. 6. 
The Earthshot Prize ceremony is dedicated to honoring people and organizations who are making strides in addressing climate change and environmental problems. Five prizes will be handed out, with each winner getting £1 million to fund their work. This is the second annual ceremony.
Whether or not Biden will be at the ceremony is unclear, the Globe reports. Markey, however, does plan to attend.
Biden would be returning to Massachusetts not long after departing. The President and his family spent Thanksgiving and the days after on Nantucket, maintaining a long held family tradition. They shopped at local stores on "Small Business Saturday," drawing a crowd.
The President visited Boston in September. He spoke at an event at Logan airport, emphasizing the progress made during his administration on improving the country's infrastructure. He also spoke at the Kennedy Presidential Library about the Cancer Moonshot initiative.
Newsletter Signup
Stay up to date on all the latest news from Boston.com
22-year-old Fall River man dies in fiery Thanksgiving car crash
A 22-year-old Fall River man died in a fiery single-car crash early Thanksgiving morning on I-195 in Westport.
The Bristol County District Attorney's Office said in a news release Monday that at 2:07 a.m. on Nov. 24, a driver reported a single-car crash on I-195 westbound near Exit 16 in Westport. The caller said the car was engulfed in flames.
Massachusetts State Police and Westport firefighters responded to the scene, the DA's Office said. After the fire was extinguished, first responders determined that the driver, 22-year-old Holdjer Decarvalho, was dead.
No other cars seem to have been involved in the crash, and Decarvalho was the only person in the car at the time, the DA's Office said.
Police are still investigating the crash.
Newsletter Signup
Stay up to date on all the latest news from Boston.com
Remains of 4 infants found in South Boston home earlier this month
Boston police revealed Monday that they found the remains of four different infants at a South Boston home earlier this month.
Police said in a news release Monday evening that autopsies have been performed by the Office of the Chief Medical Examiner on two infant males and two infant females found at 838 East Broadway. The results of the autopsies are pending.
On the afternoon of Nov. 17, police responded to the South Boston home and found the remains of what they believed to be a human fetus or infant.
A spokesperson for the Suffolk County County District Attorney's Office told The Boston Globe that the remains were found in a freezer.
The next day, police said they found more human remains at the same home.
According to NECN, property records show there are nine units in the apartment building, and that the unit under investigation is a one bedroom.
The Boston Herald reported that the unit listed in the police report has been owned by the same woman since the early 1980s, but it is unclear if she lives there. She's in her 60s, the Herald said, and the newspaper has been unable to reach her or her family members for comment.
No further information about the case has been released.
Police are still investigating what happened to these infants. Anyone with information about the case is asked to contact Boston Police Homicide Detectives at (617) 343-4470.
Newsletter Signup
Stay up to date on all the latest news from Boston.com
Residents rescued after water main break floods Lowell neighborhood
A major water main break flooded several streets in Lowell Monday evening, leading to the evacuation and rescue of residents.
The Lowell Police Department received a report of a water main break in the area of Father Morissette Boulevard by Suffolk Street shortly before 3:30 p.m., deputy superintendent Mark LeBlanc told Boston.com. Officers arrived on scene to find an "active and substantial flow of water in the area," he said.
The affected area included parts of Father Morissette Boulevard, Moody Street, and Cabot Street. In a tweet, Lowell police encouraged residents to avoid the affected area and to seek alternate routes.
The Massachusetts Emergency Management Agency responded to the scene to assist local first responders. The agency also called in the Salvation Army Emergency Disaster Services to help more than 80 residents sheltering in a senior center.
As of 8:40 p.m. Monday evening, crews were working to locate the water main break as officers evacuate affected residents. Those efforts remain ongoing.
Some of the flooding submerged entire vehicles, and caused drastic measures for residents. Video footage from WCVB depicts people being rescued from a home on Race Street by a crew on an inflatable boat.
Several apartment complexes were evacuated as a result of the flooding, including Archambault Towers and 192-unit City View Towers, which houses senior and disabled Lowell residents.
Deputy Fire Chief Bob Destrempe told the Boston Herald that the water entered basement of City View Towers, causing issues with the building's electrical system. National Grid responded to shut off the power, he said, and firefighter crews went to each floor to evacuate residents.
"Extensive manpower was needed for this operation," he told the Herald. "Everybody got out safe. Nobody got hurt. Everybody has been calm and it's been very orderly."

The Lowell Senior Center at 276 Broadway St. and the Mercier Center at 21 Salem St. are open for residents affected by the water main break, LeBlanc said. The Ayotte Garage on Post Office Square will also be open for free parking for residents in the affected area.
The City of Lowell's Water Utility unit warned residents that they may experience issues with their water during the ongoing repairs, including discoloration and low water pressure. They advised residents to run their cold water for approximately 10 minutes until the discoloration clears.
Newsletter Signup
Stay up to date on all the latest news from Boston.com
More than 150 sea turtles with hypothermia treated by New England Aquarium
The New England Aquarium is treating more than 150 sea turtles at a special facility after the animals became hypothermic and got stranded on shore.
Cold-stunned sea turtles washing up on Massachusetts beaches is an annual phenomenon, the aquarium said in a release Monday, but the number of turtles that need rescuing has steadily risen over the past few decades.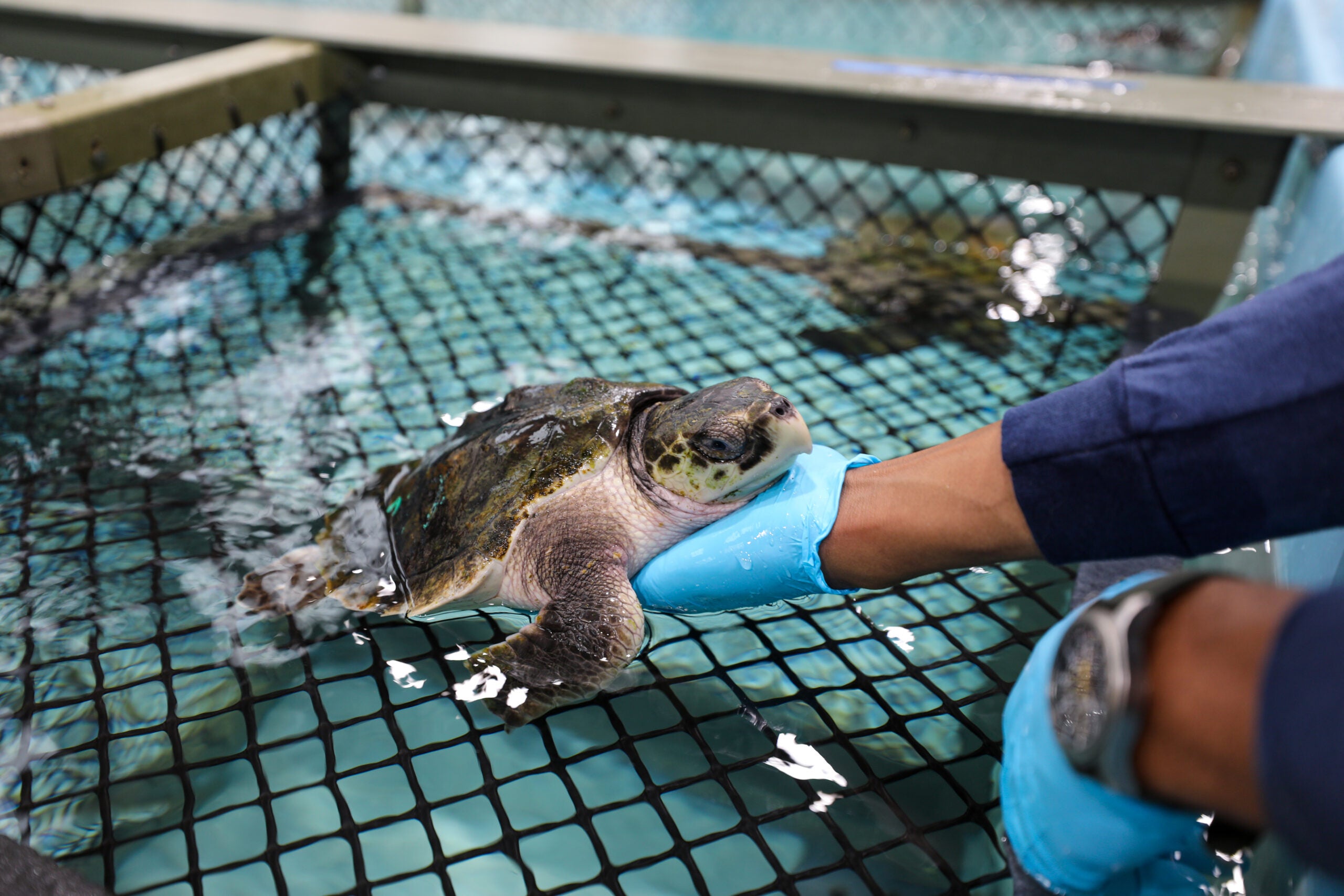 This year, the turtles began to strand on Cape Cod on Nov. 18. Staff and volunteers from Massachusetts Audubon Wellfleet Bay Wildlife Sanctuary have been combing beaches for turtles experiencing hypothermia so that they can be brought to the aquarium's Sea Turtle Hospital in Quincy. Hypothermia and an inability to feed can lead to a number of life-threatening conditions for the animals.
In total, 153 sea turtles have been treated. This includes 120 Kemp's ridley turtles and 33 green turtles. The smallest sea turtles in the world, Kemp's ridley turtles are critically endangered.
Climate change appears to be impacting when cold-stunned turtles are being found on Massachusetts beaches. Researchers believe warmer ocean temperatures delayed the start of the annual stranding season this year. 
"In years past, cold-stunned sea turtles would begin to wash ashore in late October. Milder weather means the waters of Cape Cod Bay are staying warmer for a prolonged period of time, which we believe could be a sign of climate change's impact on the Gulf of Maine," said Director of Rescue and Rehabilitation Adam Kennedy in a statement.
Staff members use physical examinations, bloodwork, X-rays, and measurements of heart rate and respiratory rate to assess the turtles once they arrive at the aquarium's facility. The turtles commonly experience dehydration, pneumonia, and shell or bone fractures.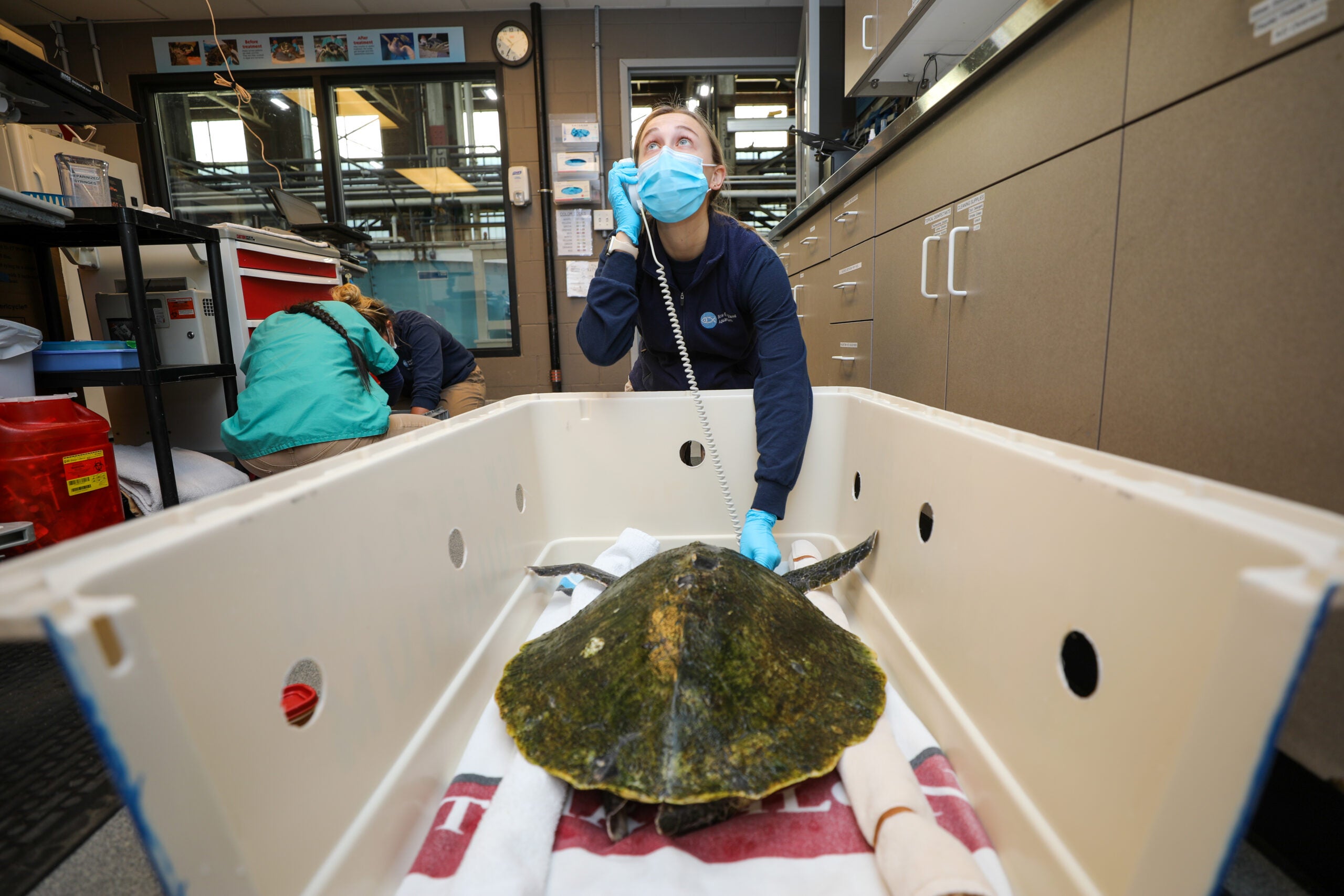 "All of our sea turtle patients receive individualized care based on their condition. Depending on the severity, turtles may need weeks, months, and sometimes more than a year of treatment before they are at a point where we can clear them for release back into the ocean," said Director of Animal Health Charles Innis in a statement.
The aquarium works with Turtles Fly Too, a nonprofit organization, to transport the animals when more room is needed at the Sea Turtle Hospital. With a growing number of turtles in need of rapid help, those that have been stabilized are sometimes brought to other facilities where they can receive further care.
Volunteer pilots with Turtles Fly Too began their transport flights on Sunday. They flew more than 40 turtles to the South Carolina Aquarium, the Georgia Sea Turtle Center, and the Atlantic Marine Conservation Society in New York. On top of that, 12 turtles were driven to Mystic Aquarium in Connecticut last week. Those that remain in critical condition at the New England Aquarium facility will complete their rehab there before being released next summer.
Although the number of cold-stunned sea turtles changes from year to year, researchers are seeing a gradual uptick. In 2000, only about 50 cold-stunned turtles were found in Massachusetts, the aquarium said. More than 700 were found in 2021. On average, staff members treat about 300 turtles each year. Most of the turtles that arrive at the aquarium's facility are successfully rehabilitated and released back into the ocean.
Those that find sea turtles on beaches from Boston north through New Hampshire should call the New England Aquarium's 24-hour Sea Turtle Rescue Hotline at 617-973-5247. People that find sea turtles along the South Shore, Cape Cod, and the Islands, should call the Wellfleet Bay Wildlife Sanctuary at 508-349-2615 x6104.
Newsletter Signup
Stay up to date on all the latest news from Boston.com
Biden calls on Congress to head off potential rail strike
OMAHA, Neb. (AP) — President Joe Biden on Monday asked Congress to intervene and block a railroad strike before next month's deadline in the stalled contract talks, and House Speaker Nancy Pelosi said lawmakers would take up legislation this week to impose the deal that unions agreed to in September.
"Let me be clear: a rail shutdown would devastate our economy," Biden said in a statement. "Without freight rail, many U.S. industries would shut down."
In a statement, Pelosi said: "We are reluctant to bypass the standard ratification process for the Tentative Agreement — but we must act to prevent a catastrophic nationwide rail strike, which would grind our economy to a halt."
Pelosi said the House would not change the terms of the September agreement, which would challenge the Senate to approve the House bill without changes.
The September agreement that Biden and Pelosi are calling for is a slight improvement over what the board of arbitrators recommended in the summer. The September agreement added three unpaid days off a year for engineers and conductors to tend to medical appointments as long as they scheduled them at least 30 days in advance. The railroads also promised in September not to penalize workers who are hospitalized and to negotiate further with the unions after the contract is approved about improving the regular scheduling of days off.
Hundreds of business groups had been urging Congress and the president to step into the deadlocked contract talk and prevent a strike.
Both the unions and railroads have been lobbying Congress while contract talks continue. If Congress acts, it will end talks between the railroads and four rail unions that rejected their deals Biden helped broker before the original strike deadline in September. Eight other unions have approved their five-year deals with the railroads and are in the process of getting back pay for their workers for the 24% raises that are retroactive to 2020.
If Congress does what Biden suggests and imposes terms similar to what was agreed on in September, that will end the union's push to add paid sick time. The four unions that have rejected their deals have been pressing for the railroads to add that benefit to help address workers' quality of life concerns, but the railroads had refused to consider that.
Biden said that as a "a proud pro-labor president" he was reluctant to override the views of people who voted against the agreement. "But in this case — where the economic impact of a shutdown would hurt millions of other working people and families — I believe Congress must use its powers to adopt this deal."
Biden's remarks and Pelosi's statement came after a coalition of more than 400 business groups sent a letter to congressional leaders Monday urging them to step into the stalled talks because of fears about the devastating potential impact of a strike that could force many businesses to shut down if they can't get the rail deliveries they need. Commuter railroads and Amtrak would also be affected in a strike because many of them use tracks owned by the freight railroads.
The business groups led by the U.S. Chamber of Commerce, National Association of Manufacturers and National Retail Federation said even a short-term strike would have a tremendous impact and the economic pain would start to be felt even before the Dec. 9 strike deadline. They said the railroads would stop hauling hazardous chemicals, fertilizers and perishable goods up to a week beforehand to keep those products from being stranded somewhere along the tracks.
"A potential rail strike only adds to the headwinds facing the U.S. economy," the businesses wrote. "A rail stoppage would immediately lead to supply shortages and higher prices. The cessation of Amtrak and commuter rail services would disrupt up to 7 million travelers a day. Many businesses would see their sales disrupted right in the middle of the critical holiday shopping season."
A similar group of businesses sent another letter to Biden last month urging him to play a more active role in resolving the contract dispute.
On Monday, the Association of American Railroads trade group praised Biden's action.
"No one benefits from a rail work stoppage — not our customers, not rail employees and not the American economy," said AAR President and CEO Ian Jefferies. "Now is the appropriate time for Congress to pass legislation to implement the agreements already ratified by eight of the twelve unions."
Business groups that have been pushing for Congress to settle this contract dispute praised Biden's move.
"The Biden administration's endorsement of congressional intervention affirms what America's food, beverage, household and personal care manufacturers have been saying: Freight rail operations cannot shut down and imperil the availability and affordability of consumers' everyday essentials," said Tom Madrecki, vice president of supply chain for the Consumer Brands Association. "The consequences to consumers if a strike were to occur are too serious, especially amid continued supply chain challenges and disruptions."
Clark Ballew, a spokesman for the Brotherhood of Maintenance of Way Employes Division, which represents track maintenance workers, said before Biden's announcement that the union was "headed to D.C. this week to meet with lawmakers on the Hill from both parties. We have instructed our members to contact their federal lawmakers in the House and Senate for several weeks now."
The U.S. Chamber of Commerce's Neil Bradley said Biden was correct in advocating for the deal already reached. "Congress must do what it has done 18 times before: intervene against a national rail strike," Bradley said in a statement, and he called Congress enforcing the deal agreed to by railroads and union leaders the "only path to avoid crippling strike."
The railroads, which include Union Pacific, BNSF, Norfolk Southern, CSX and Kansas City Southern, wanted any deal to closely follow the recommendations a special board of arbitrators that Biden appointed made this summer that called for the 24% raises and $5,000 in bonuses but didn't resolve workers' concerns about demanding schedules that make it hard to take a day off and other working conditions. That's what Biden is calling on Congress to impose.
Associated Press writer Colleen Long in Washington contributed to this report.
Newsletter Signup
Stay up to date on all the latest news from Boston.com
Foxborough man killed in pedestrian crash
A Foxborough man has died after being struck by a car while walking in town Saturday morning.
Foxborough police said in a Facebook post that they were called to the intersection of Cocasset and Oak Streets around 10:45 a.m. for a report that a pedestrian had been hit.
When they arrived, they found a man who had been hit by a car. He was then taken to a Boston hospital by Foxborough firefighters.
"We have been notified that sadly even after tremendous effort by the Fire Department and Hospital staff, the gentleman has succumbed to his injuries," Foxborough police wrote on Facebook.
The victim was a Foxborough resident, and his name is being withheld while his family is being notified of his death, police said.
The driver involved in the crash was a 35-year-old Foxborough resident. They remained on scene and cooperated with investigators, police said.
On Facebook, several locals commented to urge police to have the town put in a traffic light at the intersection of Cocasset and Oak Streets.
The crash is still being investigated by state and local police.
Newsletter Signup
Stay up to date on all the latest news from Boston.com