Boston.com
3 takeaways from the Bruins' 3-2 triumph over the Hurricanes
The Boston Bruins' historic early-season run continues.
Their recent record-breaker at TD Garden didn't come easy, however.
Jim Montgomery's squad allowed an opposing power-play goal for the sixth straight game. Their recent penalty kill woes carried over into Friday, where the Hurricanes snapped an 0-for-20 skid on the power play en route to a 2-0 first-period lead following greasy net-front goals from Stefan Noesen and Jesper Kotkaniemi.
Slowly but surely, they started shaking off the tryptophan.
Charlie McAvoy and Boston's crop of bottom-six forwards woke up the Causeway Street faithful after mixing in some timely hits in the second frame.
Linus Ullmark also showcased some aggressive tendencies, delivering a timely poke check at Boston's defensive blue-line to stave off Jaccob Slavin's potential breakaway following a Brad Marchand turnover.
An aggressive backcheck from fellow Czech countryman Pavel Zacha in the attacking zone led to David Pastrnak feeding David Krejci for his first of two tallies to pull the Bruins within one with a little over 30 ticks remaining in the middle stanza.
The Bruins also had to overcome upper-body injuries to Craig Smith and Ullmark in the final frame. Jeremy Swayman filled in admirably in relief of Ullmark, stopping all six shots he faced.
Krejci got the Bruins to OT after the officials overturned their initial call for goalie interference as Brett Pesce shoved Nick Foligno into Pytor Kochetov's crease.
The Hurricanes self-inflicted in the closing moments of regulation and OT, committing a pair of delay-of-game minors. In the end, the Bruins capitalized as David Pastrnak's blast secured Boston's record-breaking 12th straight home win to start the 2022-23 season.
"We just kept going at them. We got to bring some good energy," Krejci said following Friday's playoff-like thriller against Carolina. "I think the fourth line started it for us. They had a couple of good hits, good shifts, and then we all just followed up."
Here's what we learned from the B's 3-2 triumph on Black Friday.
The Bruins take a moment to reflect on their run.
After Saturday's win over the Blackhawks, the Bruins became well aware of the next hurdle to history once they returned from their two-game swing in Florida.
As professionals, they hardly feel overwhelmed by the brevity of these moments. But make no mistake, this proud Original Six franchise is always well aware of the stakes.
"There's been a lot of great teams in this league, and you're able to set a precedent and break a record," Montgomery said. "It doesn't happen if those guys don't believe in themselves like they do."
The bond inside Boston's locker room provides that feeling of belief. No matter the circumstance, they always feel they can overcome adversity.
Their third-period prowess through this early season run put the team in a prime position to take over. In overtime, Pastrnak and crew smelled blood and etched another win for the NHL record books.
"It's Original Six, right? So any time you break a record it's special because it's such a long history," Pastrnak said. "We were obviously aware of it. This group is great. We took over in the third period because I feel we were playing the right way 5-on-5 in the first two periods. I feel we tired them up a little bit, and that's a hell of a team we beat today."
Yet, they couldn't escape a role reversal of sorts during their latest come-from-behind effort.
Swayman returned the favor for injured Ullmark.
Even with their dominance, the Bruins aren't immune from finding themselves on the wrong end of the scoreboard.
Nor are they exempt from encountering an in-game goalie injury.
Nearly a month removed from exiting during a relief appearance in Boston's third-period comeback win over the Penguins, Swayman once again found himself on mop-up duty against the Hurricanes. Unlike that night in Pittsburgh, Ullmark's exit against Carolina wasn't performance-based. Instead, the Swede watched the rest of the game in the locker room after sustaining an upper-body injury in the third period.
"It's crazy," Swayman said. "You hardly see that once a year, and then it happens twice. But I think he'll be okay. That was all I cared about…the first thing I asked him. He's a big Swedish Viking, so he'll be alright."
Swayman didn't alter his preparation one bit after entering the game with the Bruins still trailing 2-1. His teammates kept his crease clean for the most part. But when needed, Swayman delivered with timely saves, including one late in regulation on Sebastian Aho.
"I just want to make sure I'm preparing the same way every day so it's like another day in the office. If you have that repetition, then nothing really surprises you," Swayman said. "So I gave myself a chance to jump into that situation, and it was a pretty cool win."
Nick Foligno again filled in for an injured goalie with a trademark goalie hug. Before that, the veteran nearly found himself on the wrong end of the goaltender interference debate.
Montgomery hardly hesitated to challenge the tying goal
In the NFL's response to what defines a catch, the NHL counters with a conundrum of what constitutes goaltender interference.
A day removed from the men in stripes overturning a Hunter Henry touchdown reception, the Bruins took their turn, hoping to benefit from replay review.
With replay at their disposal, Montgomery challenged the original call after receiving advice from goalie coach Bob Esenssa and his video staff. The referees overturned their initial call after reviewing the Foligno-Pesce exchange, thus awarding the tying goal to the Bruins.
"The only hesitation … I thought we should challenge it, but I always wait for Goalie Bob and also the input from our video coaches," Montgomery said. "Our video coaches do a great job. They study a lot of that in the off-season of what is goalie interference and what isn't. We felt very confident that would be overturned because Foligno started outside of the blue paint and then got pushed into the goalie."
The Bruins pushed their way to a 2-1 mark through their first three tilts of a tough seven-game stretch. They'll look to extend their historic early-season home record on Tuesday when they welcome the Tampa Bay Lightning.
Newsletter Signup
Stay up to date on all the latest news from Boston.com
New Bedford man killed in Thanksgiving motorcycle crash
State police are investigating a fatal motorcycle crash in New Bedford on Thanksgiving night.
Investigators say Juan Ruiz, 49, of New Bedford, was killed around 7:30 p.m. Thursday when he was thrown from his motorcycle. Ruiz was operating a Suzuki GSXR10 motorcycle while traveling on Route 18 North near Interstate-195 in New Bedford. 
Police say Ruiz's motorcycle failed to negotiate a right-bearing curve as it approached the I-195 overpass and then hit a guardrail as it exited the road to the left.
The impact threw Ruiz off the motorcycle, though the bike continued traveling north without a rider and crossed the intersection of Acushnet Avenue and Coggeshall Street, according to officials.
After crossing the intersection, police said the motorcycle sideswiped a wall on Acushnet Avenue and hit the rear of a parked Toyota 4Runner before coming to a final stop.
Investigators say Ruiz suffered fatal injuries and was transported from the scene by the Office of the Chief Medical Examiner.
The crash remains under investigation by Troop D of the Massachusetts State Police with assistance from the Collision Analysis and Reconstruction Section, the Crime Scene Services Section, and the Detective Unit for Bristol County. 
Newsletter Signup
Stay up to date on all the latest news from Boston.com
Patriots' loss to the Vikings was a statistical anomaly
If the Patriots' Thanksgiving loss to the Vikings was unusual to you, well that's because it was.
New England's 33-26 loss was a statistical anomaly as the Patriots were the first team during the Super Bowl era to score at least 25 points, have at least 400 yards of total offense while outgaining their opponent, complete at least 70 percent of their passes, commit fewer than 60 penalty yards, have no turnovers, and not miss a field goal in a game and lose, according to OptaStats. Teams that had committed all those things in a game were previously 170-0.
There are several oddities that might explain why the Patriots still ended up losing despite history saying they should've won. They allowed a 97-yard kickoff return touchdown after scoring a touchdown themselves in the third quarter.
The Patriots also went 0-for-3 in red zone chances against the team that had the worst red zone defense in the league entering Week 12. However, in one of those chances, the Patriots looked like they scored a touchdown when it was originally ruled that Hunter Henry made a reception at the goal line in the third quarter. But a replay review wiped off the reception, and thus the touchdown, because it was determined Henry didn't have full control of the ball through the process of making the catch.
Another one of those missed red zone chances came in part because the Patriots ran out of time in the first half. They might not have run out of time though if Henry got out of bounds on a 22-yard reception and if Mac Jones threw the ball away instead of eating a sack, which caused the Patriots to burn their final two timeouts of the half.
While the Patriots didn't have what might be viewed as a significant amount of penalty yardage, they also seemed to commit penalties at inopportune times. Matthew Judon had an offside penalty on a third-down play for the Vikings that made it easier for them to get the first down on what ended up being a touchdown drive for Minnesota in the first half.
Obviously, no penalty was more costly than the one rookie running back Pierre Strong Jr. committed. Strong ran into the punter on fourth-and-3, giving the Vikings a first down and new life on the drive that they scored the game-winning touchdown on.
Beyond the missed opportunities and self-inflected mistakes, there were a couple of other unusual things for the Patriots in Thursday's game. They ran the ball just 13 times, by far the fewest amount of rushing attempts they've had in a game this season. They lost the time of possession battle to Minnesota 36:17 to 23:43. Judon, who leads the league in sacks this season with 13, didn't record a sack in a game for just the third time this season.
On the flip side, it was Jones's best game of the season — at least statistically. The struggling second-year quarterback threw for a career-high 382 yards and had two touchdown passes with no interceptions, giving him a season-best 119.8 passer rating.
When you put all of those things together, it makes it understandable as to why Judon felt the way that he did following the loss.
"I think that a couple calls, a couple plays and it's going the other way," Judon said. "But it wasn't our night tonight. I don't think we're far off. I don't think that team handled us.
"I just think it was just a couple calls, a couple plays, a couple this, and a couple that and it could've been a different game. But we didn't make those plays. So, we've got to go on film and watch them and correct ourselves."
Judson also said he was feeling more frustrated than disappointed with the loss.
"We've got to play better on defense, come up with some of those stops," Judon said. "Going down the stretch, we can't let them score on back-to-back drives, especially in a game like that. We're not disappointed. We're going to bind together. We're going to keep coming. But we're just a little frustrated."
No matter how you slice it up though, Thursday's game will still count as a loss to the Patriots' record — which is now 6-5. New England's mostly got tough tests from here on out too, with its Week 13 matchup against the Buffalo Bills just one of the four remaining games it has against teams in playoff contention with six games total left.
Sign up for Patriots updates🏈
Get breaking news and analysis delivered to your inbox during football season.
Bruins set NHL record with 12 straight home wins to start season following victory over Hurricanes
BOSTON (AP) — The Boston Bruins set the NHL record for most home victories to start a season with their 12th straight, topping the Carolina Hurricanes 3-2 in overtime on Friday with a power-play goal from David Pastrnak.
The Bruins broke the mark of 11 that was set by the 1963-64 Chicago Blackhawks and equaled by the Florida Panthers last season.
Boston, which trailed 2-0 late in the second period, tied it with 9:33 left in regulation when David Krejci scored his second of the game on a shot from the right point.
In overtime, Carolina was playing shorthanded after being called for too many men on the ice when Pastrnak one-timed a pass from Brad Marchand inside the far post from above the left circle.
PASTA IN OT

David Pastrnak (@pastrnak96) completes the comeback for the @NHLBruins with the @Energizer overtime winner! 🐻 pic.twitter.com/OX85Wuuusq

— NHL (@NHL) November 25, 2022
Jesperi Kotkaniemi and Stefan Noesen each scored a power-play goal for Carolina, and Pyotr Kochetkov made 38 saves. The Hurricanes lost their fifth straight.
Boston's tying goal was originally disallowed because of goaltender interference on Nick Foligno but overturned on a coach's challenge after it was ruled that he was nudged into the crease by Carolina defenseman Brett Pesce.
Boston starting goaltender Linus Ullmark made 28 saves but had to leave with 13:03 left in the third period with an undisclosed upper-body injury. Teammate Connor Clifton had jumped on him to block a shot during a scramble. Jeremy Swayman made six stops in relief.
In a rematch of last spring's opening-round playoff series that the Hurricanes won in seven games, Carolina shutout the NHL's highest-scoring team for nearly two periods and jumped ahead a pair of power-play goals in the opening period.
Noesen scored at 6:34 in to make it 1-0. And with five minutes left in the period, Kotkaniemi collected the puck near the side of the net after Seth Jarvis' shot bounced off the back glass and slipped it inside the post at 15:05.
Krejci scored for Boston with 31 seconds left in the second.
Boston came in with a league-high 82 goals in 20 games (4.10 per), but it was held to relatively few chances despite getting a 5-on-3 power-play advantage early in the game.
TAKE NOTE
The Bruins honored captain Patrice Bergeron, who recorded his 1,000th career point when the team was on the road Monday against Tampa Bay, with a message on the Jumbotron. The crowd gave him a standing ovation.
Bergeron became just the fourth Bruin to reach the mark, joining Hall of Famers Ray Bourque (1,506), Johnny Bucyk (1,339) and Phil Esposito (1,012).
UP NEXT
Hurricanes: Host the Calgary Flames on Saturday.
Bruins: Host the Tampa Bay Lightning on Tuesday.
Sign up for Bruins updates🏒
Get breaking news and analysis delivered to your inbox during hockey season.
US frustrates England again at a World Cup in 0-0 draw
AL KHOR, Qatar (AP) — The United States frustrated England in a 0-0 draw on Friday for its second consecutive tie in the World Cup.
The result might not match the U.S.' famous 1-0 win from the 1950 tournament, but it was the latest occasion in which the Americans have defied the odds against the Three Lions.
England is still waiting for its first win in three World Cup matches against the U.S. after a 1-1 draw in South Africa in 2010.
The U.S. came close to recording a second victory over England at a World Cup after creating several scoring chances, including a first-half shot by Christian Pulisic that smashed the crossbar.
Weston McKennie also fired over from just eight yards out.
What. A. Battle. 🏴󠁧󠁢󠁥󠁮󠁧󠁿 🇺🇸

The @USMNT goes head-to-head with England and leaves with a point

Catch all the action in our 90' in 90" highlights ⬇️ pic.twitter.com/FhM41iRXdc

— FOX Soccer (@FOXSoccer) November 25, 2022
Harry Kane missed a stoppage time header for England.
England knew victory would guarantee progress to the knockout stages, but a draw still keeps it at the top of Group B with four points. The U.S. is third with two points and needs a win against Iran on Tuesday to advance.
Get the latest Boston sports news
Receive updates on your favorite Boston teams, straight from our newsroom to your inbox.
Boston man arrested for alleged indecent assault at Copley T station
A Boston man is facing charges stemming from an alleged indecent assault and battery at the MBTA's Copley Station, Transit Police announced Friday.
Officers responded to the State Street Station around 4:05 p.m. Wednesday and spoke with a woman who said she was indecently assaulted earlier at Copley, according to a news release. 
She described the unknown man, and officers headed over to Copley. There, police said they found a man who matched the description, later identified as 24-year-old Abdirahman Abdullahi. 
Abdullahi also allegedly matched the description of a man involved in a separate indecent of assault and battery reported at Copley on Nov. 18, according to Transit Police. 
He was arrested and charged with indecent assault and battery, court records showed. His attorney could not immediately be reached for comment Friday afternoon.
Abdullahi may face additional counts or charges pending an investigation into the other alleged indecent assault and battery incident, police said.
Newsletter Signup
Stay up to date on all the latest news from Boston.com
NFL's VP of officiating explains why Hunter Henry catch was ruled incomplete
Hunter Henry had a touchdown wiped off the board during the Patriots' Thursday night loss to Minnesota.
The call to rule the play as an incomplete pass sparked plenty of reaction.
Bill Belichick told reporters to ask the officials about what happened rather than him. Henry scratched his head and said he thought he caught it. Even a frustrated Dez Bryant tweeted that he was turning the game off after seeing the call.
After the game, ESPN's Mike Reiss had a conversation with NFL vice president of officiating Walt Anderson about the ruling went the way it did.
Anderson said it was because Henry lost control of the ball when he went to the ground.
"Because as he's going to the ground, he has to maintain control of the ball upon contacting the ground," Anderson said. "The term that's commonly used is 'surviving the ground' — a lot of people refer to that. So, as he's going to the ground, he has the elements of two feet and control, but because he's going to the ground, he has to maintain control of the ball when he does go to the ground."
Henry appeared to have two hands on the ball, and after the review, it looked like his hands were underneath the ball. But, the officials saw it differently and overturned the on-field ruling.
"Well, if he had maintained control of the ball with two hands, even if the ball were to touch the ground, if you don't lose control of the ball after it touches the ground, that would still be a catch," said Anderson.
The Vikings went on to win by a touchdown. New England's next game will be an intriguing divisional matchup against Buffalo.
"They made the call, we have to live with it," said Henry.
Sign up for Patriots updates🏈
Get breaking news and analysis delivered to your inbox during football season.
Man arrested after alleged attack in South Station
A Medford man was taken into custody Friday morning after allegedly assaulting another man in South Station.
Hocine Lounici, 38, attacked the man "with some instrument" following an argument in the South Station Commuter Rail lobby, according to MBTA Transit Police.
Officers responded to the scene around 6:30 a.m. and found a male victim with a cut on his face; witnesses identified Lounici as the assailant, police said. The victim was taken to a local hospital with a non-life threatening injury to his face.
Lounici was arrested for assault and battery with a dangerous weapon and taken into Transit Police custody.
The incident remains under investigation.
Newsletter Signup
Stay up to date on all the latest news from Boston.com
Earth now has 8 billion humans. This man wishes there were none.
PORTLAND, Ore. — For someone who wants his own species to go extinct, Les Knight is a remarkably happy-go-lucky human.
He has regularly hosted meteor shower parties with rooftop fireworks. He organized a long-running game of nude croquet in his backyard, which, it should be mentioned, is ringed by 20-foot-tall laurel hedges. Even Tucker Carlson proved no match for Knight's ebullience. During a 2005 interview with Knight on MSNBC, Carlson criticized him for espousing "the sickest" of beliefs but then added, "You are one of the cheeriest guests we've ever had."
Knight, 75, is the founder of the Voluntary Human Extinction movement, which is less a movement than a loose consortium of people who believe that the best thing humans can do to help the Earth is to stop having children.
Knight added the word "voluntary" decades ago to make it clear that adherents do not support mass murder or forced birth control, nor do they encourage suicide. Their ethos is echoed in their motto, "May we live long and die out," and in another one of their slogans, which Knight hangs at various conventions and street fairs, "Thank you for not breeding."
On Nov. 15, the Earth became home to a record 8 billion human beings. Despite declining birthrates, the number is forecast to peak at 10.4 billion in the coming decades, in large part because of increases in life expectancy and decreases in child mortality.
Knight is among those who believe that overpopulation is a main factor in the climate crisis, but that idea can be fraught. Poor countries that are heavily populated, such as India, contribute relatively little per capita to the greenhouse gas emissions that are heating the planet. Wealthy countries with relatively smaller populations like the United States are generating most of the pollution that is driving global warming.
"The problem that is spiraling out of control is consumption," said John Wilmoth, director of the United Nations' population division, who said that focusing on population limitation as a potential climate fix diverts attention from the urgent need for everyone to ditch fossil fuels and more efficiently use resources. "We have to transform the economic incentives that make it possible to profit off of polluting the environment."
The idea that population must be controlled has also led to forced sterilizations and measures that have proved inhumane or have been linked to racist theories like eugenics.
Yet Stephanie Feldstein, director of population and sustainability at the Center for Biological Diversity, said while greater human longevity and health were good things, they have come at a cost to other living things on the planet.
As the human population doubled in the last half-century, wildlife populations declined by 70%. Although lowering fertility rates today won't change emissions in the short-term, she said surges in the human population would put increasing pressure on dwindling natural resources and the intricate web of animals, birds and plants that depend on them.
"The loss of biodiversity can be just as devastating as it unravels the ecosystems we need to survive," Feldstein said. "We're already using nearly twice as many resources as the Earth can replenish in a year."
One of the most effective ways to combat global warming, say both climate activists and those concerned about overpopulation, is to expand access to education for girls around the world, in addition to birth control and family planning. Nearly half of all pregnancies worldwide, some 121 million a year, are unintended. The Center of Biological Diversity, for its part, has handed out 1 million endangered species-themed condoms, colorfully packaged with slogans such as "for the sake of the horned lizard, slow down, love wizard."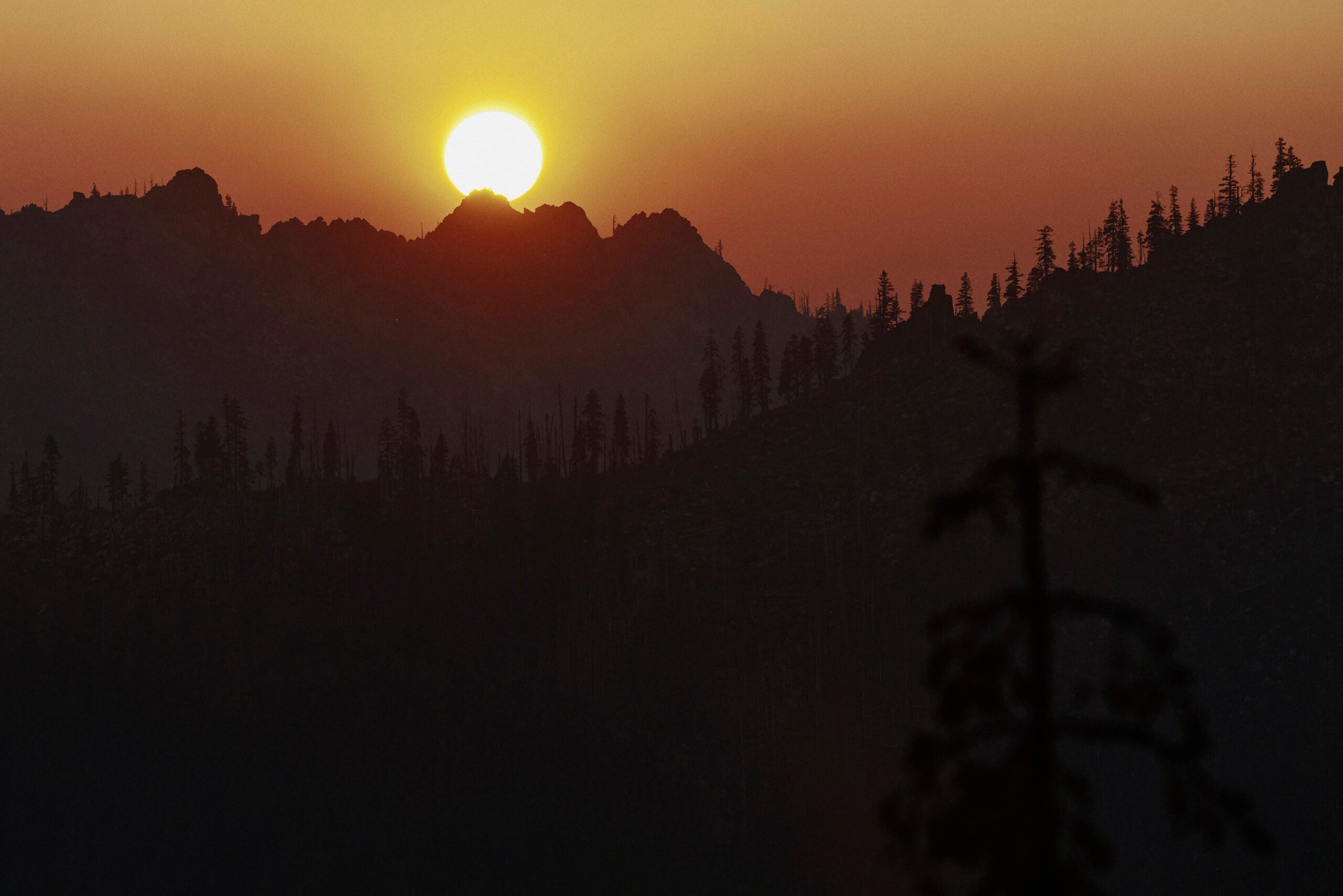 But it is rare to find anyone who publicly goes as far as Knight, who never had children and got a vasectomy in 1973 at the age of 25. Beyond advocating for universal access to birth control and opposing what he calls reproductive fascism, or "the lack of freedom to not procreate," Knight said that despite our many achievements, humans are a net detriment to the Earth.
"Look what we did to this planet," Knight said during a chat in his sunlit backyard one warm morning this fall. "We're not a good species."
It is unclear how many adherents are in Knight's group or what the extent of its reach is. After being largely underground, the group took off in popularity when Knight created a website in 1996. Text-heavy yet breezy, the site includes quotes from philosopher Arthur Schopenhauer and cartoons by artist Nina Paley, as well as arguments against procreation and for adoption. It has been translated into some 30 languages and remains a haven for many.
"It was very nice news for me that this kind of group existed, because one usually, with this kind of philosophy, feels alone," said Mario Buenfil, 73, a water engineer in Mexico City who has been involved with the movement for 20 years.
Still, the words "voluntary human extinction" often elicit reactions of spluttering horror, and terms like "eco-fascist" and "Malthusian" are often lobbed at the group. John Seager, the president of Population Connection, a nonprofit that advocates population stabilization through voluntary means, likened it to a sideshow. Yet if the group's provocative name and seemingly pugilistic stance suggest an embittered or even menacing founder, Knight seems anything but.
Tall and gentle, Knight comes across as clear-eyed and thoughtful, like a mashup of Bill Nye and Fred Rogers. While Knight may be against the creation of more humans, he shows great compassion for the ones that already exist.
A high school substitute teacher for most of his working life, Knight is fondly regarded by students. He spends hours each Sunday morning picking up litter from the nearby main road. During an interview, he paused to appreciate two juicy garden spiders taking in the sun on gossamer webs spun between the hedges and lawn chairs. The sight was a cause for celebration, Knight said, after so many critters were killed during last year's heat dome in the Pacific Northwest. A self-professed serial monogamist, he lives alone, but his girlfriend lives next door and is fully on board with his cause.
"He doesn't have a giant ego that he struts around with. He doesn't try to argue with people," said Marv Ross, Knight's former college roommate and a longtime friend. "He was always about humor, to make it as fun as possible to get his message across, and I saw him do it many times. He'd deflect people getting upset with a joke or a smile."
As a child growing up in a tolerant family in Oregon, Knight watched timber companies chop down the state's forests. After being drafted in the Army during the Vietnam War (he served but never got deployed), he attended Oregon College of Education and joined the local chapter of Zero Population Growth, which cemented his resolve not to have children. "It was always because of the ecology, because of the damage that humans do to the environment," he said.
His beliefs were rooted in deep ecology, which challenges assumptions of human dominance and argues that other species are just as significant. Knight came to see humans as the most destructive of invasive species, and as super predators.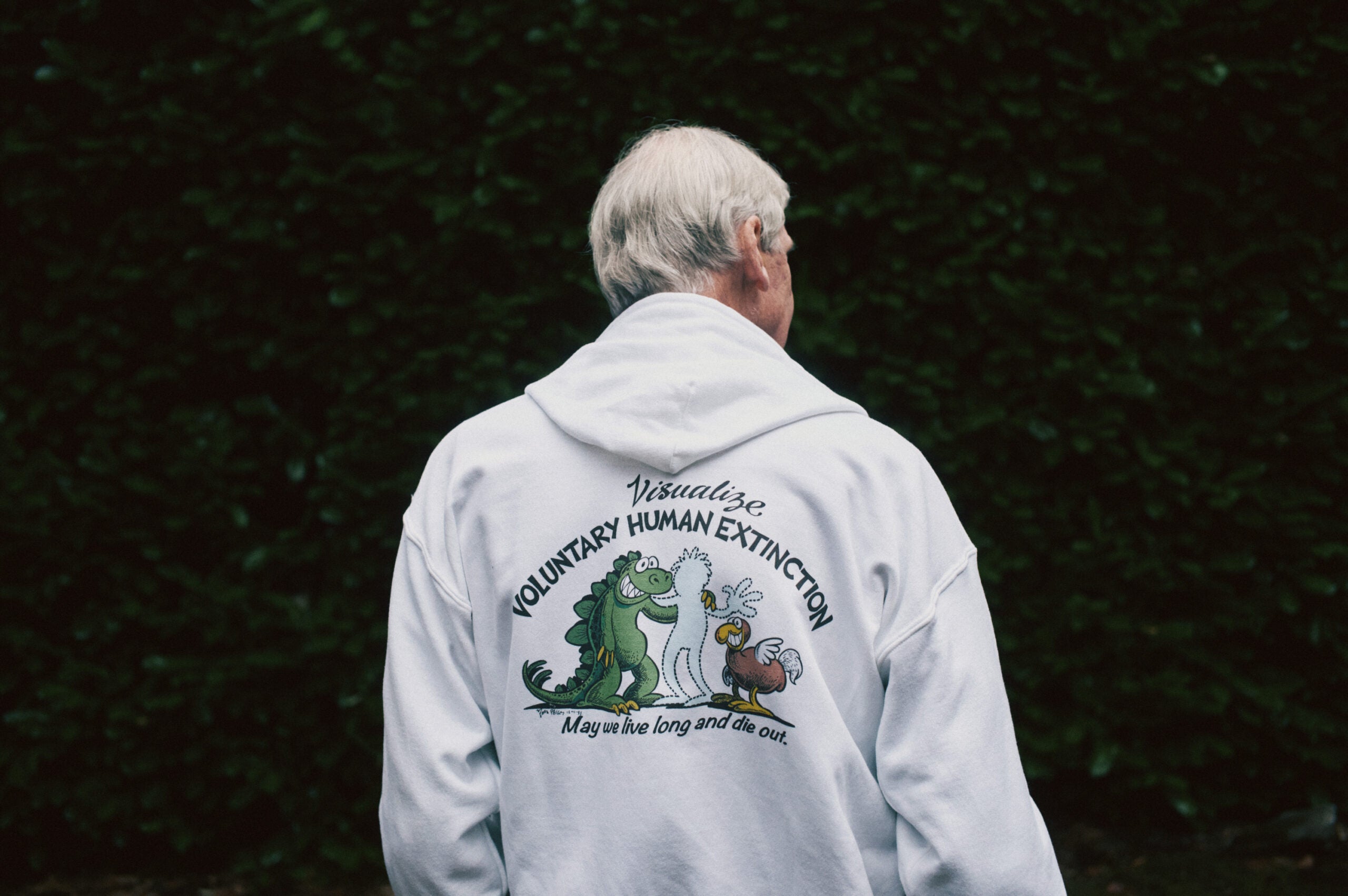 "We came to be and then ran amok," Knight said. "And because we're smart enough, we should know enough to end it.
"People mention music and art and literature and the great things that we have done. It's funny they don't ever mention the bad things we've done," he continued. "I don't think the whales will miss our songs."
While the United States saw an increase in births during the coronavirus pandemic, reversing the country's declining birthrate, a 2020 poll found that 1 in 4 Americans who had not had children cited climate change as a reason. Research has shown that having one fewer child is perhaps the most significant way to reduce one's carbon footprint, and while Knight doesn't like to push his beliefs on people, he likes to think there are some humans who don't exist because of his efforts.
Feldstein said Knight succeeded at grabbing people's attention and starting conversations.
"He's advocating for so many of the same things as the rest of us, trying to make sure everyone has the ability, autonomy and resources they need to choose if and when to have children," she said.
And though the world's population is at a record high, Knight said, it's not getting him down.
"I never expected to succeed," he said. "I think that's the secret to not burning out."
This article originally appeared in The New York Times.
BC football is expecting the season finale against Syracuse to be emotional
Marcus Valdez isn't sure exactly when it will sink in that he's playing his final game at Boston College, but he expects it to happen very soon.
"I don't know if it'll hit me before the game, or on the field after the game, or a week or two later, but it will definitely hit me," said the defensive end, a captain in his sixth year with the program. "I'm grateful to be playing for this long here, at the same school. That's rare, so I'm just going to enjoy every moment."
As the Eagles (3-8, 2-5 Atlantic Coast Conference) close out the season at home against Syracuse (6-5, 3-4) Saturday, they do so with their seniors and graduate students in mind.
Coach Jeff Hafley said the plan is to play the usual starters while also cycling in seniors and graduate students whenever possible.
"It will be emotional," Hafley said. "We want to make sure we do everything we can so that it's a good day for those guys."
Valdez said playing for BC has changed his life and allowed him to live out a childhood dream.
He has played part of the season with a torn right UCL, but he hasn't let it slow him down. Valdez, who made it clear he doesn't plan to return for a seventh season, epitomizes a BC class that has stayed unified during a tough stretch.
Hafley is grateful for the way they've continued to work diligently during a disappointing year. He wants nothing more than to send them out in style.
"It hasn't been perfect, but there's no quit," Hafley said. "There's resiliency, and that's going to propel us into the future. I really believe that. That's a huge bright spot for me in a very hard season."
Hafley has weaved many young players into the mix along the way, both out of necessity and with a long-term vision in mind. The Eagles have 34 underclassmen on their two-deep roster, the most in the ACC, including nine starters.
At the same time, savvy leaders such as Josh DeBerry, Vinny DePalma, Zay Flowers, Jaelen Gill, Elijah Jones, Phil Jurkovec, Danny Longman, Jason Maitre, Chibueze Onwuka, George Takacs, Valdez, and Jaiden Woodbey have complemented that promising group.
"They'll always be very meaningful for me, becoming a first-time head coach and being with those guys for the first three years," Hafley said. "This is a special group, and that's why this game is important. Just go and empty it all out for the seniors."
One of those seniors, Flowers, has cemented himself as one of the best players in program history. A semifinalist for the Biletnikoff Award that recognizes the nation's top receiver, Flowers is BC's career leader with 192 receptions and 2,900 yards and is one away from tying the record with 28 touchdown receptions.
In one sense, those stats blow him away. In another, he believes it's simply a product of how seriously he takes his craft.
"It was definitely a goal of mine, but I never imagined coming in and breaking the records," Flowers said. "I always imagined I was going to be solid and a player that was just good, not breaking all the records. But I'm not really surprised by it. It's what I work for, honestly."
Once the season is over, and he almost certainly declares for the NFL Draft, Flowers will take some time to process everything he and the Eagles have accomplished. For now, he is focused on going out with a win against a talented opponent.
This Syracuse team has taken a highly unusual path, winning its first six games and garnering national recognition before losing its last five by an average of 15.6 points.
On defense, Mikel Jones and Marlowe Wax highlight an aggressive linebacking corps. The Orange feature a dual-threat quarterback in Garrett Shrader, an explosive wide receiver in Oronde Gadsden II, and one of the country's best running backs in Sean Tucker. Hafley called it a "three-headed monster" and referred to Tucker as "probably the best running back" the Eagles have played.
"The game plan is to stop him," Valdez said. "We can't let him get going."
Many BC players have difficult decisions ahead of them — whether to return next year, transfer, declare for the NFL Draft, or end their football careers. Whatever path they take, the Eagles are first determined to collectively punctuate an up-and-down season with a satisfying triumph.
Said Maitre: "Last game of the season, last game of your career, whatever it is, you finish what you started."
Get the latest Boston sports news
Receive updates on your favorite Boston teams, straight from our newsroom to your inbox.