Boston.com
Here are 10 LeBron James quotes that illustrate his complicated relationship with Boston
Even though some of his earliest and most memorable NBA moments have taken place in Boston over the course of his 19-year career, LeBron James can still be counted amongst the city's haters.
It's a competitive hate that has a lot to do with basketball, but also involves Celtics fans, who James called "racist as [expletive]" over the summer.
Still, James knows and respects the city's basketball history and has talked about how much his battles with the Celtics have meant for his legacy.
TD Garden is the place where James hung his head and walked straight off the floor and into the visiting locker room after the Celtics eliminated the Cavaliers in 2008.
It's also where he dropped a 45-point, 15-rebound double-double to stave off elimination and force a Game 7 in the 2012 Eastern Conference Finals en route to his first championship.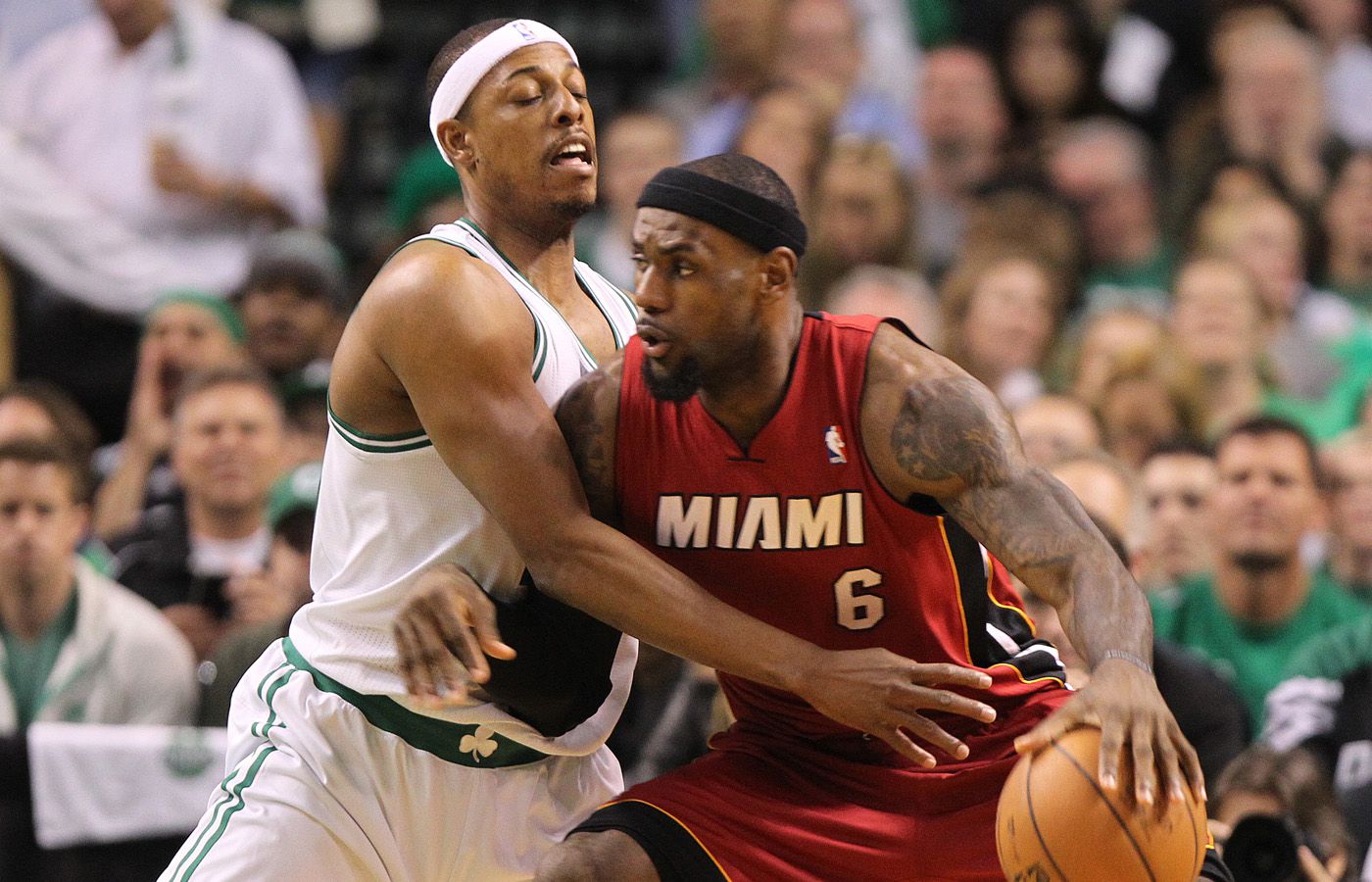 So, as a 38-year-old James returns to Boston nearly two decades after making his much anticipated Summer League debut right here in Dorchester, here are 10 of his most memorable quotes relating to Boston and the Celtics.
1. "Man, that was a long time ago. What do I remember? I remember the gym, the atmosphere. It was old-school and hot, and the fans, mostly Celtics fans, were right on top of you. It was a great environment, energetic, what you envision summer basketball being." – on his first NBA summer league at UMass Boston.
2. "Sit your [expletive] down."- to his mother, when she yelled at Paul Pierce during a playoff game in 2008.
3. "Oh, we know each other. More than any other matchup in the league. We know each other's likes and dislikes."-on his rivalry with Pierce.
4. "The great thing about being here, these fans are loyal to one thing and one thing only – that's green. That's all they see, that's all they care about. For me being a competitor, for me being someone that they know personally to be able to come out here and perform in front of those guys, it means a lot. "- on playing in front of Celtics fans at TD Garden.
5. "My mentality was like, if we lose, Pat Riley may break us all up and I don't want that. It might be the quickest breakup in basketball history. And not only they might break it all up, my legacy was going to take a huge, huge hit if I don't go out here and perform at an all-time high. Win, lose or draw, I had to be focused and locked in and lead us to victory." – on the pressure of facing the Celtics during Game 6 of 2012 Eastern Conference Finals.
6. "It was just a great atmosphere tonight. To be a part of that, another Game 7 on the road, those are things that when you're done that you can only dream of and wish that you could go back and be a part of that once again." – on beating the Celtics in Game 7 of the 2018 Eastern Conference Finals in Boston.
7. "There was a lot said, but more importantly it was just mutual respect and the competition. Me and Al have had a lot of battles in the postseason and have been on a lot of All-Star teams together. I have a lot of mutual respect for Al and the way he carries himself as a professional on and off the floor. So that was the moment there. And then with Jayson, I just love everything about the kid. The way he plays the game. His demeanor. Where he comes from. I know his parents. I just know he's built for stardom. He's built for success on and off the floor." – on Al Horford and Jayson Tatum.
8. "I mean, its what should have happened. The man meant so much to the game. Not only to the Boston Celtics, but to the NBA in general. And also off the floor as well. With what he contributed to the Black community, his activism, his speaking, his mind, everything he meant to the game. It was always a treat seeing him at games, having an opportunity to win championships and seeing him up on the panel and give me the Bill Russell Award was one of the most delightful moments of my career because I know what he meant to the game and to the history." – on the NBA retiring Bill Russell's No. 6 jersey.
9. "Because they're racist as [expletive], that's why. They'll say anything and it's fine, I mean [expletive] it's my life. I've been dealing with it my whole life. I don't mind it. Like, I hear it. Like if I hear someone close by, I'll check them real quick and move on to the game, whatever the [expletive]. They're going to say whatever the [expletive] they want to say. They might throw something on you. I got a beer thrown on me leaving the game."-on why he hates Boston.
10. "I still hate Boston. Don't get that twisted. We all hate Boston here."- on his feelings heading into this season.
Sign up for Celtics updates🏀
Get breaking news and analysis delivered to your inbox during basketball season.
Houses flood in East Bridgewater after dam breaks
At least a dozen East Bridgewater homes were flooded Friday after an early-morning dam breach.
East Bridgewater fire and police departments responded to the area of Bixby Drive after a 20-foot section of an earthen dam gave out, according to Chief Timothy Harhen.
Officials believe the privately-owned dam broke upriver in Halifax around 6 a.m. No injuries were reported, though photos and videos of the scene showed extensive property damage. 
Water from the Plymouth Street pond drained into Robbins Pond in East Bridgewater as a result of the breach, Harhen said.
Police closed a portion of Pond Street near the boat ramp at Robbins Pond. Officials said the road will remain closed until floodwater recedes and the bridge can be inspected for safety.
East Bridgewater police and fire used a drone to give a bird's eye view of the flooding. Photos and aerial video shows water levels reaching the first floor of homes, submerged roadways, and patio furniture floating in the floodwaters.
The Massachusetts Emergency Management Agency (MEMA) and the state's Office of Dam Safety also responded to assist in the incident.
"Earlier today, MEMA responded to assist East Bridgewater in managing an earthen dam breach that caused flooding to impact 10 to 12 properties. No injuries reported," MEMA tweeted Friday.
MEMA also shared a video of the flooding in which water is seen flowing from a pond over a blocked-off road and into another small body of water.
Affected residents told WBZ news they don't have flood insurance, since their neighborhood is not a flood-prone area.
MEMA said it was assisting residents in East Bridgewater and Halifax with resource needs. The dam owner is working to make the necessary repairs, Harhen said.
Newsletter Signup
Stay up to date on all the latest news from Boston.com
Jaylen Brown won't start the All-Star game, but he's an obvious reserve selection
On Friday, the NBA announced that Kyrie Irving — and not Celtics wing Jaylen Brown — will occupy the second guard slot in the starting lineup of the Eastern Conference All-Star team this year. Irving joins his teammate Kevin Durant as well as Donovan Mitchell, Jayson Tatum, and Giannis Antetokounmpo in the starting lineup.
Irving's case over Brown is reasonable. The Nets star is averaging 27.2 points, 5.2 rebounds, and 5.1 assists per game, and he's only had one weird and concerning incident this season which feels like progress for him. 
Irving's lineups have outscored opponents by 5.0 points per 100 possessions, and his lineups without Kevin Durant on the floor are still outscoring opponents by 3.7 points/100. Interestingly, the defensive numbers have been solid as well. Whether that's a product of improvement by Irving or good coaching by Jacque Vaughn is unclear, but in either case, Irving has been a net positive with good stats all season. That's well worth an All-Star selection. 
While Brown is a no-questions-asked All-Star, his resume is a little more difficult to evaluate and requires both a 10,000-foot view look, as well a deep dive. 
From 10,000 feet, Brown has been excellent — at 26.8 points per game, he's seventh in the Eastern Conference, scoring more than the likes of DeMar DeRozan, Pascal Siakam, and Julius Randle. Like Irving, Brown is doing more as a secondary option than a number of primary options on reasonably solid teams. Maybe more to the point, Brown is half of the NBA's highest-scoring duo. The Celtics have built an entire team around the concept that Tatum and Brown, paired with players who accentuate their strengths, can win a title. So far this season, the Celtics have the NBA's best record and the NBA's best net rating. Not bad!
Zoom in a little, and you can start to see some of the more questionable parts of Brown's resume. His 3-point shot has dipped to a career-low 33.1 percent. Per Cleaning the Glass, Brown's turnover percentage ranks in the 38th percentile league-wide, and his turnover percentage with his usage factored in is in the 25th percentile. He's a little too likely to shuffle his feet and travel when he starts to drive, or to move a little too much and commit an offensive foul when he sets a screen. The Celtics would like to see him be more consistent when teams blitz his pick-and-rolls. While his free throws have improved significantly, Thursday's loss to the Knicks was an uncomfortable reminder that he isn't always reliable on that front (which isn't what you want from a player who ranks in the 97th percentile for usage among wings).
Brown's on/off numbers leave quite a bit to be desired as well — while his lineups outscore opponents by 4.0 points per 100 possessions (and 1.9 points per 100 possessions when Tatum is off the floor), his lineups significantly underperform the Celtics' team average for net rating. 
But the 10,000-foot view is probably best for evaluating Brown. He's in the 60th percentile among isolation scorers, and he's in the 86th percentile among pick-and-roll ball-handlers. He isn't always the most reliable off-ball defender, but he's been better this season, and he has shouldered the load against some of the Celtics' tougher opponents. While Brown doesn't have the impeccable case someone like Jayson Tatum presents, there's a chicken-and-egg element to the evaluation: How would his numbers look if he were entrusted with all of Tatum's responsibilities? The turnovers and assists suggest he would struggle as a playmaker, but he is also capable of putting up somewhere between 25 and 40 points on any given night, even with Tatum eating up a lot of possessions. How much more would Brown average on his own?
Of course, that last question is purely academic, because Brown isn't playing on his own.
"I think we're both individually playing at a higher level at this time of the year compared to last year," Tatum said earlier this season, when asked why he and Brown have had so much success so far. "The team is playing at a higher level. So we're just better as a team than we were last year at this time."
In a nutshell, that's the best case for Brown as an All-Star. The Celtics see him as a foundational piece of their roster — someone they aren't really interested in dealing to acquire Kawhi Leonard or Kevin Durant or Damian Lillard or James Harden or any other superstar. On this date last season, they were 25-25. Even after dropping three in a row, this year's iteration of the team is 35-15. 
For his part, Brown told reporters he isn't disappointed that he isn't starting the All-Star game. 
"Obviously, it's an honor to represent your organization, your family, and the people who have supported you through the highs and the lows like moments like these," Brown said, offering perhaps the most generic collection of words possible. "So to be able to participate and stuff like that, it's really for that community, and that's really all I have to say about it."
Of course, the pain of not getting selected as a starter is presumably assuaged since Brown knows he's headed to Salt Lake City for his second All-Star appearance as a reserve. His status speaks to his progress, both individually and as part of a team that has real championship aspirations.
Last year, Brown was a long-shot candidate. This season, he's a no-brainer.
Sign up for Celtics updates🏀
Get breaking news and analysis delivered to your inbox during basketball season.
Memphis authorities release video in Tyre Nichols' death
MEMPHIS, Tenn. (AP) — Memphis authorities released more than an hour of footage Friday of the violent beating of Tyre Nichols in which officers held the Black motorist down and struck him repeatedly as he screamed for his mother.
The video emerged one day after the officers, who are all Black, were charged with murder in Nichols' death.
The footage shows police savagely beating the 29-year-old FedEx worker for three minutes while screaming profanities at him throughout the attack. The Nichols family legal team has likened the assault to the infamous 1991 police beating of Los Angeles motorist Rodney King.
"I'm going to baton the (expletive) out you," one officer can be heard saying. His body camera shows him raise his baton while at least one other officer holds Nichols.
After the first officer roughly pulls Nichols out of his car, Nichols can be heard saying, "I didn't do anything," as a group of officers begins to wrestle him to the ground.
"Get on the ground!," one officer yells, as another is heard yelling "Tase him! Tase him!"
Nichols calmly replied soon after being wrestled to the pavement, "OK, I'm on the ground." Moments later, as the officers continue to yell, Nichols says, "Man, I am on the ground."
An officer yells, "Put your hands behind your back before I break your (expletive)." Moments later, an officer yells, "(Expletive), put your hands behind your back before I break them."
"You guys are really doing a lot right now," Nichols says loudly to the officers. "I'm just trying to go home."
"Stop, I'm not doing anything" he yells a moment later.
The camera is briefly obscured and then Nichols can be seen running as an officer fires a Taser at him. The officers then start chasing Nichols.
After the beating, officers milled about for several minutes while Nichols lay propped up against the car, then slumped onto the street.
Cities across the country braced for large demonstrations. Nichols' relatives urged supporters to protest peacefully.
"This young man, by definition of the law in this state, was terrorized. Not by one, not by two, but by five officers who we now know … acted in concert with each other," said attorney Antonio Romanucci, who represents Nichols' family.
The officers "acted together … to inflict harm, terrorism, oppression of liberty, oppression of constitutional rights, which led to murder," Romanucci said.
Memphis Police Director Cerelyn Davis described the officers' actions as "heinous, reckless and inhumane," and said that her department has been unable to substantiate the reckless driving allegation that prompted the stop.
She told The Associated Press in an interview that there is no video of the traffic stop that shows Nichols recklessly driving.
During the initial stop, the video shows the officers were "already ramped up, at about a 10," she said. The officers were "aggressive, loud, using profane language and probably scared Mr. Nichols from the very beginning."
"We know something happened prior to this officer or these officers getting out of their vehicles … Just knowing the nature of officers, it takes something to get them amped up, you know, like that. We don't know what happened," she said.
"All we know is the amount of force that was applied in this situation was over the top," Davis said.
Given the likelihood of protests, Davis told ABC that she and other local officials decided it would be best to release the video later in the day, after schools are dismissed and people are home from work.
Nichols' mother, RowVaughn Wells, warned supporters of the "horrific" nature of the video but pleaded for peace.
"I don't want us burning up our city, tearing up the streets, because that's not what my son stood for," she said Thursday. "If you guys are here for me and Tyre, then you will protest peacefully."
Speaking at the White House, President Joe Biden said Friday that he was "very concerned" about the prospect of violence and called for protests to remain peaceful.
Biden said he spoke with Nichols' mother earlier in the day and told her that he was going to be "making a case" to Congress to pass the George Floyd Act "to get this under control." The legislation, which has been stalled, is meant to tackle police misconduct and excessive force and boost federal and state accountability efforts.
FBI Director Christopher Wray said he was "appalled" by the video and that all FBI field officers have been alerted to work with state and local partners, including in Memphis, "in the event of something getting out of hand."
Court records showed that all five former officers — Tadarrius Bean, Demetrius Haley, Desmond Mills Jr., Emmitt Martin III and Justin Smith — were taken into custody.
The officers each face charges of second-degree murder, aggravated assault, aggravated kidnapping, official misconduct and official oppression. Four of the five officers had posted bond and been released from custody by Friday morning, according to court and jail records.
Martin's lawyer, William Massey, and Mills' lawyer, Blake Ballin, said their clients would plead not guilty. Lawyers for Smith, Bean and Haley could not be reached.
"No one out there that night intended for Tyre Nichols to die," Massey said.
Second-degree murder is punishable by 15 to 60 years in prison under Tennessee law.
Patrick Yoes, the national president of the Fraternal Order of Police, condemned the alleged actions of the Memphis officers.
"The event as described to us does not constitute legitimate police work or a traffic stop gone wrong. This is a criminal assault under the pretext of law," Yoes said in a statement.
Rallies and demonstrations were planned Friday night in Memphis, Boston, Chicago, Detroit, New York City, Portland, Oregon and Washington.
New York Mayor Eric Adams, a former police officer, said he and other mayors across the country had been briefed by the White House in advance of the video's release, which he said would "trigger pain and sadness in many of us. It will make us angry."
Romanucci and civil rights attorney Ben Crump, who also represents Nichols' family, called on the police chief to disband the department's so-called scorpion unit focused on street crime.
Nichols "at all times was an innocent victim," Romanucci said Friday. "He did nothing wrong. He was caught up in a sting. This scorpion unit was designed to saturate under the guise of crime fighting, and what it wound up doing instead was creating a continual pattern and practice of bad behavior."
Davis said other officers are still being investigated for violating department policy. In addition, she said "a complete and independent review" will be conducted of the department's specialized units, without providing further details.
Two fire department workers were also removed from duty.
As state and federal investigations continue, Davis promised the police department's "full and complete cooperation."
Crump said the video showed that Nichols was shocked, pepper-sprayed and restrained when he was pulled over near his home. He was returning home from a suburban park where he had taken photos of the sunset.
Relatives have accused police of causing Nichols to have a heart attack and kidney failure. Authorities have said only that Nichols experienced a medical emergency.
Associated Press reporters Aaron Morrison in New York; Travis Loller in Nashville, Tennessee; and Rebecca Reynolds in Lexington, Kentucky, contributed to this report.
5 must-watch movies and TV shows streaming right now
Welcome to Boston.com's weekly streaming guide. Each week, we recommend five must-watch movies and TV shows available on streaming platforms like Netflix, Hulu, Amazon Prime, Disney+, HBO Max, and more.
Many recommendations are for new shows, while others are for under-the-radar releases you might have missed or classics that are about to depart a streaming service at the end of the month.
Have a new favorite movie or show you think we should know about? Let us know in the comments, or email [email protected]. Looking for even more great streaming options? Check out previous editions of our must-watch list here.
Movies
"Argentina, 1985"
I'm still recovering from the shock of the Academy snubbing "Decision to Leave" in the Best International Film category earlier this week. That said, the five films chosen by Oscar voters are all worthy contenders, including "Argentina, 1985" a dramatic retelling of the 1985 Trial of the Juntas, a historic reckoning with the military dictatorship that ruled Argentina in the preceding years. Starring Ricardo Darín as the lawyer who risked life and limb to lead the proceedings, "Argentina, 1985" comes during another period of political unrest in Argentina, which may give it momentum with voters ahead of the 2023 Academy Awards on March 12.
How to watch: "Argentina, 1985" is streaming on Prime Video.
"Tár"
When director Todd Field set out to end his decade-plus filmmaking hiatus with "Tár," his list of who could play the lead role of talented but mercurial composer Lydia Tár contained only one name: Cate Blanchett. It's difficult to imagine any other actress pulling off Blanchett's performance in this film, which chronicles a moment in Tár's life where she sits on the cusp of her greatest achievement while personal demons and external forces push her towards a career-ending downfall. "Tár" is not simply a movie about cancel culture or #MeToo — though it certainly is about those things in many respects. It's a complex piece of work that will move you with every frame projected and every note played.
How to watch: "Tár" is streaming on Peacock.
"You People"
A modern-day "Guess Who's Coming to Dinner," "You People" has sharply divided critics, with outlets like The Washington Post and New York Times giving rave reviews while the Globe's own Odie Henderson panned it in his writeup. Jonah Hill ("Superbad") and Lauren London ("ATL") play the interracial couple forced to navigate the judgments and differences of their respective parents, played by Julia Louis-Dreyfus, David Duchovny, Eddie Murphy, and Nia Long. Director Kenya Barris ("black-ish") has a keen sense of the culture clash between the two families, and Hill and London's chemistry is undeniable. There's plenty of laughs to be had as well, including a big-screen debut for former "Saturday Night Live" writer and Dorchester native Sam Jay playing Hill's best friend.
How to watch: "You People" is streaming on Netflix.
TV
"Poker Face"
Rian Johnson almost singlehandedly kicked off a mystery movie boom with 2019's "Knives Out," and kept the fun going with 2022's "Glass Onion: A Knives Out Mystery." For his new series on Peacock, Daniel Craig is replaced by Natasha Lyonne ("Orange is the New Black"), a quirky casino worker turned amateur detective whose ability to read faces makes her a human lie detector. "Poker Face" feels like a throwback to the days of "Columbo," where a mystery of the week didn't have to involve grisly deaths, and half the fun was watching Peter Falk chew scenery on his way to unraveling the case. Each episode brings a new group of star cameos — Chloe Sevigny, Joseph Gordon-Levitt, and Lil Rel Howery are just a few of the many familiar faces who show up — and Lyonne anchors it all with her sly sensibilities.
How to watch: "Poker Face" is streaming on Peacock.
"Shrinking"
After singlehandedly driving countless Apple TV+ subscriptions with "Ted Lasso," showrunner Bill Lawrence ("Scrubs") gets a big enough budget to hire both Jason Segel and Harrison Ford for his latest comedy-drama. Segel plays Jimmy, a therapist who is going through a life crisis following the death of his wife. When he begins treating clients with radical candor instead of simply asking, "How does that make you feel?" ad nauseam, it begins to change both Jimmy's life and those around him, including Ford, who is brilliant as a fellow psychiatrist dealing with a recent Parkinson's diagnosis. You get the feeling that "Shrinking" is letting Jimmy off the hook a bit too much for his destructive impulses, but knowing Lawrence, he and everyone else on the show will likely delve into deeper and darker crevices of the psyche when "Shrinking" returns for an almost-inevitable Season 2.
How to watch: "Shrinking" is streaming on Apple TV+.
Newsletter Signup
Stay up to date on all the latest news from Boston.com
GOP Chair Ronna McDaniel defeats rival in fierce campaign
DANA POINT, Calif. (AP) — Republican National Committee Chair Ronna McDaniel won her bid Friday to lead the GOP for two more years, prevailing in an election that highlighted fierce internal divisions that threaten to plague the party into the next presidential season.
McDaniel, whom Donald Trump tapped as RNC chair in 2016, won on the secret ballot, 111 to 51, over Harmeet Dhillon, a California lawyer. The high-profile election played out inside a resort on the Southern California coast as the RNC's 168 voting members — activists and elected officials from all 50 states — gathered for their annual winter meeting.
A relieved McDaniel invited her rivals to the stage immediately after the outcome was announced.
"With us united, and all of us working together, the Democrats are going to hear us in 2024," she declared.
With the victory, McDaniel becomes the longest-serving RNC chair since the Civil War. While the vote itself wasn't as close as some had expected, friends and foes alike agree that she will not be leading the RNC from a position of strength.
"The party is not united," McDaniel's chief rival, Trump attorney Dhillon, told reporters in the hallway soon after standing alongside McDaniel on stage. "Nobody's going to unite around the party the way it is, which is seemingly ignoring the grassroots."
Indeed, while Trump privately backed McDaniel, powerful forces within his "Make America Great Again" movement lined up behind Dhillon.
Backed by MAGA leaders in conservative media, Dhillon waged an aggressive challenge against McDaniel that featured allegations of chronic misspending, mismanagement and even religious bigotry against Dhillon's Sikh faith — all claims that McDaniel denied. Above all, the case against McDaniel centered on deep dissatisfaction with the direction of the party after continuous election losses since Trump chose her to lead the committee following his upset 2016 victory.
The former president ignored the feud as he congratulated McDaniel on her "big WIN" on his social media network.
"Now we have to STOP THE DEMOCRATS FROM CHEATING IN ELECTIONS!" Trump wrote in capital letters, repeating baseless allegations of election fraud that have filled his political messaging for the past two years.
But some of Trump's acolytes were not so willing to move on.
Conservative activist Charlie Kirk cited the Republican base's overwhelming desire for change and said those members who voted for McDaniel would be held "accountable."
"The RNC has contempt for their voters," said Kirk, who sat among several Dhillon allies in the back of the hotel ballroom where the vote was held. "They basically just gave them a middle finger."
While McDaniel prevailed, some of her supporters privately conceded they were open to a change in the committee's leadership after three successive disappointing elections. But there were specific concerns about Dhillon – and the people around her.
The California Republican closely aligned herself with Caroline Wren, a former Trump fundraiser who was involved with raising money for the Washington rally on Jan. 6, 2021, that preceded the violent attack on the Capitol.
Dhillon's chief surrogate at the RNC meeting this week was Kari Lake, the failed Arizona gubernatorial candidate who has spread debunked claims of voter fraud. Lake courted RNC members on Dhillon's behalf inside the conference hotel.
From afar, Florida Gov. Ron DeSantis, a likely 2024 presidential contender, spoke out against McDaniel on the eve of the vote as well.
"I think we need a change. I think we need to get some new blood in the RNC," DeSantis said in an interview with Florida's Voice, citing three "substandard election cycles in a row" under McDaniel's leadership.
Meanwhile, Trump had quietly supported McDaniel, a niece of Republican Sen. Mitt Romney of Utah, and dispatched a handful of his lieutenants to Southern California to advocate on her behalf.
The former president avoided making a public endorsement at McDaniel's request, according to those with direct knowledge of the situation who spoke on condition of anonymity to describe private conversations. McDaniel's team was confident she would win without his public backing, allowing her to maintain a sense of neutrality heading into the 2024 presidential primary season.
According to its rules, the RNC must remain neutral in the presidential primary. Trump is the only announced GOP candidate so far, but other high-profile contenders are expected in the coming months.
McDaniel is now set to lead the RNC through the 2024 election. Under her leadership, the committee will control much of the presidential nominating process — including the debates and voting calendar — while directing the sprawling nationwide infrastructure designed to elect a Republican president.
Also in the race on Friday was MyPillow CEO Mike Lindell, a pro-Trump conspiracy theorist who won four votes.
Lindell has already endorsed Trump's 2024 campaign and said he would not change his mind if his longshot bid was successful Friday.
"I've never not endorsed Donald Trump," Lindell said. "I'm never moving off that space."
Cops: 5 kids removed from home because of squalid conditions
MANCHESTER, N.H. (AP) — A New Hampshire couple is facing criminal charges for allowing five children, including one who hollered out a window for help, to live in squalid conditions, police say.
Steven Legault, 36, and Candace Krauklin, 35, both of Manchester, were arraigned Friday on charges including felony criminal restraint and five counts of endangering the welfare of a child, police said.
Police were alerted earlier this month when a public works employee heard a boy yelling for help out of a window.
Police who arrived for a welfare check reported animal waste was on the floor and trash strewn throughout the house, along with a stench of feces and urine. A wet, discolored mattress was found in the feces-covered sunroom where the boy had called for help, police said.
Five children under 14 were removed from the home due to the unfit living conditions, and Legault and Krauklin, were arrested on Thursday, police said.
Legault and Krauklin were being released on personal recognizance bail after their court appearances, a jail official said. They were assigned public defenders, who didn't immediately return a call.
Video shows struggle for hammer during Pelosi attack
Video released publicly Friday shows the husband of former U.S. House Speaker Nancy Pelosi fighting with his assailant for control of a hammer moments before he was struck during a brutal attack in the couple's San Francisco home last year.
The body-camera footage shows suspect David DePape wrest the tool from Paul Pelosi, 82, and lunge toward him with the hammer over his head. The blow to Pelosi occurs out of the camera's view and the officers — one of them cursing — rush into the house and jump on DePape.
Pelosi, apparently unconscious, can be seen lying face down on the floor in his pajama top and underwear. Officials later said he woke up in a pool of his own blood.
The release comes after a coalition of news agencies, including The Associated Press, sought access to the evidence that prosecutors played in open court last month. The San Francisco District Attorney's Office had refused to make the exhibits available to journalists.
A state court judge Wednesday ruled there was no reason to keep the video secret.
The evidence includes portions of Paul Pelosi's 911 call on Oct. 28, as well as video from a Capitol police surveillance camera, a body camera worn by one of the two police officers who arrived first at the house and a nearly 18-minute audio recording from DePape's interview with police.
The Capitol Police video shows DePape walk up to a glass-panel door shortly after 2 a.m., leave and then return wearing a large backpack and carrying two other bags. He set the items down and pulled out a hammer, pausing to put on gloves, and used it to smash the door glass so he could step through an opening.
DePape has pleaded not guilty in ongoing state and federal cases. He is being jailed without bail. He faces charges including attempted murder, elder abuse, and assaulting an immediate family member of a federal official.
San Francisco Deputy Public Defender Adam Lipson, who represents DePape and had opposed the evidence's release in a court filing, called the video's release a "terrible mistake" in a statement Friday.
"The footage is inflammatory and could feed unfounded theories about this case, and we are extremely concerned about Mr. DePape's ability to get a fair trial," Lipson said.
Members of Congress have faced a sharp rise in threats in the two years since the Jan. 6, 2021, insurrection at the U.S. Capitol.
During the Jan. 6 attack, rioters chanted menacingly for the speaker as they rampaged through the halls trying to halt certification of Joe Biden's victory over Donald Trump in the presidential election. One man was convicted this week of eight criminal counts after he put his feet on a desk in Pelosi's office and left a note to her punctuated with a sexist expletive.
Paul Pelosi was asleep at the couple's home when DePape — who was 42 at the time, roughly half Pelosi's age — allegedly broke in. Nancy Pelosi was in Washington at the time and under the protection of her security detail, which does not extend to family members.
Paul Pelosi later underwent surgery to repair a skull fracture and serious injuries to his right arm and hands. He has since appeared in public wearing a hat and a glove to cover his wounds.
Speaking at the U.S. Capitol after the video's release, Nancy Pelosi said her husband "is making progress but it will take more time."
"I have not heard the 911 call. I have not heard the confession. I have not seen the break-in. And I have absolutely no intention of seeing the deadly assault on my husband," she said.
San Francisco Officer Kolby Wilmes' body-camera video begins with officers approaching the brick home and rapping on the door. It takes about 20 seconds for the door to open and during that time, the officers discuss whether they have the right house.
When the door opens, Paul Pelosi says, "Hi, guys, how are you?"
Both men are facing the officers at the door. Initially, the hammer is in the shadows and it takes about five seconds before a flashlight shows DePape holding the handle of a hammer with his right hand and clutching Pelosi's right hand, which is gripping around the hammer head, with his left hand. The struggle is not apparent in the first few seconds.
"What's going on, man?" the officer asks.
"Everything's good," DePape replies.
"Drop the hammer," the officer says.
DePape says no and begins to pull it from Pelosi's grip. Pelosi says, "Hey, hey."
DePape wins control of the hammer and winds up with his right and delivers a vicious overhand blow as Pelosi disappears out of view and officers rush in. The officers called for backup as they struggled with DePape and Pelosi was lying on the ground.
In an interview with San Francisco Police Lt. Carla Hurley after he was taken into custody, DePape said he didn't regret the attack even though it was not on Nancy Pelosi, his intended target.
Surprised to find Paul Pelosi in the home, DePape described most of their encounter as "pretty amicable," but said he attacked him with the hammer because he was on a mission.
DePape said the attack happened very quickly and he recalled how it took the officers by surprise.
"I yank the hammer away from him, I jump into action," he said with excitement in his voice. "They jump into action. They're like on top of me instantly."
DePape said he didn't remember how many times he struck Pelosi, but said it was with "full force."
DePape told Hurley he was going after Nancy Pelosi for lying to the American public and that he planned to hold her hostage for her crimes. He believed the discredited conspiracy that Democrats stole the 2020 election from Trump.
He said he planned to hold her hostage and would "break her kneecaps" if she lied.
When Hurley asked why DePape did not leave when he realized Nancy Pelosi wasn't home and the police were on the way, he compared himself to the Founding Fathers, explaining that he refused to surrender.
The U.S. Capitol Police investigated nearly 10,000 threats to members last year, more than twice the number from four years earlier. The department faced heavy criticism in the aftermath of the attack on Paul Pelosi. The agency has access to about 1,800 cameras, including one on the couple's house that was not being monitored during the attack because the speaker was not there.
Public officials across the U.S., from local school board members to election workers, have also endured harassment and intimidation.
This month, a former Republican candidate for a state House seat in New Mexico was arrested in a series of shootings targeting the homes or offices of elected Democratic officials and a Kansas man was convicted of threatening a GOP congressman.
White House press secretary Karine Jean-Pierre said Biden continues to condemn political violence.
"I think you don't even need a video to know how horrific and unconscionable the attack on Paul Pelosi was, and to be very honest it's a miracle that Paul was not more seriously injured and we are grateful that he is on his way and continues to recover," she said Friday.
Associated Press writer Lindsay Whitehurst in Washington contributed to this report.
Tell us: Are you wiling to unplug your fridge to cut your carbon footprint?
(Take our poll at the bottom of the story.)
NEW YORK (AP) — There are those for whom recycling and composting are not nearly enough to cut their carbon footprint, who have reduced their annual waste to almost zero, ditched their clothes dryer, or given up flying, and are ready to take the next step in exploring the frontiers of sustainable living.
For Manhattanite Josh Spodek, that has meant going without a refrigerator, which he identified as the biggest source of electrical use in his Greenwich Village apartment.
Spodek first cut his carbon footprint by deciding to go packaging-free, and one small step led to another. Now, he is living virtually grid-free in a city that in many ways is the epitome of grids.
"It was a mind-set shift followed by continual improvement," Spodek says. He first unplugged the fridge for three winter months, and then the next year for around six months (from November to early spring, when food generally kept for about two days on his windowsill). Now, he's been fridge-free for over a year.
Spodek is quick to point out that he's not against refrigeration in general, but views it as unnecessary for everyone to have running 24/7. In many parts of the world, he notes, refrigerators are a rarity.
"People in Manhattan lived without refrigeration until the mid-20th century," he says, "so it's clearly doable."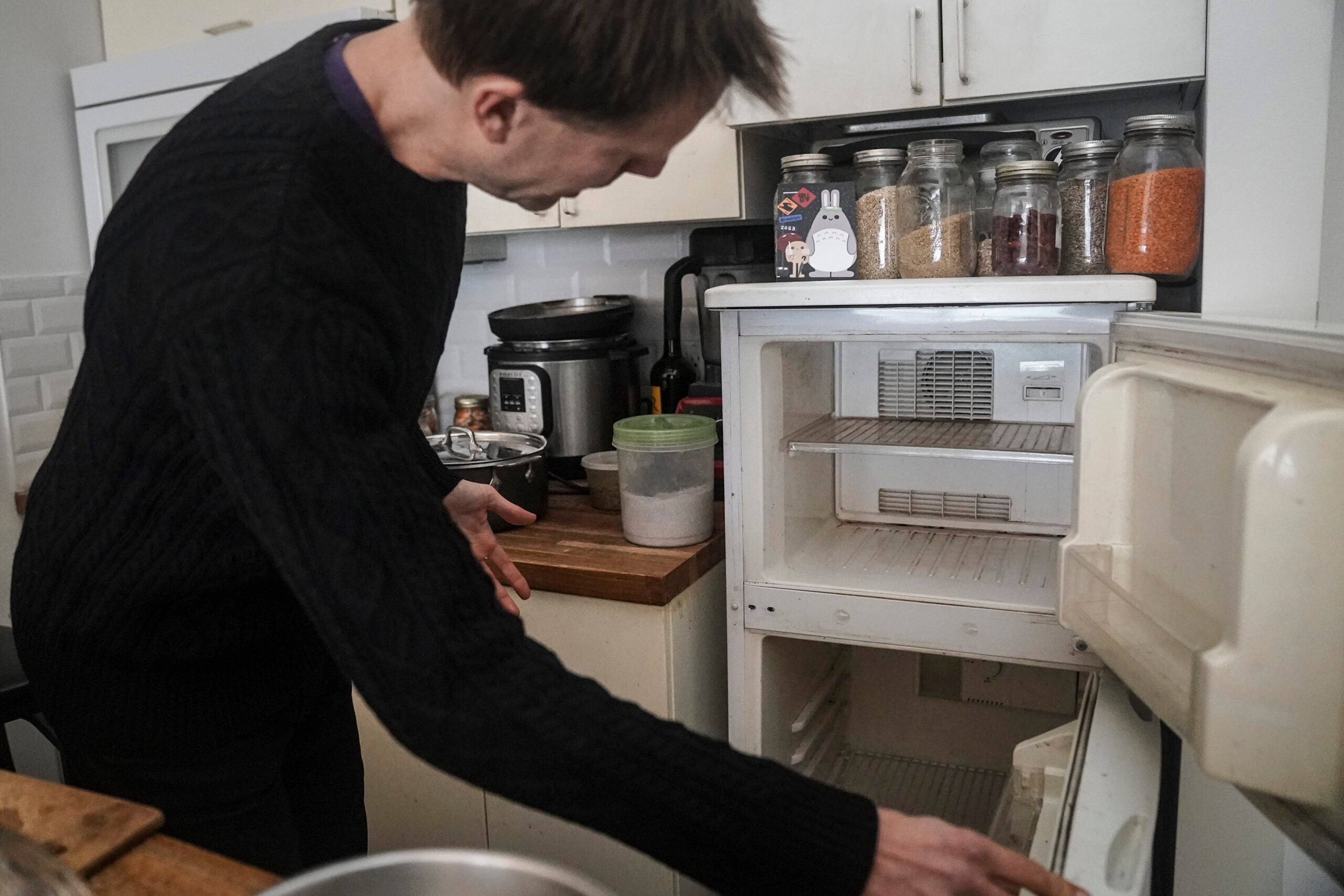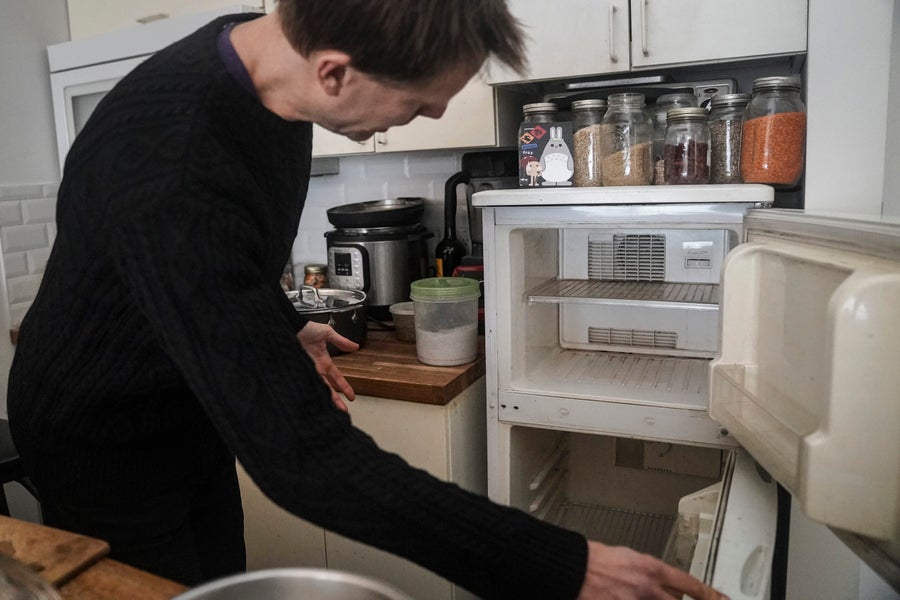 Critics are quick to point out that this experiment should not be taken lightly.
"People's lives can be at risk if certain foods go off. Certain dairy products go off very easily and quickly if you're not careful," says Frank Talty, founder and president of the New York-based Refrigeration Institute, which trains students to install and service refrigerators and air conditioners.
When he first unplugged his fridge, Spodek says, "I honestly wasn't sure I could survive a week without it. I didn't really have a plan for how I would get by without one. But I figured it wouldn't kill me, and I could always plug it in again."
Being a vegan without the need to refrigerate meat or dairy products certainly helps.
Skeptics — and there are many — point out that going without a refrigerator requires near-daily food shopping. For those with large families or who need to drive to get groceries, more frequent shopping trips could cancel out the energy savings. Not to mention, the inconvenience would be untenable for most.
Also, improvements to fridges over the years mean they typically use less power now than, say, a heating system or water heater.
"While using less energy is always laudable, most households could make more of an impact by switching to more efficient ways of heating and cooling their home, like a heat pump," says Joe Vukovich, an energy-efficiency advocate at the Natural Resources Defense Council.
While refrigerators "used to be massively inefficient in the '70s and '80s, their energy efficiency has increased dramatically since then," and continues to improve, he says. Many stores will also recycle old refrigerators, and some utility companies offer incentives for retiring older models.
Also, just using your fridge differently can make a difference, Vukovich says: Opening the door less frequently, for example, saves energy.
"I don't want to say there's no room for improvement, but the story of more environmentally friendly refrigerators is a massive success story," Vukovich says.
Still, Spodek notes that refrigerators are typically on nonstop: "If everyone would live without a fridge for, say, two weeks over the course of the year, it would save an extraordinary amount of power."
And they might learn something.
Beyond the energy savings, Spodek — who works as an executive coach, teaches leadership as an adjunct professor at New York University, and blogs and podcasts about his experiences — says that going fridge-free has improved his quality of life. He buys fresh produce at farmers markets, receives boxes of produce from a farm cooperative (CSA, or community-supported agriculture), keeps a stock of dried beans and grains, and has become adept at some fermentation techniques.
He cooks with an electric pressure cooker and, very rarely, a toaster oven, powering them with a portable solar panel and battery pack. Since he lives in a city apartment, that means schlepping the panel and battery pack up (and down) 11 flights of stairs a couple of times a day to the roof of his building.
It's an exercise he describes as "almost spiritual." When he's climbing the stairs, he says, he thinks about people around the world who live without modern amenities. "Through doing this, I'm definitely learning more about their cultures than if I just flew somewhere for a week."
Without a refrigerator, he also has learned to cook better and use a wider variety of seasonal produce.
"In the winter, it's just beets and carrots and potatoes and onions, plus dried beans and grains. I realized that that's how cuisine happens. You take what you have and you make it taste good," he says. "And now I just have to eat what I buy before it goes bad, or pickle it so it lasts a bit longer."
Other aspects of his efforts to live more sustainably: Spodek says he has not taken out the trash since 2019 (he hasn't produced enough non-compostable, non-recyclable waste to fill it yet) and hasn't flown since 2016 (his parents live nearby).
While it might not change the world if one person consumes a bit less power by unplugging their fridge, Spodek notes that, as with the Zero Waste movement, "What I do does matter."
"Setting an example for millions of people so that they see that this is even possible? That's huge."
Address newsletter
Get the latest news on buying, selling, renting, home design, and more.
Duxbury 7-month-old dies from injuries days after siblings allegedly killed by mother
A Duxbury 7-month-old whose mother allegedly injured him and killed his two siblings earlier this week has died, the Plymouth County District Attorney's Office confirmed.
The boy, identified by the DA's office as Callan Clancy, died at 11:18 a.m. Friday at Boston Children's Hospital.
Lindsay Clancy, 32, is accused of strangling her children on Tuesday before jumping out a window in a suspected suicide attempt, authorities said in a press conference Wednesday. Clancy's husband reportedly arrived home and called 911 after discovering the scene.
The couple's two older children, 5-year-old Cora and 3-year-old Dawson, were taken to a hospital and pronounced dead. The infant, Callan, was medflighted to Children's Hospital and hospitalized with traumatic injuries.
Clancy, who was also hospitalized and is under police custody, has been charged with two counts of homicide and three counts each of strangulation and assault and battery with a deadly weapon. The DA's office has not announced any additional charges.
While officials have not yet pointed to a motive, Clancy's case has sparked speculation and discussion about postpartum mental illness in mothers who have recently given birth.
Community members, still recoiling after the shocking tragedy, gathered for a vigil Thursday in Duxbury. A GoFundMe to help Clancy's husband pay for medical bills, legal aid, and funeral services had raised more than $400,000 as of Friday afternoon.
"It's incomprehensible that such a tragic thing would happen in a family anywhere, but here we are," the Rev. Bill Williams of Holy Family Church said at the vigil.
Newsletter Signup
Stay up to date on all the latest news from Boston.com