Boston.com
Pattie Hunt Sinacole recommends how to address performance concerns
Q:  I am a new supervisor in a well-known tech company in Cambridge.  We don't really have an HR department.  Instead, there is an Executive Assistant who offers some HR assistance.  I have five employees in our department.  We all work together well, except for one.  She doesn't seem to care about anyone else, or even about her performance.  She returns late from lunch.  She arrives late in the morning almost every day, and we work flexible hours.  This employee always seems to either just meet or not meet deadlines.  It does not seem like she can do more than one task at a time.  It is stressful to work with someone like this.  I feel like I cannot rely on her.  Sometimes I feel like I am giving more work to the others since I know they will just get it done.  Should I confront her?  How do I do this?
A: Being a new supervisor is a challenge, especially when you step into a challenging situation with an employee. Let me offer one way to approach her performance concerns.
Talk to the previous supervisor if possible. Are these new behaviors or behaviors that began some time ago? The longer you permit an employee to perform sub optimally, the more problematic it can become. The employee may think that their behavior is acceptable. Even if the former supervisor is not available, I would still recommend discussing your concerns with her. However, it is helpful to have some history. Also, talk to your manager to make sure that your manager does not have additional information which could be helpful. There may be some challenges that you may not be aware of. Is her personal life OK? Is her health OK? There may be some information that may help you to better understand non-work issues. These non-work issues could be impacting her performance.
Begin to document the issues. On what dates did she arrive late? What deadlines did she miss? When did she return from lunch later than expected?
Once you have real-life examples of her performance concerns, you should meet with her, ideally face-to-face. Explain your concerns and give her examples (e.g., On October 27th, you arrived at work at 9:35am when 9:00am is our latest acceptable arrival time and on that same day, you took over 75 minutes for lunch when most of us take 60 minutes or less). Explain that her unreliability and tardiness is becoming a pattern. You can also explain that you have begun to give some of her work to others within your department.
Finally, ask her for her input on why this is occurring. Explain your expectations. Next, document your conversation. If her behavior continues, you may have to give her a written warning or a performance improvement plan (PIP). The hope is that communicating your expectations in an empathetic way, signals that you want her to succeed. If her performance continues to be problematic, you will have several documents which demonstrate that you communicated your expectations numerous times. Check in with your manager before proceeding with any further discipline. You may end up terminating her, but it is both smart and respectful to give her a chance to succeed.
Newsletter Signup
Stay up to date on all the latest news from Boston.com
In Bruins' record-setting season, the Hurricanes loom as the greatest obstacle to Boston's Cup hopes
COMMENTARY
PNC Arena has been a house of horrors for the Bruins over the last year.
Boston visited the Hurricanes' home barn five times during the 2021-22 campaign. They lost every matchup, outscored 21-6 in the process.
Four of those defeats came in the postseason, with Carolina defending its own ice in a seven-game triumph in the first round.
That humbling, season-ending defeat in Raleigh was the closest this veteran roster came to seeing its contention window slammed shut.
The return of Patrice Bergeron and David Krejci this summer jammed that window ajar, for now.
Fifty games into a new season, the memories of last year's disappointment have faded as Boston piles on points at a record rate.
And yet — as the final horn bellowed from the PNC Arena speakers Sunday night — why did it feel like a dominant, destiny-driven Bruins team was mired in the same sour spot?
The consequences weren't as severe for Boston in a regular-season meeting with the Hurricanes.
But Boston was still dealt a familiar fate — out-played, out-hustled and out-willed by a Canes team ready to stand as the Bruins' biggest hurdle this postseason.
"I think [our] problem was the Carolina Hurricanes," head coach Jim Montgomery said of his team's woes on the NESN postgame show. "I thought they checked us right out of the rink. Give them credit. They competed hard, they really checked well and they caused a lot of turnovers that led to odd-man rushes. Two of their goals they got because of turnovers."
Sunday's 4-1 defeat extended Boston's losing streak to three straight games. Given that the B's haven't even dropped consecutive contests until the final week of January, Montgomery and the Bruins aren't signaling for DEFCON 1.
But rather than look internally at their own shortcomings, Boston's bench boss spent the majority of his postgame musings praising an opponent that has crafted a winning blueprint against Boston recently.
Yes, Sunday marked the third game in four nights for Boston. Their two previous games were daunting road jaunts against the Lightning and Panthers. Carolina played just two games over the last week.
But even if Boston had enough time to lick its wounds and rest up during this recent skid, a foe like the Hurricanes is a perfect storm to the Bruins' structured style of play.
"I think it was them — their work ethic and their resilience and how hard they were to play against led to us being tired over time because we didn't have the puck a lot," Montgomery said. "We were chasing it a lot because they checked us really well. And then they protected it well in the offensive zone."
Few teams in the league forecheck as relentlessly as Rod Brind'Amour's club. When executed perfectly, the D-zone in PNC Arena devolves into a minefield of misfortune.
Blueliners looking for crisp first passes spend their time sucking wind and looking over their shoulders. As wave after wave of red-and-black skaters swarms into the attack, goalies are peppered with shots from just about every area of the ice.
It's an onslaught that can make even a layered team defense like Boston devolve into a flimsy, mistake-prone mess.
"Nothing has really changed," Linus Ullmark said of Carolina. "They still have the same core group there. So they play simple, straightforward hockey and it works for them. You got to be honest with yourself, you got to bring your best and that's what everybody does to us right now."
That constant pressure translates down the other end of the ice as well.
When Boston's power play is clicking, it can burn teams through a number of avenues. David Pastrnak can hammer home howitzers from the left circle. Patrice Bergeron is adept at redirecting feeds and snapping home pucks from the "bumper" position. Brad Marchand can slice through layers of a PK with his playmaking at the half wall.
But for Boston to accomplish that O-zone fluidity, it needs time to set up its weapons. Carolina rarely allows such a luxury, not when it spends most of its shorthanded reps pressuring puck carriers and stacking their own blue line.
Boston entered Sunday's game stuck in an 0-for-6 rut on the power play over its last two losses. Against Carolina, that slump stretched to 0-for-12.
"We were a little slow, especially in the neutral zone," Bergeron noted. " And when we're doing it against a team like that, they're always gonna be in your face and you have no space. And credit to them. They play a good checking game."
Add in another stout performance from Frederik Andersen in net (who carried a 152:09 shutout streak against Boston before Pavel Zacha's third-period goal), and Carolina stands as a matchup nightmare for Bergeron and Co.
This three-game slide is the first true set of adversity to befall the 2022-23 Bruins. Given the injuries they faced in October and November, a losing streak this far into the calendar reflects well on the roster.
Perhaps things will be different in Boston's return to PNC Arena on March 26. The absence of Jake DeBrusk has been felt as of late. A trade-deadline deal might bolster either roster between now and then.
This Bruins team is still charting a course toward the record books. Little should give pause to the hopes of a championship run in June.
But the road that Bergeron and the Bruins are looking to trudge through won't be easy.
Especially not with this Hurricanes team standing in the way.
Carolina pushed this Original Six franchise to the brink of the post-Bergeron era last May. If the Bruins don't brace themselves, the Canes are more than capable of finishing the job this spring.
"We talked about facing adversity at some point in the year. Here we are," Bergeron said. "We have to face that as a team together and roll up our sleeves and learn from what hasn't been there in the last few games."
Newsletter Signup
Stay up to date on all the latest news from Boston.com
Chiefs top Bengals 23-20 on last-second kick for AFC title
KANSAS CITY, Mo. (AP) — Patrick Mahomes scrambled for a first down on his badly sprained right ankle, then was shoved late out of bounds by Joseph Ossai, giving Harrison Butker a chance to kick a 45-yard field goal with 3 seconds remaining and give the Kansas City Chiefs a 23-20 victory over the Cincinnati Bengals in the AFC title game Sunday night.
The Chiefs finally beat the Bengals after three straight losses, including a three-point overtime defeat in last year's title game, and will play the Philadelphia Eagles — coach Andy Reid's old team — in their third Super Bowl in four years.
Mahomes, who hurt his ankle against Jacksonville in the divisional round, threw for 326 yards and two touchdowns, even though he was missing three of his wide receivers to injuries by the end. Marquez Valdes-Scantling led the way with 116 yards and a touchdown, while Travis Kelce — bad back and all — had seven catches for 78 yards and a score.
Yet it was Mahomes on his balky right ankle, rather than with his strong right arm, that rescued the Chiefs.
The Chiefs got a crucial sack from Chris Jones to force a punt with 39 seconds left, and shaky return man Skyy Moore broke free for 29 yards on the return. On third-and-4 at the Bengals 47, Mahomes eluded pressure and scrambled toward the Bengals sideline, barely picking up the first down before Ossai gave him a shove from behind.
The penalty flags flew, the ball moved 15 yards closer and Butker's kick barely had enough to get over the crossbar.
Joe Burrow, who was sacked five times and wobbly by the end, finished with 270 yards passing to go with a touchdown and two interceptions for the Bengals. Tee Higgins had six catches for 83 yards and the score.
The Chiefs were able to do early what the Buffalo Bills could not in last week's divisional round: They ran roughshod over an ailing Bengals offensive line missing two starters to injury with another bothered by a sore knee.
Burrow was sacked three times in the first quarter alone and the Bengals offense did not gain a single yard.
Mahomes, whose ankle had been the subject of speculation all week, looked just fine leading Kansas City to a field goal on its opening possession. And when the Chiefs got the ball back, Mahomes did it again, but only after Kadarius Toney failed to pull in a nifty throw for a would-be touchdown — the incompletion was upheld upon review.
Cincinnati finally moved the ball in the second quarter, but it also had to settle for Evan McPherson's chip-shot field goal.
So much for two of the league's highest-scoring offenses.
UP NEXT
The Chiefs are headed to their third Super Bowl in four seasons. They ended a 50-year championship drought when they rallied to beat the San Francisco 49ers in 2020, then lost to the Tampa Bay Buccaneers the following year.
Newsletter Signup
Stay up to date on all the latest news from Boston.com
Bruins drop 3rd straight, fall to Hurricanes 4-1
RALEIGH, N.C. (AP) — Sebastian Aho scored a goal for the fourth straight game and the Carolina Hurricanes beat the Boston Bruins 4-1 on Sunday in a matchup of the teams with the two best records in the NHL.
Paul Stastny scored on a second-period power play, Seth Jarvis posted a goal in the third, and Jordan Staal added a short-handed empty-netter as the Hurricanes won their fifth game in a row and extended their points streak to eight games (7-0-1).
Frederik Andersen, playing for the first time since he left Wednesday night's game in Dallas with an upper-body injury, made 24 saves.
Pavel Zacha scored for the Bruins, who lead the NHL with 81 points but have lost three games in a row for the first time this season. Linus Ullmark stopped 32 shots.
Aho stole the puck at his defensive blue line took off on a breakaway for his 21st goal of the season with 9:08 left in the first. He has seven goals during his scoring streak.
After Carolina's four successful penalty kills through 30½ minutes, the Hurricanes scored on a power play as Stastny converted from in front of the net with 7:55 left in the second. It was his fourth.
Jarvis made a nifty move along the boards to gain control of the puck from Boston defenseman Brandon Carlo and sped into the zone on a breakaway, beating Ullmark at 1:56 of the third for his eighth of the season and first in seven games.
Boston struck back on Zacha's 10th at 3:22, but failed to reach two goals for just the third time this season.
Staal capped the scoring with 4:20 left.
ICE MATTERS
Hurricanes D Brent Burns had an assist on Stastny's goal in his 1,300th NHL game. … This was just the second regulation road loss in Boston's last 13 road games (9-2-2). … Staal has 13 goals, but only three since Christmas. … Andersen has won in his last five decisions.
UP NEXT
Bruins: At Toronto on Wednesday night.
Hurricanes: Host Los Angeles on Tuesday night.
Sign up for Bruins updates🏒
Get breaking news and analysis delivered to your inbox during hockey season.
Woburn schools closed Monday due to teachers' strike as contract negotiations stall
Schools in Woburn will be closed Monday after contract negotiations between the city and the local teachers' union failed again Sunday, causing the union's planned strike to go forward.
The Woburn Teachers Association (WTA), which represents 550 Woburn school staff members, said in a news release Sunday evening that contract negotiations began at 10 a.m. and ended at 6:20 p.m. when Mayor Scott Galvin and the Woburn School Committee walked out.
The WTA said negotiations crumbled after Galvin and the School Committee refused to discuss wage increases for paraprofessionals. The union said it was prepared to negotiate all night to come to a resolution.
"The Mayor and School Committee showed a complete unwillingness to negotiate the paraprofessional contract or offer them a living wage," WTA President Barbara Locke said in the release. "We could've gotten this contract settled tonight. Unfortunately their reckless refusal to continue negotiations tonight means the planned strike will start on Monday, January 29."
Galvin and the School Committee countered in a joint statement Sunday night. "Though we felt that today's session was productive and continue to believe that our offer is fair, we did not reach an agreement with the WTA," they said. "It remains our mission to find a resolution that is mutually beneficial, fair to all stakeholders and will ensure a high-quality education for the students of Woburn."
Negotiations will resume at 9:30 a.m. Monday.
On Friday, WTA members voted to approve a strike in response to about a year of failed negotiations. Woburn Public Schools staff members have worked without a contract since August, according to The Boston Globe.
"We do not take our decision to strike lightly, and believe that we have exhausted all other options. In fact, there is no other path forward," Locke said in a statement Friday.
In addition to higher wages for paraprofessionals, the WTA said, it is demanding gym classes for elementary school children twice a week, smaller class sizes, higher wages for teachers, and pay for all workdays.
Galvin and the School Committee said in the Friday statement that their latest contract proposal (Jan. 18) included smaller class sizes and wage increases, among other concessions, the Globe reported. But on Jan. 18, the WTA said, Galvin and the School Committee did not appear for negotiations.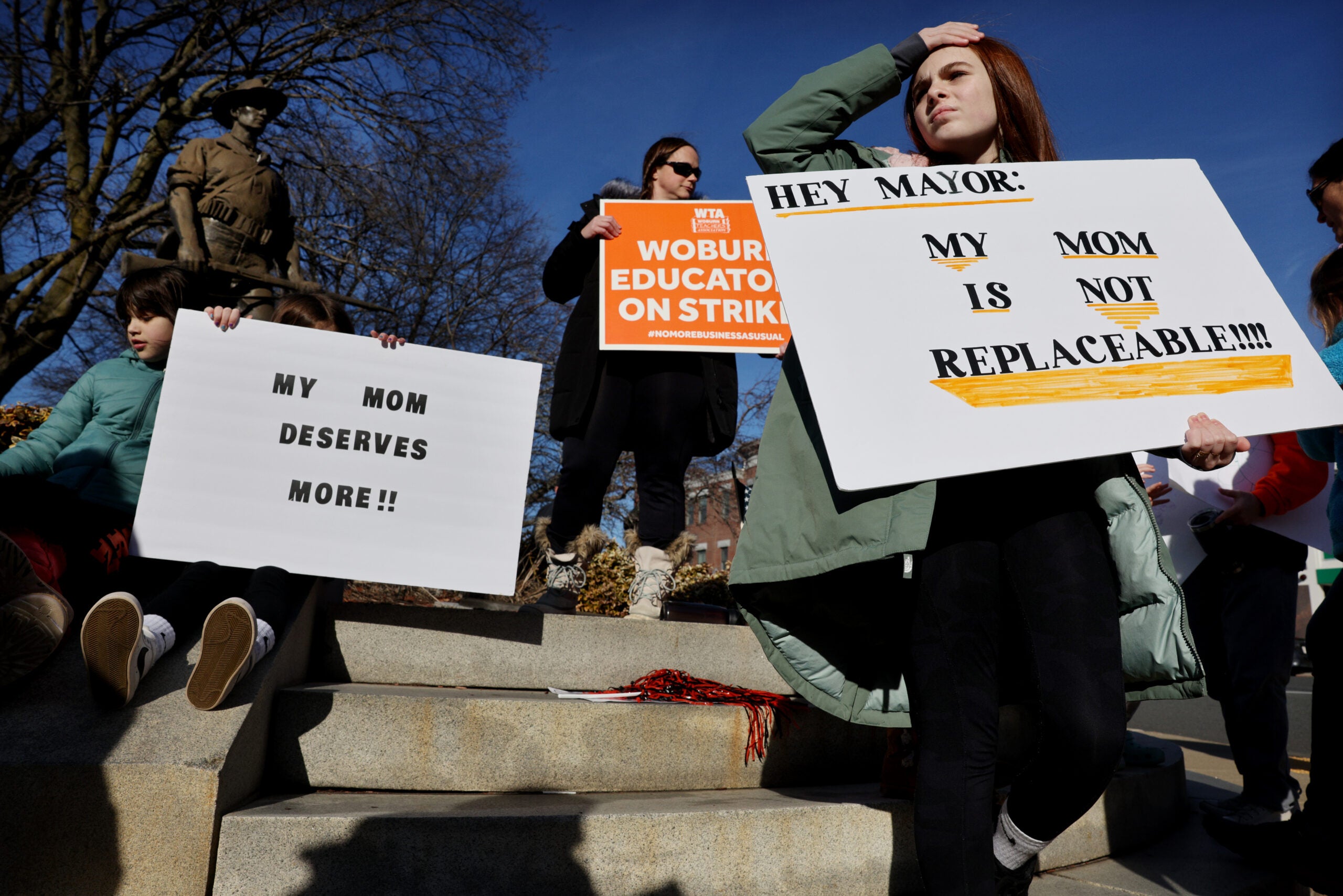 Teachers' strikes are illegal in Massachusetts, but that hasn't stopped teachers in communities like Brookline, Malden, and Haverhill from striking within the last year. Teachers in Brookline and Malden were able to reach an agreement after one-day strikes, while Haverhill teachers went on strike for almost a week.
Galvin and the School Committee said in their statement Sunday night that the Commonwealth Employment Relations Board deemed the WTA strike illegal on Friday when it was announced, and ordered the union to cease and desist with the strike.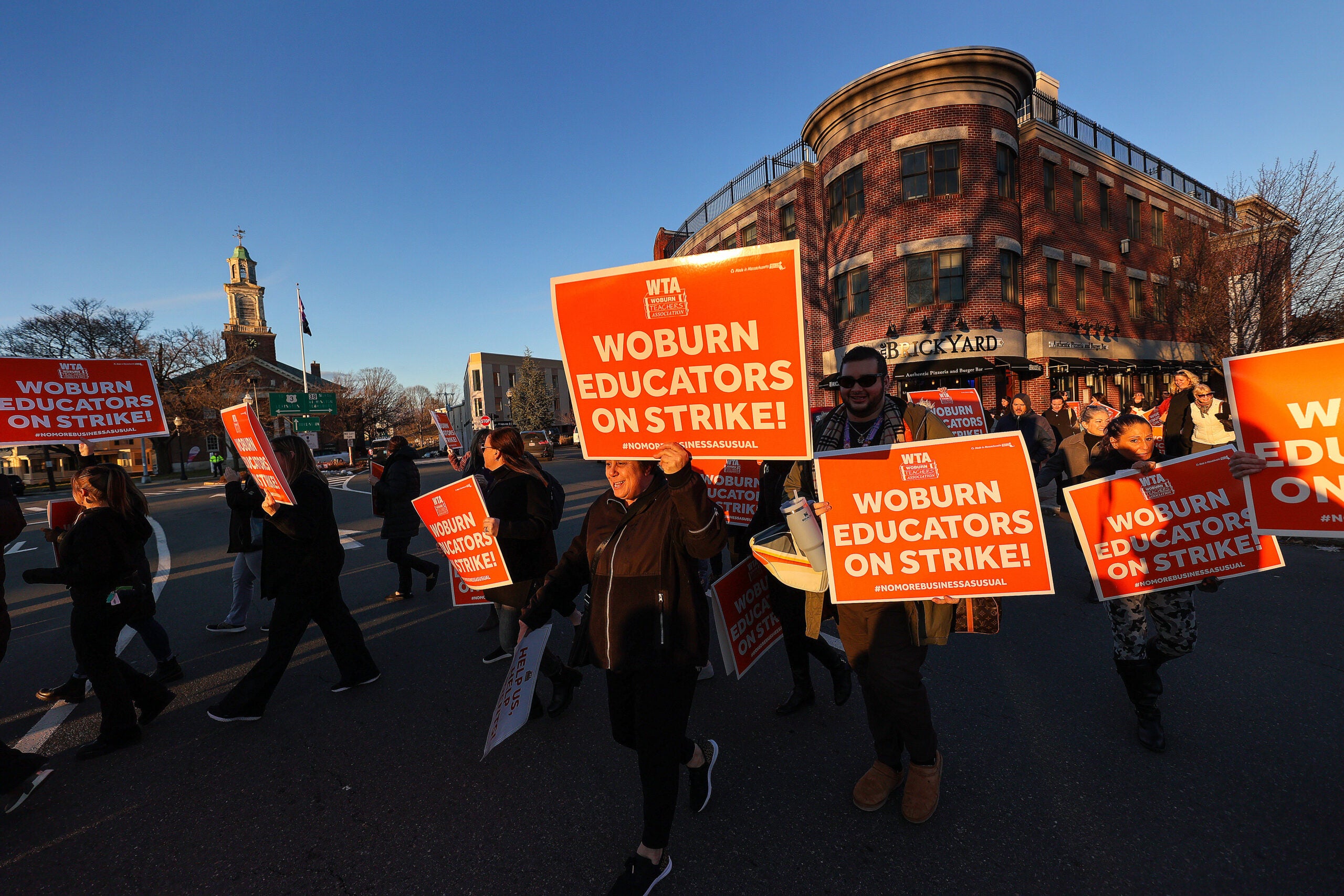 Hundreds of Woburn teachers and other picketers stood outside City Hall where negotiations were taking place Sunday to show support for the WTA. This was their third day of picketing.
"As teachers, we know that our parents and our kids are behind us. We know that. Unfortunately we needed to go this route to prove to the mayor and to the School Committee that we are respected by so many people and we're not gonna be treated like this anymore," Locke told WCVB Sunday afternoon.
Woburn Public Schools serves nearly 4,300 students. Students will be able to pick up lunches at their schools between 11 a.m. and 1 p.m. Monday, the district said.
Newsletter Signup
Stay up to date on all the latest news from Boston.com
Two Mass. locations featured in 'Celebrity Jeopardy!'
Worcester and Clark University were featured in an episode of "Celebrity Jeopardy!" that aired Thursday. Contestants Michael Cera, Brendan Hunt, and Patton Oswalt competed in the last semifinal round for a grand prize of $1 million.
The Worcester school tweeted about the mention the next day.
Clark University came up first in the "psychology" category for $500. The clue gave the names of two of the famed psychologists and rivals pictured in front of Clark University in a 1909 conference photo displayed on the screen. 
Cera ("Arrested Development") got the correct response: "Who are Sigmund Freud and Carl Jung?"
Clark University reappeared during "Celebrity Jeopardy! Clue For You" as viewers were tasked with determining the location of the school. A hint included that former Clark President G. Stanley Hall — also featured in the photo — had convened the conference for some of the greatest psychologists of the time, putting the school on the map.
This marks the second time this month Massachusetts got airtime on the show. In a Jan. 12 episode, MIT and Martha's Vineyard were referenced in clues.
Newsletter Signup
Stay up to date on all the latest news from Boston.com
'A culture of complete fear': Harvard women's hockey coach Katey Stone under fire for alleged abusive behavior
Katey Stone's 26th season as the Harvard women's ice hockey coach, brimming with promise most of the way, suddenly was sinking — and Stone's anger was rising.
Her 2021-22 team, champions of the Ivy League and ECAC regular seasons, had entered the regional ECAC playoffs as the top seed, only to be upended in the first round by a mediocre Princeton rival.
As the Crimson skated through a subpar practice before the ultimate challenge, the NCAA tournament, Stone's whistle shrieked. She abruptly curtailed the practice, profanely ordered everyone to the locker room, then stood before her players, two of whom proudly identified as North Americans of Indigenous descent.
In an outburst that witnesses described as degrading and dispiriting, Stone accused the players she had recruited of showing her too little respect and devolving into a collection of skaters "with too many chiefs and not enough Indians."
Maryna Macdonald, a junior starting defenseman from the Ditidaht First Nation of Canada's Vancouver Island, said Stone looked her in the eye when she made the remark.
"I had learned to navigate a lot of her toxic environment," Macdonald said. "But now she was disrespecting me and my family and my heritage in front of everybody."
Macdonald has since left the team, as has Taze Thompson, the 2021-22 Ivy League Rookie of the Year, who is descended from the Cree Nation of Alberta, Canada. Sydney Daniels, an assistant coach who had captained the 2016-17 Harvard team and is a member of the Mistawasis Nehiyawak First Nation of Saskatchewan, also abruptly departed before suing Harvard for alleged racial and other forms of discrimination related to Stone and the athletic department. Harvard has until Feb. 8 to respond to the complaint.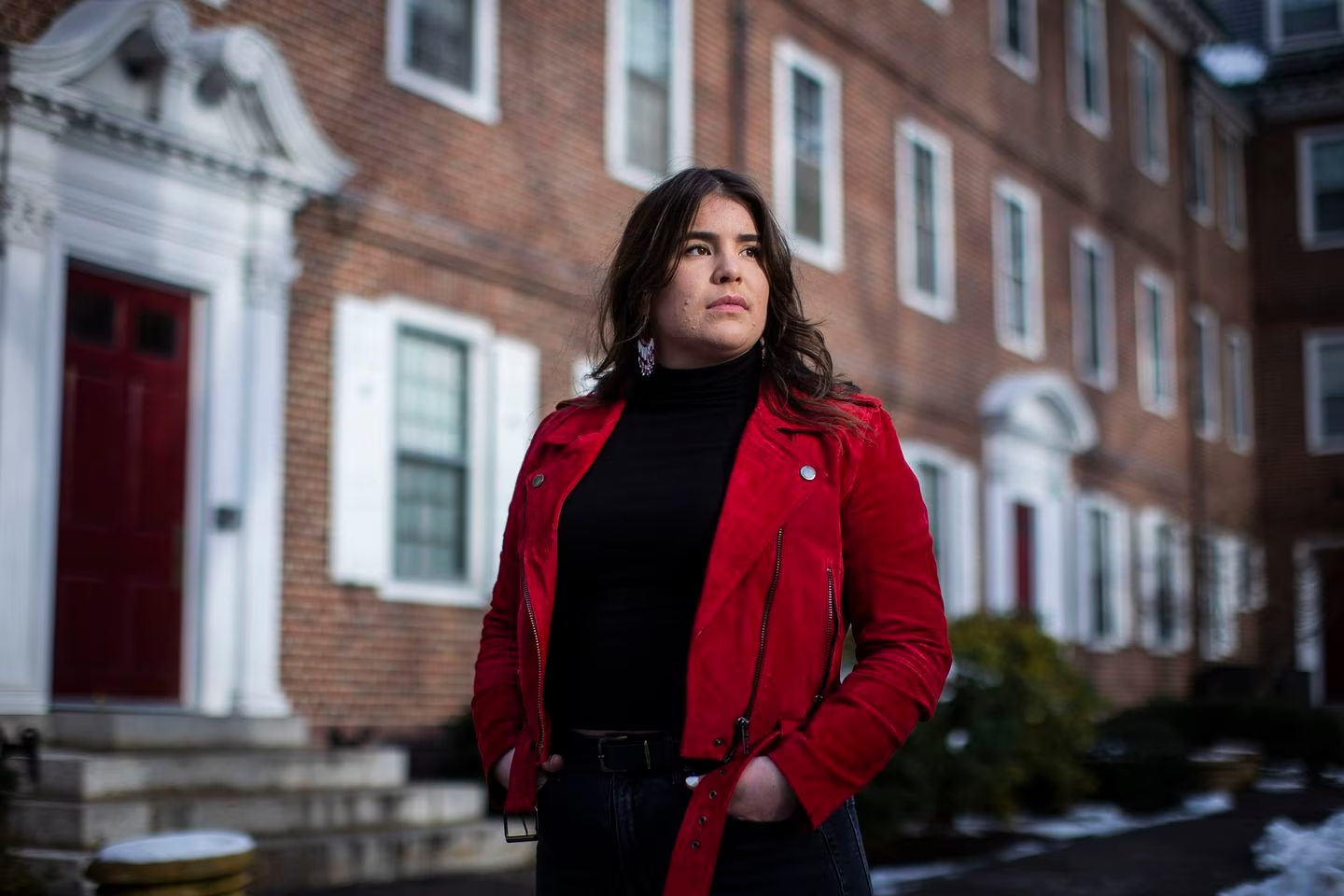 Stone's tirade led to a review by the university, which decided to retain her as head coach, and triggered a backlash that continues to reverberate among former players who say Stone has emotionally damaged them, all while she has established herself as one of the most renowned coaches in the history of women's ice hockey.
Sixteen of Stone's former players told the Globe they fault Harvard for keeping her on the job despite numerous complaints about her alleged abusive coaching practices. Macdonald and Thompson are among 14 recruited players who have left Stone's program since 2016, including three this season.
Stone declined to comment, as did Harvard athletic director Erin McDermott and the university.
Stone, in a letter e-mailed to her current team after being contacted by the Globe about this story, wrote, "This year, I have made it a priority to acknowledge and respond to direct feedback from the women in my program about my coaching style, and make a concerted effort to better support my players' experiences."
McDermott forwarded Stone's letter to hundreds of former Harvard women's hockey players, about 45 of whom then sent the Globe a letter supporting her.
Stone's supporters, in interviews and e-mails, effusively praised her for developing them as students, athletes, teammates, and leaders. They called her kind, caring, and swift to respond to personal crises and tragedies.
"Harvard hockey is just short of holy to me, and that's because of Coach Stone," said Lauren McAuliffe, Class of 2004, a former captain who later served as an interim head coach at Northeastern. "It wasn't just the four years I was there. It impacts me almost every day."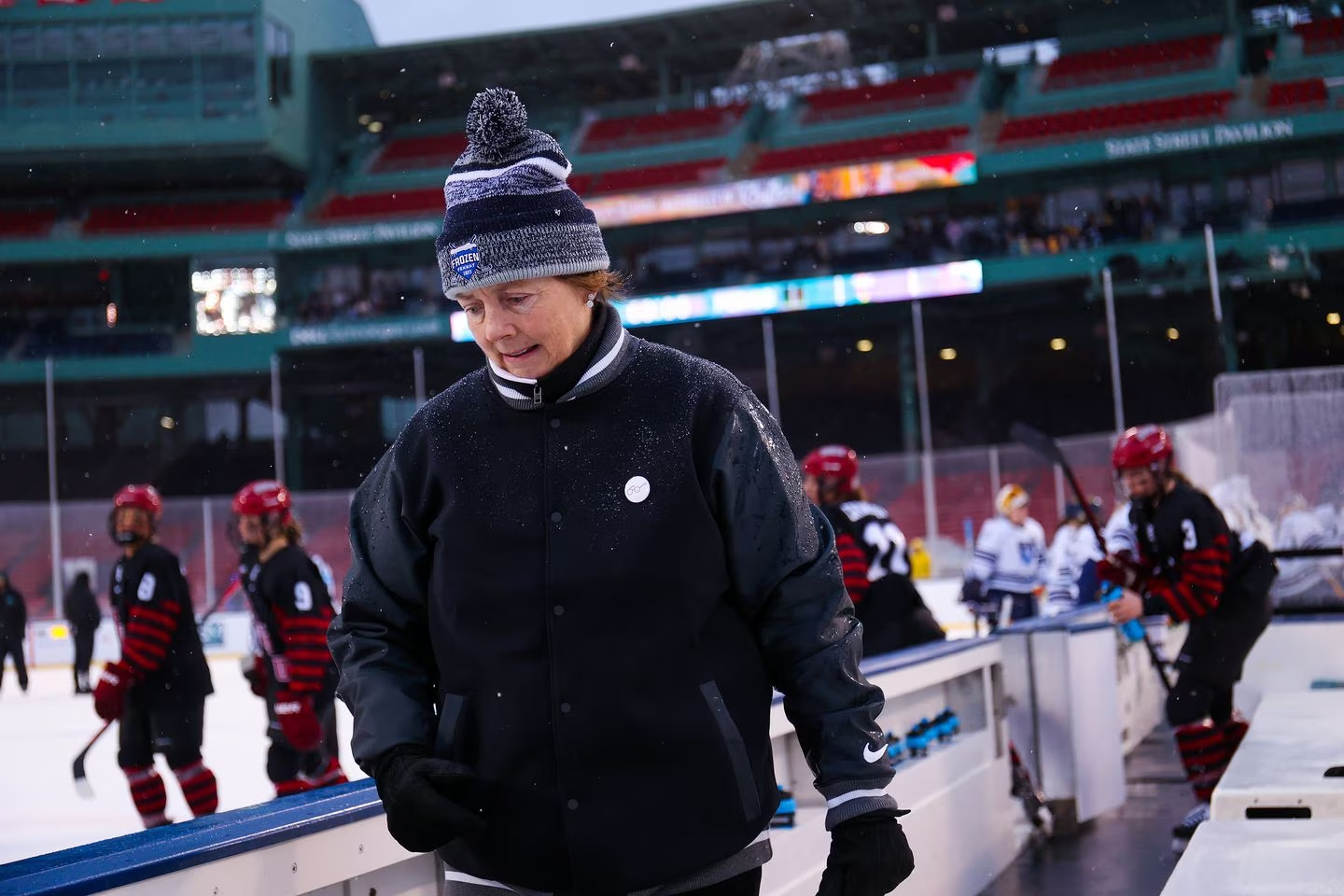 Categories of complaints
Stone, 56, built the Harvard program into a national power after she took over in 1994. She has coached 24 All-Americans, 15 Olympians, and six winners of the Patty Kazmaier Award, the top individual honor in collegiate women's hockey. The letter supporting her was signed by eight of those players, including Julie Chu, a four-time Olympic medalist, three-time All-American, and Kazmaier winner.
"I had a very positive experience playing for Coach Stone," Chu said. "I felt very accepted for who I was as an Asian American and also as someone who was figuring out how to come out as gay to family and friends during my university time."
The former players who detailed alleged abusive treatment by Stone represent a cross-section of backgrounds and skill levels: captains, marginal players, standouts who played professionally, players from elite private schools with family connections to Harvard, and players such as Macdonald with no ties at all. Their careers with Stone spanned nearly 25 years, and most asked not to be identified for fear of retribution from her supporters, the university, and its powerful alumni network.
Several former players said McDermott, while addressing the team after Stone's outburst, said a 2019 survey of players commissioned by the Faculty of Arts and Sciences ranked the women's hockey team last among the university's 42 varsity sports programs in the quality of its student-athletes' experiences.
"It's a culture of complete fear when it comes to [Stone]," said Ali Peper, a captain of the 2019-20 Harvard team. "There is clearly a way to coach without making people hate their lives."
By many accounts, Stone has created an environment — she calls it a "meritocracy" — that values talent, toughness, obedience, and a team-first ethic that generally prioritizes hockey over the rigors of Harvard academics.
Her critics say she accommodates her favored players while mistreating others, creating fragile and sometimes fractured team dynamics. They detailed a litany of complaints, many of which they said they have shared with Harvard administrators to little or no avail. The complaints fall into seven broad categories:
· Negative motivation. Each of the 16 former players said Stone denigrated them or their teammates in ways that made them demoralized, anxious, confused, or seeking mental health support. "Winning and fostering a supportive, non-toxic environment are not mutually exclusive," said Chloe Ashton, a junior forward who left the team in December. "The best coaches produce good results by inspiring athletes physically and mentally. Unfortunately, that was not my experience in the Harvard women's hockey program."
· Insensitivity to mental health issues. Stone was described by numerous former players as having little tolerance for those confronting emotional challenges. A former team leader who requested anonymity said that when Stone learned she was receiving mental health care, the coach told her, "You need to toughen up and not be a burden to your teammates."
· Pressure to return from concussions and other injuries. Several players said Stone downplayed the severity of their traumatic brain injuries or other physical ailments by pressuring them to return too soon or to play through excessive pain. Peper said Stone pushed her to play with a badly damaged hip that ultimately required surgery. "I will never forget the fear I lived in and the physical pain from injuries that were pushed past their breaking point as a result of the environment fostered by Coach Stone," she said.
· Body shaming. Several players reported developing eating disorders after Stone harshly criticized their physiques as too thin or too heavy.
· Adverse influence on academics. Former players said Stone negatively impacted their educational goals in various ways, including advising them to take easier courses, to drop second majors, and to prioritize hockey practices over conflicting lab sessions and other class assignments.
· Contradictory disciplinary standards. Former team members said Stone cut one player for a drinking infraction, then gave her a second chance, permitting her to train with the team for several months, only to cut her again. Yet when several seniors reported to Stone that one of her favored players had driven drunk and run a red light on Memorial Drive, the coach accused them of betraying the player and imposed no discipline, they said.
· Hazing. As long ago as 2000 and as recently as 2016, Stone's first-year players were subjected to initiation practices that included mandatory costume-wearing across campus, forced alcohol drinking, and role playing with sexual overtones, according to personal accounts shared with the Globe. "It made me feel extremely uncomfortable, and that feeling never really left," a player from the 2016-17 team said.
The player reported the hazing and other concerns about Stone to Harvard in a signed survey document circulated by the school, she said, but she never heard from anyone in the administration.
"I thought that if I reported an illegal activity, someone would have reached out to me," she said.
No one alleged that Stone was directly involved in hazing, but anti-hazing specialists say coaches are responsible for protecting student-athletes in their programs from bullying and hazing.
Stone's supporters pushed back against most of the complaints, including her response to their emotional issues, academic challenges, and injuries.
"People are angry and really upset by this," McAuliffe said. "I hope I'm clear that I really do question the motivation and what the impetus for these kids is. It feels petty and vengeful to me."
Dr. A. Holly Johnson, Class of 1996, a former captain who served as team physician for the US Olympic women's hockey team that Stone coached in 2014, said, "I don't know the allegations against Katey, but what I do know is that as women working in a male-dominated field, we are held to a different standard."
Johnson described Stone as a close friend and mentor, a passionate advocate for her players, a gifted motivator, and an honorable leader she hopes her daughter will play for one day.
Peper, the former team captain, said that she, too, values the friends and memories she made in the program. But there are painful memories, too.
"I will always cherish my time at Harvard," she said. "But it was not without its physical and emotional scars. It saddens me that other young women were subjected to this culture long before I arrived, and its persistence is not fair to future Harvard players."
Falling short in finals
Stone's rise to prominence at Harvard began with her winning a national title in the American Women's College Hockey Alliance in 1999. She has since qualified for 12 NCAA tournaments and reached the championship game four times, although she has yet to win an NCAA title and has advanced to the finals only once in the last 17 years.
In 2010, when she became the career leader in victories in college women's hockey at the time, Harvard quoted Stone as saying, "I'd be lying if I said it wasn't important. I'm a very competitive person. I want to be the best."
Which is why her most prestigious moment in the international arena ended so painfully in 2014. As the first female coach of a US Olympic hockey team, Stone guided the Americans to the gold medal game in Sochi, only for her team to squander a two-goal lead with less than four minutes to play and lose, 3-2, in overtime to Canada.
The crushing finish was not unfamiliar to Stone, whose Harvard teams had lost three straight NCAA title games from 2003-05.
"The sting doesn't go away," she told reporters in Sochi.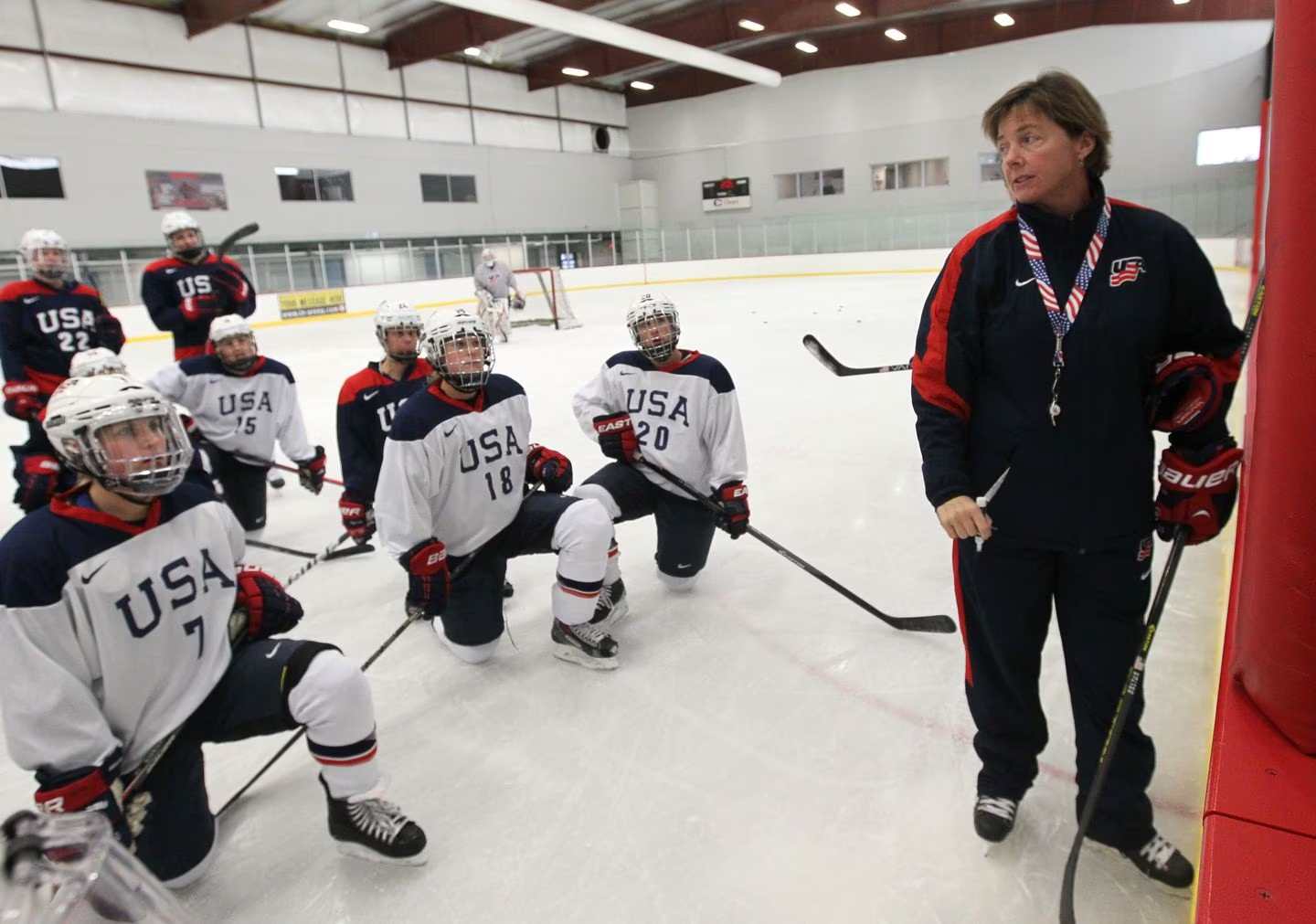 Last February, her team was collapsing again in the ECAC playoffs after a regular season that earned her Ivy League Coach of the Year honors. Morale sank as Stone tried to root out what she described as unspecified players causing internal problems, according to several team members.
"We were all looking around thinking we don't have issues here," Macdonald said. "But when the coach says you have issues, then issues arise."
Then came Stone's ethnic comment, which Macdonald reported to the athletic department. Within hours of Macdonald's report, Stone apologized to the team, but morale remained low, and the Crimson were no match for Minnesota-Duluth in their final game of the season, a 4-0 loss in the NCAA tourney's opening round.
The administrative review ensued. Players were interviewed, some sharply criticizing Stone, others offering support, according to team members. Nearly six months later, the review ended with an email from McDermott to the team.
"Most importantly, I want you to know that Coach Stone is our head coach and will remain our head coach," McDermott wrote. "The findings of the review affirm that decision while also identifying opportunities for improvement, particularly with communication across several areas."
Three days after McDermott's letter, Northeastern announced that Thompson, the daughter of former NHL player Rocky Thompson, was transferring to play for the Huskies, a stunning move for a Harvard student-athlete.
Nearly every other player who has left Stone's team since 2016 has remained as a student at Harvard.
Thompson, who in 2021 was named the Harvard team's top scholar as a member of the ECAC's All-Academic team, declined to comment. In 2022, the entire Harvard team received ECAC All-Academic honors for earning grade-point averages of at least 3.0.
Thompson is now a key contributor on a Northeastern team ranked first in Hockey East and fifth nationally at 23-2-1. Stone's current team is 6-12-3.
Daniels, the former captain and assistant coach who cut ties with the Harvard program after the ethnic remark, now scouts for the NHL's Winnipeg Jets. She declined to comment.
Another member of the 2021-22 team said she would not discredit anyone else's experience with Stone but said hers was entirely positive.
"We all struggle in our own ways throughout our Harvard hockey careers, as any Division 1 athlete really does," she said. "Coach is definitely hard on us. She asks a lot of us, and those demands can sometimes seem too high, but those demands helped shape me into a better person, 100 percent."
Last straw for this player
In Macdonald's case, it was no secret on campus before Stone's "too many chiefs" statement that her heritage was central to her identity. The Harvard Gazette published a story in 2020 that cited Macdonald's Indigenous roots, including her grandmother enduring the forcible removal by the Canadian government of her and other Indigenous children from their homes into residential schools. The goal was to assimilate them into white culture.
A Canadian national commission has described the forced removals as cultural "genocide."
"The legacy of that trauma has really impacted my family," Macdonald told the Globe. "I try to honor every day how much my ancestors went through for me to be able to go to a place like Harvard."
She remains close to her grandmother, and she often volunteers to help her mother, who is the principal of the All First Nations Haahuupayak Elementary School on Vancouver Island.
At Harvard, Macdonald enlisted her hockey teammates to participate in Orange Shirt Day, which recognizes survivors of the residential schools. She also raised awareness about the crisis of missing and murdered Indigenous women by posting on social media an image of a red handprint across a woman's mouth — a symbol of the movement — each time she scored a goal.
But Macdonald said she felt ill-treated by Stone almost from the start, in part for minimizing her traumatic brain injury.
Stone accompanied Macdonald in an ambulance after she was knocked unconscious in a game at the University of New Hampshire just before Christmas break of her freshman season. But when Macdonald returned from break 10 days later, still suffering from severe concussion symptoms and not cleared for hockey activities, she missed the morning session of the team's first two-a-day practices, and Stone was furious.
"She never asked why I was late," Macdonald said. "She just ripped me apart, said I was selfish and a disgrace to the program, that I didn't deserve to wear the jersey."
Stone's sharp reprimand sent Macdonald into an emotional tailspin, she said, in which she contemplated suicide. Later, she said, Stone claimed to have forgotten about her concussion at the time of the rebuke.
Still, Macdonald said, Stone continued to single her out for ridicule, as she did last February when Macdonald arrived late from physical therapy to a team video session, and Stone began clapping and chanting, "I hate Mac," encouraging her teammates to join in.
"It was strange and sad," one of Macdonald's teammates said.
When the university ended its review by keeping Stone's job intact, Macdonald formally quit the team. She is due to graduate from Harvard in May, with an eye toward attending law school and with a year of intercollegiate hockey eligibility remaining.
"I still valued my teammates and wanted to keep playing with them," Macdonald said. "But this program needs to heal and move forward, and that can't happen without new leadership."
Former Everett resident sentenced for pandemic-related fraud
A former resident of Everett allegedly used another person's identity to fraudulently apply for an apartment and for pandemic-related relief funds.
Tedje Menard, 28, was sentenced last week to 28 months in prison and three years of supervised release for the crimes. Menard pleaded guilty in September 2022 to two counts of wire fraud, one count of false representation of a Social Security number, and one count of aggravated identity theft, according to U.S. Attorney Rachael Rollins's office. 
Prosecutors said that Menard used the name and identity of another person to apply to rent an apartment in East Boston around November 2020. Menard falsely claimed to be the victim, and provided the company that oversaw the property with the victim's name, social security number, and date of birth. Menard also provided a North Carolina driver's license with the victim's information and his photo on it.
Menard submitted an application to the Economic Injury Disaster Loan (EIDL) program for $40,000 using the victim's name and personal information in June 2021, prosecutors said. The EIDL program was established to help small businesses recover from the economic hardships brought on by the COVID-19 pandemic.
In April 2021, Menard allegedly used his own name to apply for $20,833 in relief funds from the Paycheck Protection Program (PPP). But in the loan application, Menard falsely represented his business' total gross income from 2019 and his criminal history, officials said.
The charges against Menard came as the result of the COVID-19 Fraud Enforcement Task Force, which was established in May 2021 to crack down on pandemic-related fraud.
Newsletter Signup
Stay up to date on all the latest news from Boston.com
David Ortiz has one major issue with the Red Sox lineup in 2023
With Rafael Devers signed through the 2034 season, the Red Sox have an elite centerpiece in the heart of the lineup for the foreseeable future.
But if Boston doesn't surround Devers with more talent, David Ortiz is worried that the Sox third baseman could be neutralized by opposing teams.
"If I'm facing him, I'm pitching around him," Ortiz told WEEI.com of Devers' role in Boston's lineup. "No doubt about it. You're talking about one of the most feared hitters in baseball right now. I have been there before, and if you had no one behind me, they won't pitch to me. You know that.
"Now you have to find a way [to] consistently protect him so he can continue to keep seeing pitches."
For most of Ortiz's career in Boston, the Sox designated hitter had a stacked supporting cast, especially at the plate.
For six seasons, a 3-4 combination of Ortiz and Manny Ramirez stood as one of the most feared assortments of sluggers in MLB. But even after Ramirez was dealt to the Dodgers in 2008, Ortiz had plenty of protection around him over the years, be it Dustin Pedroia, Jason Bay, Kevin Youkilis, Adrian Beltre, Adrian Gonzalez, or Mookie Betts.
With both Xander Bogaerts and J.D. Martinez leaving Boston in free agency and Trevor Story sidelined due to elbow surgery, the 2023 Sox lineup has plenty of vacancies around Devers.
Free-agent pickups like Adam Duvall and Justin Turner have the ability to add some thump to a Sox team that ranked 20th in the league in home runs (155) in 2022. Masataka Yoshida's plate discipline and poise could have him in line for leadoff duties in Boston. Triston Casas swatted five homers in 76 at-bats during his call-up in September.
Despite the additions, the 2023 Red Sox aren't exactly stocked with sure bets in their lineup beyond Devers.
During Turner and Duvall's stints in Los Angeles and Atlanta, respectively, both hitters were usually slotted down to the No. 6 or No. 7 hole in the lineup. Yoshida's numbers in Nippon Professional Baseball (NPB) speak for themselves, but the outfielder will need to adjust to the elevated talent in MLB.
And even if Casas boasts plenty of potential, growing pains are to be expected for the rookie first baseman in 2023.
Still, Alex Cora and the Sox will need to find the right pieces to slot around Devers in the lineup, or run the risk of wasting his talents in the first year of his new long-term contract.
"He is still too young and you don't want to get to the point where you get frustrated because your production is not quite there," Ortiz added on Devers. "You have to see both sides. You have to see if they are pitching you and you are missing pitches, or if they are not pitching you and you are chasing pitches. So, we'll see. Let's see what the season brings to the table."
Newsletter Signup
Stay up to date on all the latest news from Boston.com
Three men convicted for violent kidnapping, drug trafficking in R.I. and on Cape
Three men are facing charges related to their alleged involvement in a violent kidnapping and a drug trafficking organization that operated on Cape Cod and in Rhode Island.
Following a five-day trial, Anthony Basilici, 39, of Pawtucket, R.I. was convicted last week of drug trafficking charges, illegal possession and use of a gun in connection with drug trafficking, kidnapping conspiracy, witness intimidation, and witness retaliation conspiracy.
Edwin Otero, 33, of Hyannis, and Justin Joseph, 35, of Pawtucket, R.I. each pleaded guilty before Basilici's trial to drug trafficking charges, possession of a gun in connection to drug trafficking, kidnapping conspiracy, and witness retaliation conspiracy. Otero also pleaded guilty to being a felon in possession of a firearm and to a charge of witness intimidation, according to U.S. Attorney Rachael Rollins's office.
"For years, members of Edwin Otero's drug crew plagued the Cape Cod and Pawtucket communities with their heroin operation and the serious, violent crimes it fueled. These defendants actively participated in a violent scheme to kidnap, beat and terrorize a victim who they incorrectly believed was working with law enforcement," Rollins said in a statement.
Law enforcement began investigating a drug trafficking operation allegedly led by Otero in 2018. They learned that Otero, Joseph, and Basilici, among others, helped distribute large amounts of heroin throughout Cape Cod and the Pawtucket, R.I. region. Their Cape Cod operations largely centered around the towns of Hyannis, Mashpee, and Barnstable, officials said.
Prosecutors said that, as part of the operation, the three men committed a shooting in May 2019 related to a drug debt owed by a customer.
Before that, in April 2019, the three allegedly lured a victim from Massachusetts to Rhode Island where they then kidnapped and forcibly held him. Otero, Joseph, and Basilici stripped the victim naked, assaulted him, and threatened to rape him, prosecutors said. The three men discussed physically harming the victim because they believed he was cooperating with law enforcement. 
"This conviction not only holds these three men accountable for their crimes but serves as a warning to those traffickers who are fueling the opioid epidemic with deadly drugs in order to profit and destroy people's lives. DEA's top priority is combatting the opioid epidemic and the violent acts that often accompany it by working with our local, county, state and federal partners to bring to justice anyone who distributes this poison," Brian D. Boyle, Special Agent in Charge of the Drug Enforcement Administration's New England Field Division, said in a statement. 
Otero, Joseph, and Basilici were initially charged in May 2019 on drug charges. Police found heroin, packaging materials, scales, a finger press, and three guns and ammunition, including a 9-millimeter assault-style weapon, in Otero's grandmother's house, officials said. 
Otero, Joseph, and Basilici were indicted in connection with the violent kidnapping and related charges in May 2020. Two other people, Cameron Cartier and Albert Lee, were also indicted at the time. Cartier and Lee previously pleaded guilty.
"This case is a prime example of how drug trafficking activities drive violence in our neighborhoods," Rollins said in a statement. "Thanks to the exceptional work by our investigative partners and prosecution team, this violent criminal enterprise has been brought to its knees – bringing peace and safety back to the Cape Cod and Pawtucket neighborhoods it once terrorized."
Newsletter Signup
Stay up to date on all the latest news from Boston.com