Boston.com
Who is most at risk for long COVID?
Which coronavirus patients are most at risk for developing long COVID?
A new analysis of research conducted during the first two years of the pandemic helps crystallize some answers that have been emerging.
It found that patients older than 40, those with previous health issues and those who had a severe coronavirus infection had greater risk of developing long COVID. And it affirmed a growing consensus that vaccination lowers that risk.
The analysis, conducted by a team of researchers in Britain and published in the journal JAMA Internal Medicine, looked at 41 studies published between the beginning of the pandemic and Dec. 5, 2022. The studies, which had all been peer-reviewed, involved a total of 860,783 patients.
The report evaluated the patients' risk of post-COVID symptoms — including shortness of breath, fatigue, brain fog, headache, and loss of taste and smell — more than three months after their infection.
People who received two doses of a COVID vaccine before becoming infected were 43% less likely to develop long COVID. The analysis did not look at the role of boosters.
The authors wrote that the emerging evidence suggested that vaccination reduced the risk of long-term symptoms "even in individuals with other risk factors, such as older age or high BMI."
Other studies that were not included in the analysis have also suggested that vaccines can reduce, though not eliminate, the risk of long COVID.
Risk factors analyzed in the paper included:
Being female
Women were 1 1/2 times as likely as men to develop long COVID. The authors and other researchers have suggested several possible reasons for this, including that hormone levels or disruption in hormone production may perpetuate inflammation caused by the initial infection and that higher levels of some antibodies in women might contribute to lingering symptoms.
Being older than 40
The long COVID patients in the analysis were about 20% more likely to be older than 40. The analysis found that people 70 and older had the same risk as those who were 40 to 69, but the researchers suggested that might be because people older than 70 were more likely to die from their initial infection.
Being obese
People were at increased risk for long COVID if they were obese, the analysis found. Obesity, they wrote, often involves a metabolic inflammatory process that could prolong post-COVID health issues.
Being a smoker
Smoking was also a risk factor, the researchers found, although they said it was unclear if that was because of the smoking itself or illnesses associated with smoking.
Having previous medical conditions
Of the medical issues analyzed in the study, immunosuppressive conditions appeared to lead to the greatest increased risk of long COVID. People with chronic obstructive pulmonary disease, ischemic heart disease or asthma faced the next highest levels of increased risk. There was also elevated risk of long COVID for people with anxiety, depression, chronic kidney disease or diabetes.
The sicker people were during their initial infection, the more likely they were to experience lingering health problems. Patients who were hospitalized, whether in intensive care or not, were nearly 2 1/2 times as likely to develop long COVID than patients who were not hospitalized, the analysis found.
"Patients with previous critical illness represent a high-risk population, and their follow-up should reflect intensive plans for prevention, rehabilitation and treatment of the ongoing debilitating symptoms," the authors wrote.
However, since a majority of people infected with the coronavirus have not needed to be hospitalized, there are greater numbers of long COVID patients whose initial infection was relatively mild.
Other research, not included in the analysis, has focused on more detailed biological characteristics. One study published in 2022 found that people were more likely to develop long COVID if, at the time of their infection, they had factors including certain autoantibodies — antibodies that mistakenly attack tissues in the body as they do in conditions like lupus and rheumatoid arthritis — or reactivated Epstein-Barr virus, a virus that infects most people and then usually becomes dormant.
The new analysis involved patients infected during waves of various coronavirus variants, but the authors did not analyze the variants separately.
"It is unlikely that the risk factors" associated with long COVID would change with new variants, they wrote.
This article originally appeared in The New York Times.
New MBTA dashboard outlines all of the T slow zones, and there are still a lot of them
More than a quarter of the MBTA's tracks are now covered in speed restrictions, quadrupling the percentage of restricted track that the T reported at the end of January.
According to T data, there are 221 slow zones in place across all subway lines, accounting for 36.8 miles of track, or 27% of the entire system. These latest figures are reflected on the transit agency's new Speed Restrictions Dashboard, which gives users a live look at where trains are running slower than normal.
The dashboard, which launched Thursday, includes the location, speed limit, and reasoning behind each slow zone on the various subway lines. The dashboard also shows when each slow zone was put in place; the T implemented 175 new restrictions within the last 30 days alone, eliminating 40 restrictions in that same period, according to the data.
The new tool provides daily updates based on the prior day's data, MBTA interim General Manager Jeff Gonneville said in a press release. Before, the T offered a static dashboard showing speed restriction data from the previous month.
"The dashboard delivers information that is clear and will assist riders in better understanding why they are experiencing slower conditions while riding the T," Gonneville said in a statement, adding, "We know these restrictions impact riders' daily commutes and we will continue to be transparent about the ongoing, daily work to improve our transit system."
The revamped dashboard comes two weeks after the T capped speeds at 10 to 25 mph across all its lines after discovering that some of the documentation for track repairs was missing or inconsistent. The agency lifted the last of the global restrictions on the Green Line Sunday, implementing localized slow zones as it works to verify repairs.
But depending on the line, T riders may not notice much of a difference yet.
On the Blue Line, for example, 77% of the track remains under speed restriction, compared to 25% each on the Orange and Red lines, and 18% on the Green Line. Twitter user @alex_defronzo shared a video earlier this week showing how easily a bicyclist can outpace the Blue Line along the East Boston Greenway.
Speaking at Thursday's MBTA Board of Directors meeting, Gonneville noted that the number of slow zones may fluctuate as the T alters the length of restricted track and works to address any necessary repairs.
"It's important to note that the restricted track speed is an area and a metric that we're going to be watching very closely," he said. "The speed restrictions themselves may go up and they may go down on a daily basis."
MBTA board member Chanda Smart asked Transportation Secretary Gina Fiandaca if she's satisfied with the way T management is "being held accountable for allowing the system to degrade to such a poor condition."
Fiandaca replied that she and Gonneville have been in constant contact, describing the systemwide speed restrictions as being in the best interest of T workers and riders.
"I want to be very clear: There is a level of accountability here that we will need and we will evaluate," Gonneville added.
He emphasized the need for a "full and thorough" investigation to help the T "really determine exactly what the circumstances are that got us to this point and then from there we can make those necessary decisions."
Newsletter Signup
Stay up to date on all the latest news from Boston.com
Report: Joe Judge will have a new role with 'some parallels' to Matt Patricia's old one
Joe Judge will stay with the Patriots and assume an assistant coaching role with the team next season, according to Albert Breer of the MMQB.
Breer wrote that Judge will work closely with Cam Achord and Joe Houston on special teams.
But, there are some personnel-related responsibilities Judge will assume that could end up being pretty similar to what Matt Patricia's role was before he took over as play-caller.
"One difference [between] Patricia in '21 and Judge in '23, just to illustrate it," Breer wrote. "Patricia's name was on player contracts back then, and this year, Matt Groh's name is in that spot. Judge's job will be more in coaching special teams, being a liaison between coaching and scouting, etc."
Judge coached special teams with the Patriots from 2012-2019 before being hired as head coach of the New York Giants. The Giants fired judge before his fully-guaranteed five-year contract was up, so they'll continue to pay his salary through 2024.
The 41-year-old coach returned to New England last season as an offensive assistant and quarterbacks coach.
Sign up for Patriots updates🏈
Get breaking news and analysis delivered to your inbox during football season.
Former Red Sox infielder Jed Lowrie announces retirement
Jed Lowrie has retired, he announced Thursday on social media, ending a 14-year MLB career.
"No one gets to play forever. And the time has come for me to close the chapter on my playing career," Lowrie wrote. "I was relentless in my pursuit to get better, whether on the field or fighting my way back. From a high school kid who had 'a higher ceiling as a pitcher than as a hitter', I'm proud of my accomplishments and the resiliency it took to thrive at the highest level."
The Red Sox selected Lowrie in the first round of the 2005 amateur draft. Lowrie was Pac-10 Player of the Year and a two-time first-team All-American selection during his college career at Stanford.
Lowrie had three RBIs in his Red Sox debut on April 15th, 2008. He played with the Red Sox until 2011, when he left for the Houston Astros. Lowrie had two different stints with the Astros, and three different stints with the Oakland A's. He also played briefly for the New York Mets.
"I was lucky to learn from some of the pillars in our game," Lowrie wrote. "And hopefully I did my part in passing on that institutional knowledge to the next generation. The players have never been more talented than they are right now. I'm amazed how high the bar has been pushed during my career. The game has changed."
The most productive season of Lowrie's career came in 2018, when he made his lone All-Star appearance and hit .267 with 23 home runs and 99 RBIs.
He never played in more than 88 games during any of his seasons with the Red Sox, but he got his chance to play more elsewhere and did well enough to play for nearly a decade and a half.
"To the fans in Boston, Houston, New York, and Oakland, it wasn't always perfect," Lowrie wrote. "But I gave it my all and I'm grateful for the opportunity to play for you. Thank you. Love never dies though, so I'm looking forward to new opportunities in the game."
Sign up for Red Sox updates⚾
Get breaking news and analysis delivered to your inbox during baseball season.
This Brian Flores meeting helped ensure Malcolm Butler benching didn't 'destroy' the Patriots
Five years after Malcolm Butler got benched during the Patriots' Super Bowl LI loss, the reason why is still a mystery.
Even Devin McCourty, a team captain who played on that secondary, says he's planning to find out when Butler releases his new book.
"To this day, I still don't know the exact reason why he didn't play," McCourty told Chris Long during an appearance on The Green Light podcast. "When I saw he was coming out with a book and a documentary, I was like, 'I can't wait to read that.' Gilly [Stephon Gilmore] actually texted me and was like, 'I'm going to buy this book ASAP.'"
Former Patriots assistant coach Brian Flores called a team meeting the following season to ensure that the decision didn't affect the team going forward, according to McCourty.
Flores used the Seattle Seahawks as an example of what he didn't want to happen to the Patriots. Seattle attempted to throw the ball instead of running it with Marshawn Lynch on the 1-yard line, setting up Butler's famed interception during the Patriots' win in Super Bowl XLIX.
Those kinds of dramatic losses can fracture a team.
"He was like, I look back at Seattle when we played them in the Super Bowl," McCourty said. "And they don't run the ball, it kind of seemed like that was the end to that team. They never got back to the Super Bowl, and that team was so talented. That Seattle team had everything. He was like, 'I just don't want that to destroy us.'"
The Patriots kept their winning ways intact for a little longer, beating the Los Angeles Rams in the Super Bowl the following year. It was New England's most recent Super Bowl title.
Sign up for Patriots updates🏈
Get breaking news and analysis delivered to your inbox during football season.
Freight train cars derail in Ayer
AYER, Mass. (AP) — Some freight train cars derailed in central Massachusetts on Thursday but no hazardous materials were being hauled, a local fire department said.
The train derailed around noon in the area of Sculley Road in Ayer, the fire department said in a tweet.
Video from the scene showed several railcars that were being hauled by Norfolk Southern engines appear to have toppled off the tracks onto their sides.
Norfolk Southern was the rail operator at the center of a fiery derailment in East Palestine, Ohio, in early February in which abut 50 cars derailed, spilling hazardous materials and forcing evacuations of area residents.
The Ayer Fire Department said it was working with the railroad as well as local police and public works to clear the area.
People were advised to avoid the site of the derailment.
There was no word on a cause or any injuries.
Ayer is about 30 miles northwest of Boston.
Voice and email messages were left with Norfolk Southern.
A Cohasset estate visited by presidents and film crews hits the market for $18m
"The Oaks," the historic Georgian-style Cohasset estate visited by Jon Hamm in 2022's Confess, Fletch, is on the market for $18 million.
Located on the site of an ancient shipyard at 49 Margin St., the property was originally the summer home of financier Clarence W. Barron, founder of Barron's magazine. In 1932, his granddaughter Jessie Bancroft Cox, a major stockholder in Dow Jones Co., built the current Georgian-style brick mansion, designed by famed architects Parker, Thomas and Rice on a 9.41 acre-peninsula overlooking Cohasset Harbor. Presidents Calvin Coolidge, Richard Nixon, and Ronald Reagan visited the property.
Flash forward to the present day, and the realtor on the 10-bed, 11-bath luxury listing (7 full, 4 half) had the privilege of growing up in the home.
"Having been owned by my father for around 30 years of my life, I have countless memories there," Chris Roy of Gibson Sotheby's International Realty, who has the listing, told Boston.com via e-mail. "From summer BBQs to Super Bowl parties and everything in between, the list of fond memories is long."
Today, "The Oaks" is a grand estate that has been meticulously maintained over the years. Step inside the foyer, where you are greeted by a grand staircase that cascades up to the right and a taste of the home's neoclassical features.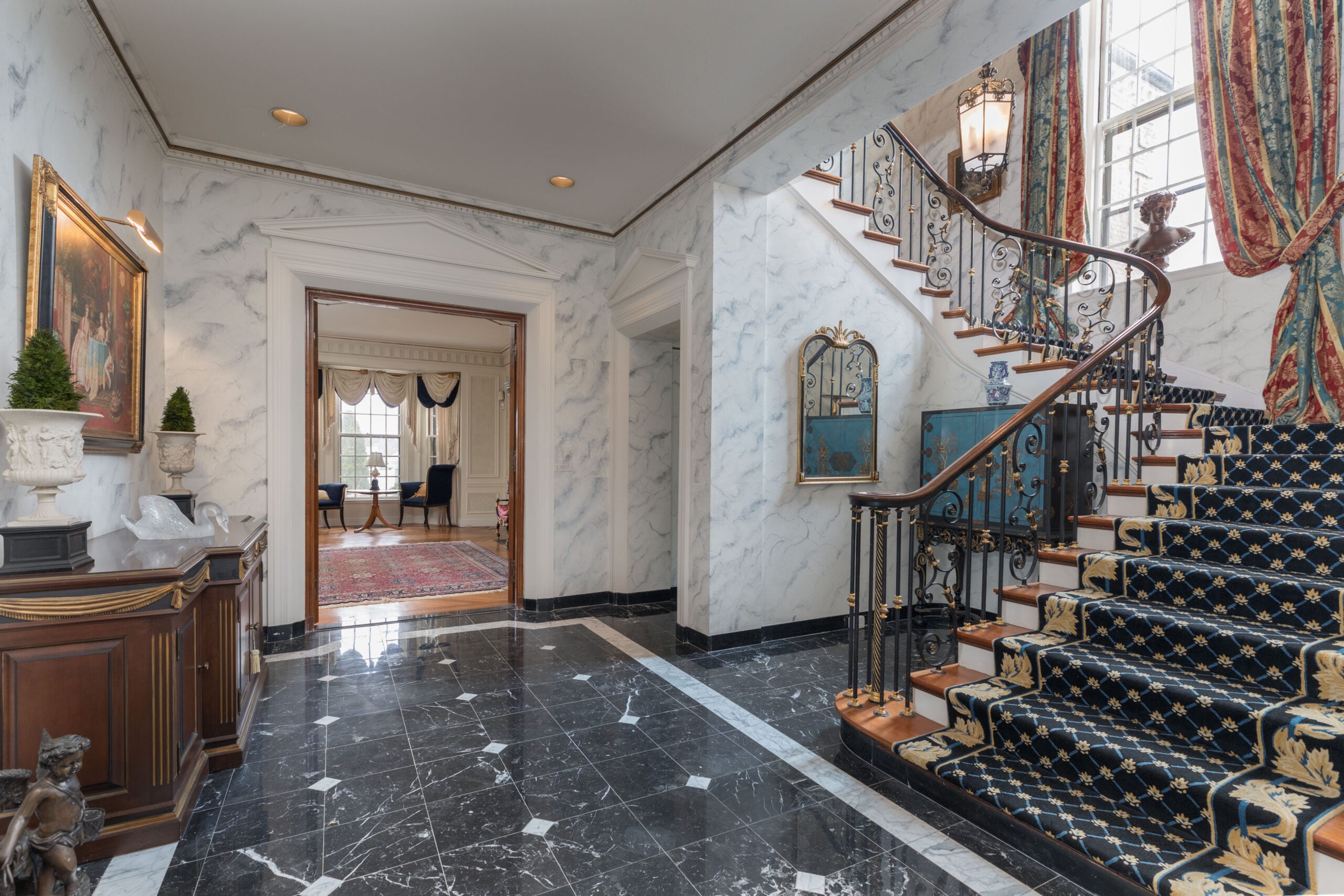 The living room boasts coffered ceilings and a fireplace clad in wood that matches that elegance. A few steps down leads to the library, which features wood-paneled walls, built-in bookshelves, tall windows, and a fireplace.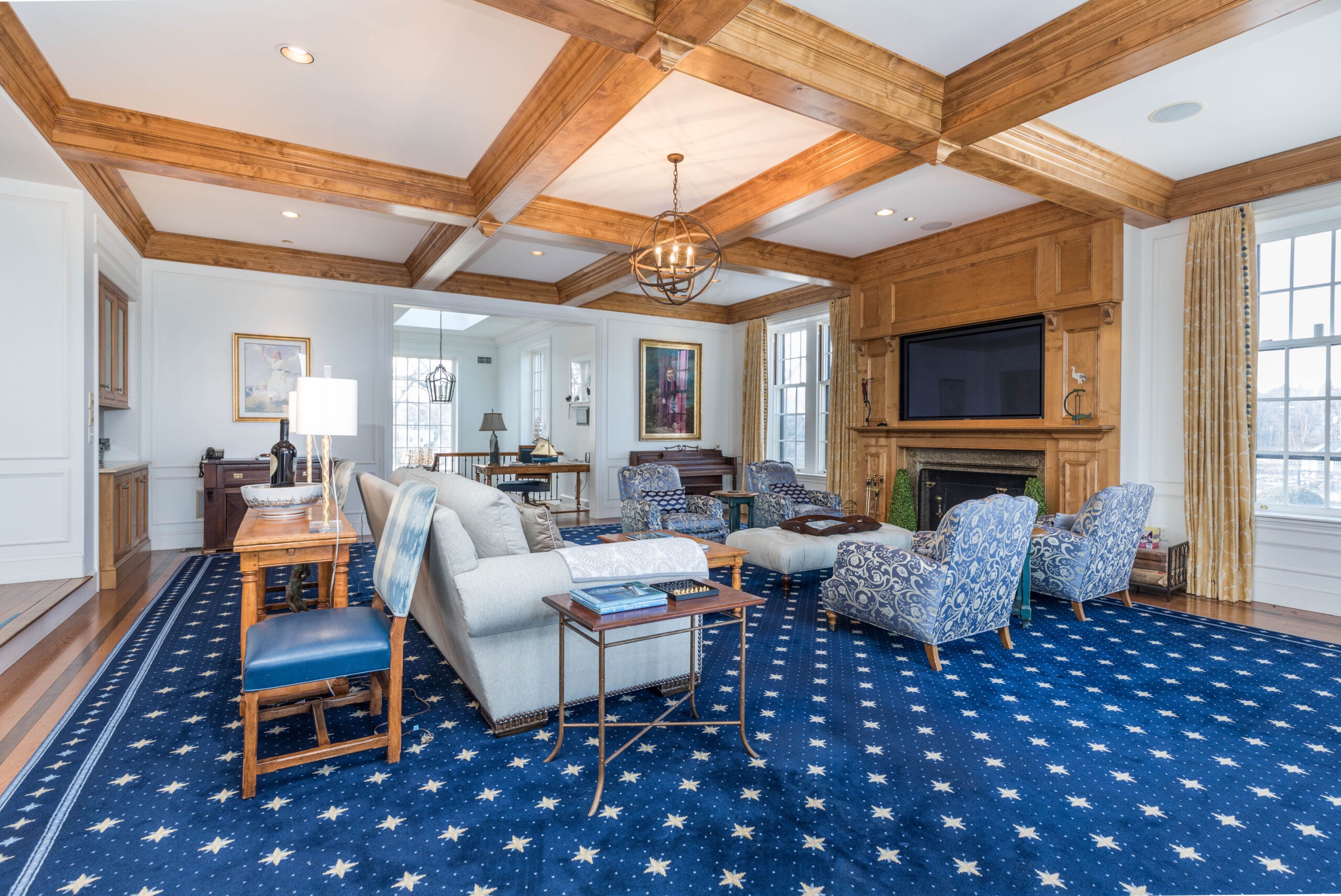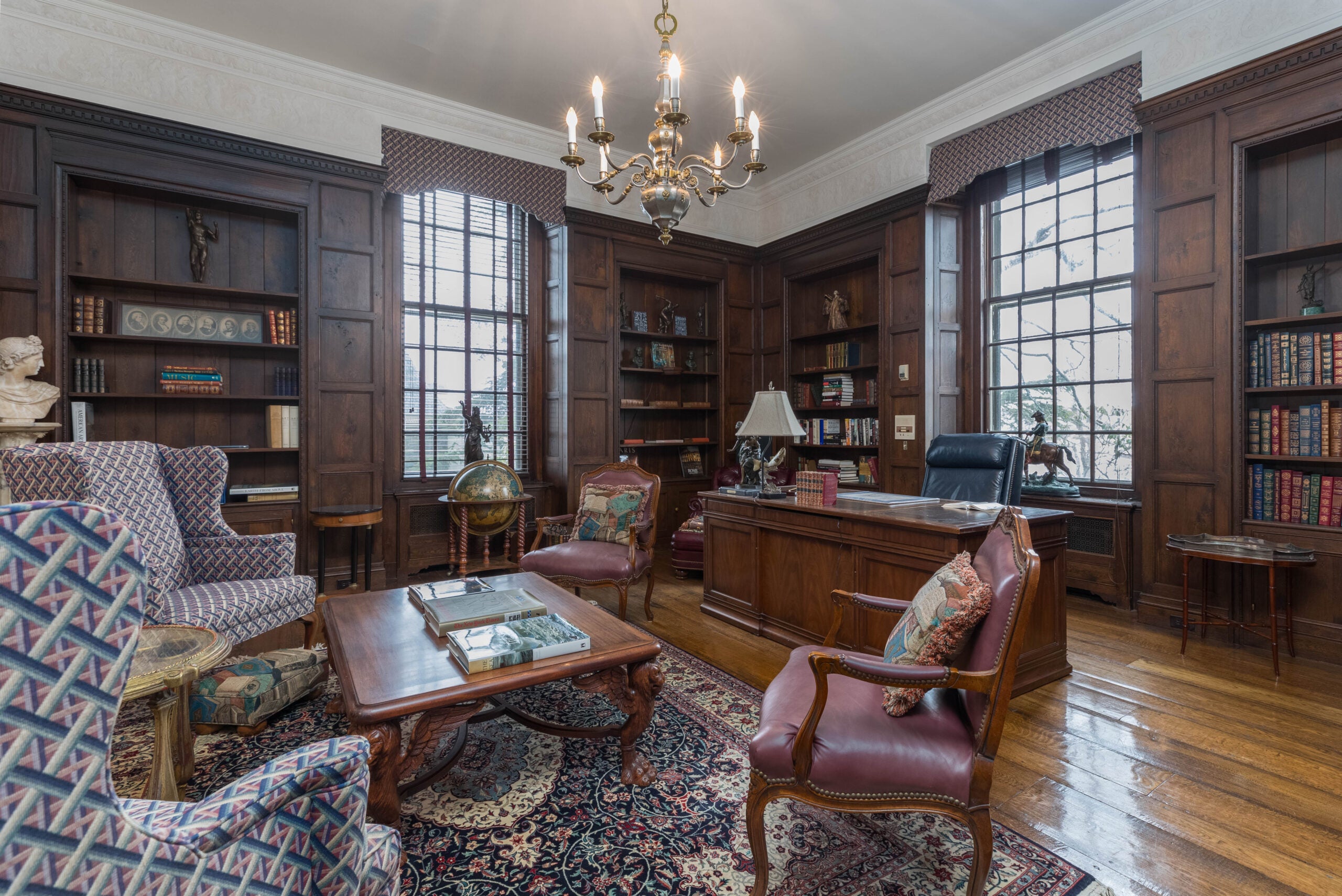 The eat-in kitchen offers a center island, extensive cabinetry, and a fireplace. There's also a breakfast room filled with windows, as well as a formal dining room with a fireplace of its own, an elegant chandelier, and crown molding. A sun room lined with French doors is the perfect spot to enjoy the view and a cup of tea on a cool spring day.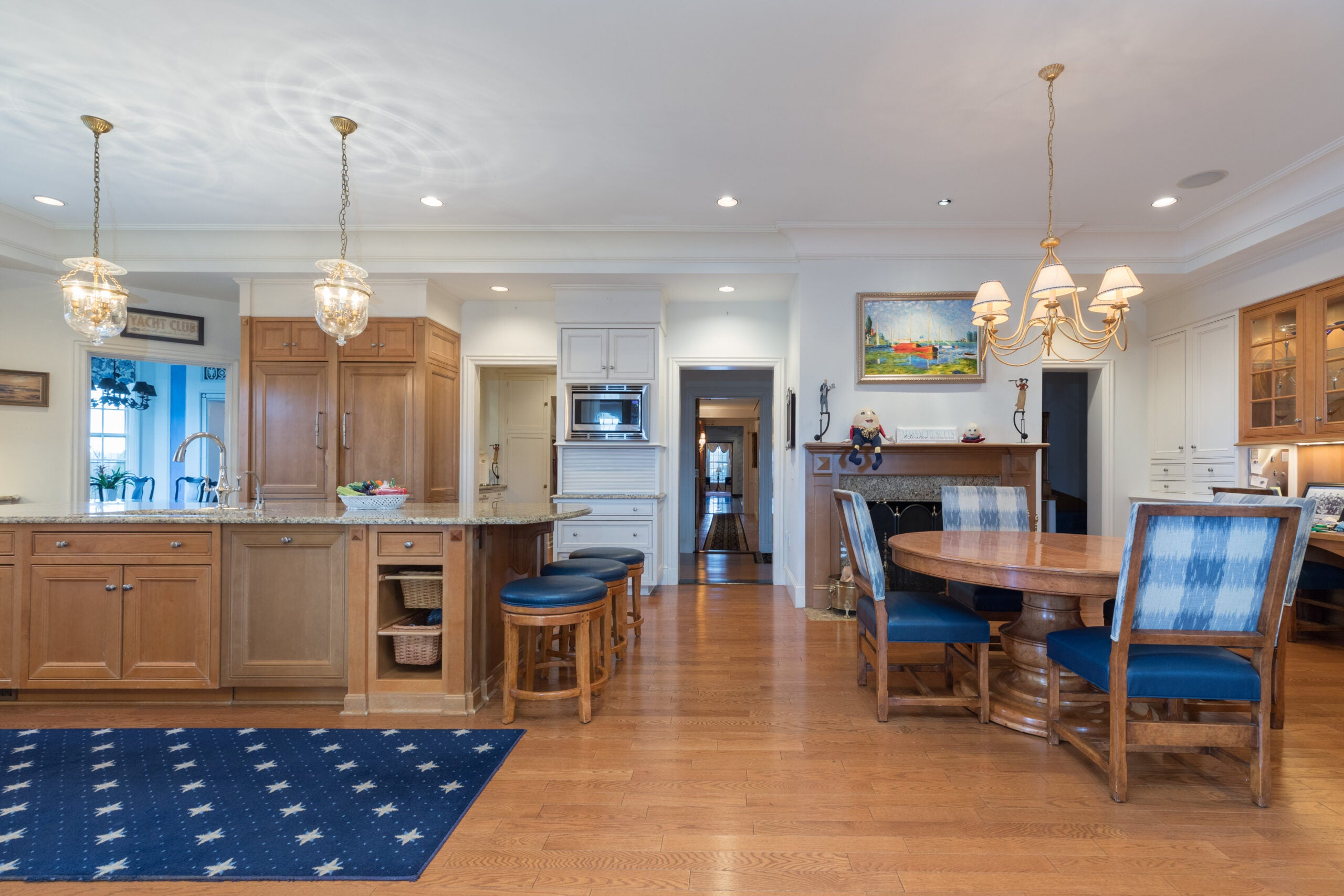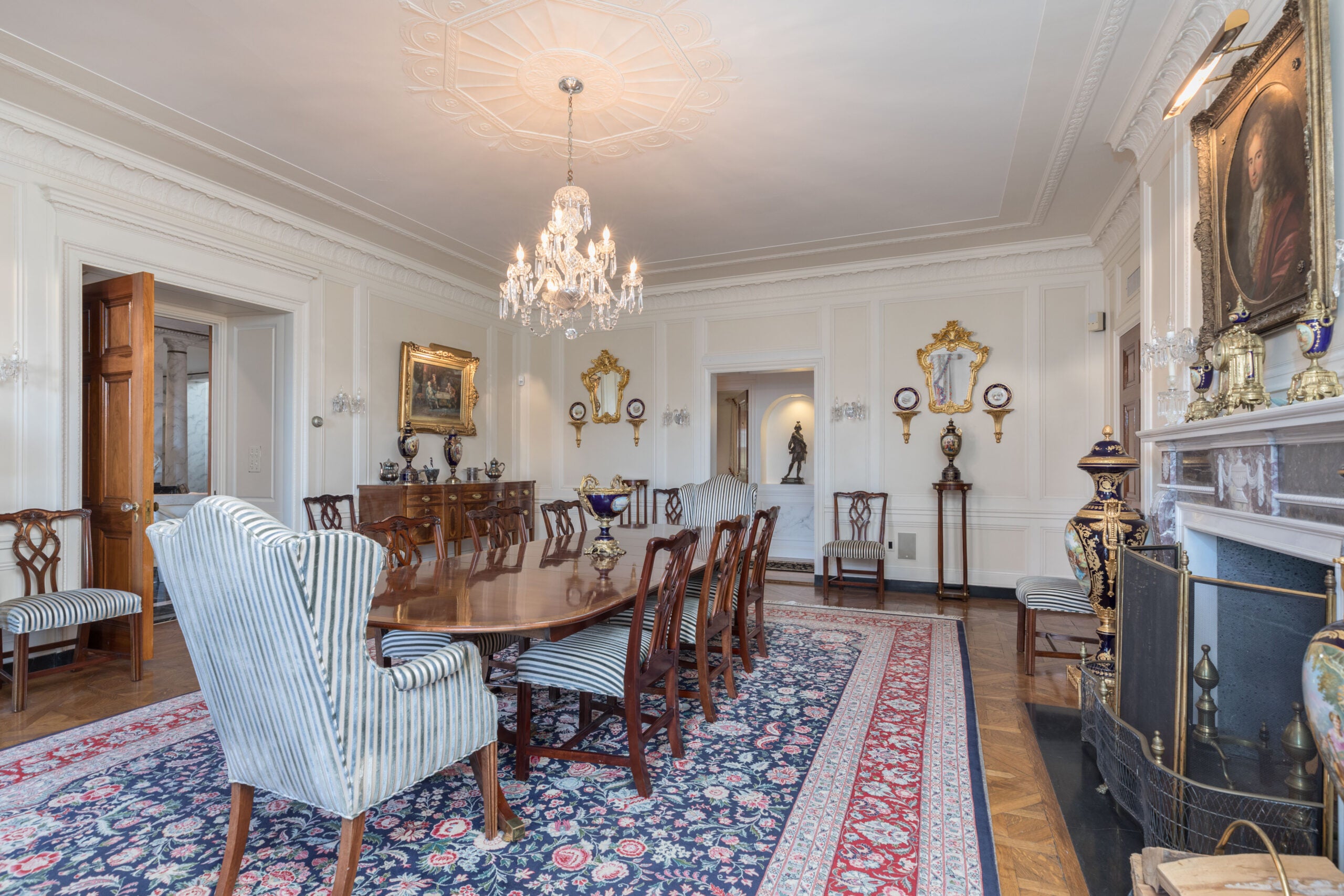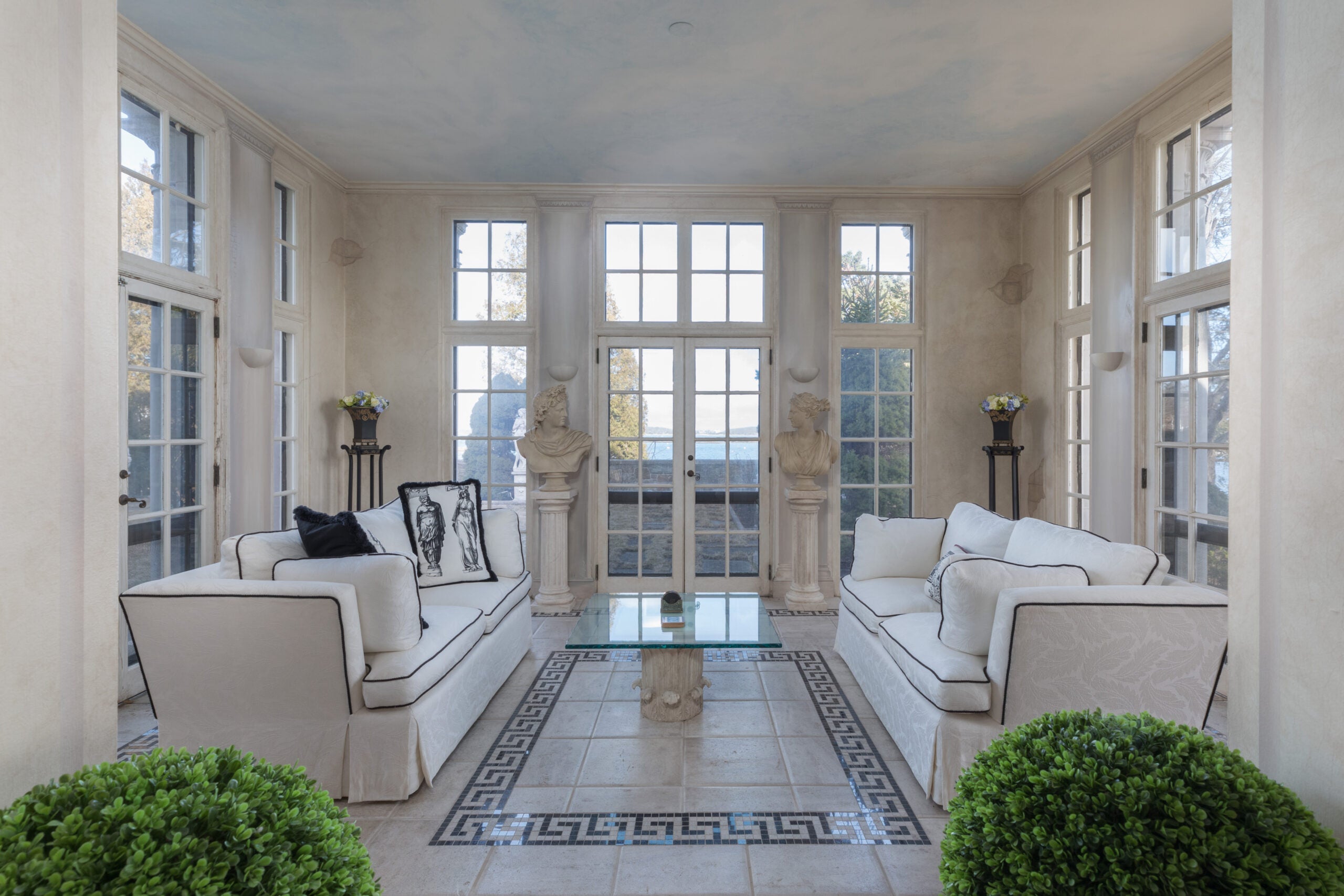 The spacious primary bedroom suite has a fireplace, as well as French doors to a terrace. Its marble bathroom features a deep soaking tub and a walk-in shower.
There's also a deep screening room with a stone fireplace.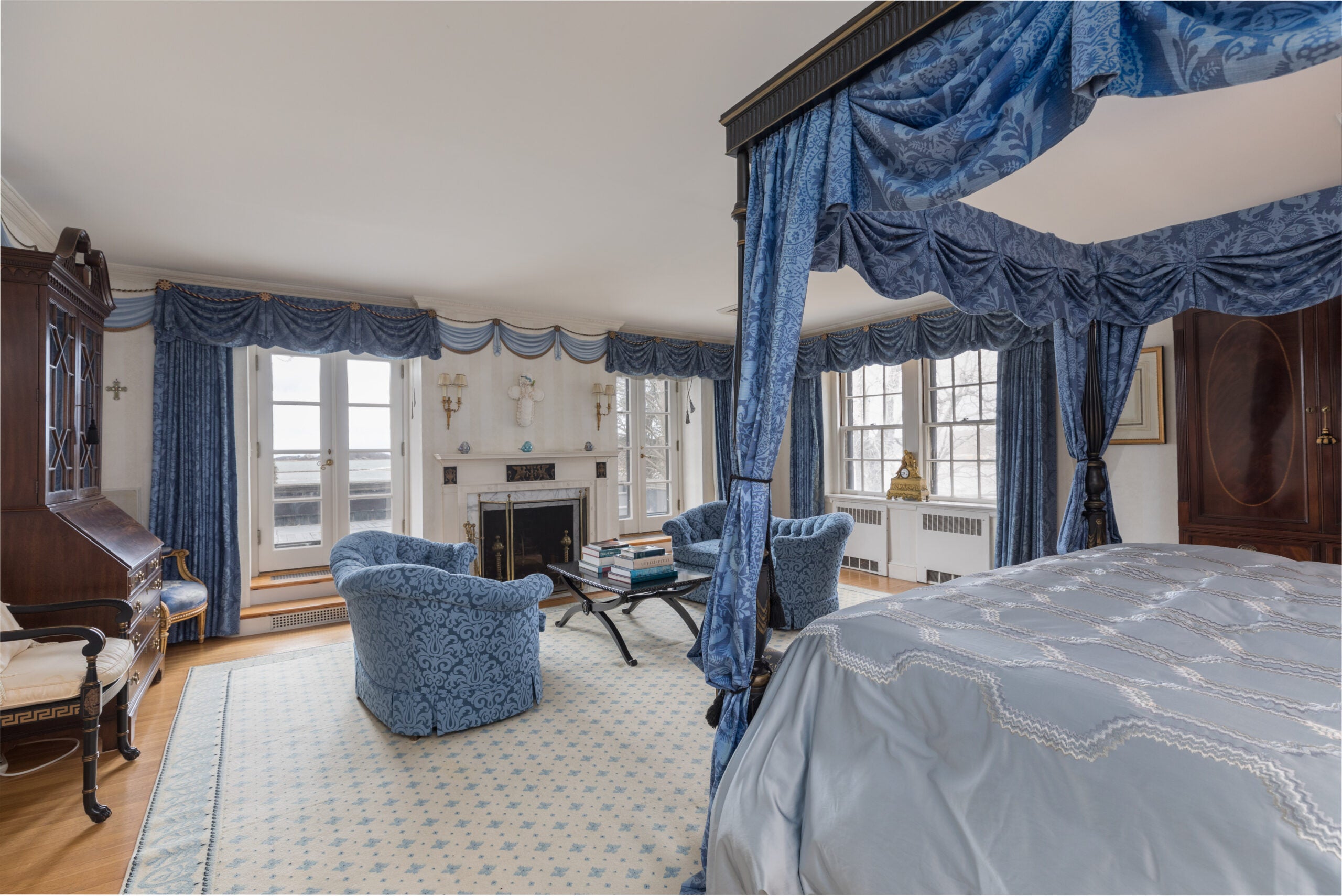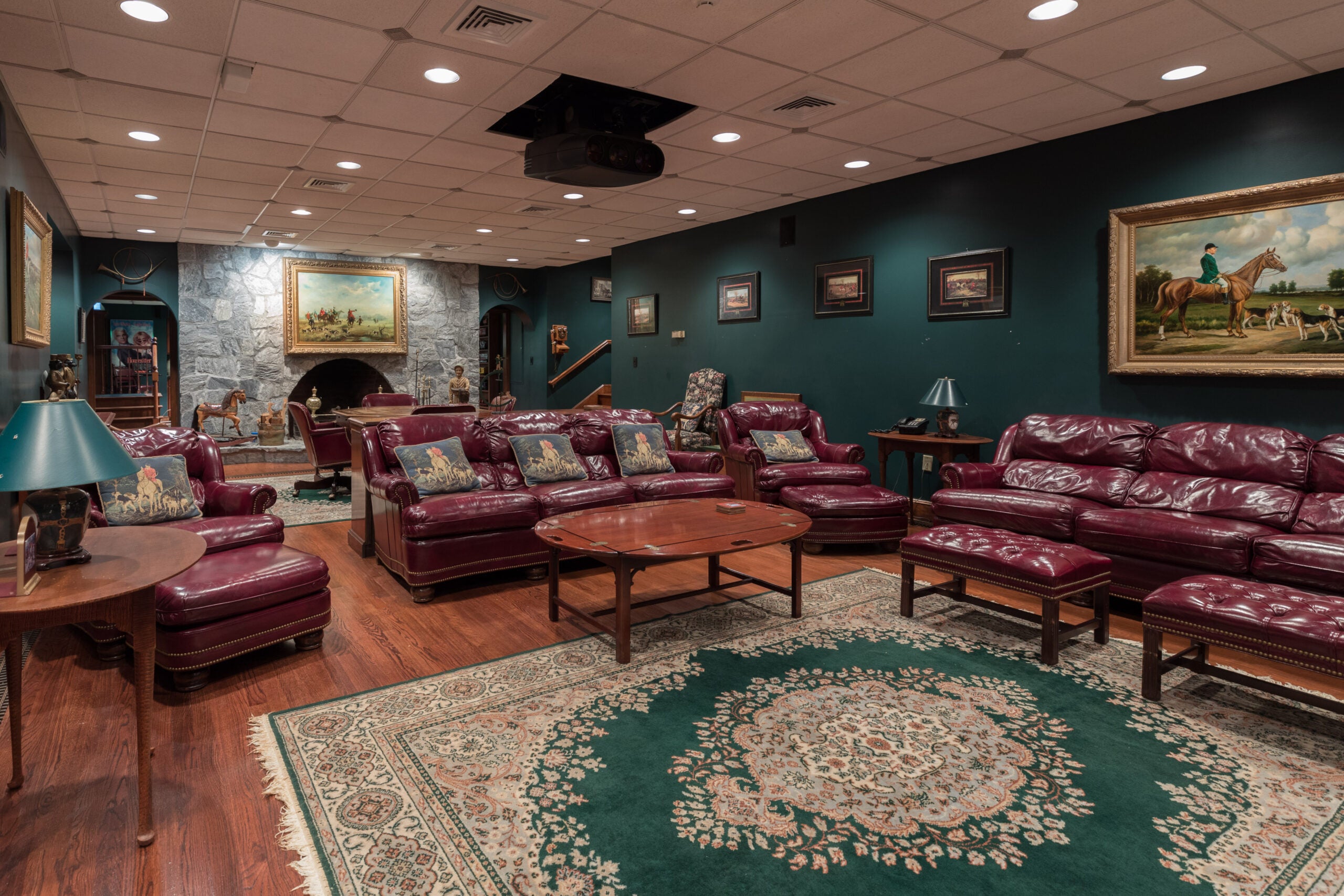 The property's outdoor space makes the most of its 1,800 feet of ocean frontage, which includes a private beach. There are several patio areas ideal for enjoying the ocean view, as well as a tennis court, elegant fountains, a skating pond, and a 112-foot deep-water dock. There's a pool and a pool house with a kitchen, as well as a carriage house with a full bath.
"The Oaks" has shifted on and off the market frequently in recent years. After Cox died in 1982, it served as the corporate headquarters of Yankee Oil Co. but later became a private residence again after a special Town Meeting blocked a proposal to build condominiums, The Patriot Ledger reported. Gerald and Judith Butler currently own the property, but they are unable to travel there as often as they would like and have chosen to sell, according to Roy.
The Butlers, who lived in Las Vegas at the time they purchased the estate from Roy's parents, bought it for $12.5 million in 2018, the Globe reported, noting that the asking price had been $17.5 million. The Roys had purchased the property for $3 million in the late 1980s, the paper reported.
Today, it could potentially be sold furnished to the right buyer.
If the asking price is met, it would be one of the most expensive sales on the South Shore.
Address newsletter
Get the latest news on buying, selling, renting, home design, and more.
The average long-term US mortgage rate has fallen again
The average long-term U.S. mortgage rate fell for the second straight week, which, combined with moderating home prices, could give house hunters a break and the housing market a boost as the spring buying season begins.
Mortgage buyer Freddie Mac reported Thursday that the average on the benchmark 30-year rate fell to 6.42% from 6.6% last week. The average rate a year ago was 4.42%.
Even though financial markets remain jittery over recent bank collapses and the Fed raised its benchmark lending rate by another 25 basis points Wednesday, some economists think there may be light at the end of the tunnel for the downtrodden housing market.
"On the home buyer front, the news is more positive with improved purchase demand and stabilizing home prices," said Sam Khater, Freddie Mac's chief economist. "If mortgage rates continue to slide over the next few weeks, look for a continued rebound during the first weeks of the spring homebuying season."
Last year's big rise in mortgage rates — which can add hundreds of dollars a month in costs for home buyers — chilled the housing market. Before surging 14.5% in February, sales of existing homes had fallen for 12 straight months to the slowest pace in more than a dozen years.
In 2022, existing U.S. home sales fell 17.8% from 2021, the weakest year for home sales since 2014 and the biggest annual decline since the housing crisis began in 2008, the National Association of Realtors reported earlier this year.
But recently there has been some good news for those seeking to move: The national median home price slipped 0.2% from February last year to $363,000, marking the first annual decline in 13 years, according to the NAR.
The average long-term rate hit 7.08% in the fall — a two-decade high — as the Federal Reserve cranked up its key lending rate in a bid to cool the economy and stymie persistent, four-decade high inflation.
In their latest quarterly economic projections, the policymakers forecast that they expect to raise that key rate just once more — from its new level of about 4.9% to 5.1%, the same peak they had projected in December.
While the Fed's rate hikes do impact borrowing rates across the board for businesses and families, rates on 30-year mortgages usually track the moves in the 10-year Treasury yield, which lenders use as a guide to pricing loans. Investor expectations for future inflation, global demand for U.S. Treasurys and what the Federal Reserve does with interest rates can also influence the cost of borrowing for a home.
Treasury yields have fluctuated wildly since the collapse of two mid-size U.S. banks two weeks ago, with the 10-year falling to 3.47% Thursday. The 10-year yield reached 5.07% before the bank collapses, its highest level since 2007.
The rate for a 15-year mortgage, popular with those refinancing their homes, also came down again this week, to 5.68% from 5.9% last week. It was 3.63% one year ago.
Address newsletter
Get the latest news on buying, selling, renting, home design, and more.
6 construction workers dead after vehicle careens into Maryland highway work zone
WOODLAWN, Md. (AP) — New details are emerging about a crash along the Baltimore beltway Wednesday that left six construction workers dead after a driver lost control of her vehicle, which went careening into a work zone, according to Maryland State Police.
Lisa Adrienna Lea, 54, was identified as the driver of a gray Acura headed northbound on Interstate 695 near the Security Boulevard exit when she went to change lanes and struck the front passenger side of a Volkswagen, state police said in a news release late Wednesday. The impact caused her to lose control, and her vehicle ended up traveling between the temporary jersey walls of the construction zone.
Police said Lea was taken to the University of Maryland Medical Center's Shock Trauma Center for treatment of the injuries she sustained in the crash, which closed the beltway for hours in both directions, snarling traffic along the west side of the highway that encircles Baltimore. She was the sole occupant of the Acura.
Emergency personnel responded around 12:40 p.m. to reports of a pedestrian crash on the interstate.
Police said criminal charges are pending the outcome of the investigation and consultation with the Baltimore County State's Attorney.
The driver of the Volkswagen didn't report any injuries. He stopped his vehicle north of the scene, according to police.
Police haven't released the names of the six workers killed pending family notification.
The National Transportation Safety Board, a government agency that investigates transportation accidents, is sending investigators to the scene, officials said in a tweet Thursday.
Baltimore County Executive Johnny Olszewski called the incident horrific.
"We offer our sincere condolences to the families, friends, and loved ones of those who have lost their lives in today's tragic crash," he wrote in a tweet Wednesday afternoon.
Maryland Gov. Wes Moore also tweeted condolences, saying his "heart goes out to the victims and the families affected by the tragic crash on the 695 beltway this afternoon."
Man pleads guilty to abandoning dog in a dangerous spot on a Revere beach
A 27-year-old Revere man arrested two years ago for allegedly chaining his dog to a pole in a dangerous spot on a local beach pleaded guilty to animal cruelty charges Wednesday morning.
And while his previous owner faces punishment, the pit bull mix is now living his best life, climbing mountains and often featured on Instagram.
On Aug. 29, 2021, Elias Pacheco-Rosario abandoned his 50-pound pit bull mix, who he named "Killer," on Short Beach. He chained the dog to a steel rod and attached a rock to his collar to prevent him from escaping, police said.
Officials quickly found Killer and brought him to a local shelter, Oceanview Kennel and Pet Resort, where the dog was eventually adopted and renamed "Horus."
Using several different angles of residential surveillance footage, police then identified Pacheco-Rosario as the suspect and arrested him on Sept. 3, 2021.
"[He] walked away, leaving the dog to the mercy of the next high tide," Massachusetts State Police said when Pacheco-Rosario was first arrested. "Had the dog not been found, he could have become submerged when the tide came in."
Pacheco-Rosario reportedly told police during an interview that he did so because he felt he could no longer keep the dog.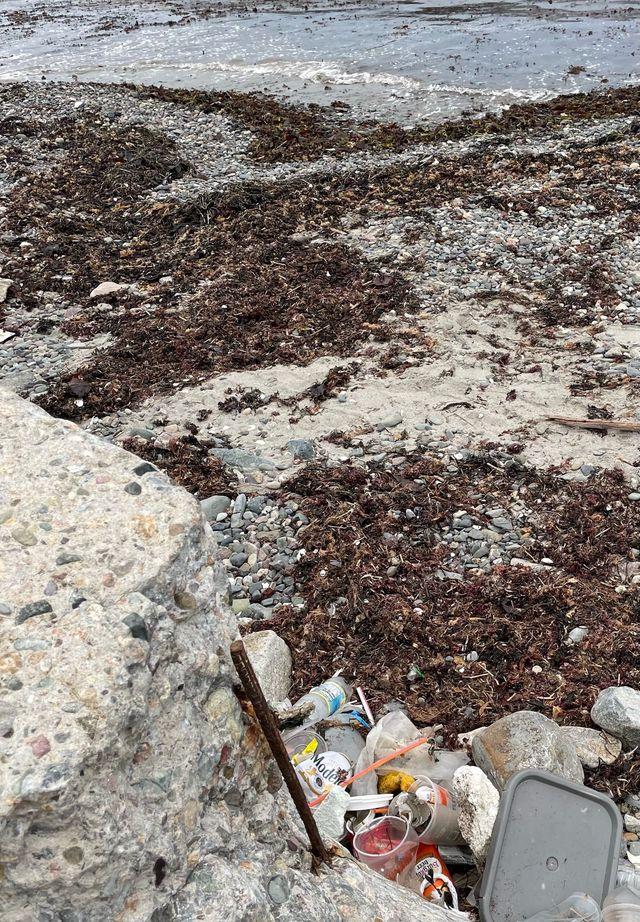 Prosecutors also used the footage in Chelsea District Court on Wednesday, which showed Pacheco-Rosario walking with the metal chain collar and leash that were found with the dog. While the 27-year-old admitted to abandoning the dog, he disputed where exactly the dog was left.
Per his plea agreement, imposed by the district court's judge, Pacheco-Rosario will face two years' probation, have to complete an online animal cruelty course, and is prohibited from owning any pets.
But some feel this punishment is insufficient.
"I am beyond aggravated with the outcome of [the case]." said Lisa Cutting, owner of Oceanview Kennel and Pet Resort. "What did he get? He got a slap on the wrist and lollipop out the door."
Cutting says that once she received Horus, she spent thousands of dollars on medical treatment and trainings, having to essentially "teach him how to be a dog again."
Horus was eventually adopted in December 2021 and can now be seen living a happy life on Instagram, where his current owner, Bobby Shannon, posts photos and videos of Horus climbing mountains and going on walks. Shannon says that he and Horus have climbed over 10 mountains — some over 4,000 feet — and that the pooch is doing better than ever before.
"Everywhere I go with him is a blast," Shannon said. "He's a very smart dog, almost too smart sometimes."
The duo plan to go hiking in a couple weeks, where Shannon expects Horus to "pull [him] right through the whole thing."
"He's got the best dad in the world," Cutting added. "This dog is living what a dog's life should be."
Newsletter Signup
Stay up to date on all the latest news from Boston.com