Chiefs vs. Bengals prediction: our early best bet for the AFC Championship
Will Bengals offense continue to thrive against Chiefs?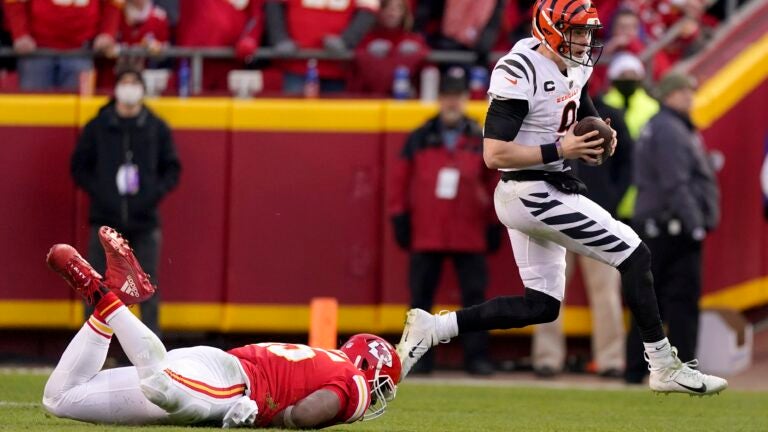 The AFC Championship matchup is set and we're here to outline our early Chiefs vs. Bengals prediction and best bet.
The Bengals reached their second straight AFC Championship after pulling a shock upset of the Buffalo Bills on Sunday as near six-point underdogs. Meanwhile, the Chiefs cruised at home 27-20 over the Jacksonville Jaguars, but saw QB Patrick Mahomes suffer a high ankle sprain in the process.
As it stands, Sunday's game sees the Chiefs enter as one-point favorites, but with -105 juice. The total for the game is set at 47 points, down slightly from 47.5 at opening.
AFC Championship Prediction + Best Bet
Cincinnati Bengals Team Total Over 23.5 Points (-115)
I lean to the full-game total over at this point in the week, but won't fault bettors that want to wait for news on Mahomes to make that bet.
That said, I rate this as a great buy spot on the Bengals offense against a Chiefs defense they've historically dominated. In an earlier meeting this season — albeit at home — Cincinnati put up 27 points against a Chiefs defense that ranked 17th in defense DVOA this past regular season, per footballoutsiders.com.
Additionally, in last year's AFC Championship against the Chiefs, in Kansas City, the Bengals mustered 24 points in regulation before tacking on three more in overtime to reach the Super Bowl.
Entering this third installment of a growing rivalry, Cincinnati ranks fourth overall in offensive DVOA and seventh overall in points per game. Plus, they've cleared this points benchmark in three straight and six of their past nine games.
What's even more encouraging about this Bengals offense is that they've accomplished those feats against defenses that are superior to Kansas City in terms of underlying metrics.
Against the Ravens, a team seventh in defensive DVOA, they managed 24 points, which admittedly was helped largely by a defensive touchdown. But, last week against the Bills, they put up 24 points against a team that's 13 spots ahead of the Chiefs in defensive DVOA.
On the flip side, the Chiefs defense is relatively inexperienced this season against top-tier offenses.
This season, they've played only three games against top-five offensive DVOA sides, allowing all three of those teams to reach 23 points minimum with two of three clearing this benchmark.
Even if you expand the sample to include the whole season, the results for the Kansas City defense are still worrying.
Across all 18 games, Kansas City has let nine opponents clear this total despite facing opposing offenses that average an offensive DVOA rating of 18.2, again per footballoutsiders.com.
Based on all those factors, I'll back the Bengals' team total so long as it remains at 23.5 points and features juice of -120 or less.
This content was created by a Boston.com partner. The editorial department of Boston.com had no role in writing, production, or display. Boston.com may be compensated for publishing this content and/or receive a commission on purchases of products or services described within the post.