49ers vs. Eagles prediction: finding a sweet spot for the NFC Championship bet to make now
Capitalize on the value for the showdown in Philadelphia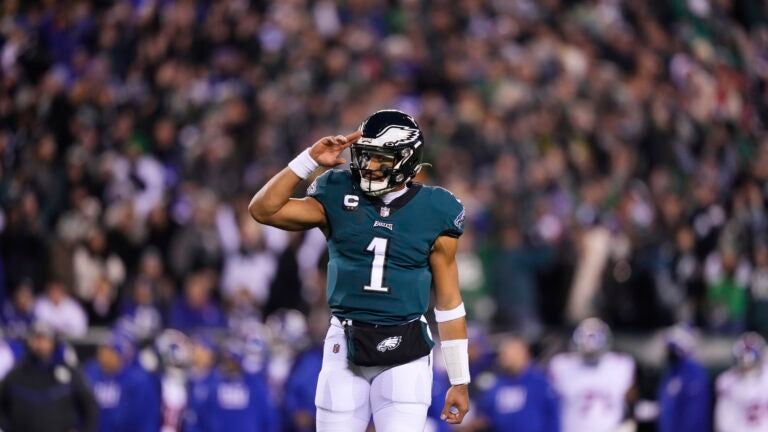 The stage is set for the NFC Championship, and the two top teams in the conference have prevailed. Mr. Irrelevant, Brock Purdy, will lead the 49ers into the City of Brotherly Love to take on Jalen Hurts and the Eagles.
While this is the best possible matchup and is expected to be a tight game, there is some immediate value on the board. Where does the early value lie?
Get all the latest news on Massachusetts sports betting ahead of the spring launch.
After the Eagles easily dispatched of the Giants on Saturday, all of the attention turned to the 49ers on Sunday. San Francisco's divisional matchup was a big step for the offense, as Purdy did enough when it mattered against the best defense he had faced to that point.
However, he will now have to face an even better defensive unit on the road in a rowdy environment. It all starts up front with Philly, as they have a formidable front that finished first in sack rate.
Their secondary has also been very solid, as they rank first in yards per pass allowed and 12th in completion percentage. On top of the matchup, the offense could be hampered.
Star running back Christian McCaffrey appeared to be dealing with a calf injury that limited his availability late in the game and led to him finishing second in carries to teammate Elijah Mitchell.
The Eagles will face their toughest test of the season against the 49ers' defense. However, they have one dynamic that gives them a big edge.
The rushing ability of Hurts will be the X-factor for Philadelphia. We saw how the 49ers were able to bottle up the Cowboys' running backs between the tackles but were unable to contain Dak Prescott.
Prescott ran four times for 22 yards and had an 11-yard rush on a designed play. Hurts averaged nearly three times the number of attempts Prescott had and gained 4.6 yards per carry.
His ability to escape the pocket may also open things up downfield, and the 49ers' secondary has been beaten on multiple occasions. San Francisco ranks 22nd in completion percentage and 19th in passing yards allowed per game.
While the Eagles do have multiple edges in this matchup, the market movement makes now a pivotal time to back them. After opening as 1.5-point favorites, Philly was quickly hammered to 2.5-point favorites.
The current spread of 2.5 is critical to grab now if you want to back Philly, as it lies just under the key number of three.
This content was created by a Boston.com partner. The editorial department of Boston.com had no role in writing, production, or display. Boston.com may be compensated for publishing this content and/or receive a commission on purchases of products or services described within the post.