Super Bowl predictions: The odds are scrambled heading into championship games
Is there no real favorite, or are oddsmakers just waiting?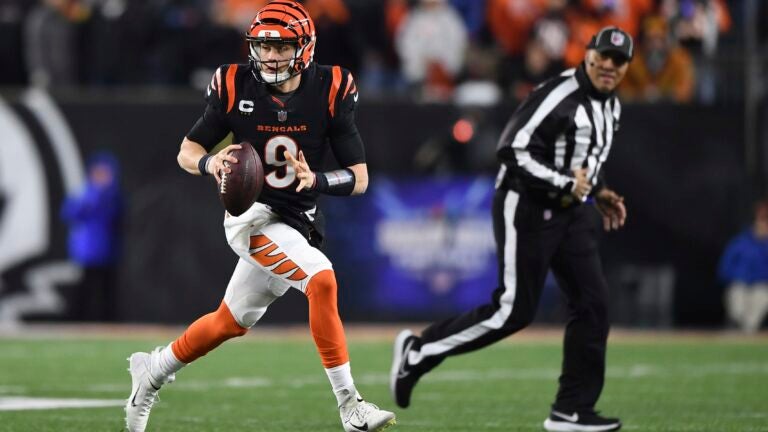 Prior to the divisional round, the Chiefs and Bills stood a clear step above the rest of the pack regarding Super Bowl futures.
Both squads spent the previous week floating around +300 in most markets, while for most part, everybody else wore a price tag of roughly +500 or stooped down to a steep long shot.
However, Buffalo is no longer on the table after falling to Cincy this past Sunday, and now, with Patrick Mahomes clearly hampered by an injury, the Super Bowl betting odds are one big cluster entering with all four remaining teams between +250 and +325 at most shops.
Around this time of year, it's common for oddsmakers to "hold their cards close to the vest." Which makes sense, there's only four teams left on the table, and all four options seem attractive to bettors at a minimum of +250.
So, to an extent, they always want to draw up some type of elaborate numbers scheme to try to avoid tipping their hand in the weeks leading up to the big game.
The way things stand now, though, there's no reason to be shy about who's the Super Bowl favorite. It's the Cincinnati Bengals.
By no means is Cincy a lock to win or anything like that. This is one of the most wide-open fields that we've seen in quite some time, which is properly indicated within betting futures markets at the moment.
The oddsmakers haven't shown any faith in the NFC all year, though. Kansas City and Buffalo remained clear cut Super Bowl favorites regardless of how great the Eagles looked against their weak schedule of opponents, and nothing changed in Philly's 38-7 win over the Giants, either.
So, all of a sudden, following Cincy's rout of one of the oddsmakers' darlings in a road playoff game, and the Chiefs' title hopes dangling by a thread in the aftermath of Mahomes' injury, it appears that books are now using Philly and Kansas City to shield the Bengals in futures markets.
The Bengals are 3-0 in their past three matchups against the Chiefs dating back to last season, and, in a snowy playoff game in Buffalo on Sunday, just stomped the Bills, who were 5.5-point favorites.
Despite suffering a high ankle sprain last week, Mahomes is going to play. So, to an extent, the oddsmakers will probably stick to their guns regarding the line set for Sunday's matchup, especially after opening at Chiefs -3.
And it would make no sense for them to favor Kansas City in this week's contest, yet also favor Cincy to win the Super Bowl.
In my opinion, though, all signs point toward a Bengals victory this Sunday, and I'd expect to see them to be favored over the winner of Eagles vs. 49ers in a neutral field title game.
So, if you like Cincy to win it all, there's still some time to make a valuable investment.
This content was created by a Boston.com partner. The editorial department of Boston.com had no role in writing, production, or display. Boston.com may be compensated for publishing this content and/or receive a commission on purchases of products or services described within the post.