The streaking Bruins, with Stanley Cup in sight, have the attention of the sports-betting world
Boston still has value, but Mass. sportsbooks opening soon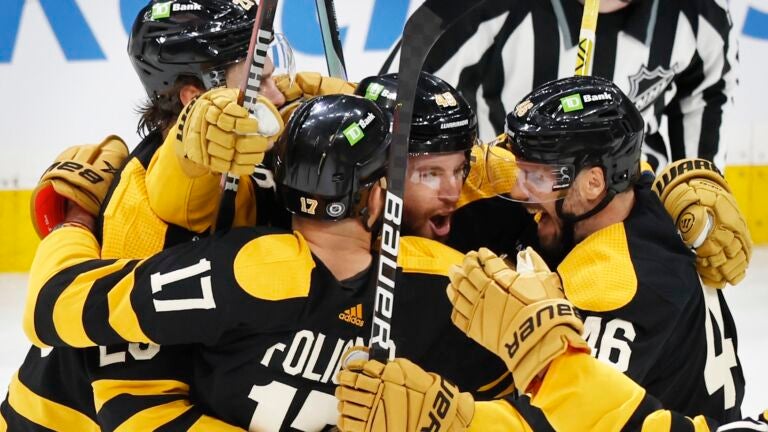 Betting blindly on a hot team isn't really a sound long-term strategy. Some semblance of regression to the mean usually arrives.
But so far this NHL season, that regression hasn't come anywhere near the Boston Bruins. If you're blindly betting the Bruins, then you're making money practically all the time.
BetMGM sports trader Christian Cipollini discusses how Boston's huge season thus far impacts those on both sides of the betting counter, and what the expected Jan. 31 launch of retail sports betting in Massachusetts will bring to the table.
Cold cash
The Bruins are 36-5-4. So across 45 games, more than half the season, Boston has lost in regulation just five times and has an incredible .844 win percentage.
With 74 points, the Bruins are 12 points clear of any other team in the NHL.
However, BetMGM hasn't seen a massive uptick in Bruins bets.
"Surprisingly enough, I don't think it's really hit our bettors just how good Boston has been this season," Cipollini said, alluding to the 2021-22 Stanley Cup champs.
"We certainly see more action, but not as much as we saw on the Avalanche last season. We take more Bruins money now, for sure, but a lot of that is due to them being a favorite almost every night. We'll get a lot of bettors blindly backing any favorite."
So even though Boston might deserve such blind allegiance, game-to-game betting hasn't necessarily caught up with the Bruins' success. Something to keep in mind, though, is that because the Bruins are having a great year — far better than anticipated by oddsmakers preseason — Boston's odds for each game are at a premium, especially against the NHL's lesser lights.
For example, in the Jan. 16 home game against the Philadelphia Flyers, a 6-0 Bruins victory, Boston was a hefty -300 favorite on the moneyline.
That means it would take a $300 bet to win $100. It's a heavy lift, and one you might want to consider before backing the B's every night out.
Stanley Cup favorite
Thanks to its stellar run, Boston now finds itself atop BetMGM's Stanley Cup odds board. When this market first went up over the summer, the Bruins were +2500 (25/1), so a $100 bet had the potential to become a $2,500 win.
By early November, Boston's odds had already been sliced to +750.
Now, Boston is the +550 favorite to win the Cup. And yet, BetMGM hasn't seen a flood of championship activity on the Bruins at any point along the way.
"I'm stunned that we're not taking more action on the Bruins. They're about our fifth-most-bet-on team," Cipollini said. "I don't think the public has really grasped what a historical season they are currently putting on.
"They've lost five games in regulation through 45. A team is going to have to beat them four times in seven games. You would think the Bruins would be by far our most-bet team, but it hasn't been that way."
In fact, BetMGM would be OK with the Bruins going the distance and lifting the Stanley Cup.
"Not a bad outcome at the moment," Cipollini said. "We're still a long way from the playoffs, in which I'd imagine this starts to change."
But there's one more key component that will bring change much sooner than the playoffs.
Massachusetts Sports Betting Goes Live
On Jan. 31, legal retail sports betting is set to launch in the Bay State. With Boston being the sports-mad town that it is, there will most definitely be a lot more betting tickets and dollars going to the hometown Bruins.
BetMGM has seen it plenty of times before over the past 4.5 years, often in much less populous states with less frenetic sports fans. So Cipollini said his sportsbook is bracing for Boston.
"This is where I expect the change to come. In new states, we always take a flurry of bets on the hometown team," he said.
"Kansas launched at the beginning of the college football season, and we started taking all these Kansas and Kansas State bets. Then they both go on an early-season run."
Boston's run has been in progress for 3.5 months. Beantown bettors are likely eager to get in on the action.
"The Bruins are a good outcome now (in Stanley Cup betting), but I'd imagine by early February, they are no longer a good outcome," Cipollini said.
This content was created by a Boston.com partner. The editorial department of Boston.com had no role in writing, production, or display. Boston.com may be compensated for publishing this content and/or receive a commission on purchases of products or services described within the post.