Rangers vs. Maple Leafs prediction: best bet for Wednesday's marquee NHL game
Shesterkin, Matthews set to battle in national-TV duel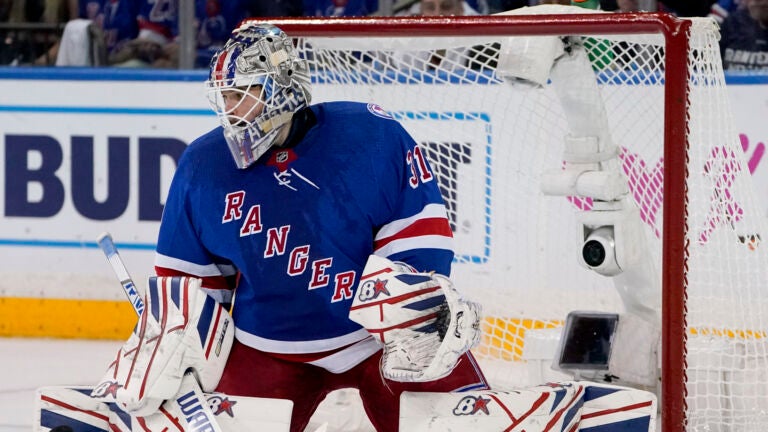 New York and Toronto are still lagging behind Boston, Carolina and New Jersey in the NHL Eastern Conference standings, so our Rangers vs. Maple Leafs predictions are as important as ever.
Both the Rangers and Maple Leafs are in the thick of the playoff race, and both boast All-Star talent. New York has goaltender Igor Shesterkin, who will attempt to stop pucks from the ever-dominant Auston Matthews.
It's not the highest-profile matchup this season, but this is a must-watch professional hockey game. It's also worth a wager.
Ohio sports betting is live! Check out the best Ohio sports betting sites here.
Rangers Maple Leafs odds
Moneyline: Rangers (+135) vs. Maple Leafs (-160)
Spread: Rangers +1.5 (-190) vs. Maple Leafs (+158)
Total: Over 6 (+100) | Under 6 (-120)
Rangers Maple Leafs prediction
Under 6 (-120) at Caesars Sportsbook
Toronto controls the puck well. The Leafs have one of the highest shot differentials in the NHL (+149) because they play a possessive style and keep the puck in offensive zone.
However, I see two issues with Toronto's style of play in this matchup.
First, Toronto hasn't been the most potent offense despite the opportunities. The Leafs are sixth in the East in scoring this season and ninth overall in goals per game.
Second, the Leafs have the most difficult matchup in hockey Wednesday night. While Shesterkin is having a down year, it's only because he's set the bar so high.
The Russian goalie is seventh in the NHL in Goals Saved Above Expected and allows under 2.5 goals per game. Don't be fooled because his numbers haven't been all world, Shesterkin is still the standard for goaltending.
Shesterkin has had help, however. The Rangers boast a top-10 defense that gets ahead of most shots.
That said, the Rangers need that defense to cover up an offense that's 21st in the NHL in goals scored and 24th in Expected Goals For, per Money Puck. So, the Rangers rely on Shesterkin and the defense night in and night out.
Ultimately, I expect the Leafs to produce long possessions in the offensive zone, but I don't expect them to capitalize on Shesterkin from the interior.
Conversely, the Rangers will happily play elite defense, but I don't expect them to create many high-danger chances against an above-average defense (Toronto is 12th in Expected Goals Against).
So, I predict a very low-scoring affair in this game, and I'll be betting the under 6 (-110) available at Caesars Sportsbook.
Three of the past four matchups between the Rangers and Leafs went under, and I'm willing to bet it will happen one more time.
This content was created by a Boston.com partner. The editorial department of Boston.com had no role in writing, production, or display. Boston.com may be compensated for publishing this content and/or receive a commission on purchases of products or services described within the post.