Ohio sports betting: Sports betting kiosks to be introduced across state
These electronic machines are the first of their kind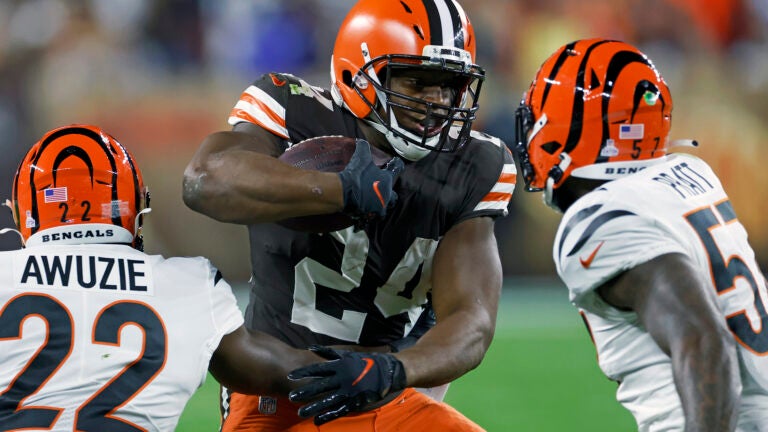 Ohio sports betting is set to launch on Jan. 1, 2023. As of the new year, those of legal age can place legal sports wagers in the state.
Ohio residents are ecstatic to wager on their local teams, including the Bengals, Browns, Buckeyes and Cavaliers. Residents will have access to both online and retail sportsbooks, with the largest array of gambling markets available.
The launch will include the biggest names in the industry, such as FanDuel, BetMGM and Caesars.
Check out Jay Dieffenbach's ranking of the top online sportsbooks.
The most interesting part of the launch is the newly introduced Type C sports betting license. The license allows local businesses to install and operate physical, electronic betting machines in their establishments called kiosks.
How will they work? Where can you find them?
Learn more about Ohio Sports Betting's legalization and launch here.
About Ohio Sports Betting Kiosks
According to Play Ohio, "Kiosks are electronic machines that Ohio residents can use to bet on sports … (working) similarly to the state's electronic lottery ticket machines."
Every type of small business imaginable will be eligible for a Type C license. So, you'll find sports betting kiosks at your local bar, grocery store, gas station, etc.
Per Play Ohio, the Ohio Lottery has pre-approved over 1,450 businesses to host kiosks, and the Ohio Casino Control Commission has approved 884.
Some real-life examples of kiosk-approved establishments include:
Winking Lizard Tavern in Akron
The Kroger CO #878 in Bowling Green
Second Street Saloon in Cincinnati
GAS USA in Cleveland
How do Ohio sports-betting kiosks work?
These electronic machines allow you to select sports-betting markets and place wagers directly at the machine. It's like self-checkout for sports gambling, using an electronic monitor to choose your wager while placing cash directly into the machine and having a physical ticket returned.
According to Play Ohio, sports-betting kiosks can take spread wagers, over-under wagers, moneyline wagers and two-to-four leg parlays. Unfortunately, proposition and in-game wagers are not permitted on kiosks and will be limited to online and physical sportsbooks.
If your wager wins, you can cash out the ticket at either the business you placed the bet or any Ohio Lottery retailer that pays out winning tickets, according to Play Ohio.
However, it's important to note that each Ohio bettor is limited to $700 weekly across all Ohio sports betting kiosks.
Advantages of Ohio sports-betting kiosks
The Type C license and sports betting kiosk market is the first of its kind. Other states have sports-betting kiosks but are limited to retail casinos and sportsbooks.
Ohio sports-betting kiosks will be the most accessible wagering option in the state. Not everyone lives near a casino or wants to use the FanDuel or BetMGM sports-betting app.
Now, Ohio residents can drive to one of their local establishments and easily make their wagers in person while having accessible in-person cash-out options.
This content was created by a Boston.com partner. The editorial department of Boston.com had no role in writing, production, or display. Boston.com may be compensated for publishing this content and/or receive a commission on purchases of products or services described within the post.