Car Culture
Travelers find Massachusetts' doors locked
Budget crunch shuts state's rest stops at night.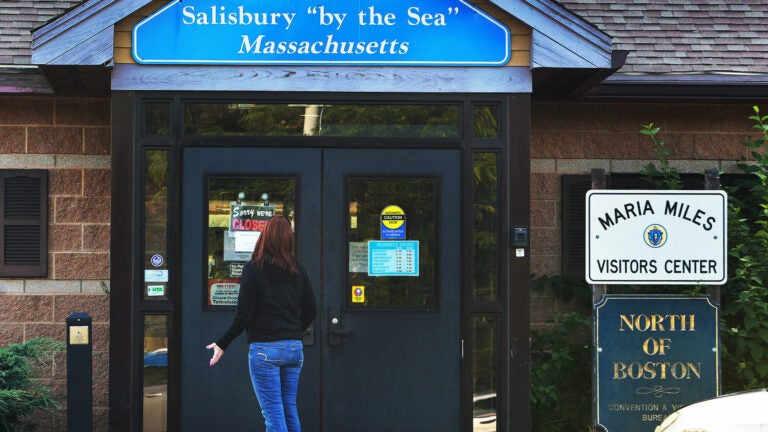 SALISBURY — Mike Generelli of Hull was a man on a mission when he pulled into a state-owned visitors center off Interstate 95 one evening this week. He had to use the bathroom, and he had to use it now.
Generelli tugged at the door to the rest stop, just south of the New Hampshire line. No luck. He hustled to the rear of the building and glanced from side to side. No back entrance, no portable toilets. No good options.
So, Generelli did what he needed to do. He jogged toward a bush and took care of business.
Welcome to Massachusetts — where rest stops don't compare well with to those of neighboring states.
Just a half-mile to the north of Salisbury, visitors to New Hampshire are greeted by a spacious, nicely landscaped complex that is staffed around the clock. The same is true at Maine's state information center just across the border in Kittery.
The first impression is decidedly different in Salisbury. Night after night, unsuspecting motorists scramble for relief at the Maria Miles Visitors Center, only to discover that it is closed. The center is open from 9 a.m. to 5 p.m. and has struggled to stay open that long.
It's a problem affecting rest areas across the country, as budget constraints push states to curtail hours or close sites that have long offered motorists a chance to use the bathroom and stretch their legs without divertingfar off the highway.
At Salisbury, what had been a challenging situation has gotten worse. Earlier this year, Governor Charlie Baker vetoed a $200,000 supplemental budget request to bolster 11 visitor centers in Massachusetts, including Maria Miles, which is managed by a private nonprofit organization.
The North of Boston Convention & Visitors Bureau struggled financially to maintain the current hours at Salisbury, said Ann Marie Casey, the group's executive director. That schedule already had pared back from traditional hours of 7 a.m. to 7 p.m. from Memorial Day through Labor Day.
"This is absolutely not my mission, and it's very disappointing to me,'' Casey said.
For visitors, who receive no warning about the 5 p.m. closing, the idea of a rest stop with banker's hours is none too welcoming.
"This is absolutely [expletive] crazy,'' Generelli said when he returned to his car from the bushes. "I mean, if you can't keep a rest stop open . . . ''
The cost to Massachusetts for the rest stop is $65,000 for utilities and cleaning costs, which are picked up by the Department of Transportation. The North of Boston organization spends another $100,000 to operate it. The state provided the organization with a $341,000 marketing grant this fiscal year, but Casey said the organization does not use those funds to run the center.
By contrast, New Hampshire spent $325,000 last fiscal year to run the Seabrook facility, where nearly 1 million people walked through the doors.
"People want a clean facility, and they want safety,'' said Kim Moennsad, who has worked at the New Hampshire Welcome Center in Seabrook for 14 years. "A lot of older people are afraid to get off the highway. Here, they can rest for a few hours and not get into an accident.''
Meonnsad, whose shift runs from 4 p.m. to midnight, said the state takes pride in having a welcoming facility. She is very familiar with the Salisbury rest area, where she stops each day to change into her work outfit after leaving a second job in Portsmouth, N.H.
"Everybody's nice over there,'' Moennsad said.
Twenty miles to the north, Maine served 281,000 visitors last year at its rest stop on Interstate 95 in Kittery.
"We want to have people enter our state and welcome them with open arms,'' said Ted Talbot, spokesman for the state Department of Transportation, which runs the center.
In Salisbury, 5 p.m. brings another kind of welcome: "Sorry, we're closed.'' A sign directs travelers to a nearby Dunkin' Donuts or Mobil gas station. Just follow Exit 60 to the first light, the sign reads.
Apparently, no one told the staff at Dunkin' Donuts. The shift manager, Lisa Moriarty, said she had no idea the rest area was steering people her way. It does explain a lot, Moriarty said, because more and more people have been using the restrooms at night.
Looking to save money, other states have scaled back their rest areas, a term that generally means a no-glitz stop that is smaller than service plazas that offer gasoline, food, and other amenities. Those larger service plazas are oftenpublic-private partnerships that funnel revenue to the state.
As a result, service plazas have generally improved, while many rest areas have been left to languish. In fiscal 2016, Massachusetts legislators allocated $400,000, which can be used to expand hours, to Maria Miles and the 10 other visitor information centers. But in the fiscal year that ended June 30, none was provided.
No money will be available for this fiscal year, either, unless lawmakers override Baker's veto after Labor Day. Even if they do, peak vacation season will have passed.
State Senator Adam Hinds of Pittsfield, joint chairman of the Legislature's committee on tourism, arts and cultural development, said the veto was a missed opportunity.
"We view these as a critical aspect of how we advertise the Commonwealth,'' Hinds said. "It's about setting a tone for being welcoming.''
State Senator Kathleen O'Connor Ives of Newburyport has pushed for more funding without success.
"People don't always travel 9 to 5, and they need to use the facilities in morning hours and evening hours,'' O'Connor Ives said.
Massachusetts officials said they did not have a figure available for total state spending on visitor centers and service plazas. New Hampshire spent $3.1 million last fiscal year on its highway rest areas, and Maine spent $1.1 million.
Connecticut does not provide specific funding for its seven rest areas, while about $200 million in private money has been used to upgrade its 23 service plazas. The decision two years ago to withdraw support for the rest areas caused an uproar, which prompted the state's transportation department to scrimp elsewhere in its budget to field one shift a day, said Kevin Nursick, an agency spokesman.
"We're going to do everything we can to keep that one shift in place,'' he said. "After that, you're basically looking at closure.''
In Salisbury, that's what you get after 5 p.m. Kim Dennis of Saco, Maine, frowned as she pulled on the locked door.
"I thought, well, I'll see if I can use the bathroom,'' said Dennis, who was not about to use the woods. "I'll have to hold it.''
"It's all you basically can do," her husband, Mark, added. "From a tourist standpoint, it shows that Massachusetts is not very friendly.''