Car Culture
Can't afford to buy a $3 million Ferrari Enzo? Lease one instead.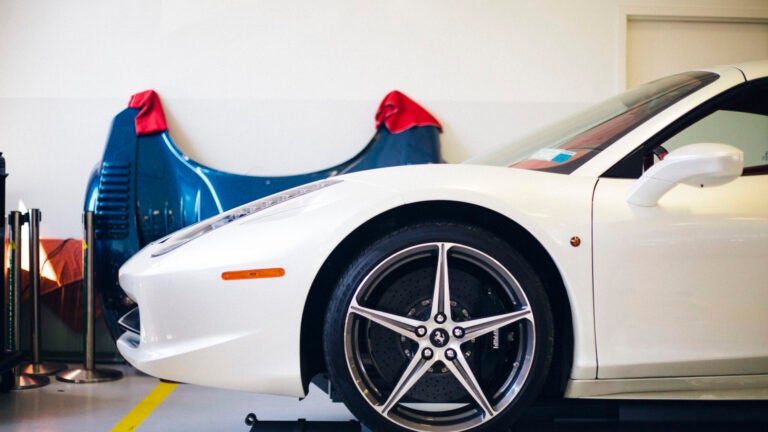 As a boy, Bill Ceno dreamed of owning a Porsche. His parents bought him model cars. He obsessed over the 1960s cartoon "Speed Racer." And in his spare time, he drew pictures of sports cars.
By age 24, he had bought the real thing: a 1978 Porsche 930 Turbo. It was 1985, and he drove the car every day. When he was named employee of the month at the engineering firm where he worked, he parked it next to the chief executive's spot.
"He only had a Lexus, and I had a Porsche 930 Turbo," he said. "That was awesome."
But as his interest in collectible supercars — so called because they are the fastest of the fast — outpaced his capacity to pay for them, Ceno found a way to have his dream cars: He leased them, even though they cost hundreds of thousands of dollars, and sometimes millions.
Leasing a collectible or high-performance car is a wholly different experience from leasing a Honda or a Lexus like that chief executive drove. It's a highly customized process, with negotiable terms. And it is increasingly common in a rarefied world where want trumps need.
Unlike typical cars, which decrease in value as soon as they are driven off the lot, supercars often increase in value. The downside is they can increase so much, they become too valuable to drive.
The first luxury sports car Ceno leased was a yellow 2004 Porsche Carrera GT. It cost $360,000 in 2008. He said he had leased it because he could not afford to buy it.
Shortly after, he found a 2004 Ferrari Enzo that he coveted, but the car, which had been owned by actor Nicolas Cage, cost about $1 million. Ceno said he had put $100,000 down and put the rest on the lease.
"The payments were probably close to $10,000 a month," he said. "It was painful."
Today, the Porsche has doubled in value. And that Ferrari Enzo can fetch upward of $3 million.
Putnam Leasing in Greenwich, Connecticut, specializes in leasing exotic cars like the ones Ceno collects.
"You're not going to come to me to lease a Ford," said Steven Posner, Putnam's chief executive. He said a client of his had bought a sleek, convertible 1958 BMW 507 for $2.75 million at the Gooding & Co. auction in Pebble Beach, California, last weekend.
"You definitely can't lease that through BMW Financial," Posner said. "And if you go to the bank, no one is giving you a loan like that on a 1958 car."
He said a typical lease from his company for a car like that would be five years, with $1 million down and monthly payments of about $20,000.
Other than a monthly payment equal to the total cost of many new cars, one big difference between customized leases and manufacturers' leases is what happens to the car at the end of the lease.
Most car companies offer closed-end leases. At the end of the term, typically 36 months, the lessee brings the car back and can pay the residual to own it or lease a newer model. The lessee can also decide to switch car manufacturers and pay what is called a disposition fee — typically several hundred dollars for essentially going to another brand.
Putnam and other exotic-car leasing companies offer open-ended leases. This allows the lessee to end a lease early or extend it a few years. But it also means that the lessee is ultimately responsible for buying the car at the end of the lease, whether the car is worth more or less than the residual amount.
People lease exotic and collectible cars for various reasons. Some do it for the cachet, while others do it simply to get to and from work.
And there are tax benefits. Business owners who lease a car for work can make the payments with pretax dollars and write it off as an expense to the business.
In states with a high sales tax, like California, leasing allows people to defer the tax. If they were to buy or finance the car, they would have to pay the sales tax all at once, instead of monthly.
And, of course, car enthusiasts can get more car now if they extend the payments until later.
Ceno, who is an engineer and owns a web design company, said he did not buy his cars to sell them. He uses the lease as leverage. And in most cases, he saves up the money to buy the car before the lease expires.
In the case of his Ferrari Enzo, he said, he paid about $200,000 in lease payments. "Some people say, 'You could have saved $200,000 by buying it outright,'" he said. "But I didn't have the cash. The lease allowed me to have the car."
Today, Ceno has a collection of exotic cars worth millions of dollars and far more than the hundreds of thousands the cars initially cost.
But few advisers would suggest using a lease to speculate on car appreciation.
Jakob Greisen, vice president and head of the U.S. motoring department at Bonhams, which held an auction in Carmel, California, last weekend, said the top end was performing well. At its auction, Bonhams sold a 1995 McLaren F1 for $15.62 million, a record price for the vehicle, the fastest mass-produced car approved for road use. It cost less than $1 million new.
Cars in the middle — say, well-known Mercedes-Benz models that do not have the original engine or are missing certain details — are tougher to sell because collectors want only cars in mint condition. Cars valued at less than $100,000 sell well, Greisen said, but they appeal to people who often want to own a car they remember from their childhood.
Tyler Winslow, a collector who owns a Mercedes repair shop in Cincinnati, has three cars that he purchased with a mix of leases, finances and cash. He said that if he bought a car to fix up and sell quickly, he paid cash.
He leases his 1978 Ferrari 308 GTB — a car similar to the one Tom Selleck drove in "Magnum, P.I." It cost $115,000 when he leased it. He said he had spent an additional $15,000 on repairs and upgrades and felt that it was still worth about that. Plus, he drives it to work, which adds value for him.
Some people use leases to switch cars frequently. Steven Reed, a business manager for professional athletes, said his clients often wanted the latest model and traded up whenever a new version is released.
"It's a cash management tool," Reed said, "except these guys like a lot of cars."
Richard Koppelman, president of Miller Motorcars, which sells exotic brands like Bugatti, Pagani, Aston Martin and Rolls-Royce in Greenwich, Connecticut, said a common misunderstanding about leases for exotic cars was that a sign-and-drive program was available. His clients put down substantial amounts of money before they take a car home.
Posner said a typical five-year lease on a 2017 Pagani Huayra, which costs $2.8 million, would require $1.5 million down. The monthly payments would be $17,500.
David Gooding, president of the auction house Gooding & Co., said people were often surprised to hear that such expensive cars were leased.
"What people don't recognize is, we have extremely wealthy clients who have their money invested in various areas, and it isn't always liquid," Gooding said. "They may be looking at a $5 million car and have $1 million in their bank account and need to temporarily finance the balance. Or they may get a greater yield putting money in various investments."
However people acquire these cars, they do not drive them as much as a regular leased car.
Ceno keeps his collection in a 20-car garage underneath his home in San Diego. "I go down at midnight before I go to bed and say these are the best of the best," he said. "I can't believe I have these cars here."
But having such a collection, leased or owned, is not as carefree as it should be. "My Enzo is $3 million," he said. "Now I say, do I really want to drive a $3 million car down the road?"
It's a conundrum for sure, but one many enthusiasts would love to have.