Car Culture
How Lincoln Motor Co. designs the exterior of luxury cars
A Q&A with Earl Lucas, the chief exterior designer at Lincoln Motor Co.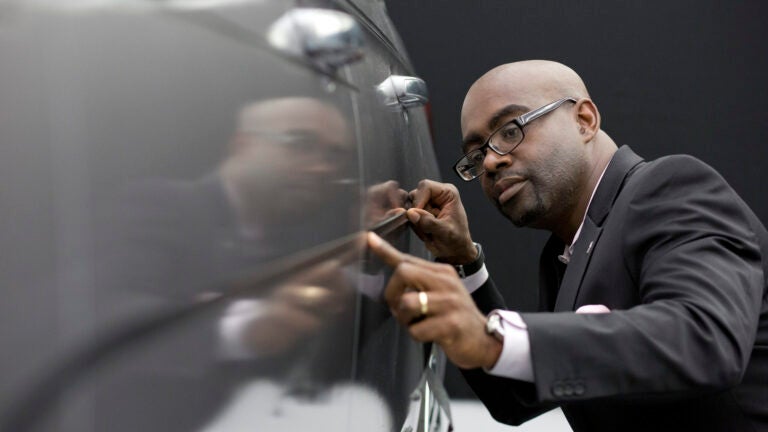 Earl Lucas, 47, is the chief exterior designer at Lincoln Motor Co., in Dearborn, Michigan.
Q: What is your day-to-day like?
A: It's different every day. I interface with multiple disciplines, whether it be packaging, engineering, marketing or public relations. Some days I am at my computer designing digitally. Then I might be in our studio seeing that image converted to a clay model, and later as a fiberglass version of it. Another day I go to our wind tunnel, where we test aerodynamics to make sure we have the right drag count to get the best fuel economy for our product.
Q: Did you always want to be an automobile designer?
A: I always knew I wanted to do something with design. I studied industrial design focusing on jewelry — rings, pendants and earrings — for two years at the College of Creative Studies in Detroit. The college also happened to have an outstanding automobile design curriculum. After taking one class in that program, I was hooked. It turns out the principles of designing a ring are the same as designing a car.
Q: What or who were your early design influences?
A: I would have to start with my mother, Vessie Lucas, who is an interior decorator. She taught me to think abstractly — of what could be — at an early age. I read a lot of comics, like "The Mighty Thor" and "Spider-Man." I also watched cartoons such as "Speed Racer," "Battle of the Planets" and "Star Blazers." In terms of cars, I loved my grandfather's 1984 Continental Mark VII, with two tones of blue paint and an impeccable white interior. After he died, I got to drive it on Sundays to church.
Q: What considerations influence your design concepts?
A: I try to reflect the personality of the brand. In the case of Lincoln, our cars embody effortless luxury. We think of our car as a friend. We convey that through form, shape, color and texture. The most influential design element may be the front grille. It has to stand out but be in proportion with everything else. The centerpiece is our logo — called the Lincoln Star — which was developed in the 1950s. I have managed to tweak it a little.
Q: What do you envision for auto design?
A: Autonomous cars — driverless automobiles — are the future, and we are already developing technologies to accommodate for this shift, which we predict could be in effect by 2030. As highways and streets will be modified, cars will also have different shapes and silhouettes; they may look more like living rooms.
Q: Will that be the death knell for humans actually driving their own cars?
A: While there's something to be said for autonomous cars, I believe people will still want to drive. They want to be in control. They want to enjoy just taking a drive without knowing where they are going and being able to decide en route. It comes down to a bigger question: Do humans want to be part of a collective or be an individual? It's a matter of how much freedom we want.