Car Culture
Open Newbury Street is back for 3 days this summer
Here's when you can enjoy a car-free jaunt down the middle of the iconic shopping street.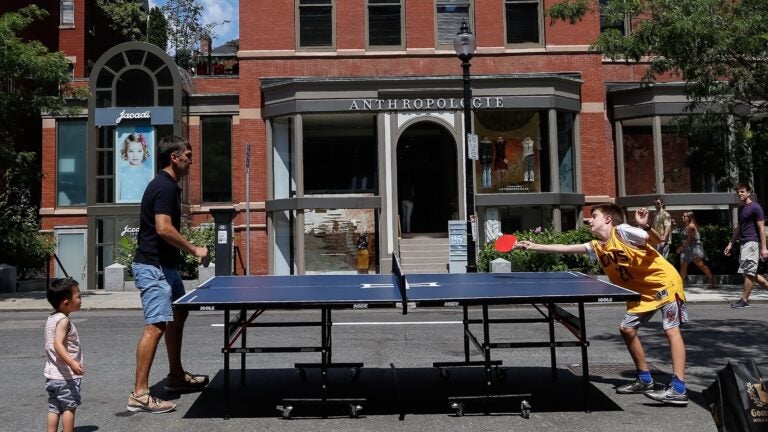 Newbury Street is known for its shopping, dining, and — especially when the weather is nice — crowded sidewalks and competitive street parking. But, for three Sundays this summer, the street will once again close to cars, so pedestrians can roam freely along the iconic stretch in the Back Bay.
Open Newbury Street will return this summer on July 8, August 12, and September 9, from 10 a.m. to 6 p.m., the mayor's office announced Friday. It's the third year in a row the city has hosted the event.
"Over the past two years, we've had overwhelming success in creating a pedestrian-friendly experience for Newbury Street visitors and businesses, and I am excited that we'll be continuing this series again this summer," Mayor Marty Walsh said in a statement.
Attendees can expect indoor and outdoor shopping experiences, dining, and street performers.
"These pedestrian-friendly shopping days draw a wonderful crowd and create a strong sense of community," Brianne Dyke, manager of Crush Boutique, said in a statement.
Parking will be restricted starting at 8 a.m. Visitors are encouraged to walk, bike, or take the T to attend the festivities.
For more information, visit here, and check out a view from last year's Open Newbury:
Pedestrians only! We're live from Newbury Street, where the city has shut down traffic for "Open Newbury Street." Bostonians are strolling freely through the mile-long stretch of shops, boutiques, and restaurants.

Posted by Boston.com on Sunday, July 23, 2017
Facebook video may take a moment to load.