Car Culture
Photos: Millions of dollars of hypercars took over Brookline
The Larz Anderson Auto Museum hosted a trio of rare Pagani Huayras each worth millions of bucks.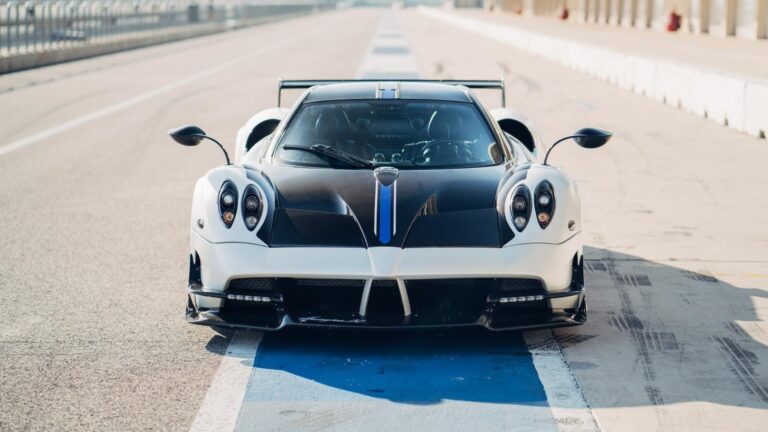 Supercars combine track-ready performance with head-turning looks and eye-popping prices. Within the exclusive supercar world are even rarer cars called hypercars. They are more extreme in every way — including price — and one hypercar automaker just took over the Larz Anderson Museum in Brookline.
On Thursday, guests ogled a trio of rare Paganis, including the Huayra Roadster, Huayra Pachetto Tempesta, and Huayra BC.
Pagani, an Italian car company, produces mid-engined, V12 hypercars made largely from carbon fiber. These vehicles are light, powerful, and extremely fast, and you can hear their incredible engines well before you ever see them zoom by on the highway.
The Huayra Roadster, like the others, features a 6.0-liter twin-turbocharged V12 engine, placed behind the driver. In the roadster, it makes 754 horsepower, allowing it to get from 0 to 60 miles per hour in under 4 seconds. The Huayra features active fins throughout the vehicle that manage airflow over its body work for optimal performance.
The Huayra Pacchetto Tempesta is so named for its optional performance pack. It features a number of upgrades to improve handling and reduce body roll. A Pagani Huayra starts at $1.4 million, and the Pacchetto Tempesta adds another $180,000.
Finally, the Huayra BC is named for the late Benny Caiola, who was a personal friend of Pagani and the first customer to buy one of his cars. The BC and roadster each go for $2.5 million, but customers have been known to pay as much as $3 million for one.
Pagani was founded in 1992 by Horacio Pagani, who had previously worked at Lamborghini. His eponymous company's first work was developing body work for special edition Lamborghinis before releasing its first car, the Zonda, in 1999.