Car Culture
A meticulously restored 1967 Pontiac GTO gets a special unveiling at this year's Boston Cup
The Boston Cup, which takes place Sunday on Boston Common, is free to the public.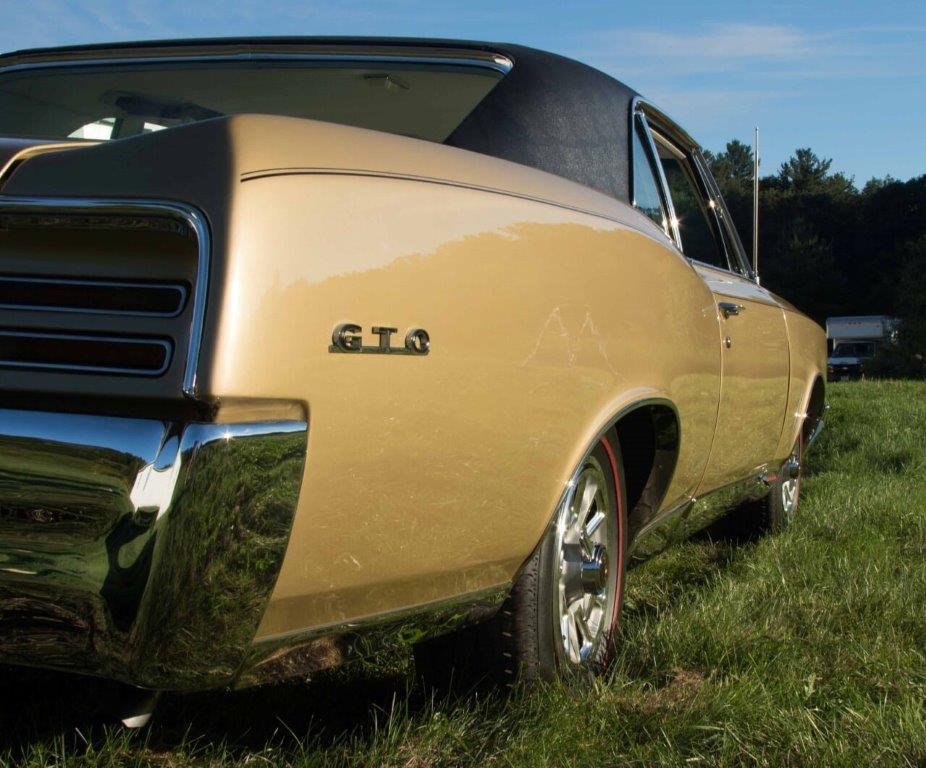 The way Jeff Picard looks at it, the Boston Cup Classic Car Show that takes place Sunday, Sept. 23, on Boston Common is going to be one spectacular coming-out party for his 1967 Pontiac GTO post coupe.
The Exeter, N.H., man's GTO will be presented at a major car cotillion, an invitation-only soiree for 100 unique vehicles from the upper crust of the collector-car aristocracy.
"I've been trying to get Jeff to bring that car to Boston for three years," said Rich Doucette, founding chairman for the show, which is in its seventh year. "But he kept telling me, 'It's not ready.'
"Well, this year, it is ready, and I think it will be a perfect car," said Doucette. A perfect car, in Doucette's terms, is one that would score 100 percent of the points in a judged show for its marque.
The Boston Cup is free to the public and can attract as many as 30,000 spectators, depending on the weather.
"I always suspect half of the people come to see the show and the other half stumble upon it," Doucette said.
Doucette, like many automobile enthusiasts, was crushed when the Trustees of the Reservations discontinued the annual September Castle Hill Concours d'Elegance in 2003. "Then, when I attended the 'Speed, Style and Beauty: Cars from the Ralph Lauren Collection' at the Museum of Fine Arts in 2005, I was inspired to put together another great classic car show in Boston," he said.
It took almost seven years to launch his show.
"The powers-that-be didn't understand that these cars and their owners are the same people who would support art shows or 'Shakespeare on the Common,'" Doucette said. "We come in at noon on Saturday and, by 5 p.m. Sunday, you'd never know the cars were here."
During the show, Livingston Taylor will receive the inaugural J. Geils Award, created by the late Boston guitarist's family to commemorate his interest in classic cars and past participation in The Boston Cup.
Taylor, who's celebrating 50 years as a songwriter and 30 years as a Berklee College of Music professor, is also a classic-car enthusiast.
Doucette's slogan for the show is "The cars are the stars."
One of the stars this year will be a 1936 Horch belonging to Herb Chambers, the show's presenting sponsor.
It's just the kind of car Doucette wants. "My goal always is to have unusual cars. If I haven't seen a particular car before, I know the public hasn't seen it."
Picard's GTO certainly will be very welcome.
Perfection has been Picard's goal since he found the car in upstate New York back in 2009.
It was a one-owner car with only 44,000 original miles; however, it also qualified as a "barn find" because it had been stored in one for years, and mice had turned the engine compartment and interior into high-density housing.
"The day I pulled out the headliner and interior, I actually was in a full hazmat suit, with hood, respirator, goggles, and gloves," Picard said of the fumigation process, lest we think he'd found a show-ready car.
"After I cleaned it up and got it road-worthy, I drove it for a few years before starting the restoration in 2011.
The GTO's original owner was an East Coast version of "The Little Old Lady from Pasadena." According to the song lyrics, that lady was the "terror of Colorado Boulevard" who'll "give you a length and then she'll shut you down."
That was Billie McFarland, of Fort Edward, N.Y.
"She made the car a special order — Signet Gold paint, Metallic Parchment interior, black vinyl roof," Picard said. "Most GTOs had only two colors. She also specified the 300-horsepower engine (a step down from the 360-horsepower high output version), then-cutting-edge electronic ignition, reclining passenger seat, third child seat tether in back, redline tires, and new-for-1967 Hurst his-and-hers Dualgate automatic transmission."
And she loved driving it.
"Her daughter Deb was with Billie when she took delivery at Nardy Pontiac in Long Island," Picard said. "Deb said that when she drove out of the lot, a Mustang pulled up next to them at the first traffic light and said, 'Deb, fasten your seat belt.'"
Picard kept (and refurbished) any parts he could.
"The engine had great compression in all cylinders," he said, "so it got cleaned, re-painted, and dressed up.
Elsewhere, the chassis — and many other parts — got a good bead-blasting before being sanded, painted, and powder coated.
The dashboard, instrument panel, and chrome pieces were sent out to North America's best refurbishing experts. Paint and upholstery were done locally.
Picard devised his own method of separating and reuniting body and chassis.
"The fellow who'd done the painting said we'd need eight people to lift it and put it into place," Picard said. "That sounded perilous to me, so I devised my system, hanging the body from the garage roof over my lift, then rolling the chassis on the lift, lining it all up, and slowly lining everything up until I could get the first two body bolts in place. After that, it was a snap."
Picard fits into the collector car builders' niche where there's often a "built, not bought" sticker on a window or bumper.
"I'm not in a position to be out and buying cars," said Picard, who is a building contractor by trade. "In the winter, I plow snow, and that's my car money."
Others might call the rest sweat equity. He calls it his passion, finding pleasure in making tools and brain work in unison.
Picard was eight years old when his father died and 10 when his mother passed. He was taken in by cousins, but he truly grew up along the Merrimack River at Myron Cowden's boatyard in Amesbury.
"Myron taught me woodworking, how to use and care for tools, how to sail, and a lot about life," he said.
Picard hasn't tallied the bills for this build but said it's more than $30,000. However, friends attended the televised Mecum Auto Auction in Kissimmee, Fla., earlier this year and saw a similar GTO go for a gavel price of $95,000, he said.
"They said if mine had gone to bid, it would have topped $100,000," he said. "Not that it's going to be for sale."
Now that this car's done, what's next for Picard?
"That. Over there in the corner," he said, pointing to the shell of a 1959 MGA.
Wonder how many years before it has its own coming-out party.
You can reach Bill Griffith on Twitter.