Car Culture
The New England Auto Show will take over the Convention Center in January
The show offers a chance to wander from one automaker to the next without ever leaving the building.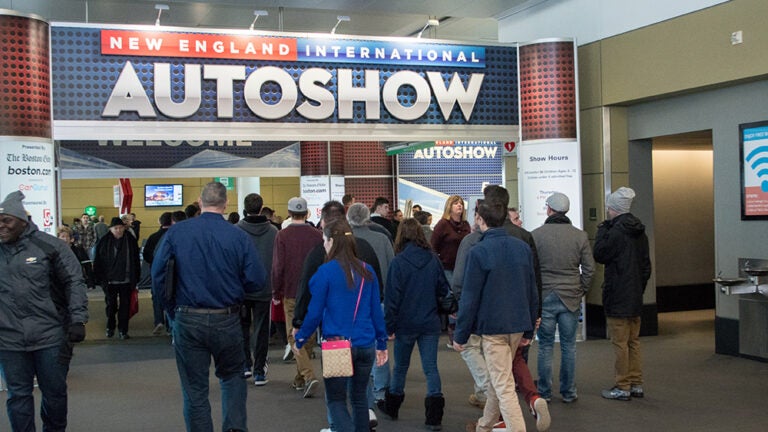 The New England International Auto Show returns to the Boston Convention and Exhibition Center from Jan. 17-21, 2019. It's a great opportunity to see the latest cars from a variety of automakers all under one roof.
Instead of driving from one dealership to the another, the auto show offers a chance to wander from one automaker to the next without ever leaving the building. Hundreds of vehicles will be on display — it's the biggest auto show in New England — so it's perfect if you're shopping for a new ride or you're simply a gearhead who loves cars. Dealership representatives will be available to answer questions along the way. (Disclosure: Boston.com is a media sponsor of this year's show.)
"There's always something new to discover at the New England International Auto Show," said Barbara Pudney, the vice president of Paragon Group, which produces the show. "Attendees can see Lamborghini's newest offering — the Urus SUV — or they can view the rare Koenigsegg Agera XS."
Speaking of rare cars, the Super Car Speedway will show off some of the most exclusive cars in the world. You'll be able to check out the 2019 Rolls-Royce Dawn, 2020 Bentley Continental GT, and 2019 Lamborghini Aventador SV-J. This collection of exotic cars is valued at over $5 million, and it's a chance to get a glimpse of a few cars most of us only dream of owning.
You can also get behind the wheel of a more budget-friendly car that could end up being your next new vehicle at the Ride & Drive event, where you'll find vehicles from Toyota including the Camry, RAV4, Prius, and Highlander along with a selection of Mazdas including the CX-3, CX-5, and Mazda6.
If you're a racing fan, then you'll want to check out the Race Car Pit Stop, where you'll be able to get an up-close look at a variety of real sports cars. These have been driven in races at every level across the country and give you a taste of what it's like to compete in motorsports.
Those who are looking to improve their current ride will want to visit The Garage. Here's where you'll find the latest in aftermarket accessories along with branded merchandise. There will also be custom vehicles on display that could be inspiration for the next mod you make on your car.
The 2019 New England International Auto Show is a great place to explore and learn about the latest cars and have a fun, affordable day out with the whole family.
(Thursday, Jan. 17, through Monday, Jan. 21; Boston Convention & Exhibition Center. $15 for adults, $6 for children, and free for kids under six. Hours vary. Tickets and more info available at BostonAutoShow.com.)
Correction, Dec. 19: A previous version of this story incorrectly listed the dates of the 2019 show. Boston.com regrets the error.