Car Culture
Jay Leno: Newport Concours 'isn't your typical Father's Day or Sunday show'
Concours d'Elegance shows feature the world's rarest, most prestigious cars, and Newport's inaugural event was no exception.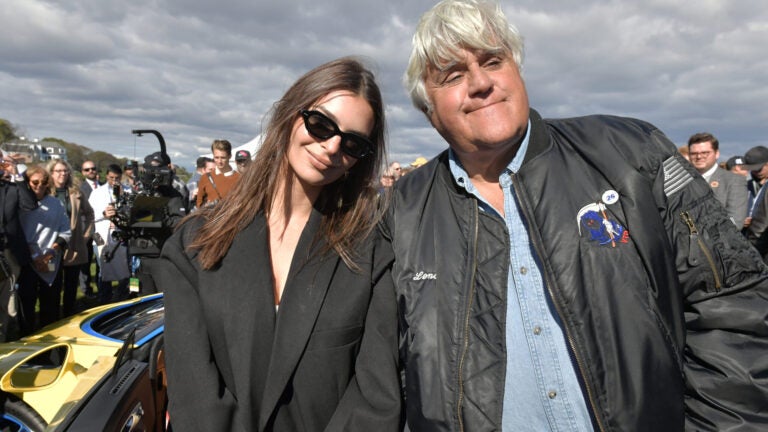 No matter where he may be, Jay Leno is always a commentator.
"You know, the funny thing about New England is you got a lot of hardcore blue-collar guys who really know their stuff and don't have a lot of money, and then guys with a lot of money don't know anything about cars," he said. "They can get together [and] work on a project, and it's great."
Leno, the legendary comedian and former late-night talk show host, is an active collector, enthusiast, and ambassador within the automotive community. As the host of "Jay Leno's Garage" on NBC, he interviews owners and creators about rare and historically significant vehicles.
This past weekend, Leno served as event chairman for the inaugural Concours & Motor Week, which was held at the Audrain Auto Museum in Newport, R.I. Concours d'Elegance shows typically feature some of the rarest and most prestigious cars in the world. They are presented in opulent settings and judged by experts in the global collector car field.
"This isn't your typical Father's Day or Sunday show," Leno said. "At those types of car shows, people show up with their cars. At a Concours event, the cars are invited, and experts are invited as well. People can say that a car is whatever they say it is, and you can take them at face value. But this is like taking a diamond to a jeweler to confirm its authenticity."
Concours-level cars are often meticulously restored, and some are left original, but all offer historical or automotive significance, according to Donald Osborne, chairman of the Audrain's Concours d'Elegance.
"All the cars here are invited, and they are reviewed by a committee to make sure that they fit the characteristics that we want in the criteria that we want in the show," Osborne said. "We were looking for cars that matched the theme of Newport, representing the history, luxury, and sport."
"There are a lot of people that see the words 'Concours d'Elegance' and think, 'That's for the millionaire with his multimillion-dollar car,' and it's not that at all," Leno said. "The Concours d'Elegance is to celebrate the best of restored and preserved cars of all time."
And it's also a chance to play with some incredible toys. This was clearest at the Tour d'Elegance, which was held Sunday morning before the Concours. It featured a number of extremely rare Bugatti touring cars, a Maserati Zagato Berlinetta, a Ferrari 212 Europa, a Lamborghini Miura, and many more. The collection took a scenic tour around Newport, from the bridge to Fort Adams Park, then along Ocean Drive and First Beach before arriving at The Breakers.
Another key component of the weeklong event was the "30 under 30 class" featuring vehicles worked on, restored, or owned by people younger than 30 and costing less than $30,000. It is one of the ways Concours organizers are working to ensure the future of the hobby can be as passionate, vibrant, and varied as the event itself.
But the week's main draw was the Concours itself, held Sunday at The Breakers. There you could find all walks of life checking out incredibly rare vehicles, all against the stunning backdrop of the historic mansion and grounds. Ninety-nine vehicles were spread around the oceanside lawn, and the variety was fantastic. In a matter of minutes, you could walk from an 1899 Marot-Gardon, to an iconic Mercedes-Benz 300 SL "Gullwing," to a gorgeous 1964 Ferrari 250 GT Lusso. The best-in-show was an extremely rare 1927 Isotta Fraschini Tipo 8A S Fleetwood.
"I don't think you could tell the billionaire from the plumber," Leno said. "I don't find the real class system in these types of things, especially in New England. They all seem to have cars in common."
Audrain's weeklong event is shaping up to be a place for enthusiasts to come together in the years to come, and it arrived on a scale not seen before in the region, as Osborne observed: "I've been involved in a lot of automotive events around the country and around the world, and I can say without a doubt that I've never been involved with a show that's ever started at this level," he said.