Car Culture
You can drive — and own — a piece of Soviet automotive history
A dozen vintage Soviet vehicles are currently for sale at luxury used-car dealer AlphaCars.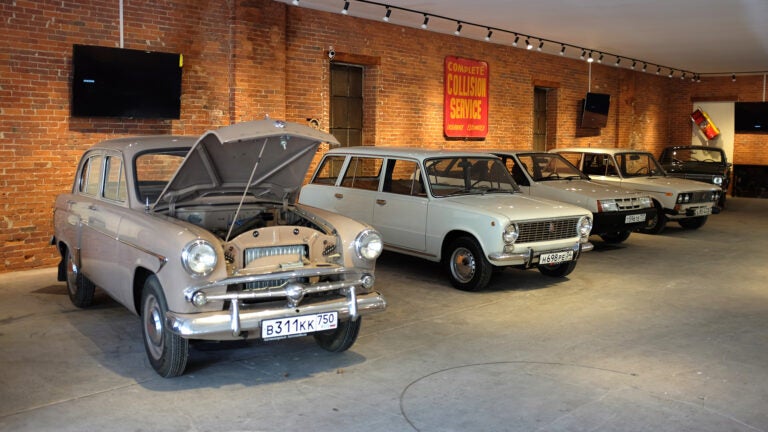 On a recent Sunday in Spencer, Mass., I was behind the thin, hard wheel of a communist car. Straight from the former USSR, a dozen vintage Soviet vehicles are currently for sale at luxury used-car dealer AlphaCars. For American drivers, the cars present a rare opportunity to own a piece of automotive history.
Dmitry Bykhovsky, AlphaCars owner and general manager, has been importing Soviet cars since 2009. His collection includes examples of the four main Soviet-era brands: Lada, ZAZ, Moskvitch, and Volga. Most are priced around $20,000.
In his Spencer showroom, Bykhovsky, 53, told me the long story of his love affair with Soviet cars.
When he was a boy in Moscow, automobiles were objects of intense desire. By the fall of the USSR in 1991, only about a quarter of the national population owned a vehicle.
Bykhovsky studied at the prestigious Moscow College of Automotive Engineering; communist cars were going to be his life. But in 1988, he and his family immigrated to the United States.
In Boston in his early 20s, Bykhovsky didn't miss Soviet vehicles — at least not initially. He bought a white Ford E-150 van and started his own garage, then the retail business that became AlphaCars.
Only decades later did he begin to fondly recall his parents' old blue ZAZ, the brand-new Lada purchased in 1976, and the yearly summer road trips to Crimea.
Once, while in Canada, he spotted a rusted-out Lada Niva on the side of the road.
"I pulled over," he recalled. "I felt sad for the car, but it was good to see."
At the time, Bykhovsky was driving an Alfa Romeo GTV, which was "the closest thing that I could buy in the U.S. to a Lada."
"Alfa Romeo had a lot of common parts, and they would bring those memories," he said. "[…] Then one day I said, Why don't you just bring [in] a Lada altogether?"
So he did — several Ladas and more than a dozen other Soviet cars.
Bykhovsky's collection mirrors recent automotive trends in the former USSR. As the Soviet era recedes into the rear view, and as the last of the Soviets move into middle age, communist cars have grown in popularity.
"As they diminish in number and availability, there's a kind of nostalgia about [Soviet automobiles] that seems to have grown to the point where they become precious objects," said Lewis Siegelbaum, professor emeritus at Michigan State and a specialist of the history of Soviet cars and car culture.
Cars were always a central part of the communist project, closely identified with the state's desire to manufacture a revolutionary utopia. They represented "the cutting edge of 20th-century modernity," Siegelbaum explained, "a celebration of speed, efficiency, and rationality — all these things that Bolshevism identified with."
The first Soviet cars I saw were the three Ladas parked in the lot behind the two-story brick AlphaCars building, which was once a shoe factory, at the corner of Main Street and Elm in Spencer.
My first impression was of steel and glass: a fish-tank-like passenger cabin on a boxy frame. The cars seemed at once airy and substantial. A Lada weighs about 2,000 pounds, which is literally a ton but still much less than most modern rides.
Ladas sit high up on the road on a raised suspension of a Fiat frame. Grills vary in intricacy depending on the model, as does engine size.
When it was introduced in 1970, the Lada for the first time brought automobile ownership within reach of average Soviet families. According to Siegelbaum, the Lada quickly became the quintessential communist car. Some 12 million were made.
Inside the old shoe factory are tidy rows of autos that seem odd to the American eye: a couple of front-wheel-drive hatchback Ladas with engines and door handles designed by Porsche; two square Lada wagons; a beautiful green Volga, a make usually reserved for high-ranking Party members, actors, cosmonauts; several rounder Moskvitches; a tiny sky-blue ZAZ.
Compared to contemporary cars, vintage Soviets seem to have less meat on their bones. Less fat. The vehicles are harder in steel and spirit in ways difficult, perhaps, for a Westerner today to understand. The dash and controls are sparse. The steering wheel is unpadded. There is no air conditioning. Forget cup holders.
Yet to think of the Soviet car as utilitarian only would be a mistake. There are occasional hints of whimsy, even signs of fun. The radio on a 1991 green Moskvitch-IZh 412, for example, could be charged in situ on the dash, then ejected and, with a built-in handle, taken on the go.
I test-drove a cream-colored, rear-wheel-drive, four-door, four-speed manual Lada VAZ 2105 with a modest 58.7 horsepower. Priced at $19,995, this 28-year-old Lada made in the last year of the Soviet Union only has 1,088 miles on it. Paint — even the brakes — are all original.
To help me get the authentic experience, we started on an incline with the motor off, picking up speed and letting gravity do its work. That is until, halfway down the hill, the Lada's 1.2-liter engine sprang to life.
"It was not uncommon in Russia to operate with a very weak battery," Bykhovsky said, "because you couldn't buy another."
Outside of town, I got the Lada into fourth gear and hit 70 kilometers an hour (about 45 mph). The windows were down, and I didn't really mind the hot air continuously blowing out of the vents.
The road was smooth and straight, but Ladas were made for rougher stuff. Soviet roads were notorious, and most rural roads were unpaved through the early '90s.
In the late fall of 1935, traveling by Ford across the United States, the famous Soviet writers Ilya Ilf and Evgeny Petrov had been astounded by our magnificent roadways.
"The roads," they reported, "are one of the most remarkable phenomena of American life."
Outside of Spencer, I forgot that I was driving an old, foreign car.
Downshifting to second, pedal floored, we conquered a small hill; triumphantly, we rolled down the other side. There, at a stop sign, garage in sight, the engine abruptly died. I reached — a bit frantically, perhaps — for the keys to the right of the wheel. Nothing. Just hot air.
So the Lada wasn't just like a Western car. The key was in the ignition on the left side.
The moment reminded me of something that had happened as we were setting out. Before the drive, the interior had smelled of hot plastic and gasoline. Bykhovsky knew the scent at once.
"When [my parents] had a [Lada] 2103 in 1976, it had exactly that smell," he said. "I was 10 years old. […] People that have been in a Lada — they would know."
Proust's madeleine, it ain't. But then again we don't always get to pick the vehicle for our memories.
Gene Tempest is a historian and writer.