Cars
What the experts say about the 2017 MINI John Cooper Works convertible
A dealership general manager, an editor, and a safety official weigh in.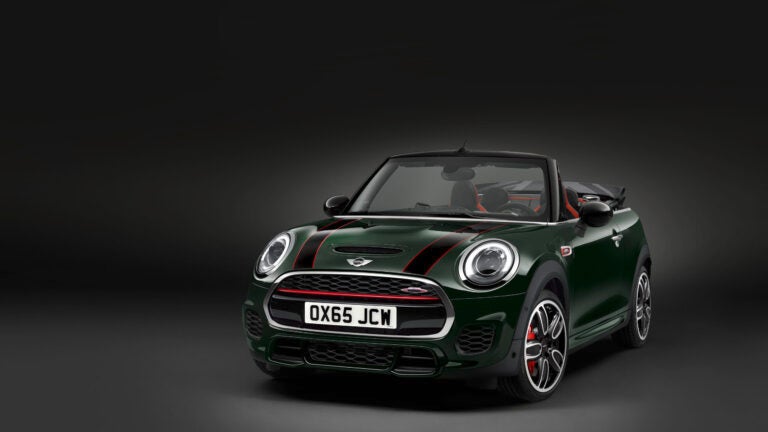 Boston.com Cars is your go-to resource for coverage of local car news, events, and reviews. In the market for a car or truck? Check out our new car specials and used car specials curated by our local dealer network.
In this ongoing series, Boston.com talks with automotive authorities about why you should consider driving — or avoiding — a specific model.
2017 MINI John Cooper Works convertible
The MINI Cooper is more than a cute relic of 1960s British counterculture. It's also the ideal car for maneuvering in traffic and evading gridlock. Purchased by BMW years ago, the brand has retained its classic English look while incorporating a dash of sporty driving dynamics. Tuned for high performance, the top-of-the-line John Cooper Works convertible is among the fastest and most sumptuous MINIs available, with seating for four.
Powered by a 1.5-liter three-cylinder engine, the MINI Cooper convertible base trim delivers 134 horsepower. The mid-tier Cooper S trim delivers 189 horsepower with a 2.0-liter four-cylinder turbocharged engine. The John Cooper Works uses the same engine as the Cooper S but is performance-tuned to deliver 228 horsepower and hits a top speed of 150 mph (the hardtop version reaches 153 mph).
All models come standard with a six-speed manual transmission. Upgrading to a six-speed sport automatic transmission will cost an additional $1,250. A six-speed sport automatic transmission with shifter paddles is available on the Cooper S and John Cooper Works trims for $1,500.
Inside, the MINI John Cooper Works convertible can be done up in soft, quilted leather, and sport seats.  An infotainment system with a 6.5-inch display is standard in all trims. The front row provides plenty of head- and legroom for adults, and the trunk has enough space for several shopping bags or a suitcase.
The MINI Cooper convertible has not been rated by the National Highway Traffic Safety Administration or the Insurance Institute for Highway Safety. The two-door MINI Cooper earned top ratings in the IIHS' crash tests performed, but the federal agency does not test convertibles. "It's always safer to have a hardtop roof than not," says IIHS spokesman Russ Rader. "An enclosed vehicle provides more protection, especially in a rollover crash." The MINI Cooper convertible has a standard pop-up rollbar that deploys automatically if the vehicle's sensors detect an imminent rollover.
The MINI Cooper convertible and the Cooper S trim start at $25,950 and $29,600, respectively. The MINI John Cooper Works trim begins at $35,600.
What the experts are saying
For the enthusiasts
"The JCW convertible is driven by the enthusiasts of the MINI brand. This model encompasses all the horsepower, tight handling and sporty design that you would expect to see in the fastest MINI we make. The convertible version of the JCW takes it up a notch and adds more excitement to an already thrilling ride. Whenever MINI redesigns one of its models, we are always flooded with inquiries regarding the release date of the JCW model. This past summer was no different. Every order spot we had was spoken for. From loyal MINI owners to brand new MINI drivers, this car was a hit. The JCW design brings to light the true racing heritage of MINI." – Kate George, manager of Herb Chambers MINI of Boston
A cut above the competition
"It's hard to cross-shop anything with a MINI convertible. Perhaps BMW's 2 Series comes close, but it's pricier and is more of a performance sports sedan. The Fiat 500C is equally adorable and is priced well below both the MINI Cooper and BMW 2-Series, but it can be sluggish going uphill. Mustang makes a fabulous convertible, but it's hardly tiny. And Volkswagen's Beetle is puppy cute, but doesn't really check the performance box. The John Cooper Works MINI takes the standard MINI convertible's 134 horsepower and yanks it up to 228 horses. In such a lightweight car, this is a serious power boost.  If you're the speed freak MINI hopes you are, then the John Cooper Works version of the MINI convertible is just the ticket. No, really. You'll probably get a lot of tickets." – Tara Weingarten, editor and founder of VroomGirls.com
No safety ratings
"IIHS doesn't typically test convertibles, so we don't have results for the MINI Cooper soft top.  The 2017 MINI Cooper hatchback, though, meets our criteria for ranking as a Top Safety Pick performer. It doesn't clear the highest hurdle to get to Top Safety Pick+ moniker because it falls short of earning a good or acceptable rating for headlight performance, which is a new requirement for 2017.  The MINI Cooper is available with an automatic braking system that earns the middle rating of advanced in our track tests for crash avoidance. We don't know if the convertible version would perform as well in crashworthiness tests, but past IIHS research shows that modern convertibles can be engineered to do just as well as hardtops." – Russ Rader, senior vice president of communications at the Insurance Institute for Highway Safety
For more information on the 2017 MINI John Cooper Works convertible, visit a MINI dealership near you.