Cars
What the experts say about the 2017 Mercedes-Benz GLA
An analyst, an editor, and a dealership general manager weigh in.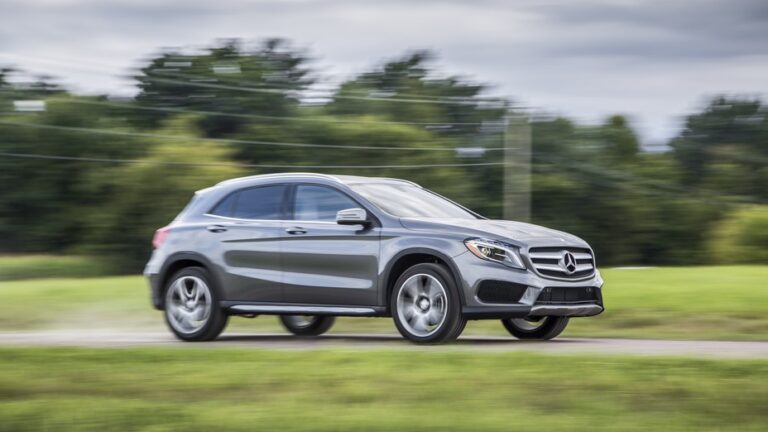 Boston.com Cars is your go-to resource for coverage of local car news, events, and reviews. In the market for a car or truck? Check out our new car specials and used car specials curated by our local dealer network.
In this ongoing series, Boston.com talks with automotive authorities about why you should consider driving — or avoiding — a specific model.
2017 Mercedes-Benz GLA
Positioned to attract younger customers to the German luxury brand, the Mercedes-Benz GLA figures as a sporty and relatively affordable compact crossover. Launched as a 2015 model, the GLA lags Mercedes' larger SUVs in sales volume but has found favor with its target market.
"While the three-pointed star has long been one of the most aspirational symbols in the luxury vehicle universe, Mercedes-Benz typically appealed to older and more traditional customers," said Ed Kim, vice president of industry analysis at marketing research and consulting firm AutoPacific. "The GLA-Class, as both a sporty crossover SUV and as an affordable Mercedes-Benz, is the brand's welcome mat for younger luxury customers."
The luxury subcompact SUV comes in three trims: the GLA250 base model, GLA250 4Matic with all-wheel drive, and the high-performance AMG GLA45. The GLA250 models get a turbocharged, 2.0-liter four-cylinder engine that delivers 208 horsepower. The 375-horsepower AMG version comes standard with all-wheel drive and delivers more punch than the base model. Both engines are mated to a seven-speed automatic transmission with paddle shifters.
The five-passenger GLA features a comfortable cabin with an upscale vibe but less passenger room and cargo space than competitors such as the BMW X1 and Audi Q3. Bluetooth, a USB port, HD Radio, and an infotainment system with a 7-inch touch screen come standard. Leather upholstery, a panoramic moonroof, heated seats, and Apple CarPlay and Android Auto smartphone connectivity are available.
The GLA hasn't been evaluated for crashworthiness by the Insurance Institute for Highway Safety or the National Highway Traffic Safety Administration. Mercedes' Attention Assist system that monitors driver drowsiness is standard. Buyers can opt for advanced safety features including a rearview camera, adaptive cruise control, blind spot monitoring, and lane departure warning.
The base model achieves 24 mpg in the city and 33 mpg on the highway. Fuel economy falls to 23/31 for the all-wheel drive model and 22/28 for the AMG version.
The Mercedes-Benz GLA starts at $32,850, and the AMG GLA 45 begins at $49,900.
What the experts are saying
Leader among compact luxury crossovers
"The GLA's small footprint makes it handy around town as well as a blast to drive on the highway and on twisty mountain roads. Plus it looks terrific. The GLA's fairly low profile might compromise interior space a bit, but we bet the typical luxury crossover buyer in this segment will gladly make the trade. From behind the wheel, the interior is full-on Mercedes-Benz. Oh, and the GLA is an SUV that offers surprisingly good off-road capabilities as well.  With a price starting under $35,000, the Mercedes-Benz GLA has been a hit – exactly what we expected." – Jack R. Nerad, executive editorial director, Kelley Blue Book and KBB.com
A quirky choice
"It certainly doesn't look traditional and is very edgy and sporty in its design and execution. Its styling is sleek, muscular, and exciting. There is nothing remotely stodgy or conservative about its appearance. It's also priced within reach of many younger drivers; anyone who can afford a decently-equipped Ford Escape won't have to stretch much to put a GLA-Class in the driveway, especially when leasing. Unfortunately, the affordable price also means it lacks the bank vault solidity associated with Mercedes-Benz, and much of the interior comes off as a bit low rent. The transmission can also be somewhat unrefined and jerky at times too. It's very cramped inside as well – a byproduct of the very rakish exterior. Still, as a sporty crossover from a premium brand it speaks proficiently to young entry luxury customers' aspirations." – Ed Kim, vice president of industry analysis at marketing research and consulting firm AutoPacific
For the versatile lifestyle
"It's geared toward the young professional. It's a lifestyle car that's effective in the city, but you can also take road trips on the weekend into the mountains because they do make it with all-wheel drive. It's also really fuel-efficient. It's been filling out that segment where customers are maybe coming out of a wagon or hatchback, and it's a nice mixture of both. They don't want a big SUV or a small wagon. I think Mercedes thought it would be a millennial car, and it is, but it's also appealing to empty nesters who don't need that seven-passenger SUV anymore." – Paul McDaniels, general manager, Flagship Motorcars of Lynnfield