Car Guides
What the experts say about the 2017 Jaguar F-Type
An analyst, a blogger, and a dealer weigh in.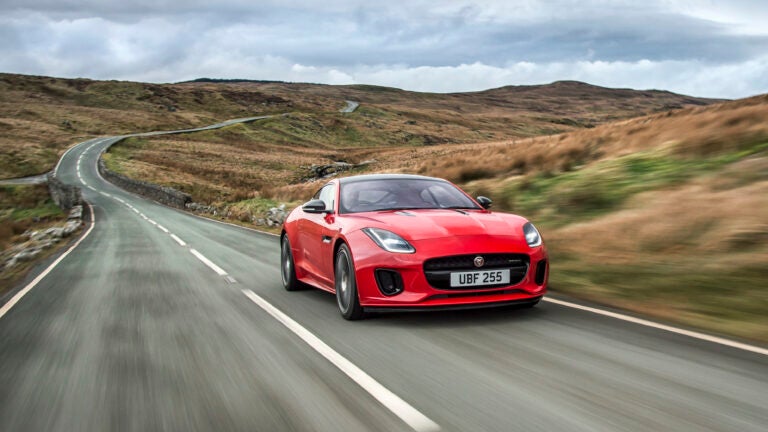 Boston.com Cars is your go-to resource for coverage of local car news, events, and reviews. In the market for a car or truck? Check out our new car specials and used car specials curated by our local dealer network.
In this ongoing series, Boston.com talks with automotive authorities about why you should consider driving — or avoiding — a specific model.
2017 Jaguar F-Type
When Jaguar launched its performance-oriented F-Type coupe five years ago, the British brand showed that an upper crust pedigree needn't preclude a track-inspired sports car. Jaguar's first sports car since retiring the storied E-Type (the one that Enzo Ferrari called "the most beautiful car ever made") decades earlier, the F-Type marked Jaguar's return to the luxury performance segment and proved that it could play against rival models from Porsche and Mercedes-Benz.
The two-seater luxury sports car is fierce yet elegant. It rumbles to life with a satisfying growl (louder in the V8 models) when you jab the push-button ignition but glides along winding roads and passes other cars on the highway with grace. Convertible variants sport an automatic three-layer fabric top that opens and closes with so much fanfare that it transforms the act into a rubbernecking event. Inside, the F-Type is decked in textured aluminum and synthetic leather trim; the upholstery is leather and synthetic suede. Bluetooth and the Jaguar InControl infotainment system with an 8-inch touchscreen come standard.
The F-Type comes in four trims – base, S, R, and SVR – and each is available as a coupe or a convertible. The base model runs on a 340-horsepower, 3.0-liter supercharged V6. The F-Type S increases output to 380 horsepower, while the R trim upgrades to a 550-horsepower, 5.0-liter supercharged V8. The newest edition, the 575-horsepower F-Type SVR, uses the same 5.0-liter supercharged V8 that the automaker's other SVR-badged vehicle, the Range Rover Sport, already wears. All engines are paired with an eight-speed automatic transmission or a six-speed manual. All-wheel-drive models must be mated to the automatic transmission.
Of course, all this high-powered fun comes at the cost of fuel efficiency. The base model delivers 20 mpg around town and 28 mpg on the highway. Those numbers fall depending on the trim, transmission, and drivetrain. The top-of-the-line SVR gets 15 mpg in the city and 23 mpg on the highway.
The F-Type has not been rated for crashworthiness by either of the two federal safety ratings agencies. The sports car's upper trims can be equipped with a rearview camera, front and rear parking sensors, and reverse traffic detection.
The starting price for the Jaguar F-Type ranges between $61,400 for the base model coupe and $125,950 for the top-of-the-line SVR model.
What the experts say
Formidable power
"The F-Type is proof how far Jaguar has come in just a few years. As recently as 2012 nobody would have believed the British brand could produce a viable 911 alternative. But it did, with a sports car offering every bit as much steering feel, braking confidence, and dynamic precision as the iconic Porsche. Roll in the F-Type's rhapsodic exhaust note and seductive silhouette, and one could argue the Jag's advantage, at least in pure emotional terms. Regardless, the F-Type puts Jaguar in that rarefied air so many automakers forever chase but few get to breath. It's a covetable performance car, worthy of poster status on the walls of teenage — and adult — enthusiasts." – Karl Brauer, executive publisher at Kelley Blue Book
Curb envy
"The Jaguar F-Type is a car that embodies something incredibly rare in modern automotive — elegance. Few cars on the road today are such head turners, even in this price range. Even more impressive is the fact that the F-Type is the best looking car from Jaguar since the unparalleled E-Type, which debuted in 1961. Jaguar also wisely offers the F-Type in a range of options for pricing and performance, enabling design enthusiasts to have a car that's very user-friendly and now, with the 575-horsepower SVR, one can get a true sports car. In terms of handling, its brakes and steering are wonderfully responsive. The engines noises range from a silent purr to a powerful roar, which comes in handy when trying to impress friends at the country club. While the overall driving experience is on par with its competitors, the fact that it is so beautifully refined puts the F-Type in a class of its own. It has done the E-Type proud." – Amelia Dalgaard, founder of Motorhead Mama blog
High-performance model
"The new Jaguar F-Type SVR is the ultimate balance of sport and sophisticated luxury. The F-Type looks equally the part in front of the red carpet or the race track. With 575 horsepower, the car has quite the performance ability. SVR is well designed to span between a sports car and a luxury touring coupe, with variable suspension and drivetrain settings available for any mood. The interior is all Jaguar with beautifully quilted leather seating and stitched leather everywhere your eye can fall. You want to sit in this car. The exterior design is equally stunning, with classic low sweeping lines. There are not many cars that garner more attention at a stop light." – George Chambers, executive general manager, Herb Chambers Jaguar Land Rover Sudbury