Car Guides
23 new cars to consider as the 2018 models hit dealerships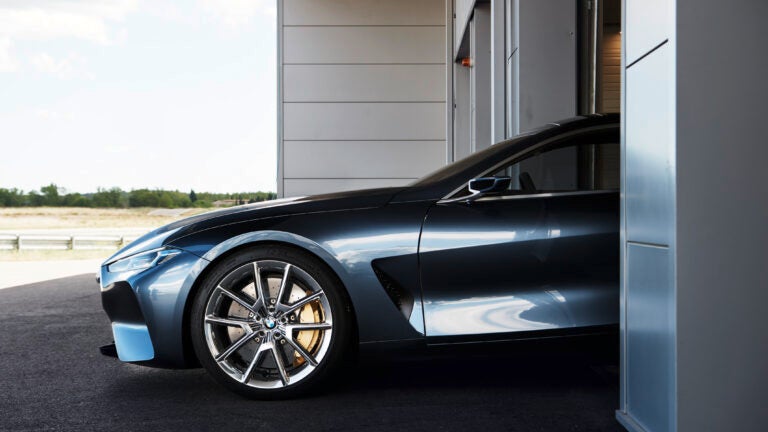 There's rarely an ideal time to need a new car. Maybe your lease is about to run out or that noise under the hood turned out to be something quite serious. Luckily, if you need one soon, the new 2018 models are arriving at dealerships.
The newest crop of vehicles offers an incredible combination of power and efficiency, and new infotainment systems seamlessly integrate your smartphone. Most importantly, state-of-the-art safety features can prevent the accident you don't see coming.
Read on to see if one of these 2018 vehicles, listed alphabetically by brand, is right for you.
1. 2018 Audi RS5
The V8 from the previous version of the Audi RS5 is replaced with a twin-turbocharged 2.9-liter V6. It makes 450 horsepower and 443 pound-feet of torque — that's the same horsepower and significantly more torque than the outgoing model. The new RS5 is 132 pounds lighter overall, and Audi claims a 0-60 time of just 3.9 seconds.
The RS5 comes as a coupe, but Audi will also offer the RS5 in Sportback guise, so it's essentially a fastback sedan.
The RS5 is expected to go on sale in early 2018 with a starting price around $70,000.
2. 2018 Audi Q5
The new Q5 has a sharper front-end look that's backed by a turbocharged I4 engine. With the seven-speed automatic and standard Quattro all-wheel drive, the Q5 does 0-60 miles per hour in 5.9 seconds, according to the manufacturer. Inside, Audi's available Virtual Cockpit consists of a massive digital instrument panel that replaces the conventional gauge cluster.
The 2018 Audi Q5 is on sale now with a base price of $41,500.
3. 2018 BMW 8 Series
Reviving a name BMW hasn't used in 20 years, the 8 Series Concept is a design study that hints a production car will look a lot like it. No word on what will power the 8 Series, but we anticipate V8 and even V12 engine options. You can bet on a hybrid setup as well. Even better: BMW has confirmed a high-powered M8 performance coupe.
No word yet on price or availability. 
Buick hasn't offered a wagon since the Roadmaster in 1996, but the Regal TourX is far from a wood-paneled land-barge. It features rakish styling, standard all-wheel drive, and a turbocharged, inline four-cylinder. This engine puts out 250 horsepower and 295 pound-feet of torque while returning 29 miles per gallon on the highway. There's also 33 cubic feet of cargo space behind the rear seats, which fold and give way to 74 cubic feet of cargo space.
The Regal TourX will have a starting price of $29,070, and it's slated to hit dealers across the country in February.
The outdoing Chevy Traverse often felt like a minivan with a raised ride height. The incoming model looks and feels more like a scaled-down version of the truck-like Chevrolet Tahoe. It comes standard with a MyLink infotainment screen with Apple CarPlay and Android Auto, as well as a backup camera and three-zone climate control. Under the hood, a 3.6-liter V6 routes 310 horsepower through a nine-speed automatic transmission.
The Traverse is on sale now with a starting price of $29,930.
6. 2018 Ferrari 812 Superfast
The 812 Superfast is Ferrari's new range-topping GT, and backs up its name with 789 horsepower, courtesy of the 6.5-liter V12 found under the dramatically long hood. That's good enough to take the 812 from 0-60 in a scant 2.8 seconds.
The Ferrari 812 Superfast is already on sale with a starting price of $335,275.
7. 2018 Ford EcoSport
Ford is late to get in on the ever-expanding subcompact SUV market, but the EcoSport might be worth the wait. Based on a vehicle of the same name that's been available in Europe since 2013, it features welcoming exterior styling and a sensible, versatile interior with features like SYNC3 infotainment, Apple CarPlay, Android Auto, and the latest safety tech.
The EcoSport will be available in early 2018 with a base price of $19,995.
This long-overdue replacement to the current Expedition combines the looks of the F-150 pickup and Explorer SUV in one handsome package. Like the F-150, it will employ aluminum body panels that significantly reduce its weight. This will make the most of the EcoBoost V6 under the hood. The new Expedition will have an improved interior and the latest SYNC infotainment system.
The Ford Expedition is already at dealerships with a base price of $51,695.
9. 2018 Ford Mustang
With a more sculpted look, Ford continues to refine the design of the Mustang. Ford dropped the V6 engine from the lineup and instead relies on a 320-horsepower EcoBoost I4 as the base engine. The Mustang GT gets a bump in power to 460 horsepower.
It also gets a bump in price: The GT starts at $35,095. Some 2018 Ford Mustangs are already hitting showrooms.
The 2018 Honda Accord is already in contention for 2018 North American Car of the Year. It has a potent powertrain, spacious and upscale interior, and a reworked infotainment system that puts its predecessor's touchscreen to shame. Exact EPA numbers have not yet been released, but Honda claims the Accord Hybrid will get 600 miles on a tank of fuel, thanks to the third generation of its hybrid drivetrain.
The Accord Hybrid is expected to arrive in dealers in early 2018. Pricing has not yet been announced, but it is expected to be a minor increase from the 2017 Accord Hybrid, which ranged from $30,000 to $36,000.
Hyundai is joining the quickly growing subcompact SUV market. The small crossover has an athletic appearance, with multiple vents and sharp angles as well as eye-catching colors. It comes standard with a touchscreen that supports Apple CarPlay and Android Auto. The Kona will also be available with a host of other in-car and safety technologies, like a heads-up display and forward collision avoidance.
Pricing has not yet been announced. The Kona arrives at dealers in spring 2018.
12. 2018 Jaguar E-Pace
The E-Pace is a combination of two recent trends for Jaguar: going smaller, and going crossover. The E-Pace is the newer, downsized sibling of the F-Pace SUV, which is still in its rookie year. The E-Pace is a subcompact SUV and will be built on the same platform as corporate cousins Land Rover Range Rover Evoque and Discovery Sport.
The Jaguar E-Pace has a base MSRP of $38,600, and it's slated to go on sale in early 2018.
The new Jeep Wrangler is 200 pounds lighter and a little longer, and it comes with an optional new high-tech ragtop. Buyers will have a choice between an updated 285-horsepower 3.6-liter V6, and a new 270-horsepower 2-liter turbocharged four-cylinder engine that comes with a battery-electric hybrid system. The engines will be mated to either a six-speed manual transmission or an eight-speed automatic.
The new Wrangler is due in showrooms in January. The price, which starts around $24,000 excluding shipping, will be announced later.
Available as a sedan or hatchback, the Kia Rio comes with a 1.6-liter four-cylinder that makes 160 horsepower and returns 37 miles per gallon on the highway — regardless of whether you select the manual or automatic transmission. It's the smallest vehicle in Kia's line-up, and maximum cargo space is 32.8 cubic feet when you fold the rear seats.
The 2018 Rio is arriving at dealership now and has a base MSRP of $13,900.
15. 2018 Kia Stinger GT
Kia is known for affordable cars and quirky designs like the Soul, so a rear-wheel drive sport sedan is new territory. Though it has four doors, the Stinger GT boasts a coupe-like profile. You'll be able to get either a 255-horsepower turbo I4 or a twin-turbo V6 making 365 horsepower. An eight-speed automatic transmission routes power to torque-vectoring all-wheel drive, too.
The Kia Stinger will start at $31,900, and can cost as much as $50,000 for a range-topping model. The Stinger is already hitting select dealerships.
The Range Rover Velar is a pavement-focused SUV, positioned between the subcompact Range Rover Evoque and the svelte Range Rover Sport. Its low, sleek roofline gives it a deceptive profile, and engine options range from a turbo I4 up to a supercharged V6 making 380 horsepower.
The Velar is on sale now and has a base MSRP of $49,900.
17. 2018 Lexus RX 350L
The Lexus RX 350 is a popular vehicle, but it lacks a third row. Hearing the complaint, Lexus answered with a new three-row version called the RX 350L. In Lexus nomenclature, the "L" typically refers to a "long-wheelbase" model, but in this case, the wheelbase remains the same. The longer rear overhang brings passenger capacity to seven — six with second-row captain's chairs — though we suspect these third-row seats will be ideally suited for children.
The RX 350L is expected to arrive in early 2018 and has a base MSRP of $47,670.
18. 2018 Mercedes CLS
For the first time, the CLS will seat five, and it's also a mild hybrid. An electric motor works in tandem with the new six-cylinder engine to boost acceleration. Mercedes says the engine puts out 362 horsepower and 369 pound-feet of torque alone and gains an additional 21 horsepower and 184 pound-feet of torque with the motor. Inside, there's a system that adjusts the seats, massagers, music, lighting, climate control, and even adds a touch of fragrance based on six moods.
The CLS goes on sale in fall 2018. Pricing hasn't been released, but the current CLS starts at $75,150.
The sculpted Nissan Kicks will start at under $19,000 and comes standard with automatic emergency braking as well as a 1.6-liter, 125 horsepower four-cylinder engine. It's also got a continuously variable transmission that lets the engine operate at the most efficient speed possible. Nissan estimates the fuel economy for the front-wheel-drive-only Kicks will be 33 miles per gallon in combined city and highway driving.
More specific pricing will be announced closer to when the Kicks goes on sale in the spring.
20. 2018 Porsche Panamera Sport Turismo
Porsche is fully capable of creating practical cars with all the performance worthy of the Porsche name. One could argue the all-new Panamera Sport Turismo looks even better than the Panamera on which it's based.
Base MSRP is $96,200, and there will even be a hybrid model available with a starting price of $104,000.
The Panamera Sport Turismo is expected to arrive at dealers in early 2018.
The Toyota Camry has been redesigned for 2018, and it's attractive inside and out. It comes standard with a surprisingly powerful four-cylinder engine, and V6 hybrid drivetrains are available. If you're into driving, the XSE trim is the one to get. It has well-weighted steering and corners very well.
The 2018 Camry is out now and has a base MSRP of $23,495.
The Volkswagen Atlas delivers a smooth ride yet still feels sharp around corners. Its one big flaw is a lack of power. Even with the optional V6 engine, the Atlas struggles to get moving at highway speeds. It's rated at 20 miles per gallon in combined driving with front-wheel drive and 19 miles per gallon combined with all-wheel drive.
The 2018 Atlas is out now, and has a base price of around $30,000. A fully loaded version tops out at around $50,000.
Volvo is now leading the way in car design with the breathtaking S90 and XC90, and the XC60 takes a cue from the latter. The XC60 has advanced safety features, a hybrid variant with as much as 400 horsepower on tap, and a cabin aesthetic that can only be described as world-class.
The XC60 is currently at dealerships, and has a starting price of $41,600.
Material from the Associated Press was used in this report.
George Kennedy is an automotive expert and freelance contributor to Boston.com. He can be reached at [email protected] and follow him on twitter @GKenns101.