Car Guides
What the experts say about the 2017 Lexus GX
An analyst, a dealership general manager, and a safety official weigh in.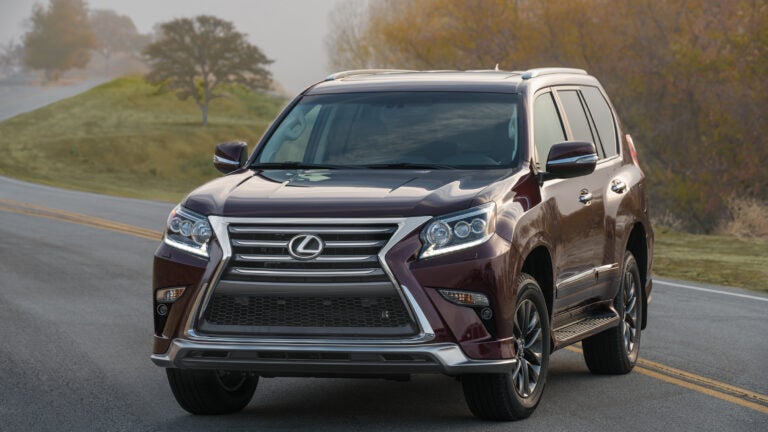 Boston.com Cars is your go-to resource for coverage of local car news, events, and reviews. In the market for a car or truck? Check out our new car specials and used car specials curated by our local dealer network.
In this ongoing series, Boston.com talks with automotive authorities about why you should consider driving — or avoiding — a specific model.
2017 Lexus GX
The 2017 Lexus GX, the second-largest model in Lexus's popular stable of SUVs, offers a compromise between the brand's luxurious, $90,000 flagship LX utility vehicle and its smaller, nimbler crossovers: a comfortable, capable ride for long trips laden with people and luggage.
The three-row midsize SUV seats seven people but drops occupancy to six when outfitted with captain's chairs instead of the standard second-row bench seat. All models are powered by a 4.6-liter V8 engine paired with a six-speed automatic transmission and four-wheel drive. On the road, the GX can feel heavy and slow to accelerate, but it does feel solid, especially when driving off pavement.
Last redesigned in 2010, the GX feels unsurprisingly dated but comfortable. "The Lexus GX 460 is the sort of SUV that everyone wanted before the market crashed, gas prices skyrocketed, and crossovers rose from the ashes," said Dan Edmunds, director of vehicle testing at Edmunds.com "In other words, it's a truck-derived, body-on-frame machine with a commanding view of the road, three rows of seating and a thirsty V8 powertrain. The GX 460 persists because it is exceedingly well built and its luxury-trimmed cabin is utterly serene."
The cabin gets the leatherette upholstery and wood trim expected of a luxury vehicle. Step up from the base model to the Premium trim for leather upholstery, ventilated seats, and navigation. The Luxury trim adds a power-folding third-row, options for safety equipment, and a 17-speaker Mark Levinson sound system. Across the board, the SUV's standard infotainment system lags competitors, a weakness likely to be remedied by its next redesign.
The GX has less cargo space than the Acura MDX and BMW X5, but it easily fit luggage, shopping bags, and food for four during a recent summer weekend excursion. Another long-haul benefit: The SUV politely sipped gas on the 230-mile roundtrip drive between Los Angeles and Palm Springs, precluding the need to fill up along the way.   
The 2017 Lexus GX has not been rated for crashworthiness by either the National Highway Traffic Safety Administration or the Insurance Institute for Highway Safety. All models are equipped with a rearview camera. Buyers can upgrade to forward collision warning, lane departure warning, adaptive cruise control, rear cross traffic alert, and automatic braking.
The 2017 Lexus GX starts at $51,680. The SUV's Premium and Luxury trims begin at $56,125 and $63,380, respectively.
What the experts are saying
Lexus quality
"This body-on-frame SUV is getting a bit long in the tooth compared to newer offerings like the Mercedes-Benz GL family and the Audi Q7. Still, its rugged construction is ideal for off-roading and towing, aided in no small part by a 301-horsepower, 4.6-liter V8. The Lexus GX is a workhorse dressed up in really nice duds — it offers leather seating, a great infotainment system and a wide array of creature comforts you'd expect from a vehicle carrying stickers ranging within the neighborhood of $52,000 to $70,000. So while it may not be the latest greatest, what you're paying for here is Lexus build-quality, tremendous capability, and the brand's historic high resale value and low cost of operation." – Matt DeLorenzo, managing editor at KBB.com
Luxury for less
"The seven-passenger, 301-horsepower beast is so good in so many ways. The GX is so versatile with its all-wheel-drive abilities that allow families to never be limited to any adventure they dream of. Whether it's tackling the tough New England winter weather, going for rides through the mountains, or driving to your favorite beach on a beautiful summer day, this vehicle can handle it. The GX has been a consumer favorite for years, with its beautiful looks, low cost of ownership, and smooth ride." – George Sarkis, general manager at Herb Chambers Lexus of Hingham
Safe SUV
"The Insurance Institute for Highway Safety usually doesn't test the largest SUVs so we haven't tested the GX.  That's because big SUVs, due to their size and weight, start with a high level of safety. That's demonstrated in our periodic report on driver death rates by make and model. In our most recent report, we found that the 2014 and equivalent earlier models of the GX are among the vehicles with the lowest driver death rates during the study period. If you're shopping with safety as a top priority, larger vehicles are good choices." – Russ Rader, senior vice president of communications at the Insurance Institute for Highway Safety