Car Guides
Pros and cons of the most popular compact SUVs on the market right now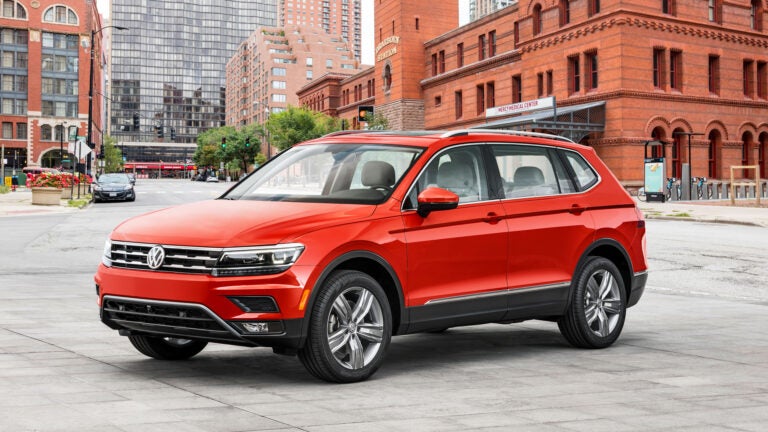 Compact SUVs and crossovers are the fastest-growing segment of the new car market. These vehicles offer buyers added cargo space, a commanding driving position, and the all-weather traction of all-wheel drive.
There are nearly 20 contenders in this marketplace, and the segment is still growing. So how do you make sense of it all? We've distilled and summarized 10 of the most popular options, based on month-over-month sales figures in 2017.
2017 Honda CR-V
Starting Price: $24,045
Pros: The CR-V is one of the most spacious vehicles in this segment, with over 75 cubic feet of cargo space and tons of rear seat space. The CR-V also boasts as much as 34 miles per gallon. There's also a suite of active safety features called Honda Sensing.
Cons: The exterior styling is quizzical, and despite up to 190 horsepower, the CR-V never feels remotely athletic. The upscale interior comes at a price: the base MSRP of $24,045 is steep compared with the competition.
2017 Toyota RAV4
Starting Price: $24,410
Pros: The RAV4 has a ton of rear legroom, making it a great car for Uber or Lyft drivers. The RAV4 has an intuitive touchscreen infotainment system and comes standard with safety tech like forward collision avoidance, adaptive cruise control, and a lane departure warning system.
Cons: Like the CR-V, the RAV4 carries a tall base price for the segment, but the Toyota lacks the interior refinement of the CR-V. One more thing—Toyota doesn't offer Apple CarPlay or Android Auto on any of its products.
2017 Mazda CX-5
Starting Price: $24,045
Pros: Mazda positioned the CX-5 as its upscale, sporty option in this segment. It has a high-quality interior with a unique dial-operated infotainment system inspired by luxury brands. The CX-5 has great steering feel and cornering, too.
Cons: The CX-5 is tight on cargo space, and may not be rugged enough to handle the same wear-and-tear as, say, a Subaru Forester.
2018 Chevrolet Equinox
Starting Price: $23,580
Pros: The Equinox is all-new for 2018. Composed handling will pay dividends in daily driving, and you can't argue with 40 miles per gallon on the highway from an available diesel engine.
Cons: An available 252 horsepower turbocharged four-cylinder engine doesn't provide enough by way of performance.
2017 Ford Escape
Starting Price: $23,750
Pros: The Escape is a sporty, upscale option. It features a premium interior and the easy-to-use SYNC3 infotainment system. The Titanium trim is available with the 245-horsepower turbo EcoBoost engine, and cornering is solid. It's a solid option for buyers who enjoy the experience of the drive.
Cons: The stereo and climate controls are a little confusing.
2017 Hyundai Tucson
Starting Price: $22,700
Pros: The Tucson is big on safety and rear seat space, and it boasts a surprisingly quiet cabin. It also features sharp styling and a competitive starting price.
Cons: Fuel economy is middle-of-the-road, and the cabin materials feel low-quality.
2017 Jeep Cherokee
Starting Price: $24,395
Pros: The Cherokee can go places other vehicles on this list simply cannot. The available V6 engine pulls hard, and the Trailhawk trim has legit running gear for the trail.
Cons: That 4×4 capability comes at the cost of fuel economy, and the cargo space will leave some buyers wanting.
2018 Subaru Forester
Starting Price: $22,795
The Subaru Forester can be outfitted with creature comforts, but at its core, there is a rugged, substance-over-style approach. There is plenty of headroom, nearly 75 cubic feet of cargo space, and Subaru's advanced EyeSight safety system. Finally, standard all-wheel drive ensures capable footing in any climate.
Cons: It's not as sporty as the competition, and the cabin can feel basic in lower-tier trims.
2018 Volkswagen Tiguan
Starting Price: $25,345
Pros: Volkswagen completely redesigned the Tiguan for 2018, replacing the sporty-but-snug outgoing model with a larger vehicle that puts the emphasis on daily use. It has a spacious backseat, tons of cargo room, and even the availability of a third row.
Cons: VW has given up on keeping the Tiguan sporty, and it now drives more like a minivan.
2017 Nissan Rogue
Starting Price: $23,820
Pros: The Rouge has solid fuel economy, an upscale interior, and easy-to-use technology. Much of its popularity is due to its available third row.
Cons: The Rogue lacks power, and there have been questions over reliability with a score of just "About Average" from the J.D. Power Predicted Reliability study.