Car Guides
What the experts say about the 2018 Hyundai Ioniq
A safety official, a dealer, and an editor weigh in.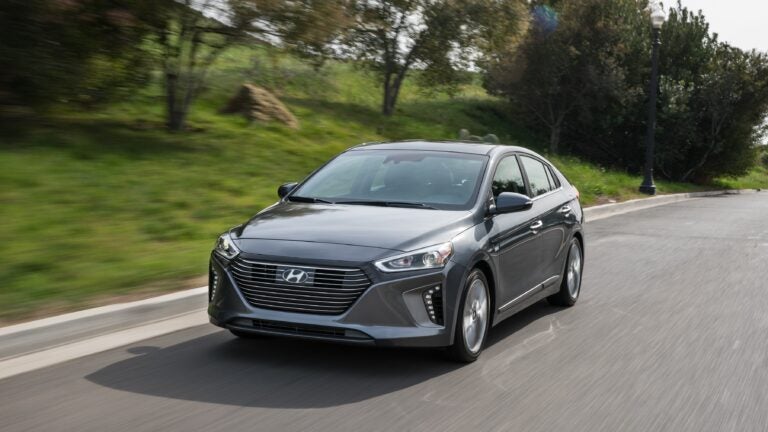 Boston.com Cars is your go-to resource for coverage of local car news, events, and reviews. In the market for a car or truck? Check out our new car specials and used car specials curated by our local dealer network.
In this ongoing series, Boston.com talks with automotive authorities about why you should consider driving — or avoiding — a specific model.
2018 Hyundai Ioniq
The Hyundai Ioniq is the pocketknife of the automotive world: one car, three ways. The five-passenger compact car is also a rarity — launched last year, the Ioniq is the only nameplate in the world to offer a diversity of powertrains that does not include a traditional gasoline engine. Instead, buyers can choose from among a hybrid, a battery-electric, and — arriving in December — a plug-in hybrid.
The Ioniq's trio of propulsion systems offers a green alternative to daily driving no matter the length of the commute or weekly circuit. Powered by a 104-horsepower, 1.6-liter, four-cylinder engine and a 32-kilowatt electric motor, the conventional hybrid version delivers stellar fuel economy at 57 mpg in the city and 59 mpg on the highway. The forthcoming plug-in hybrid model, which will be available in ZEV (Zero Emission Vehicle) states like Massachusetts and in others by dealer order, will be able to travel up to 29 miles on electricity before it begins drawing power from its gasoline engine. The fully electric version, which can travel up to 124 miles on a fully charged battery, is currently only available to California residents.
The 2018 Ioniq comes standard with cloth upholstery and environmentally-friendly materials like lightweight recycled plastic. Leather upholstery and a leather-wrapped steering wheel are available for buyers who desire a side of luxury with their environmental bona fides. The small car also gets an infotainment system that runs Bluetooth, satellite radio, Apple CarPlay and Android Auto through a 7-inch touch screen.
The new model has not yet been rated for crashworthiness by the National Highway Traffic Safety Administration or the Insurance Institute for Highway Safety, but last year's Ioniq received top scores from the latter agency. All models come equipped with a rearview camera. Buyers can add advanced driver assistance features including lane departure warning, blind spot detection, rear cross-traffic alert, lane change assist, and emergency braking with pedestrian detection.
The 2018 Hyundai Ioniq hybrid and electric vehicle start at $22,200 and $29,500, respectively. Pricing has not been announced for the Ioniq's plug-in hybrid version.
What the experts are saying
Superior safety options
"IIHS has not yet rated the 2018 Ioniq, but the 2017 model is a top performer when equipped with optional front crash prevention and specific headlights, earning the Top Safety Pick+ honor. We don't know yet if the 2018 Ioniq will still qualify with more stringent performance criteria coming next year. The Ioniq earns good ratings across the board in five IIHS crashworthiness tests.  Its optional front crash prevention system earns a superior rating, bringing the car to a stop automatically to avoid rear ending another vehicle in both our 12 mph and 25 mph tests. The Ioniq also earns an 'Acceptable' rating for headlight performance when equipped with HID (high-intensity discharge) lamps that come with the [top-of-the-line] Limited trim." – Russ Rader, senior vice president of communications at the Insurance Institute for Highway Safety
Spacious interior
"With a combined average fuel economy rating of 58 mpg, the Hyundai Ioniq is truly the next evolution of the hybrid vehicle. With a starting price around $22,000, it offers unprecedented value to fuel-conscious consumers. It does all of this in an extremely attractive package with an aggressively-styled, swept-back hatchback design with room for five adults and plenty of storage. It also delivers on tech connectivity with Apple CarPlay and Android Auto, along with the full suite of complimentary features from the Hyundai Blue Link Connected Car Service (including automatic crash notification and a monthly vehicle health report) and wireless charging to keep all of your devices fully powered." – Jonathan Buck, director of Mirak Automotive Group, including Mirak Hyundai in Arlington, Massachusetts
Green, greener, and greenest
"Hyundai has high ambitions, and it scares other carmakers, which watch it closely. Its first U.S. hybrid arrived only in 2011, but six years later, it's launched a compact five-door hatchback called the Ioniq that offers three powertrain choices. Think of them as green, greener, and greenest. The volume-leading Ioniq Hybrid beats the Toyota Prius, with one model at a combined 58 mpg. The Ioniq Electric, with 124 miles of range, is the most energy-efficient car sold this year, beating both BMW and Toyota, but it's marketed only in a handful of states. For 2018, a plug-in hybrid with something like 28 miles of range will round out the lineup. We liked the Ioniq for its normal looks, conventional and intuitive interior and controls, and value for money. So far, it's selling at just one-tenth the rate of the Prius, which is a shame. More alternatives for highly-efficient cars are a good thing, and Hyundai's delivered one that lets buyers choose just how green they want to be." – John Voelcker, editor of Green Car Reports