Car Guides
5 key details about the 2018 Jeep Wrangler
A new look, new powertrains, and loads of new features.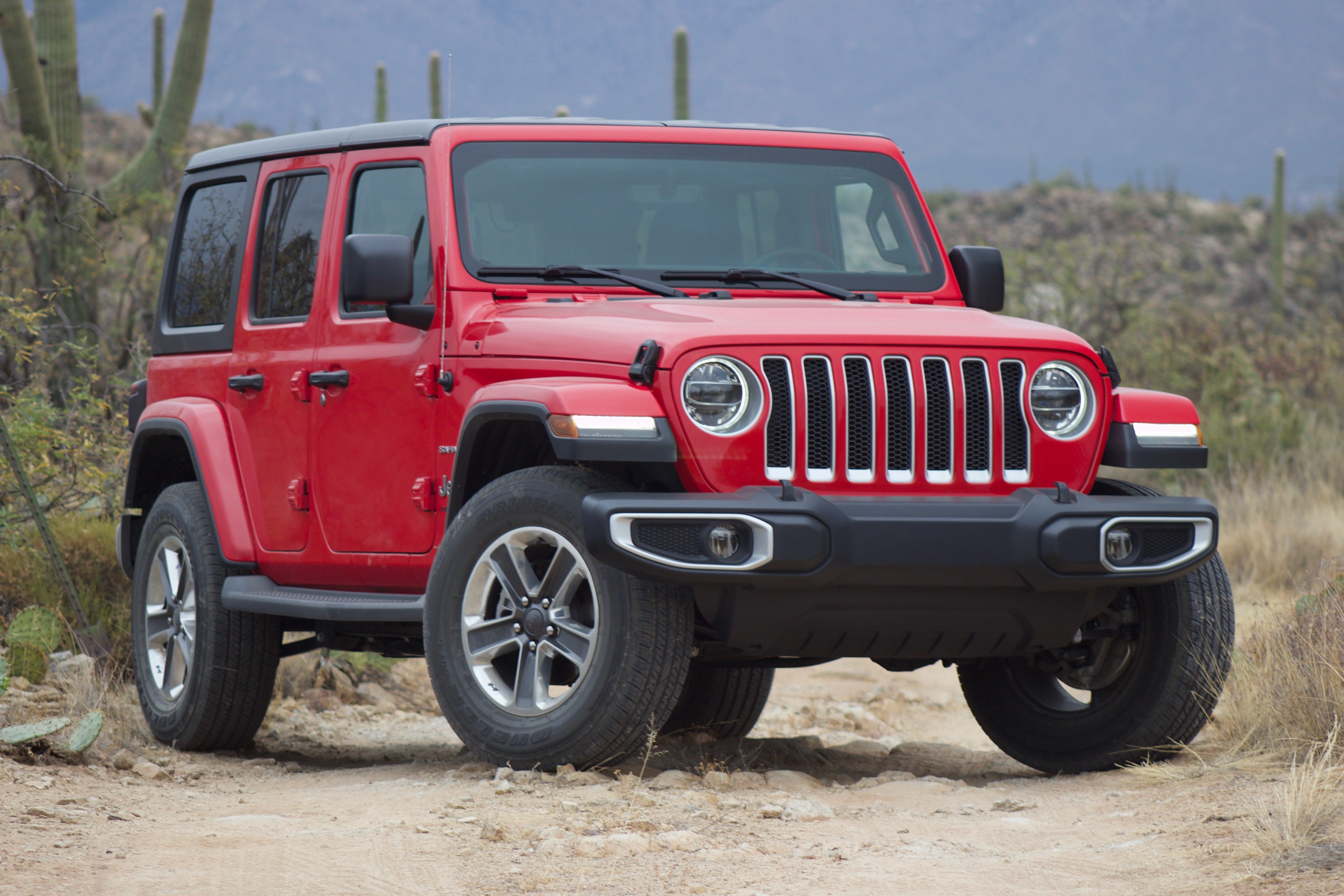 The all-new 2018 Jeep Wrangler features an upgraded interior, new technology, and improved ride quality, but Jeep took additional steps to make the new model more comfortable and capable on- and off-road.
Here are five key things to know about the 2018 Jeep Wrangler:
1. There's lots of folding.
Raising and lowering a Jeep's soft top can be complicated, but the 2018 Wrangler's new plastic rear window and quarters pop out like a snap. The top can then be left in the new "Safari Mode" or folded all the way back with the simple pull of a latch.
Jeep now offers a power-sliding canvas top, which can open at speeds up to 60 miles per hour. The rear quarter windows pop out as well, ensuring an open-air experience without having to remove the entire roof.
Visibility has been improved on all sides, with a lower belt line and better sight lines. The spare tire has been moved down so you can actually see out of the rear window. The windshield still folds, but it now takes four bolts and a few moments instead of 28 bolts and several hours.
2. The interior is more livable.
The attractive new interior has a ton of technology, including 7- and 8.3-inch Uconnect screens, multiple USB connection ports, and features like Apple CarPlay and Android Auto.
All Wranglers now also feature push-button start.
The rear space is more comfortable than the previous model, too. The rear bench features fold-down armrests, and rear climate vents are now standard on all Wranglers. An optional pair of rear USB ports connect to the stereo. The Wrangler still features rugged components like in-floor drains so you can wash out the interior.
3. There are a few powerful options.
The standard engine continues to be the 3.6-liter V6, which puts out 285 horsepower and features top-start to save fuel. Jeep also offers a 2.0-liter turbocharged engine making 270 horsepower. This engine is mated to the eTorque 48-volt mild-hybrid system, which has regenerative braking and the ability to add torque to the crank shaft.
A 3.0-liter diesel V6 engine will arrive in 2019, and a plug-in hybrid version will be available for the 2020 model year.
You can still get the Wrangler with a six-speed manual transmission, but Jeep offers an available eight-speed automatic that sends power to four-wheel drive. Jeep continues to offer multiple four-wheel drive systems, and now offers a full-time four-wheel drive option, which lets the Wrangler decide when to engage all four wheels.
4. Its driving characteristics have improved.
The Wrangler's turning radius has been improved for more maneuverability, and the steering is smooth and well-weighted. In fact, "smooth" is how to best to describe the Wrangler's ride on highways and around town. You can carry on a conversation at 75 miles per hour, which was nearly impossible in the previous Wrangler.
On the trail, the Wrangler Rubicon is a brute that can claw its way up steep grades. It features
standard 33-inch all-terrain tires, higher fenders, improved crawl ratios, disconnecting sway bars, and locking front and rear differentials. To get a setup like this on most SUVs, you'd need to spend thousands on aftermarket modifications.
Fuel economy for the base V6 is 18 miles per gallon in the city, 23 on the highway, and 20 combined. Fuel economy testing for the turbo engine is still underway.
5. It's available soon.
The first vehicles are expected to arrive at the beginning of 2018.
Base MSRP for the 2018 Jeep Wrangler is $26,995 for a two-door Sport trim. The Sport S trim starts at $30,195, and the two-door Rubicon starts at $36,995. The four-door Wrangler Limited Sport starts at $30,495, while the Sahara Unlimited starts at $37,345. The range-topping Rubicon Unlimited starts at $40,495.
A previous version of this story incorrectly stated the specifications of the standard engine. It has been updated. Boston.com regrets the error.
George Kennedy is a freelance automotive journalist and automotive expert. You can reach him at [email protected] and on Twitter @GKenns101.