Car Guides
8 vehicles that will conquer winter in New England
There's more than one way to navigate the ice and snow.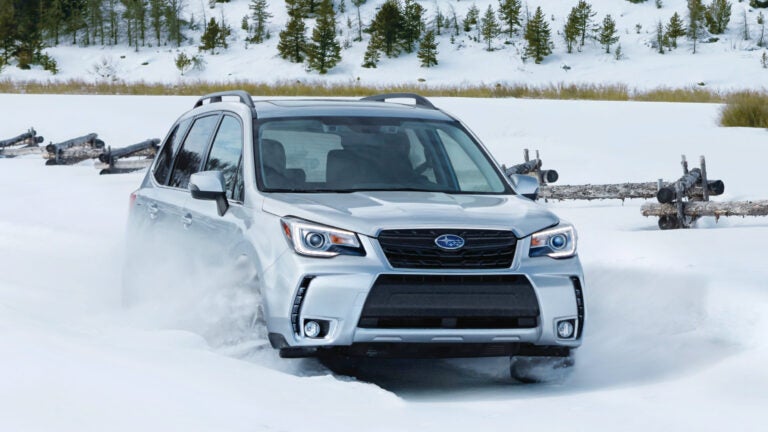 Winter is coming. For New England drivers, it's more than just a Game of Thrones tagline — it's an annual reminder of the ice, snow, sleet, cold, and salt that we will likely have to navigate throughout the season.
"The ideal winter vehicle is typically something with a bit of ground clearance and all-wheel drive," according to John Paul, senior manager of public affairs and traffic safety at AAA and Boston.com's Car Doctor.
Many crossovers and SUVs fit that bill, but the snow-ready credentials don't stop there. All the vehicles on this list feature solid ground clearance, all-wheel drive or four-wheel drive, and some form of terrain management settings.
Here are eight vehicles that will help you get through a New England winter:
1. 2018 Chevrolet Tahoe
MSRP: $47,450
GM's Tahoe/Yukon/Escalade SUV platform is a supremely capable one, and it shares DNA with GM trucks as well. A standard V8 and low range ensure serious power to crawl out of any jam. The Tahoe has 7.9 inches of ground clearance, and it's available with heated seats, heated steering wheel, and remote start — all fantastic add-ons for winter conditions, especially if you don't have a garage.
2. 2018 Subaru Forester
MSRP: $22,595
Not every all-wheel drive system is created equal. "The Subaru 50/50 all-wheel drive system is definitely one of the most capable among cars," Paul said. The vehicle splits power equally between the front and rear wheels. The Forester also has a truck-like 8.7 inches of ground clearance and an upright layout with impressive visibility, which will keep you aware of other cars when the snow is falling.
3. 2018 Volvo XC90
MSRP: $45,750
"A Honda CR-V with all-wheel drive is really a front-wheel-drive vehicle with some all-wheel-drive capabilities," Paul said. "It doesn't hold up to the systems in, say a Volvo XC90." A capable terrain management system and an impressive 9.4 inches of ground clearance ensure you'll be able to get out of deep snow.
4. 2018 Jeep Grand Cherokee
MSRP: $30,595
"The new electronic all-wheel drive and four-wheel drive systems with terrain modes turn a novice winter driver into an expert," Paul said. Jeep's terrain management system has settings for rock, mud, and snow conditions. It also has an available adjustable air suspension, providing up to 10.8 inches of ground clearance. The Grand Cherokee is also available with heated seats, a heated steering wheel, and remote start.
5. 2018 Jeep Renegade
MSRP: $17,955
You don't have to get the Grand Cherokee or Wrangler Rubicon to get a capable Jeep. The Renegade's compact layout makes it great for city driving, while the Trailhawk trim's four-wheel-drive system and 8.7 inches of ground clearance will get you out when the plows haven't done their thing yet.
6. 2018 Land Rover Discovery
MSRP: $49,990
The Land Rover Discovery has excellent off-roading credentials with up to 11.1 inches of ground clearance, but that alone doesn't make it a solid winter vehicle. In addition to a Terrain Response system and crawl control, the Discovery also has hill-descent control to help the driver focus on driving downhill. "These [all-wheel-drive] systems provide grip to climb the hill, but won't help on the descent," Paul said.
7. 2018 Volvo V90 XC
MRSP: $52,300
Not every vehicle on this list has to be an SUV or crossover. There are plenty of sedans and wagons that offer all-wheel drive, like Audi Quattro, BMW xDrive, or Mercedes-Benz 4MATIC. But the V90 XC boasts 8.3 inches of ground clearance, an available Four-C air suspension, and customizable drive mode settings, too.
8. 2018 Toyota 4Runner
MSRP: $34,410
Few new vehicles are more capable than the Toyota 4Runner — perhaps only the Jeep Wrangler. But the Wrangler's removable soft top gives it less protection from the elements. The 4Runner's capable four-wheel-drive system complements a basic interior that will withstand all the slush and snow tracking in.
George Kennedy is a freelance automotive journalist and automotive expert. You can reach him at [email protected] and on Twitter @GKenns101.