Car Guides
The 10 best and worst things about the 2018 Hyundai Sonata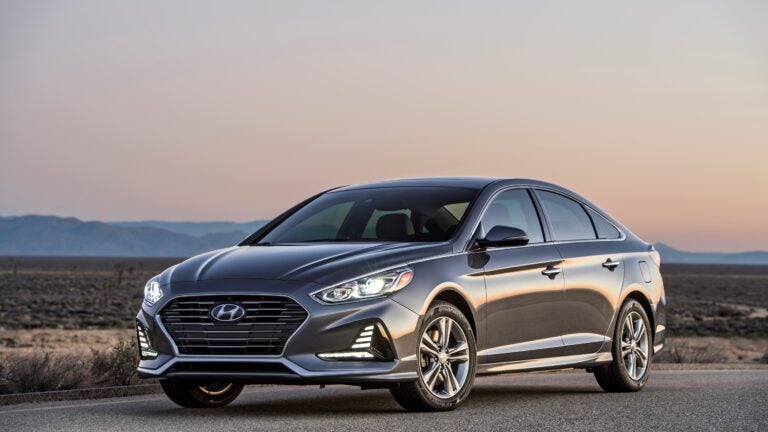 The 2018 Hyundai Sonata benefits from a mid-cycle refresh this year. It gets updated styling inside and out, new standard safety features, and increased connectivity options. Hyundai also worked to improve the Sonata's handling, making it a better overall drive.
Here are the 10 best and worst things about the 2018 Hyundai Sonata:
The Best:
1. Styling
The Sonata shows off a fresh face for 2018 with a new hood and a more upright grille that give it a sportier stance. There's also new LED lighting. Inside, there's a new steering wheel and a cleaner layout for the touchscreen and controls.
2. Multiple Engine Options
Engine choices start with a 2.4-liter, four-cylinder with 185 horsepower and 178 pound-feet of torque paired to a six-speed automatic transmission. Next up is a 1.6-liter, turbocharged four-cylinder with 178 horsepower and 195 pound-feet of torque. Finally, there's a 2.0-liter, four-cylinder engine with 245 horsepower and 260 pound-feet of torque paired to a new eight-speed automatic.
3. Ride Quality and Handling
Sedans can be lackluster, but the Sonata sheds much of the typical sedan dullness in favor of a more spirited drive with a stiffer chassis that improves handling. Twisting roads are easy to manage, even at highway speeds. Adding a suspension system evens out the bumps.
4. Upgraded Infotainment
The Sonata adds key functionality to the infotainment system this year with Apple CarPlay and Android Auto standard across the lineup. There's available Qi wireless charging and a new rear USB jack to keep more devices charged and ready. Hyundai BlueLink with remote services through smartphones, wearables, and smart speakers is now included for three years on select trim levels.
5. Safety
The 2018 Hyundai Sonata is an Insurance Institute for Highway Safety Top Safety Pick with a top rating of Good in all crash tests and Superior for front crash prevention technologies. It also did well in National Highway Traffic Safety Administration crash tests with an overall 5 out of 5 stars.
The Worst:
6. Rear Headroom
Although the Sonata has a roomy cabin for front and rear passengers, it also has a low, sloping roofline. Taller occupants need to be careful getting into the car or risk bumping their heads. Once inside, it's no longer an issue up front, but headroom is still tight for rear passengers.
7. Interior Materials
The Sonata has a comfortable interior, but materials are of moderate quality. There are lots of hard surfaces and plastic trims, especially on the dashboard. They look and feel inexpensive. Cloth seating surfaces look similarly frugal, even when paired with leather bolsters on Sport trims. If you want full leather seats, the Limited trims are your only choice.
8. Availability of Safety Features
The Sonata earns high marks for safety, but the most advanced safety features are only available on top trims or as a part of expensive packages with limited availability. While blind-spot warning and rear cross-traffic alert are now standard across the lineup, automatic emergency braking with pedestrian detection, rear parking sensors, lane-departure warning, and lane-keep assist are available on only three trim levels.
9. Cost of Safety Features
The Limited 2.0T with its starting price of $29,950 includes all the safety features available on the Sonata as standard features. Aside from that top trim, only the SEL and Limited even have the option of more advanced safety like automatic emergency braking. Advanced safety features are bundled into packages that run $1,000 on the SEL and $2,900 on the Limited, making them budget busters.
10. Too Many Trims
Choice is good, but the Sonata offers a range of trim levels that can be confusing for the buyer. There are seven different trims and that's not even including the hybrid. Buyers would do well to spend some time figuring out the options before heading to the dealership.