Car Guides
What the experts say about the 2018 Range Rover Velar
A dealer, a writer, and an editor weigh in.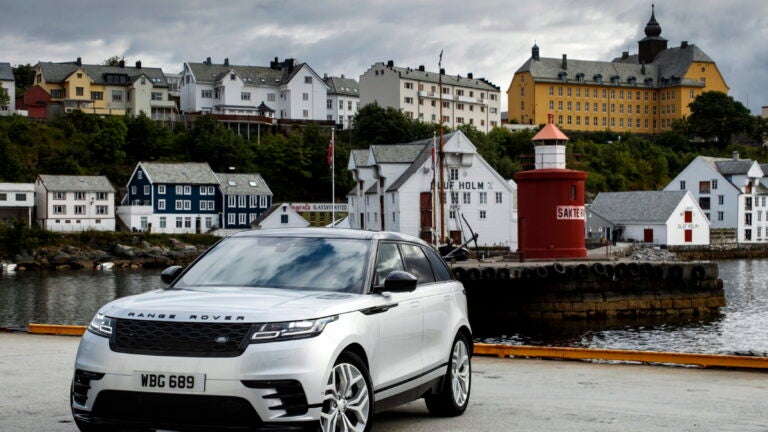 Boston.com Cars is your go-to resource for coverage of local car news, events, and reviews. In the market for a car or truck? Check out our new car specials and used car specials curated by our local dealer network.
In this ongoing series, Boston.com talks with automotive authorities about why you should consider driving — or avoiding — a specific model.
2018 Range Rover Velar
Land Rover's newest SUV debuted last spring in an improbable place: the Design Museum in London. Geographically, the launch jibed with the vehicle's British heritage, but openly comparing a utility vehicle to a work of art might have been more of a stretch. Fortunately, the Range Rover Velar lives up to its origin story.
As the fourth model in Range Rover's lineup, the midsize SUV dovetails the refinement and off-road chops expected from the British brand. The Velar, named after the then-fledgling Range Rover brand's original 1969 prototypes, offers a choice of three engines: a 247-horsepower, turbocharged four-cylinder; a 180-horsepower, turbocharged four-cylinder diesel; and a 380-horsepower, supercharged V6. Mated to a smooth-shifting, eight-speed automatic transmission, the Velar feels both quick and comfortable.
The base gasoline model zips from standstill to 60 mph in 6.4 seconds and hits a top speed of 135 mph. Those numbers improve to 5.3 seconds and 155 mph for the V6. The all-wheel-drive utility vehicle also offers a range of features designed to increase traction and improve off-road performance, such as All-Terrain Progress Control, Low Traction Launch, Hill Descent Control, and Gradient Release Control. An adjustable air suspension comes standard on V6 models, lifting the SUV over terrain that requires extra ground clearance and lowering it for comfortable street driving.
The plush, five-passenger Velar comes with the typical trimmings of a Range Rover, but it's also the first in the lineup to sport the brand's new InControl Touch Pro Duo infotainment system with twin 10-inch touch screens. The interior is as "visually reductive," in Range Rover parlance, as the exterior, eschewing extra switches and knobs in favor of a sleeker look that emphasizes its plush trappings like diamond stitched leather upholstery and woodgrain trim.
The Velar has not been rated by either of the two federal safety agencies, but it offers Land Rover's full suite of available advanced driver assistance systems, including adaptive cruise control with queue assist and intelligent emergency braking, reverse traffic detection, and blind spot assist.
The gasoline-powered base model delivers a combined 23 mpg city/highway. Estimates fall to 20 mpg for V6-engined models and rise to 28 mpg for the diesel version.
The 2018 Range Rover Velar starts at $49,000.
What the experts are saying
Modern design
"Land Rover's new midsize Range Rover Velar is a unique addition to the Range Rover family. The car's modern design adds a new level of sophistication, while still managing to follow Land Rover's classic design cues. Trunk space is abundant, and the interior is expansive and comfortable. The sliding panoramic roof allows natural light to come in and flood the updated interior. The fully digital instrument cluster and infotainment system allow for a more modern feel while still keeping the features intuitive and simple. Consistent with Land Rover tradition, the Velar's all-wheel drive offers excellent traction on any road condition, and its aluminum architecture provides a safe and stable ride. LED headlights give you a futuristic and defined look, while providing outstanding vision in all conditions. The Range Rover Velar brings a new, sophisticated, and exciting face to the brand that is sure to turn heads." – Holden Moore, product specialist at Herb Chambers Jaguar Land Rover Sudbury
Smart and sophisticated
"The Velar represents the Range Rover ethos of off-road capability paired with refinement and design, but it emphasizes the latter most prominently. It is smaller and less expensive than the iconic Range Rover Sport and takes a modern approach to the brand's design. The result is a smart and sophisticated looking luxury SUV that drives well, too. You can't tell from the outside, but the Velar shares its mechanical underpinnings with the Jaguar F-Pace. The commonality gives the Velar similarly pleasing road manners, though its ride and engine are more relaxed. The interior's wealth of digital displays feels decidedly high tech. And, on top of the usual array of leather choices, Land Rover offers a fabric interior that employs wool and material made from reclaimed plastic for the environmentally sensitive. The Velar is suited more for boulevards than boulders, but it has enough off-road capability to make you feel like you can, even if you never will." – Carlos Lago, senior writer at Edmunds
High-tech vibes
"The Velar could've focused solely on smoothing the fussy detailing of its siblings, or bringing Range Rover's dashboard tech into the iPad era, but instead it did both and sealed its spot in the upper echelons of the midsize luxury SUV segment. Graceful proportions and restrained ornamentation leave the pop-out door handles and slimline LED lights falling just on the right side of classy, while the cabin's twin-touchscreen infotainment system is eons ahead of the company's earlier efforts. The Velar's off-roading talents might not quite be up to what Range Rover's larger luxe-trucks can do, but it should hold its own in 99 percent of terrain that typical drivers will encounter. If there's a downside, it's the absence of a devilish supercharged V8 engine option, though it's hard to imagine Jaguar Land Rover leaving things that way for long." – Chris Davies, executive editor at SlashGear