Car Guides
Edmunds compares the Honda CR-V and the Nissan Rogue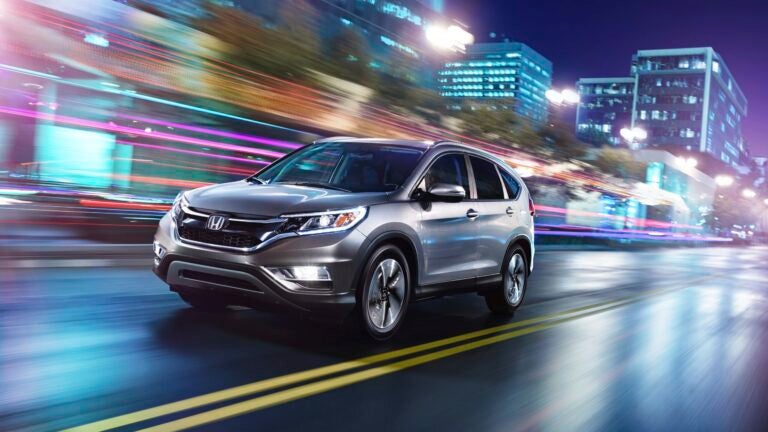 Americans are buying more small crossover SUVs than ever before, and among the best sellers are the Honda CR-V and the Nissan Rogue . Both offer five-passenger seating and a lot more cargo-carrying versatility compared to traditional family sedans. Both also achieve nearly 30 mpg in combined city and highway driving, and both start around $25,000. So, which is best for you?
THE KEY SIMILARITIES
The CR-V and the Rogue are based on carlike platforms. The former is structurally based on the Civic, while the Rogue uses a light-car design that underpins other Nissan models. Similarities continue underhood with four-cylinder engines, continuously variable automatic transmissions and optional all-wheel drive.
In both SUVs, luggage space behind the second row is nearly identical at just over 39 cubic feet. Although neither crossover is made for off-road, both offer almost 8 inches of ground clearance, which is enough to drive on most graded dirt roads without worrying about underbody damage.
Both crossovers are also covered by three-year/36,000-mile basic and five-year/60,000-mile powertrain warranties.
NEWNESS MAKES THE DIFFERENCE
Since the basic specs for the Honda and Nissan are so similar, you might be inclined to just find the best deal and call it a day. But look closer and you'll find key differences that favor the CR-V. First, today's CR-V is newer. When Honda last redesigned the CR-V in 2017, it gave it a new turbocharged engine, improved handling, more rear-seat legroom and a modernized interior.
By comparison, today's Rogue has had only minor updates since its debut in 2014. Those include revised styling and added safety features but not the fundamental changes given to the CR-V.
The CR-V's 184-horsepower engine packs a stronger punch than the Rogue's 170-horsepower engine. The CR-V even offers an optional turbo engine that yields 190 horsepower. The Rogue offers just one engine. The CR-V's power advantage doesn't hurt fuel economy either: It delivers an EPA-estimated 28 mpg combined (26 city/32 highway). The Rogue is incrementally better at 29 mpg combined (26 city/33 highway).
The CR-V can also tow up to 1,500 pounds, enough to pull a couple of water toys or dirt bikes by trailer. The Rogue, with its 1,102-pound rating, will struggle to do the same.
Inside, the CR-V also offers more passenger space and an added 2.5 inches of rear legroom. The Rogue compensates with slightly more front passenger legroom (1.7 inches), but if you often carry adults in the back seat or install rear-facing child safety seats, they'll be glad you chose the CR-V. And the CR-V's 76 cubic feet of maximum cargo space is 6 cubic feet larger than the Rogue's.
THE INTANGIBLES
The 2018 CR-V also outmatches the Rogue in other areas. The Honda's recent suspension update tightened up the car's handling, reducing its tendency to lean through turns. It's no sports car, but it feels firm and confident. Take the Rogue into turns at similar speeds and it will feel soft and wobbly in comparison.
Both crossovers offer surprisingly upscale interior materials and similar technology features, starting with 7-inch touchscreen displays and Apple CarPlay and Android Auto smartphone integration. But the CR-V beats its rival in safety technology with a full complement of driver aids on its EX model, the trim just above the base level. Those features include collision warning, automatic emergency braking, lane departure alert and lane keeping assist. The Rogue has some of these features as standard, but others are reserved for the top SL trim.
THE ROGUE WILD CARDS
The Rogue has one key advantage over the CR-V: It offers an optional third-row seat that allows you to carry seven passengers. It's a worthwhile consideration if you occasionally need to carry an extra passenger or two, although we've found the third row too cramped for adults on all but the shortest drives.
The Rogue's front seats, designed using NASA-inspired technology, are exceptionally comfortable. The difference between the Rogue's seats and those in the CR-V isn't stark, but if you're sensitive to seat shapes and plan to log long miles, it's worth trying both. Seat comfort can be a dealmaker or breaker.
THE WINNER
Given its larger passenger and cargo space, enhanced technology, and better performance and handling, the 2018 Honda CR-V claims an edge on the 2018 Nissan Rogue. You also get more driver safety aids at a lower trim level.
The Rogue is Nissan's top-selling car, so we don't expect fundamental changes soon. But this is a competitive segment that evolves quickly. We'd expect Nissan to polish some of the Rogue's rougher edges in the next couple of years, making it a tighter race among these two top rivals.
EDMUNDS SAYS: Unless you need the Rogue's third row, the CR-V is by most measures the better crossover.
____
This story was provided to The Associated Press by the automotive website Edmunds. Dan Frio is an automotive editor at Edmunds.
Related links:
— 2018 Honda CR-V Review: http://edmu.in/2HROZfh
— 2018 Nissan Rogue Review: http://edmu.in/2HPq5gp