Car Guides
5 things shoppers should know about the 2019 Toyota Avalon
Toyota's big sedan gets a fresh makeover and lots of new tech.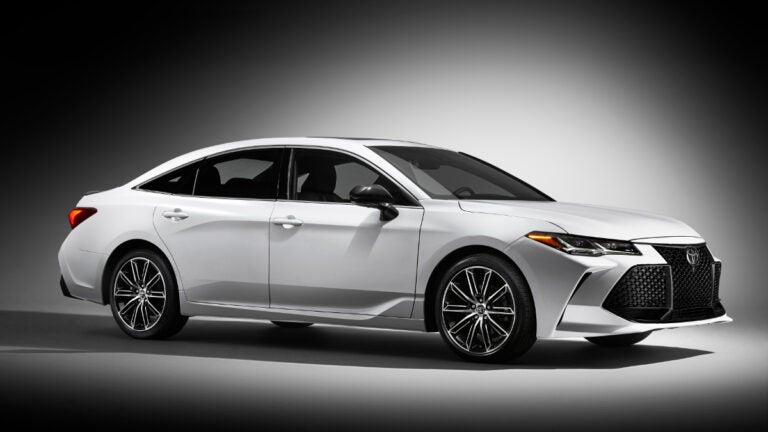 You'd be forgiven if you forgot the Toyota Avalon is still a thing. Toyota is looking to change that with the new 2019 Avalon. It's a sharper, sportier large sedan, but will it make a dent?
We saw it live at the 2018 North American International Auto Show, and Toyota looks like it's ready to reposition this big sedan for a younger buyer. Here are five things to know about the 2019 Avalon:
1. It has a hot new look.
The Avalon has a fetching new exterior design. Where the 2018 Avalon's details make it look like a gussied-up Corolla, the new Avalon is more angular. The thin headlights are even Lexus-like, and the new grille is massive, but somehow it works.
Out back, the Avalon features a taillight assembly that spans the entire aft of the vehicle, much like the Hyundai Azera. The Avalon sets itself apart with performance-inspired quad exhaust tips, which veer into overkill territory.
2. Don't be fooled by the new looks. It has the same engine.
The new Avalon comes with the existing 3.5-liter V6, which sends power to the front wheels through a new eight-speed automatic transmission. Toyota has not announced specs on this engine, but for the sake of reference, it made 301 horsepower and 267 pound-feet of torque in the outgoing model.
A drive-mode selector allows the driver to select between Eco, Normal, and Sport modes for preferred driving conditions. There's also a Touring trim, which features an adaptive variable suspension and the addition of Sport+ and Custom to the existing list of drive modes.
A hybrid variant is also available, and it utilizes Toyota's 2.5-liter inline-four, a pair of electric motors, and a nickel-metal hydride battery pack. Once again, fuel economy numbers have not been released, but in the Camry Hybrid, this very similar powertrain returns 44 miles per gallon in the city, 47 on the highway, and 46 combined.
3. The interior design is clean.
Automakers are finally starting to learn a lesson about interior design: 'Tis far better to have an interior that works than an interior that just looks cool. While Toyota was never a big offender of user experience, its designers apparently wanted to ensure the Avalon leads the way on cabin layout.
The interior is clean, crisp, and simple. Controls are where they need to be, and the flat control panel provides additional storage behind it. There are also five USB ports spread around the cabin, along with wireless smartphone charging capability.
The seats look exceptionally plush, and there's also ample legroom and headroom for front and rear passengers.
4. Apple CarPlay is supported — finally.
The Avalon comes with Entune 3.0 Plus, which features a large 9-inch touchscreen. This system was first deployed on the 2018 Toyota Camry, and frankly, it's similar to the layout on the 2018 Honda Accord, which isn't a bad thing.
More importantly, this infotainment system will support Apple CarPlay. Toyota was one of the few holdouts from supporting the smartphone integration software, and its absence in Toyota products was greatly criticized in recent years. But with the 2019 Avalon, Toyota joins the party.
5. Amazon Alexa
The Avalon is now available with Amazon Alexa as part of Toyota's Remote Connect system. It will allow compatible devices to lock/unlock doors, check fuel level, and even remotely start the Avalon. This system will also allow occupants to interact with an in-home Alexa and also play Amazon music and audiobooks.