Car Guides
10 of the best and worst things about the 2018 Mazda CX-9
The CX-9 has the look and feel of a luxury car without the matching price.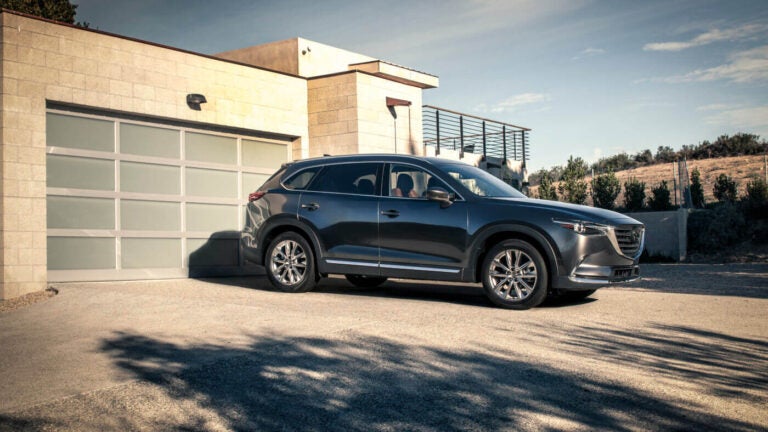 Despite the popularity of crossovers, plenty of people are still buying full-size SUVs. Here are the 10 best and worst things about the 2018 Mazda CX-9, which offers seating for up to seven passengers and several trim levels with varying degrees of comfort and convenience.
Best:
1. Interior Quality
Mazda has a reputation for building beautiful interiors, and the CX-9 is no exception. It's appealing to the eye and touch, with available leather seating, aluminum and wood trims, and heated first and second rows.
2. All-Wheel Drive Availability
Front-wheel drive is standard on all but the top Signature trim, but all-wheel drive is available as an option even on the base CX-9 Sport. It adds $1,800 to the bottom line and is well worth the price for handling brutal winters.
3. Passenger Comfort
There's room for seven passengers with supportive seating that's extra roomy in the second row. That row also reclines, making it ideal for napping on longer road trips, and it's now available with heated outboard seats. The third row is a bit on the tight side, as is usually the case in large SUVs, but it's fine for the kids or for shorter trips with two adults.
4. Standard Safety Features
This year, the CX-9 sees the addition of new safety technologies as standard features across the lineup. Every CX-9 now includes low-speed automatic emergency braking, blind-spot monitoring, and rear-cross traffic alert. Optional available safety features include forward-collision warning, full-speed automatic emergency braking, lane-departure warning, and lane-keep assist.
5. High Safety Ratings
The Insurance Institute for Highway Safety named the Mazda CX-9 a 2018 Top Safety Pick. It achieved a top rating of Good in all crash tests and the highest rating of Superior for available front crash prevention technologies. The only area that didn't receive top marks were the headlights, which got a rating of Acceptable.
6. Pricing
The base CX-9 Sport starts at $32,130, making it an affordable option, even if you add on the extra $1,800 for all-wheel drive. The Touring comes in at $34,960, and the Grand Touring comes in at $40,470. Even the top trim Signature, which comes only with all-wheel drive, starts at $44,315, putting a luxurious ride within reach for more buyers.
Worst:
7. Third Row Access
It's never easy to get into the third row of an SUV, and the CX-9 falls victim to this problem. Lift a lever, and the second row tilts and slides forward to provide access, but the entry is still narrow and difficult for adults. Once seated, there's plenty of room for the kids, but adults will only find it comfortable for short trips.
8. Only One Powertrain
Power for the CX-9 comes from a 2.5-liter, four-cylinder engine with 250 horsepower and 310 pound-feet of torque when using premium fuel. If you drop down to regular unleaded, then there's a drop to 227 horsepower. The engine is good and provides strong acceleration, but it's your only choice. Those looking for a more powerful drive experience will have to look elsewhere.
9. Cargo Capacity
There isn't as much cargo capacity in the CX-9 as in some of its competitors, but it's still roomy. There's 14.4 cubic feet behind the third row, 38.2 cubic feet behind the second, and 71.2 cubic feet behind the first. It can also tow up to 3,500 pounds, but if towing and cargo are a priority, other three-row options offer more of both.
10. No Apple CarPlay or Android Auto
The Mazda Connect infotainment system features either a 7-inch or 8-inch touchscreen display with a six-speaker audio system and available navigation, SiriusXM, and upgraded 12-speaker Bose audio system. What it doesn't have on any trim level is Apple CarPlay or Android Auto. These features are becoming must-haves for many who want quick, seamless integration with their smartphones.